I've been meaning to cover some of the random trips I've taken over the past few years. Today I'm going to cover at least one, the most recent. Three weeks ago my wife and I landed back in Chicago after spending 25 days in Vietnam. When I travel I tend to take notes on how the day went, what we did and saw and all that, a travel diary if you will. This post will be focusing on the logistics of travel and especially international travel. In another post I'll be going back through that diary to provide a summary of what we did and saw and, of course, I'll have plenty of pictures thrown in as well.
Before I dig in though I'm going to point you over to Kaz Moon for some good listening while you read.
Why Vietnam
The question that nearly every single other person we told about our trip asked us: why Vietnam? Well, mainly we saw "Travels with my Father", a Jack Whitehall show on Netflix. Yes, seriously. They had an episode in the first season on Vietnam that sparked our interest. When we started researching the country we found that South-East Asia in general is a beautiful place with an incredibly rich history. The American dollar also has a very favorable exchange rate with the Vietnamese Dong, about 23k Dong per Dollar when we were there. Some additional deciding factors where that we could get round trip flights from Chicago to Saigon for ~$700/person through ANA as well as the fact that I hadn't taken any vacation since we got married last year. I had 5 weeks of accrued vacation time just sitting around for nearly an entire year so I opted to use it all in one go, figuring that since we'd be spending $1400 to get there and back we may want to stay as long as possible. Then came the planning.
Preparing to Go Halfway Around the World
I started to look into areas we'd want to stay and what things were nearby. A couple sites made it incredibly easy to see what attractions are most popular or important in any given area as well as provide general advice on not getting scammed and the like. In particular; WikiVoyage, the Trip Adviser Vietnam Forums, a bit of Lonely Planet, and some other sites like Nomadic Matt. Additionally, some YouTube videos by Rusty Compass and Tieng Viet Oi were a major help in shedding a little light on Vietnamese culture and making sure we didn't come across as stereotypical American idiots while there. We definitely still did on more than one occasion, but I think they helped!
In total, I spent about 3 months looking at areas to stay in as well as what we'd do there but only really got serious about it a month or so before leaving. I created a spreadsheet with the locations we were staying and what we might want to check out in that area or nearby. That made it nice and easy to just sit down for a few minutes and see what was feasible to do within our time when we got to a certain location. Of course, checking things off the list just to check them off is no fun so sometimes we just scrapped the spreadsheet idea and wandered, or sat around and did nothing at all. That seems to be traveling though, you either need to be wealthy or a little bit crazy (I think you can guess which one we are) to travel outside your home country. Especially if your idea of travel is just throwing on a backpack and flying halfway around the world to wander a country where you know no one.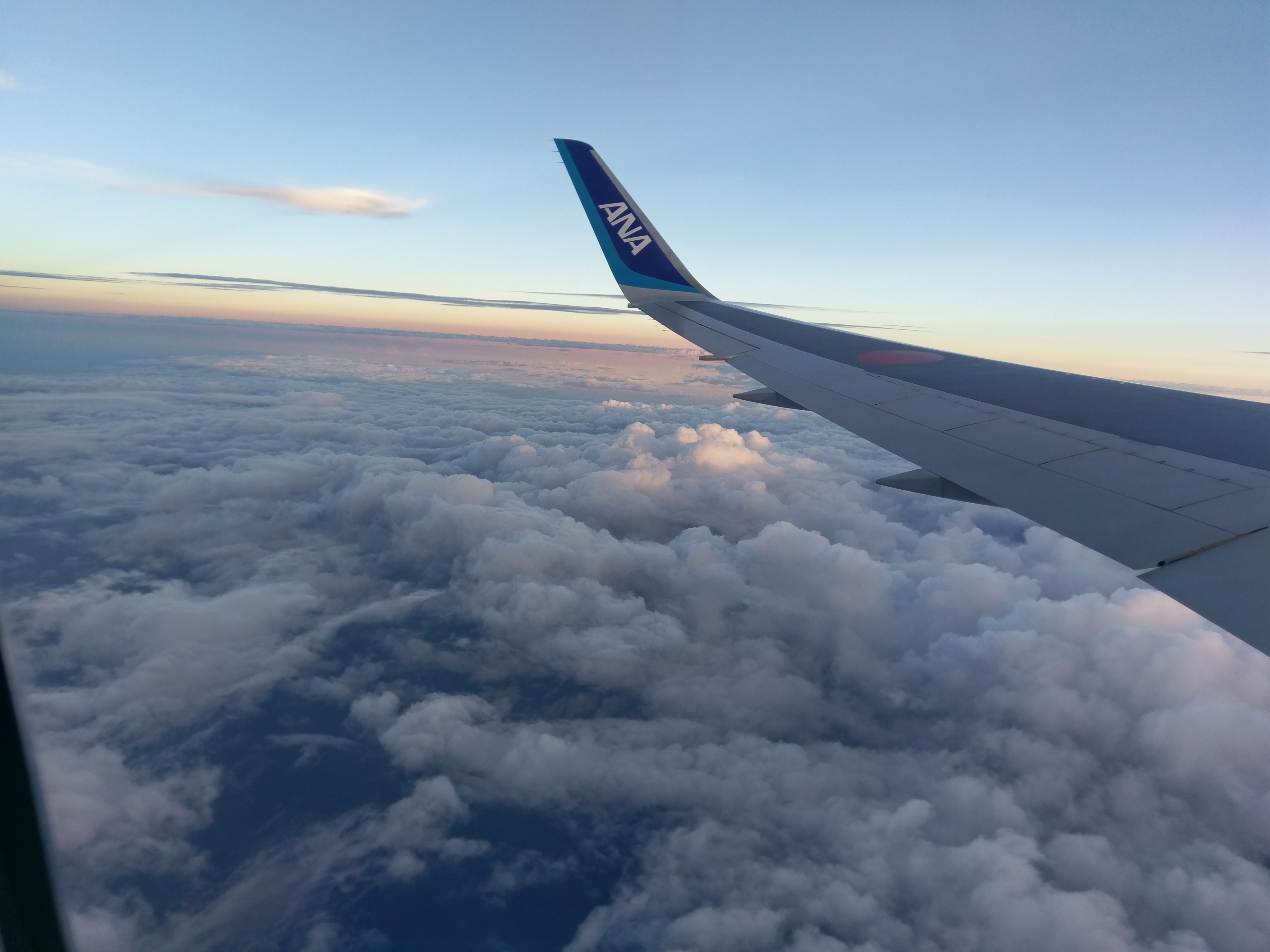 Getting There
Getting to Vietnam from Wisconsin is fairly brutal. Flights out of Madison are not cheap so we instead opted for flights out of Chicago. This requires a single stop in Narita, Japan with a layover of about 2.5 hours if things go well. That leg of the trip over, from ORD to NRT, is 12.5 hours and crosses 10 time zones. Then you have another flight from NRT to SGN which is about 6 hours and crosses another 2 time zones. Including the layover, you're sitting at about 23 hours in total. This makes a red-eye look like the beginners class.
As for actually getting to the airport, Ali's parents were nice enough to allow us to park our car at their place and then drive us down to Chicago to catch our flight. They also picked us up when we returned and let us crash at their place the night before we left and the night we returned. Thanks guys!
The airport itself was not as busy as we'd thought it might be but we were also flying out early morning on a Tuesday so that likely helped. We did have TSA Pre-Check which allowed us to take the faster check-in through security but since it wasn't busy that didn't make much difference. However, Pre-Check is good for 5 years so we should be making good use of it yet.
Getting Back
Might as well cover getting back quick. It's nearly the same as heading over but with the exception of needing to go through immigration on the way back in. Chicago was freaking stuffed when we got back and there were only 4 immigration desks and not enough security checks actually open when we landed. We spent about 45 minutes waiting to get through the immigration line and then the security check. We also got the one person who actually needed to ask every immigration question and, since I'd brought one of my fancier acquisitions back as a carry-on, proceeded to ask where I got that, what it cost, who it was for, and so on.
This is where Global Entry would have been useful. Global Entry would have allowed us to just scan our passports upon landing and then skip the immigration line and head straight for security. Would have easily saved us 30 minutes and it only costs $25 more than TSA Pre does plus it's also good for 5 years. There were no open interviews for Global Entry in Wisconsin before our departure date though so we had to settle for TSA Pre-Check.
Make sure to leave plenty of time to get to the airport, check in, go through security, and get to your gate when you're leaving Vietnam. All of it will take longer than you think. We had a good hour and a half when we got to the Saigon International airport but it turns out they close the gate something like 40 minutes before takeoff. We ended up being ushered through the security line and then had to run to our gate. Luckily ANA was nice enough to help us skip the line and hold the gate for us but man, don't be us.
What we Took
Figuring out what to take with us was a bit stressful but after having gone through it I can tell you we stressed too much. We each had a single pack, a Kelty Redwing 44l for me and a 40l for Ali, and nothing else. Here's what I packed for our 25 day trip, my pack weighed around 17lbs when we left and had plenty of space left:
Pants x2
T-Shirts x3
Single long sleeved shirt
Beat up Surface Pro
Sony a5100 camera
Sawyer Squeeze filter
Water resistant flashlight
Travel wallet
A few dry bags
Water proof phone pouch
Rain poncho x2
Water-resistant pack cover
Plug converter
One of those silly looking "explorer" hats
Sandals rather than shoes, much easier to wash in a shower.
All the other typical travel stuff like sunscreen, tooth brush, etc.
You'll need to make sure you meet weight/dimension limits set by your carrier. On our flights it didn't seem like they cared at all as they never really checked, and the one time we did get checked I ended up about 1lb overweight on my pack but wasn't charged anything or admonished. On both our ANA and VietJet flights we saw plenty of people taking obviously over-weight bags and sometimes more than one carry-on on board the plane. It's possible these were all paid for but I get the feeling the carriers were just letting it slide.
Getting Around
My recommendation would be to have a phone that works internationally, meaning a phone that works on GSM rather than CDMA and is unlocked. Unfortunately in the US we're good and stubborn so we still use CDMA for some carriers, I don't think anyone else in the world does that. Sprint & U.S. Cellular are the major CDMA carriers in the US, most other major carriers use GSM. It should be easy enough to Google your phone model and see if it's usable world-wide or if it's locked to the US. You can also ask your carrier if you aren't sure whether your phone will work globally and if it's unlocked as well.
We use Ting which can use phones that are CDMA or GSM, so I went ahead and bought a used HTC One X that is unlocked and uses GSM bands. Unlocked phones are generally a bit more expensive than their carrier locked counterparts but in the US most carriers are required to unlock your device when you ask. As long as you own the device and it's not CDMA, you should be able to have it unlocked and simply pick up a local SIM at your destination.
You don't need an international phone, but it's best to have one as you can then buy a cheap local SIM card upon landing. Make sure to ask for a number as well, some SIMs will be data only. Doing so will get you a phone that actually works in case you need to call authorities, want to call home, or just need to be able to use data while in a foreign country which is very helpful. All of this has been to say, get a local number if possible so you can use Grab. It's by far the easiest and cheapest way to get around the larger cities like Hanoi and Saigon plus it allows you to pay with a card rather than using up cash. Grab requires a number so make sure you ask for one when getting your SIM. In places where Grab drivers aren't readily available, Grab can usually find you a taxi instead.
Other options are available, taxis are everywhere but you'll want to stick with the more well-known Mai Linh and VinaSun taxis so as not to get ripped off. Inner city bus systems are generally pretty easy to use in the larger cities and incredibly cheap. Trains and long distance busses will get you between destinations fairly easily. A sleeper bus is usually a tad cheaper but safety wise I'd take a train anyday. You can also rent a motorbike if you have an international license but the driving experience in Vietnam is not something I'd recommend for the faint of heart.
Generally you will want to get your train and bus tickets early. If you show up to the station about an hour ahead of departure time you'll see a bunch of people trying to get tickets. You can try and join that rush but if you've got a tight schedule or don't want to deal with the hassle then buy ahead of time. For most of our major moves between cities we used BaoLau to purchase tickets ahead of time. You'll pay a $2 fee per person to book but it's nice to have the peace of mind. Another very important thing to note, never schedule an international departure from Vietnam on the same day as you're doing any other travel within the country. For instance, we flew back into Saigon a day ahead of our international flight back to the US. While we were in Vietnam our travel choices were mostly on time but late flight/train/bus stories abound. Easier to separate and not worry about it.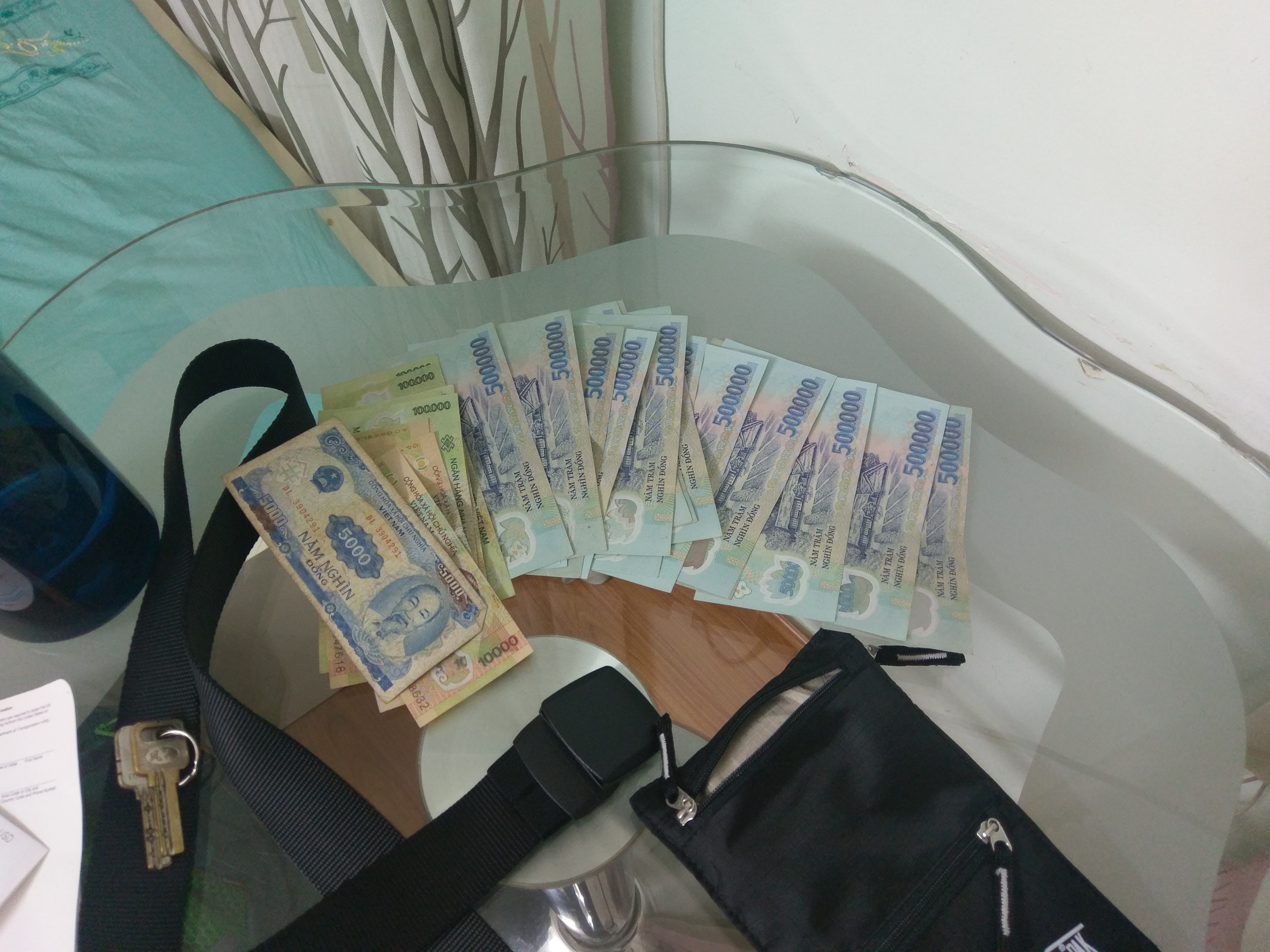 Money
ATMs are pretty easy to find so make sure to bring a debit card along. We took a whole $390 with us to exchange upon landing (just over 9 million dong) and then had our account back home stuffed with another $1500 or so to withdraw as needed. Make sure to ask your bank before leaving what they charge for foreign transactions. Luckily our bank didn't charge anything, but Visa assessed a 1% fee on all transactions. We heard from other travelers that they would get hit with $5 per withdrawal by their bank, not something you want to find out after you've arrived. Additionally, most ATMs will charge anywhere from $1-3 per withdrawal and the lowest limit for withdrawal we came across was 1 million dong. Usually there are other ATMs nearby if you don't like the limit or fee on the one you chose. In most larger areas you can also use a credit card but the shop owner will usually charge a 3% fee to cover it.
In general, unless you plan on making large purchases, carrying 1 million or so dong on you ($40ish) at any time will get you anywhere you need to go. Long distance bus tickets are usually about 110k/person, local busses to get around town were usually 22k/person. Trains vary on distance and how nice of a seat you want but generally the soft seats for a short distance trip cost us 90k/person with longer distances costing around 150k/person and an overnight trip in soft bunks setting us back around 400k-500k/person. You can also take private taxis nearly anywhere you want, these will invariably ask you for 200-400k for a 30km trip. Unless you can't wait for another mode of transportation, I'd avoid them. They can be convenient but they're almost never the cheapest option and Vietnamese roadways are not known for their safety.
As for food, it's up to what you want to spend. We ate at some street vendors (observe the usual rules; eat where locals do, make sure the food is hot, watch how they handle it) for around $1/person on up to some of our nicer meals that cost us $20/person. There's a ton of good food in Vietnam but I will say we had an issue where so much of it is broth and noodles that we'd often be hungry again an hour or two later. To be fair we were usually walking the entire day so it's also possible we were just burning more of it than usual.
If you're a coffee lover then get ready as the coffee especially is pretty fantastic throughout the country. Just avoid Highlands coffee. It's the Starbucks of Vietnam and, like Starbucks, is overpriced and absolute trash. By now nearly everyone heading to Vietnam knows to try the cà phê sữa đá, a deliciously strong coffee with sweet and condensed milk used as sweetener. Da Lat in particular has a strong local coffee scene that's worth dropping some money on.
Lodging can also be had fairly cheap. We used AirBNB and ended up spending just under $400 for the entire month which is about middle ground. Many of the other travelers we met were able to pull off $10/night at various homestays, hostels, and hotels so we weren't too far off. Homestays also give you invaluable access to hosts that are local to the area and thus know where to eat and how to get around.
Another little tidbit of advice would be to make sure to hit up an ATM before leaving for more remote areas in case they don't have one. The only places we stayed that didn't have an ATM (that we saw) were Nghi Van and Ta Van Village, both of which are fairly small areas but were also two of our favorite places we visited. We stayed in Ta Van 3 nights and nearly ran out of cash.
Perception
"So… how were you treated?" We got this question quite a bit while we were traveling and when we returned. I'd done a little research before leaving to make sure we wouldn't be outright hated but still wasn't sure what to expect. We heard from some travelers that other Americans would say they're Canadian instead to avoid any issues. We also had a French guy tell us the Viets hate Americans while a Viet told us they were happy for the tourism. Either way, we never had (or noticed anyway) anyone outright target us for being specifically American. White? Certainly. The locals know that foreigners mean money and some will hassle you if you let them. We just never had anyone do anything particularly mean or aggressive because we were American.
That said, there were exactly three instances where folk may have resented our presence. One was in a very poor area of Can Tho, the kind of poor where Ali caught sight of a child doing her business into a plastic bag at one point. While walking down what could be characterized as a sidewalk, a woman scattered some fruit leavings in our path. May have been coincidence. The look she shot us seemed to imply she didn't like seeing us there. At another point in Can Tho a man seemingly scoffed at us but, you know, I can't say for sure if that was intentional. Finally, while in Hoi An we had some mystery fluid dumped on us from above while walking down an alley way. There wasn't any screaming or jeering included and happily it wasn't urine or anything foul smelling so I just took it as coincidence and walked on.
I'll put it this way: we never felt scared or threatened when walking down some fairly sketchy alleys or through interesting areas. We didn't experience anything worse than we've run into here at home.
Haggling
Expect to get ripped off. For instance, something like a pack of cigarettes there will run locals about 50 cents in most areas, but if they don't have a price up and you ask they'll probably ask you for $2. Cheap enough by our standards but damned expensive by theirs. We had heard that the farther North you move the harder you have to haggle but honestly we didn't find anyone in our travels that was particularly likely to make it easy on you. Any of the markets will try and extract as much money from you as they can and some of the stall workers will follow you around trying to negotiate whether you want an item or not. It's also best to make sure that you have your hands on whatever you're paying for before you hand the money over, otherwise it may suddenly be the small backpack you were haggling for rather than the nice hard side roller you thought you were buying.
Do not under-estimate the power of walking away. One vendor offered me a wallet for 300k, I wasn't looking for a wallet so I kept walking. This particular vendor ended up talking themself down to 100k before finally understanding that I really just didn't want the wallet. We had this happen a few other times where as soon as you turn around something is magically $2 cheaper than they last asked.
Don't get attached to whatever it is you're looking at buying. It's almost certain you can find that same thing in any other market in the entire country. For instance, Ali wanted some elephant pants so we found some in the Ben Thanh market and bought a few pairs for about 80k each. A few stalls up they were asking 60k/pair and we could have haggled down from there. Unless it's something very specific that only that one shop has, which you'll probably know before seeking out said shop, you can safely walk away. On the flip side, it's completely up to you how much you want to haggle. Is it worth spending 3 minutes haggling if it's a $2 difference? Totally up to you.
Scams
Right along with haggling comes scams. I personally ran into two of them and both happened to us in Hanoi, which likely attributed to it being one of our least favorite stops during our trip. The first happened as soon as we got off the train. We got into a taxi that was NOT one of the major companies, this was my fault. I was taking a look at my phone to make sure I knew the distance to our destination and thus wouldn't overpay based on distance. Fortunately I was also keeping an eye on the meter so I caught it when, immediately after turning out of the stations lot, it took about 3 seconds to go from 7k to 27k. I tapped on the meter box and let the driver know it was "broken" which worked about as well as expected. It stopped him from pressing the bottom to the left of his steering wheel while I was looking at the meter so I guess that's a win. I will say it was kind of humorous as I could replicate the behavior by pretending to look at my phone. The drivers hand would mysteriously wander to the left and suddenly the meter would be running fast again.
I was a bit insulted the driver thought we were that stupid that we wouldn't notice, especially straight out of the lot when other taxis have a set price for the first km or half km. Could have at least waited to start running it up. In the end the driver got us for about $2 more than a normal ride so I didn't sweat it. Of course, this is almost certainly why they decided to just run it up, they know most people aren't going to do anything drastic over $2.
The other scam was a bit more egregious and soured my day a bit more. While walking towards Hoan Kiem lake (incidentally right past a Highlands coffee shop) a street hawker literally took my sandal off my foot. Sounds like something that wouldn't happen, but we now know it's possible. Both of my sandals had busted a seam along the side, I don't think it was due to the quality of the sandal but rather due to an insert that seems to have cut into the fabric. This guy just happened to have a needle and thread so he went to work on repairing the sandal he'd gotten. He then passed it off to another guy that had just arrived who proceeded to polish it while the first guy wrestled my other sandal off. All of this, it should be said, was done without any sort of consent or even asking. It's not like I was going to fight them for my sandals and once they'd got one I wasn't really going to leave with just the other.
Anyway, all of this culminated in the sandal thief #1 letting me know, about 2 minutes after taking my sandals, that the cost would be 700k. My internal monologue went something like this "Yeah, guy, here's the thing, uh, no". Of course, sandal thief #2 had his own rate. In the end, I handed over a 200k bill and let the second sandal thief know he could talk to the first sandal thief about splitting it. The first thief promptly walked off with the money. Thief #2 was really not happy when I took my other sandal and left. All of this is funny now, but at the time it was really quite frustrating. Adding to the fun was a random Vietnamese lady stopped by near the end of the ordeal to help defuse the tension and then sided with the sandal thieves and said I should go to an ATM if I needed more money.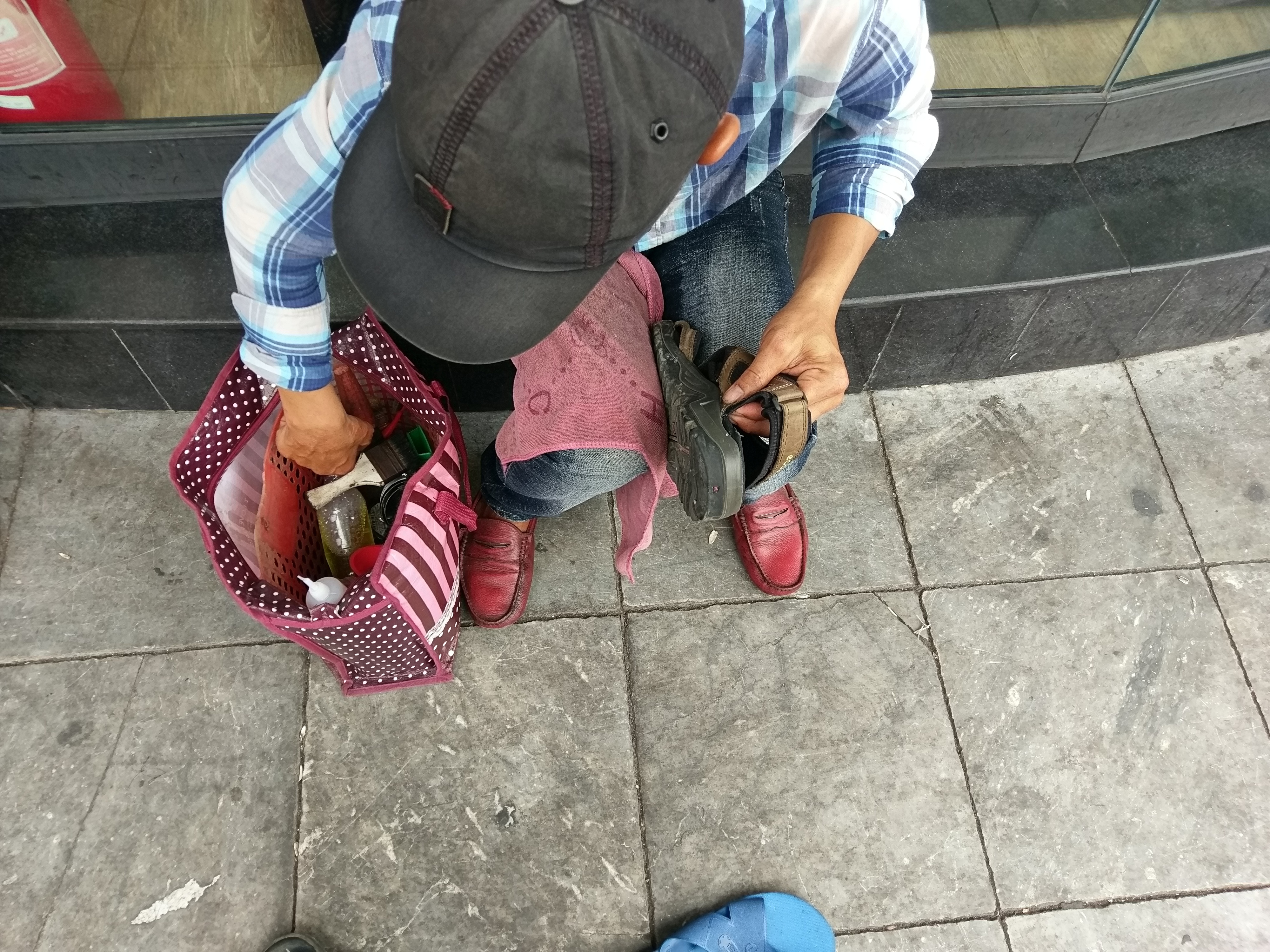 After breakfast we saw another traveler who's shoes were taken, things were going much the same way.
These were the only two scams we ran into (other than some Karma group recruits in Hoi An). It's really a shame too as we made it through damn near the whole country without this kind of thing. Then come along a few idiots to mess that up.
Another semi-scam that I became aware of is when traveling in certain parts of the country there will be microbus drivers that will try any dirty trick to get you to pay them rather than take a local bus. For instance, when traveling from Lao Cai to SaPa, there's a local bus that will take you for about $1 (22k) and leaves/arrives about every half hour. However, if that bus isn't in the lot when you get off the train, the mini bus drivers will try to get you to pay around 150k/person to take you. They'll make sure to point out that there's no bus to SaPa there, which may technically be true at the time. Sleazy. Don't fall for it unless you really can't wait.
Other Tips & Considerations
There are a few big things you'll notice shortly after landing. The first is the air pollution is terrible, especially in larger cities as motorbikes rule all and a fair number of those are still powered by two-stroke engines. Even the newer bikes aren't going to be up to more developed nations air pollution standards, and you'll be able to tell. By the third morning I had a sore throat and Ali had issues already after our first day out and about. You'll see that most folk on bikes and a fair number walking the streets have little pollution masks on. I'm not entirely sure they help with the pollution factor much but at the least they do help filter dust and the like out of the air a bit. You can buy these at nearly any convenience store, I'd recommend doing so.
Along with this you're going to see trash just strewn about damned near everywhere. Resist the urge to pick up every piece, there probably won't be anywhere nearby to put it anyway. That said, you can sometimes find places that will recycle. We were always able to hold onto our empty bottles and such until we found a recycling container. Whether it's actually recycled or not is another matter.
The two other big things you notice are that toilet paper and soap are not what I'd call common. We'd packed wet wipes and that saved us a few times. We also brought hand sanitizer which is better than just wetting your hands and pretending to feel clean. Trendier food places tend to have toilet paper and soap but pay attention to any signs, many places don't have plumbing that can handle toilet paper so you'll have to throw any used paper in the trash.
Taxi drivers will fight over you. Prepare for a tide of "where you go?" or "taxi?" as soon as you get off any bus/train/plane or sometimes even when you're just walking down the street and especially if you're walking around with any sort of luggage. Saying no does not deter these folk, neither does shaking your head. God forbid you pull out your phone to get your bearing. They will then descend upon you and let you know they know where that is and can take you. They'll also try to take your luggage and guide you to their car if you let them. This whole affair was one of the least fun parts of traveling the country and by the end of our trip Ali had perfected a facial expression and deadly tone combination that did a great deal to deter all but the most foolhardy of taxi drivers.
If you can, try and stay with locals while you travel. Many will skirt the "homestay" description as they'll have a large building with 5+ rooms but since they live in one of them they can call it a homestay. It's really more like a small hotel. That's not to say some of the folk that run them aren't great people. We stayed in one of these setups in Dong Hoi and the owner had a great conversation with us, shared some fruit we hadn't had before, and made us spring rolls. However, our best memories from our travels in Vietnam will undoubtedly stem from the two times we truly lived with a family in their home. Incidentally these were both in locations that are not as traveler heavy, which really helps them stand out. In one of these places we ended up partying with teachers on a Friday night and in the other we ate dinner with the whole family and even some locals from the village each night.
Along with the above, make good use of your host! Chatting with them is a great way to get a better perspective of the country and culture but they can also provide local tips on where to eat, how to get around, and where to go. Some of our hosts helped us with figuring out how to get to our next destination as well. It's great to have them call a taxi that just shows up and already knows where to drop you off. Especially when you're just trying to get to the damn train station/bus station/airport at 5am.
Something we didn't expect at all was how much we enjoyed meeting other travelers. For instance, during the aforementioned partying with teachers we met an Australian who had lived in the area for a few months and a couple from the UK who had arrived the same day as us. After bonding over being in similar states of sober depletion we had a good 3 hour chat on various topics. It was thoroughly delightful.
In Nihn Bihn we found two separate groups who had previously run into each other and quickly incorporated us into their discussion. A few rounds of cards and many drinks later we came away with a vastly expanded lexicon of English swear words. Most other travelers were willing to let me pick their brains and many had their own questions in return. Good fun and excellent conversation was had all around making it one of my favorite parts of our trip.
Observations
Traveling throughout Vietnam means you'll see some weird stuff. Most of the things listed below aren't weird in and of themselves but when traveling from America to Vietnam they are certainly different from what you'd experience in the US.
Smoking. Everyone in Vietnam does it and they'll do it anywhere. Train? Yep. Sitting next to you at lunch? Yep. Bus? If they can get away with it. Second hand smoke does not seem to be a concern so be prepared to have a second hand pack a day habit when you return.
Speaking of trains, the carriage you ride in is usually air conditioned. Folks who get up to leave the carriage will also usually leave the doors opening allowing it to all be replaced by whatever steamy ambient air exists outside. Same with windows, folks will just leave them open though it's plainly hotter outside. If you opt for the "premium" soft seats you sometimes get a carriage where the doors automatically open and close which can help with this. Some of the train personnel will come through every once and a while to offer snacks. Among these snacks is Balut, which is a fertilized duck egg that is allowed to develop and is then boiled. The smell is noteworthy, even more so when you're stuck on a train with it (and of course now all the doors/windows are closed).
You'll get plenty of stares but we never had any that seemed unfriendly, if that makes sense. Usually a friendly smile and a wave would get some sort of acknowledgement in return but it's a bit odd being stared at all the time. Younger folk are more likely to be learning English and some will be eager to practice if you've got the time. I'd recommend it, we had some interesting conversations with school children when we first arrived in Nghi Van seeing as we got dropped off at the school and had no clue where we were supposed to go.
Picking your nose and sneezing or coughing on or at people does not appear to be frowned upon. You have been warned. This is another reason you may want those little smog mask things while on buses/trains/planes. If long pinky nails or mole hairs bother you then avoid Vietnam. I actually thought maybe the mole hair was a good luck thing but didn't want to ask anyone there, it seems that may be correct.
Another funny gotcha, when Vietnamese folk answer their phone they say "hallo" which may be a hold over from French occupation. What makes it fun is that if you answer a call from a Grab driver like you normally would they'll launch into Vietnamese and expect that you understand.
I noticed that, like in America, taxi drivers seems to have a hand signal/light flashing language all their own when they encounter drivers they know. The few private drivers that we used also seem to know the other private drivers and would honk or flash their lights in greeting.
That's that, everything I can currently remember to recommend, watch out for, and enjoy when planning a trip abroad. My next post will be going over what we did, where, and what we thought about it plus everything I forgot to put here. Probably. See you soon!