Happy 2/22/22! Small update: we ended up getting a 2011 Toyota Sienna as we actually liked it better than the same year Odyssey. We've also sold the VW so I'll likely have a review sort of thing up for that soon.
Origins
What's a person to do when they want the practicality of a hatchback and the fun factor of a sports car? Why, buy a hot hatch of course! That was basically my thought process back in mid 2018. I wanted to have a fun car, but I wanted it to be practical, and I also really enjoyed our Mazda 3 so I figured a MazdaSpeed3 might well be the play.
Of course, I didn't immediately settle on the MazdaSpeed3 and in fact I test drove a few cars before I even thought of it. Notably, I test drove a 2006 Lexus IS350 and a 2006 BMW 335i. I don't really care for the styling of the Lexus and, though the v6 did provide plenty of grunt, the asking price was a bit more than I wanted to pay at the time. In hindsight the Lexus was likely the best move I could have made in terms of reliability and resale, but that's what hindsight is for. For it's part, the 335i wasn't a bad car either, but the speed was completely drama free and I didn't fit well in the seats even with adjustment. I also thought the interior was a bit lackluster for an entry level BMW.
It probably sounds cliché, but I wanted a bit more of an engaging experience in my fun car. I wanted the car to be playful, like our Mazda 3, and I wanted it to be a manual car where I could be an active part of the drive. Enter the MazdaSpeed3: a 260hp, 280lb-ft turbo hot hatch based on the Mazda3 that offered a limited slip differential and a 6 speed manual transmission with all the practicality of the standard Mazda3. My kind of car!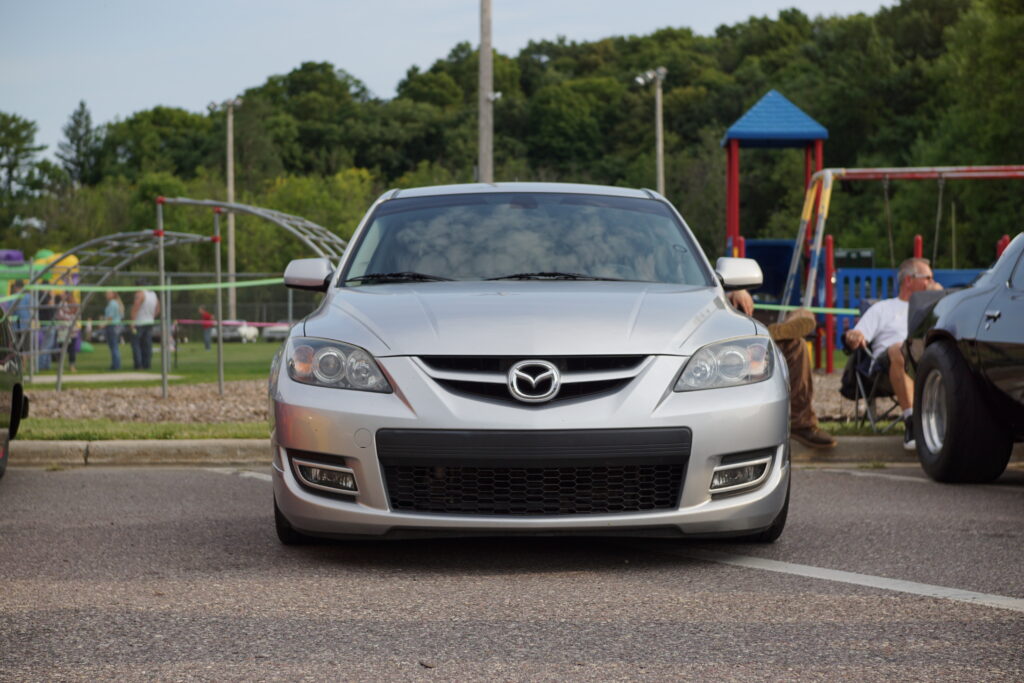 The Search
Probably my least favorite part of buying a vehicle is the search. I often end up finding that I'm being just picky enough that I can't find the options I want locally. Luckily for me, there weren't really any specific option packages for the MazdaSpeed3 that I needed, so I just had to find one and go look at it. In this case I ended up looking at two separate cars, a local one and the one I ended up buying out of Iowa. I ultimately went with the car from Iowa because it had some aftermarket parts that I would have wanted to purchase anyway, like a Cobb Accessport, coil overs, and a few other parts.
We drove down, did a test drive, and then handed over the check and started driving back. I had done some research and knew what to look for, but to be completely honest I did not do as much due diligence inspecting the car as I should have before the purchase. What I'm saying is I bought a car with some issues. This experience is part of why I now consider a having the chance to crawl around under any vehicle I'm going to buy to be an essential part of the purchase process, or even better, pay for a PPI so you know what you'll need to address.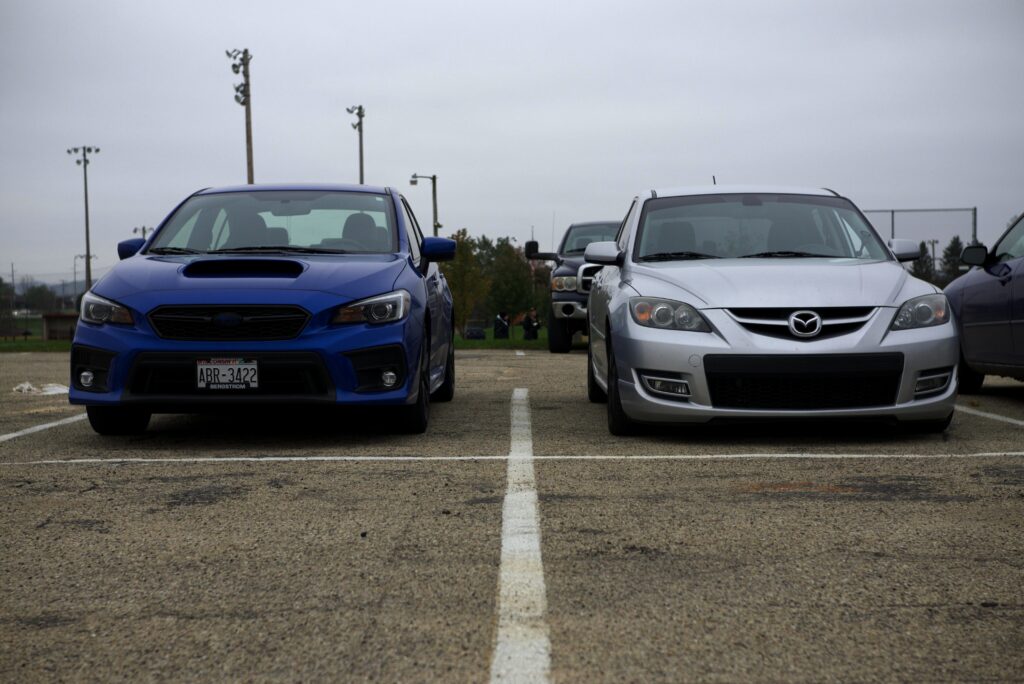 The High Points
I don't want this post to be a laundry list of complaints so I wanted to touch on why I've kept the car around: the driving experience. The 6 speed manual in the MazdaSpeed3 isn't as nice as something from Honda, but it makes for an enjoyable drive. I love the induction noise and the exhaust note is pure bliss. I love that the MazdaSpeed3 isn't like newer more "sanitized" feeling turbo engines that give you low end grunt without any spool. In a MazdaSpeed3 you put your foot down and wait for about 3k RPM where the car completely changes into a feisty rocket that pulls and pulls. The stock K04 turbo does fall off a bit up top, though some high pressure fuel pump internals and a tune can fix that right up. It's also a great platform in the twisties, thanks in part to some nice tires and the coil overs that came on it.
It's a shame that it's sat for nearly half my ownership now, as it really is a great car to drive.
Issues Galore
The MazdaSpeed3 uses Mazda's 2.3 DISI engine, which has a few known issues. The two worst issues are the VVT actuator and K04 turbo failures, with a weak high pressure fuel pump being a close 3rd. Every vehicle has it's quirks right? First things first though, I did a few basic maintenance replacements right after buying Felix. I started by replacing the transmission gear oil and then I replaced the cartridge filter setup with a spin-on setup during my first oil change.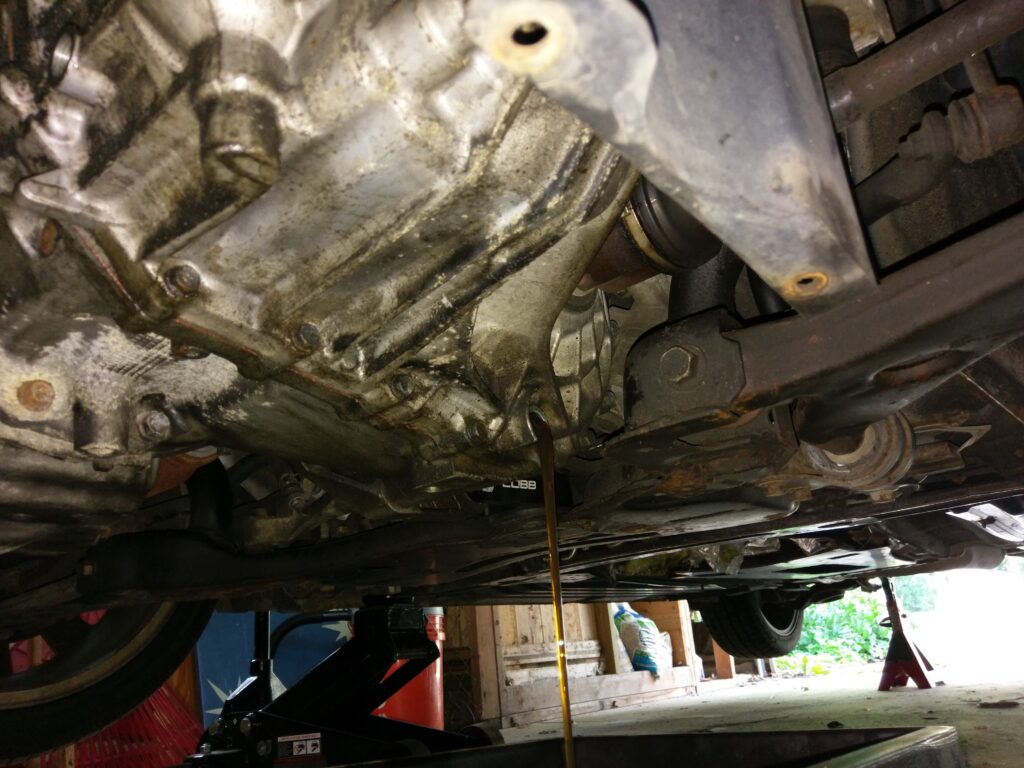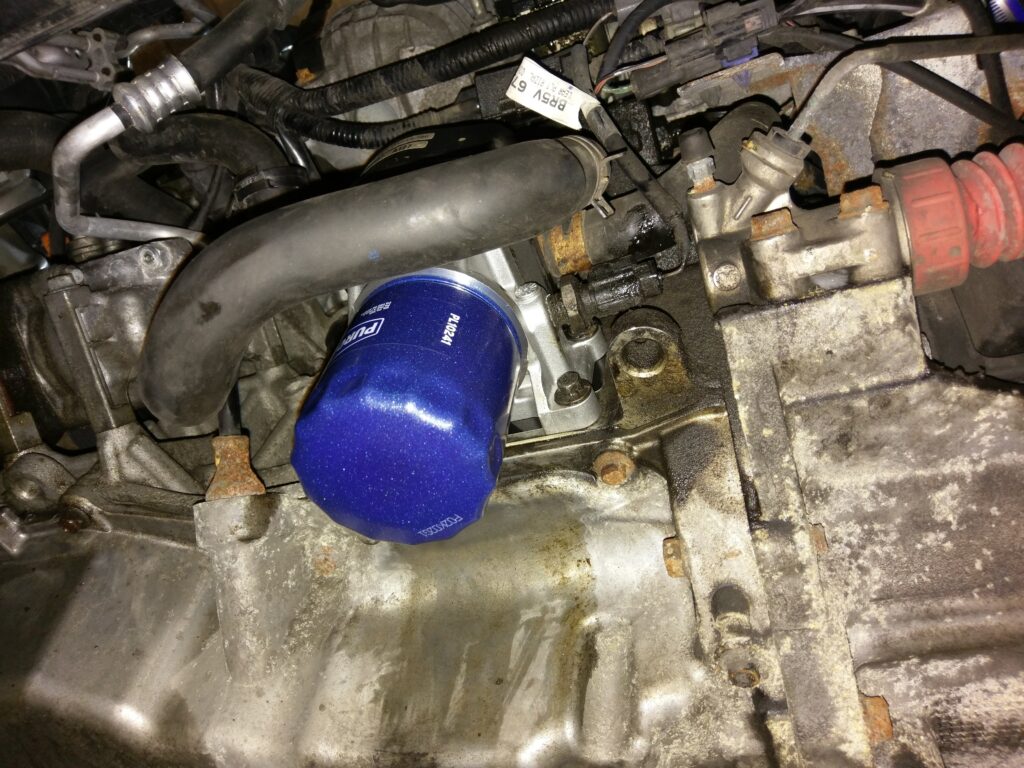 Unfortunately, the MazdaSpeed3 I bought has had quite a few other issues. I initially had the VVT failure issue, with loud chain rattle at start-up. I spent around $800 on parts and went through the fun of replacing the timing chain, VVT actuator, and other timing components. It honestly wasn't too bad work wise, leaving the engine in the car meant a cramped workspace but I've certainly had worse repairs.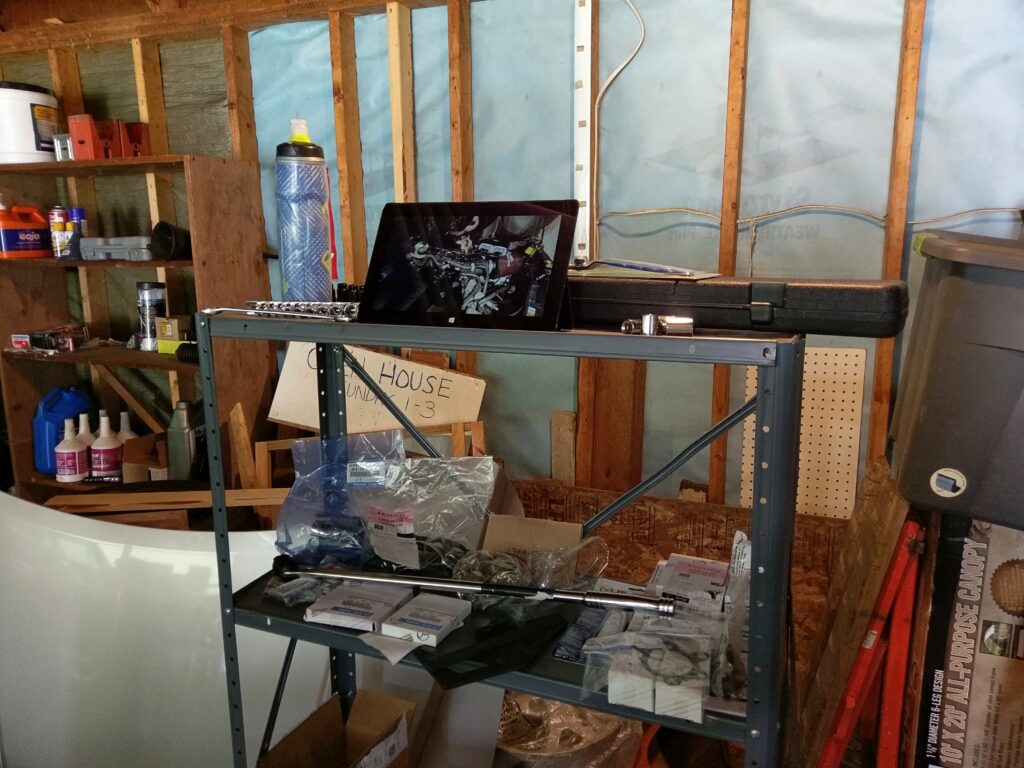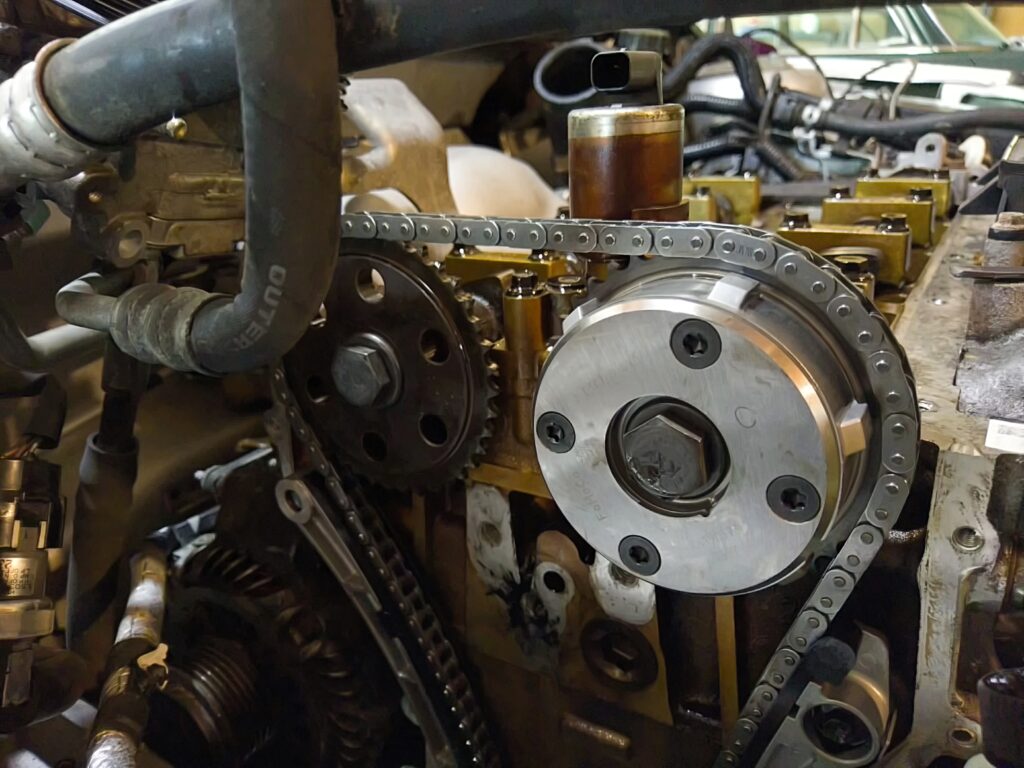 Despite replacing all these components, I do still occasionally have what sounds like chain rattle at startup. Though, to be fair I did also replace the passenger motor mount with a piece from Damond Motor Sports. It's a really nice solid piece, but it transfers a lot more sound into the interior. The stock hydraulic fluid filled mount was leaking fluid all over, a common issue on both the MazdaSpeed3 and Mazda3 of this generation.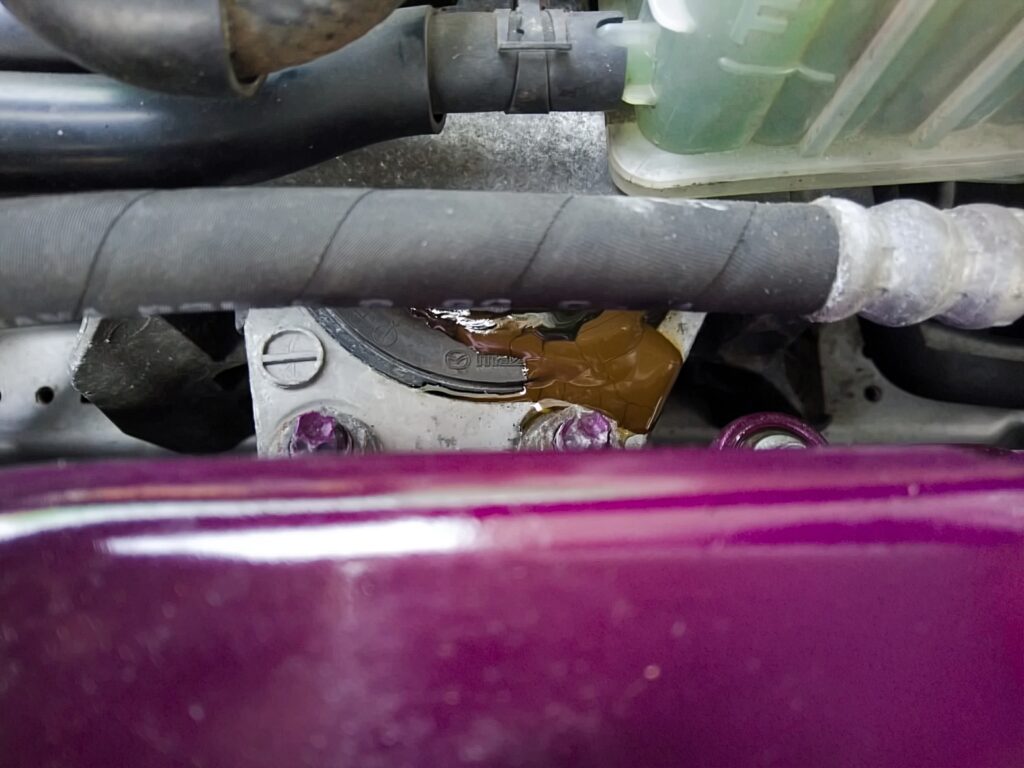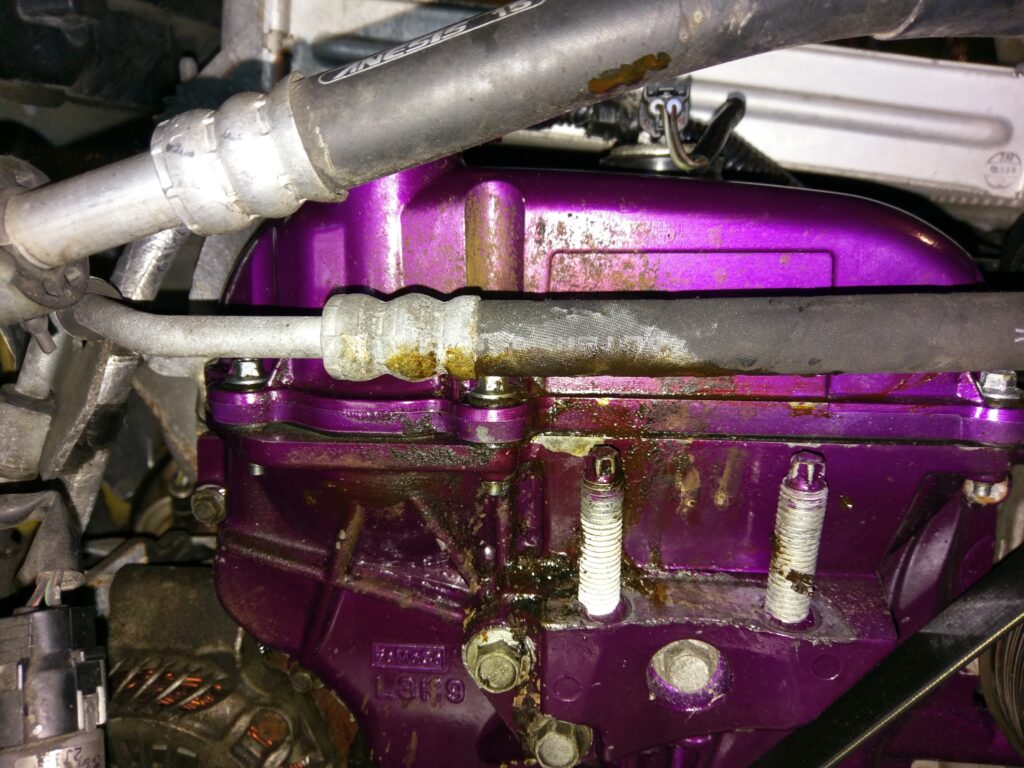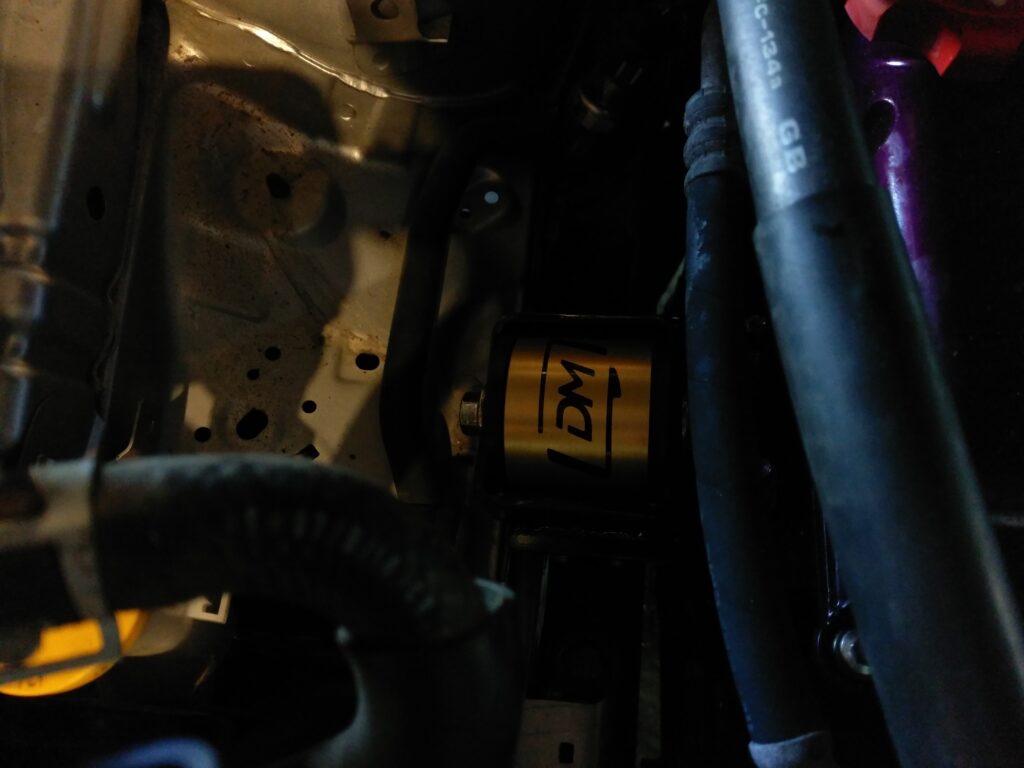 Once I'd completed that work, I started to drive the car more as I previously wasn't super keen on putting on a lot of miles while the engine was a potential grenade. This is when I started to notice the oil consumption and occasional white smoke out the back. I pulled the turbo inlet pipe and found a good amount of oil in there. While that was apart, I checked for shaft play on the turbo and found that it was definitely out of spec. Additionally, my sealant game was not on point when I replaced the front timing cover so I developed a relatively small leak there as well.
I did what any self-respecting car guy would do: start buying parts for the inevitable build. I've now gathered all the normal bolt on mods that are common for this platform. I've got a larger turbo (BNR S4V3), larger intake system to match, a better exhaust manifold, a better intake manifold, a nicer top mount intercooler, and a ton of smaller supporting mod parts for switching to a big turbo. I've also picked up a transmission mount from Damond to complete the 3 main mounts, a Damond PCV plate, Damond EGR delete kit, and a Damond catch can setup. Needless to say, with a good engine to slap all these parts on, I'd have a really solid street car that would likely be faster than I know what to do with.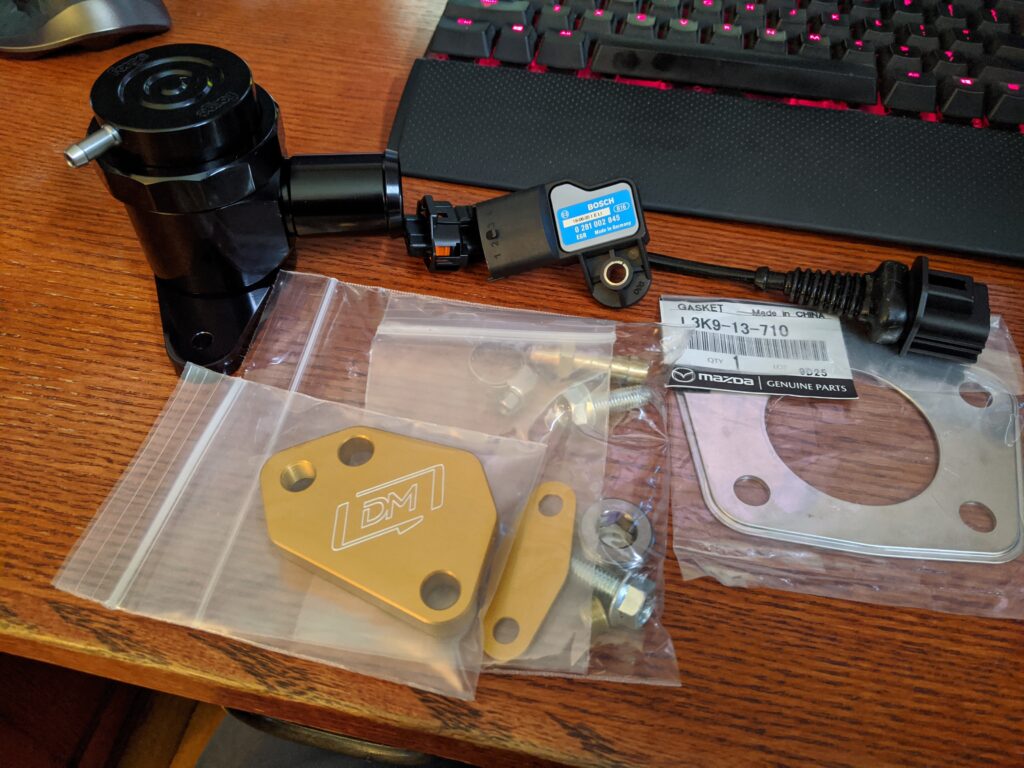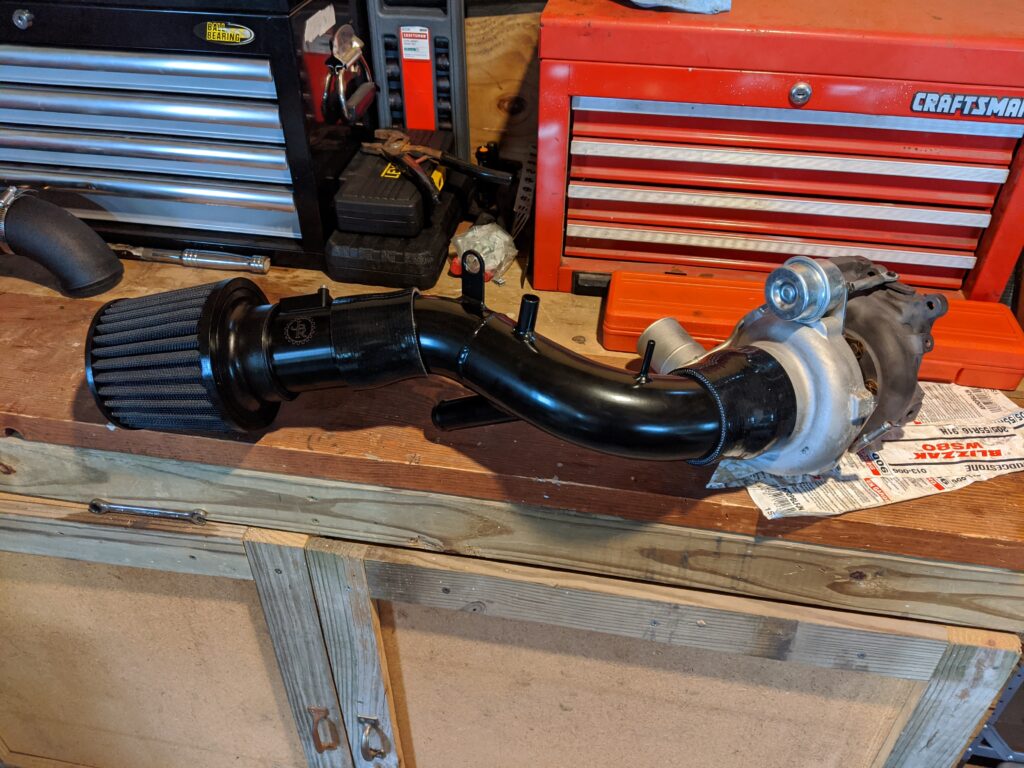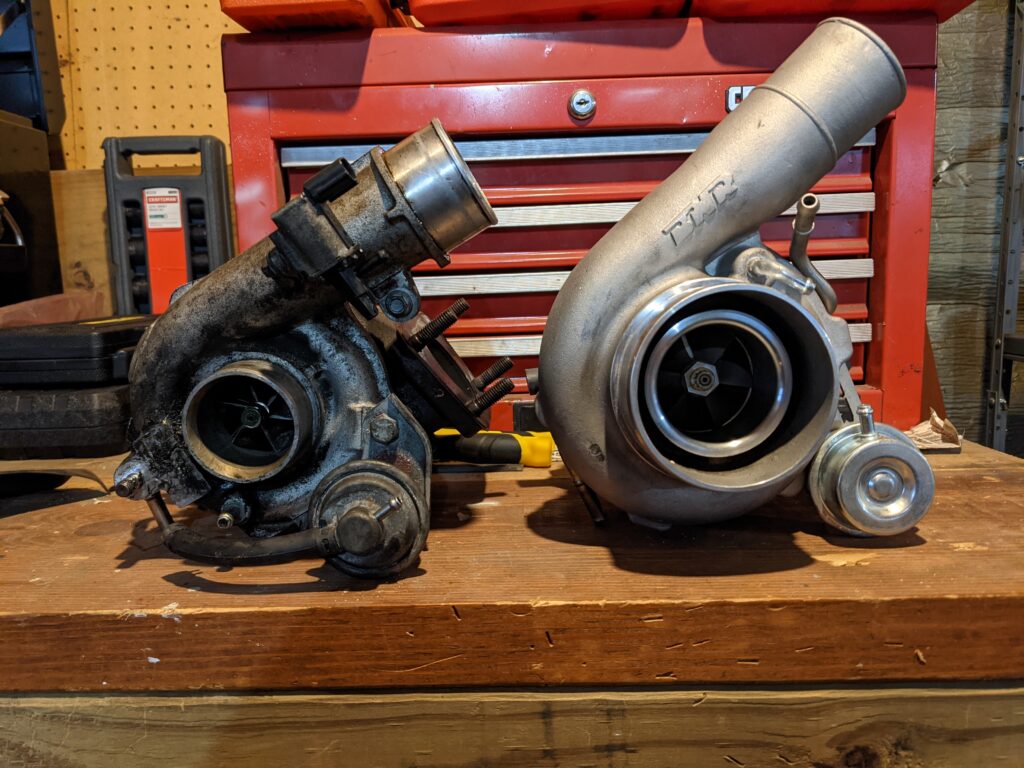 I drove Felix a bit more after this but ultimately parked it while I tried to decide what to do. I didn't want to get into a Laser situation again.
The Low Points
My only real complaint about the driving experience comes down to the coilovers on the car, an H&R set targeted more at track driving than street driving. This of course means a very stiff ride, though I may be able to adjust that a little. I also wasn't a huge fan of the stock 18″ wheels, so I swapped on a spare set of 17″ second gen Mazda3 wheels. I repainted those first and I have to say it's worth paying someone a couple hundred dollars to paint your wheels for you. I spent waaaay more time on them than I expected I would. I'm still deciding whether I truly like the copper, but I like these more than the matte black stock wheels I got with the car. These also look better in person than in pictures.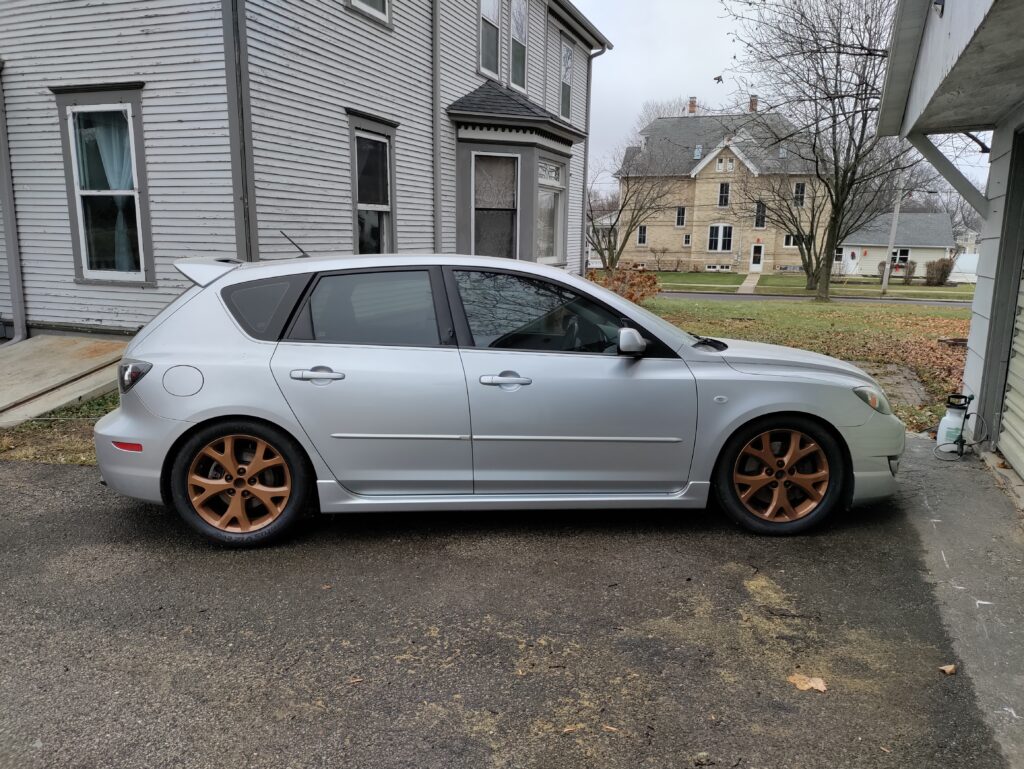 It's also a rust belt car and it shows, I really need to grab some POR-15 and get to encapsulating.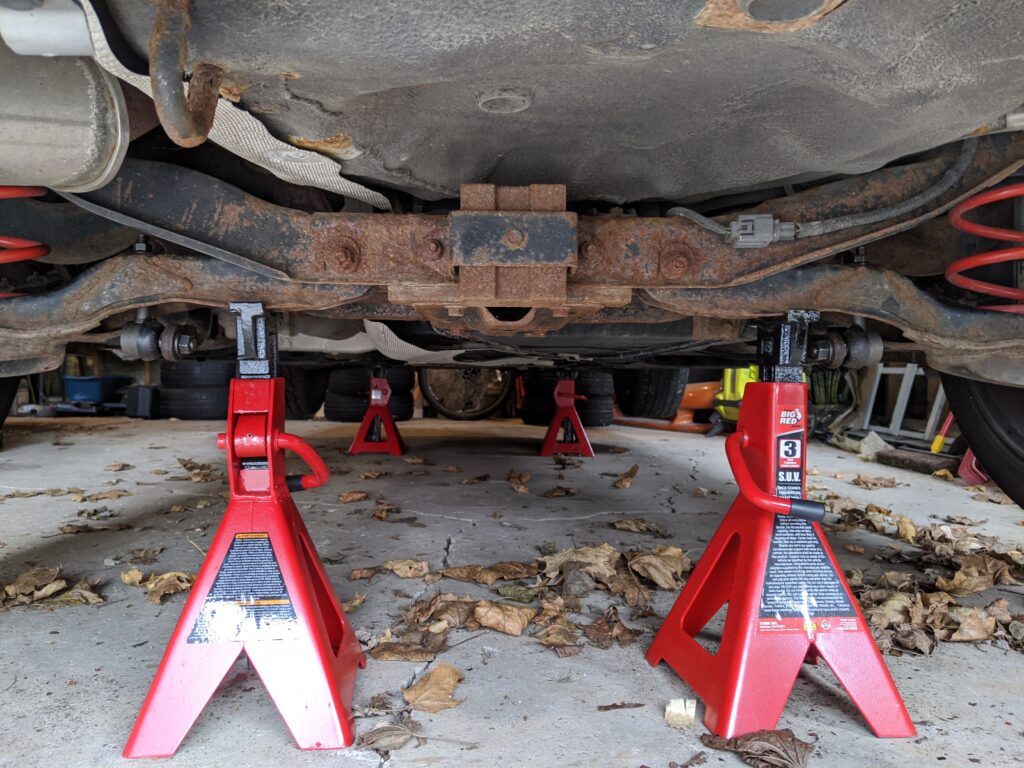 What To Do?
This is my current conundrum. I parked the car just over 2 years ago at this point, and I think I've picked the approach I want to take. I'm leaning hard towards purchasing a complete built engine from a builder like cp-e as that would get me an engine that I just need to bolt-on and drop in. My current engine seems okay, but I don't know how well it will hold up to increased boost. I won't need to worry nearly as much about slapping a larger turbo on a built engine.
I haven't ruled out simply slapping everything on and seeing what happens but that's a bit risky with an engine that's got 130k on it. I did have a leak down test done which showed that the engine was at the very outside of acceptable specs and an oil analysis showed excessive fuel in the oil so it's unlikely the engine would last long with increase boost. Perhaps the biggest issue: I've got other cars in need of attention and if I keep holding on to every car until I have the resources to fix them then I'm going to be stuck in this cycle for a while!