As promised and only a few years late, I present my notes from traveling Vietnam. I did add some edits or clarifications in retrospect, but it's otherwise exactly as I wrote it while we traveled. I feel like I say this in all my posts, but there are a ton of pictures in here (some from my phone, some from a Sony a5100 so quality will vary). This is an exceedingly long post so toss on some Felly and enjoy!
Day 0
Got up around 4:40am to get to Chicago, took off around 11:45. Landed in Tokyo after something like 12 hours of flight (I think it was 2:45pm local in Tokyo) and then around 4:40 we boarded for Saigon. Landed in Saigon right around 9pm local and then spent about an hour waiting for visas. After that we breezed through immigration and turned $390 into a little over 9 million dong. Caught a Grab to our Airbnb and then accidentally double paid the guy (got charged on my card through the app and also gave him 50k. So I overpaid like $3).
Showering was excellent, brushing my teeth was a close second. Now I'm excited to sleep!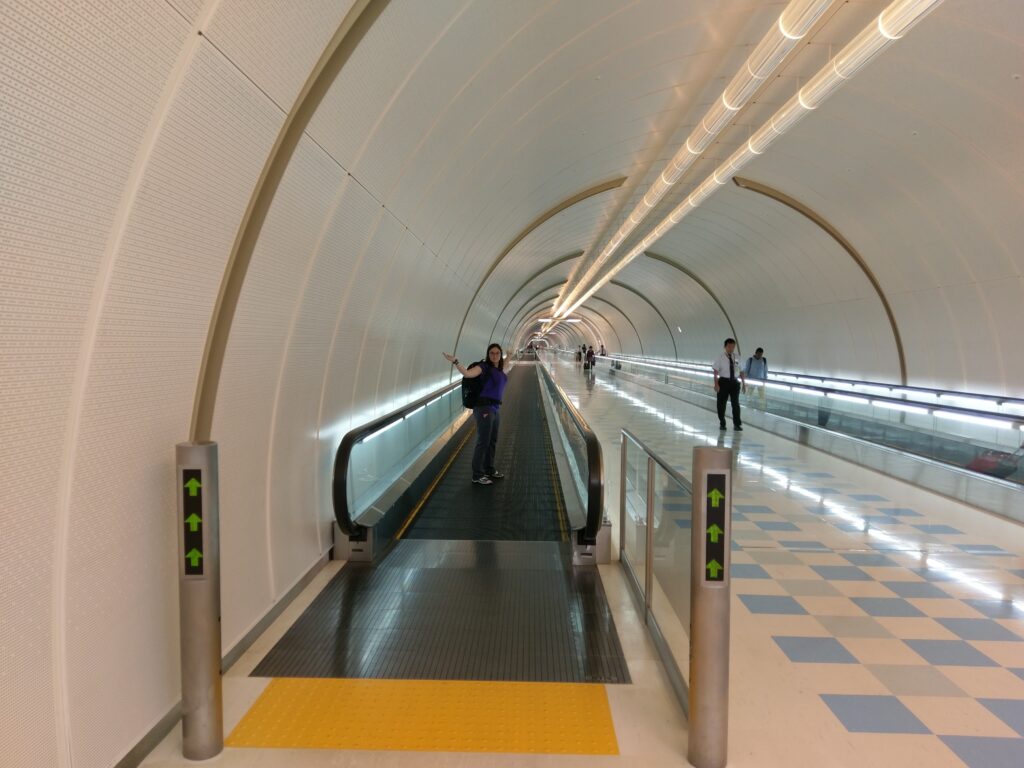 Day 1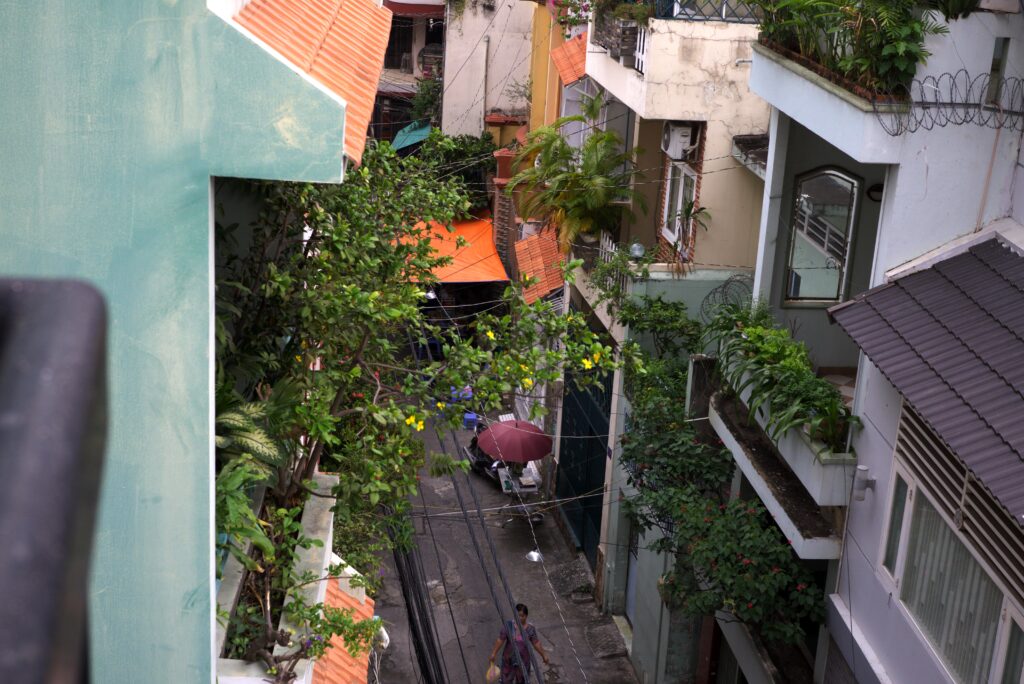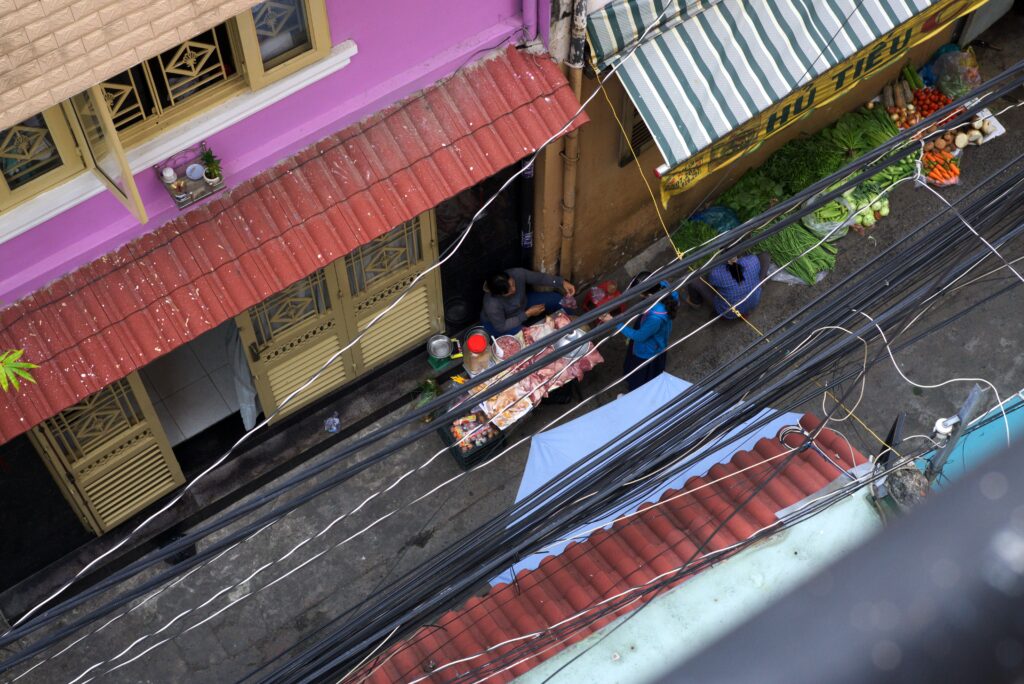 12:03pm
Café Mây was a great way to start the day, a single order of bun bò fed us both. I had iced coffee, damned good too, not as bitter as American coffee and folks appear to sweeten it quite a bit here. We took a grab from Café Mây, in a Honda City 5 no less, to the Unification Palace. Getting to the palace cost us 13k dong or about 60cents, just crazy.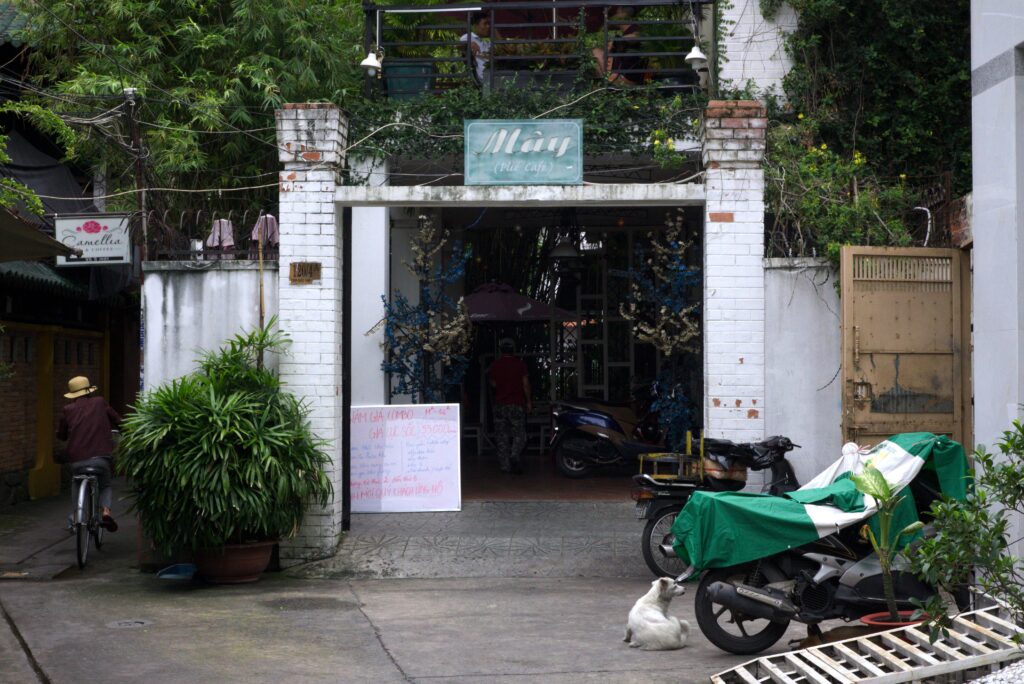 The Unification Palace was fantastic, whoever architected it knew how to build a fantastic building. Tons of history here (we did the audio tour) and it was only about $10 for both of us to do that and the French Governors House tour as well. All said it took about 2 hours to complete. The café on premises is also a fantastic place to grab something cool and relax after all the brain food. Ali had a strawberry smoothie and I got blueberry yogurt (made into a liquid drink) and both are delicious. Better yet, it only cost about $6. Somehow, Ali passed on stopping at Baskin Robbin's ice cream. Yeah, I don't know either.
Headed to the museum of art next and then probably Ben Thanh market and possibly Tâm silk after that depending on what we find for our opera shirts tonight.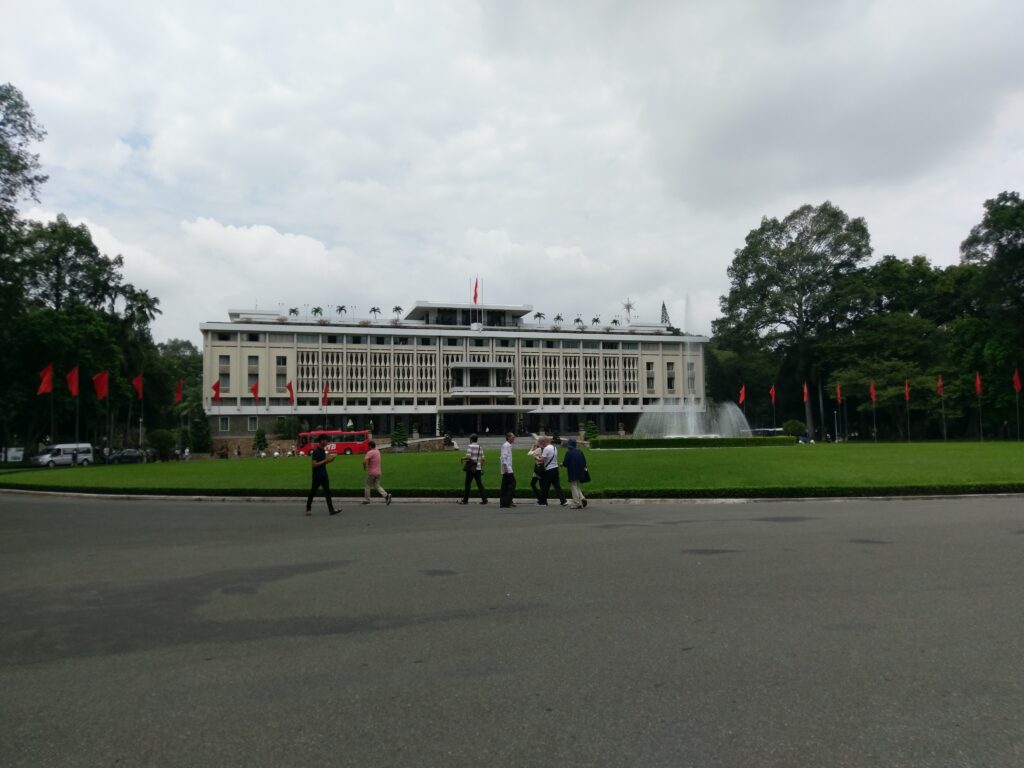 1:47pm
Walked through the Saigon museum of art. It's got three different buildings but we only really walked through the first as the second seemed under construction and the third was pretty dark inside so we speed walked through there. Even in the first one we really didn't linger much on pieces but there were plenty that stood out. I get the feeling we were both hungry and getting tired of the heat and walking. I was getting a bit dizzy towards the end but it luckily started to rain just as we walked out of building three, helped knock some of the heat down a bit. Right across the path is the Art Café so we stopped in and ordered rice with crispy chicken as well as fresh watermelon juice and pineapple juice. Took cover just in time, rain is coming down pretty good now.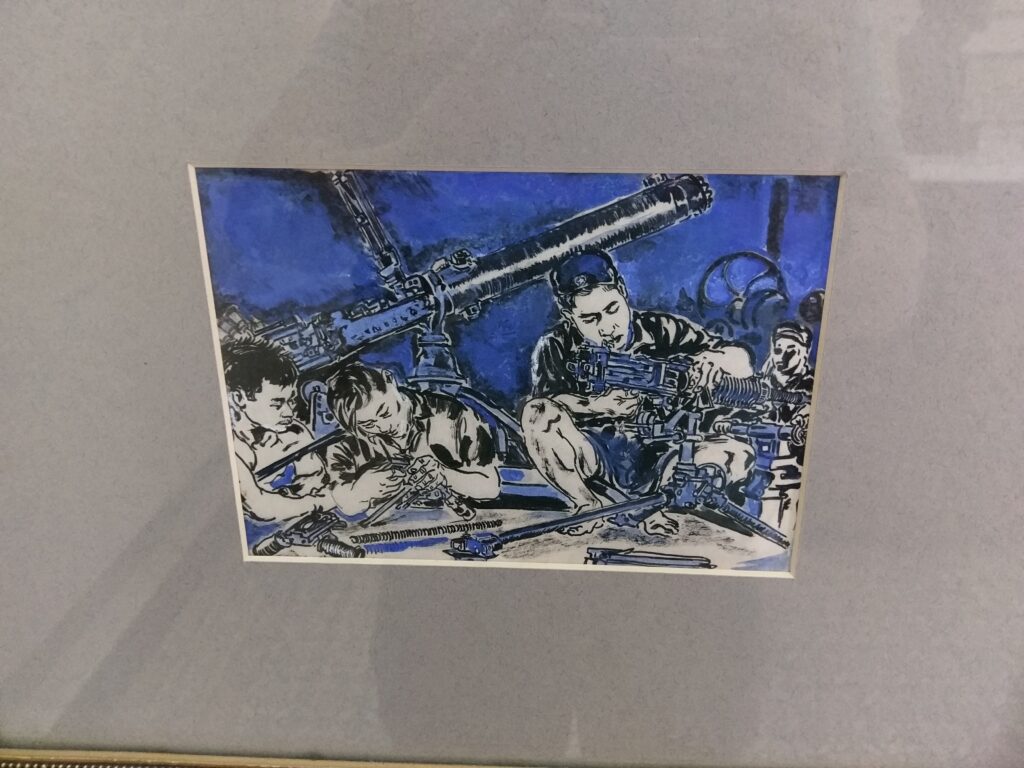 Might end up heading straight back to the room after this since we're both getting tired. We'll see what food and rest does for us first.
3:38pm
Ben Thanh market was something else, plenty of stuff but it's a jungle of tight alleys crammed with people and products. We got some elephant pants for Ali and paid waaay too much (about $11). Currently at a silk shop, got a shirt for me ($38) and a dress for Ali that they have to run and get ($55) but we've got our opera clothes for later tonight! Hopefully they're actually silk or we definitely got taken good.
Plan to head to the room to charge the phone, rest, and get ready for the opera.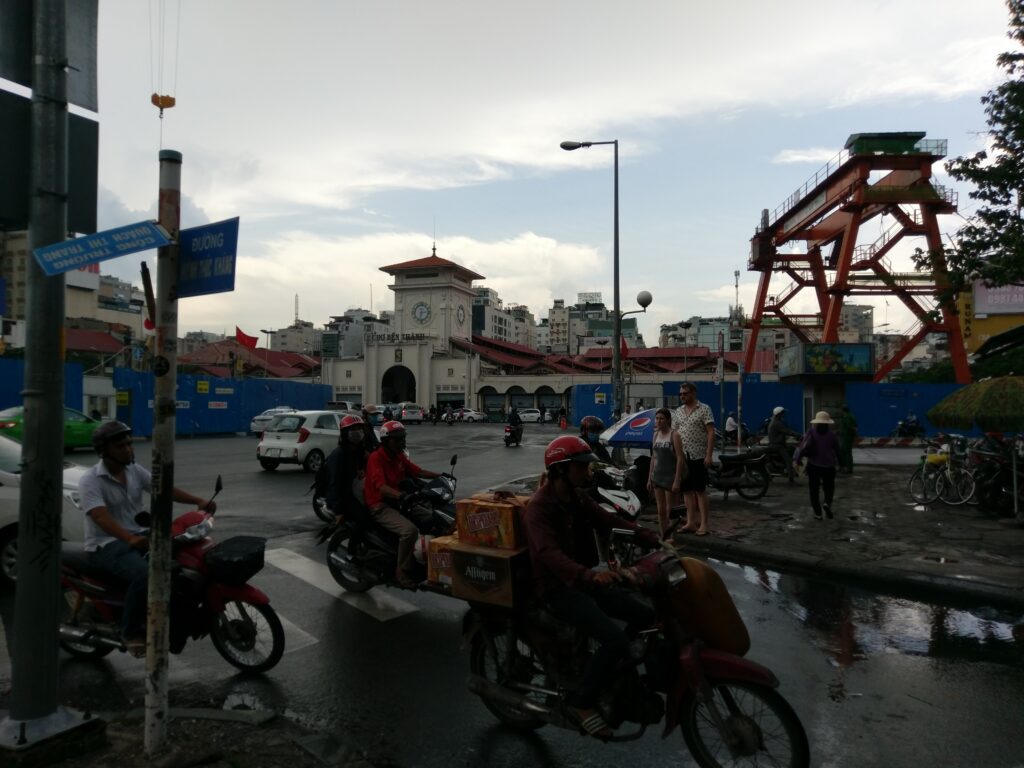 5:02pm
Resting and recharging now. The shirts we got from the first shop (Sang Thing Lua Shop) are alright but definitely not worth what we paid. No biggie, it's part of being a tourist and totally on us for buying them. Lam Silk is a different story, we both got a custom tailored shirt made of silk and pants of what I believe they said is a cashmere and cotton blend. We'll be picking them up Sunday morning before heading to the Mekong Delta so I can't speak to the quality of tailoring just yet but the ordering experience gave me much more confidence. Resting now and leaving in probably half an hour for the Saigon Opera!
7:50pm
AO show was fantastic, no way to describe it other than worth the money and that I'd go again. We got there about 3 minutes late (damn tourists) but luckily they still escorted us in and we hadn't missed much. Now at Chi Hoa to get some food ($13 for both of us to get food and a water each, this is an upscale place) and then back to the room for some sleep.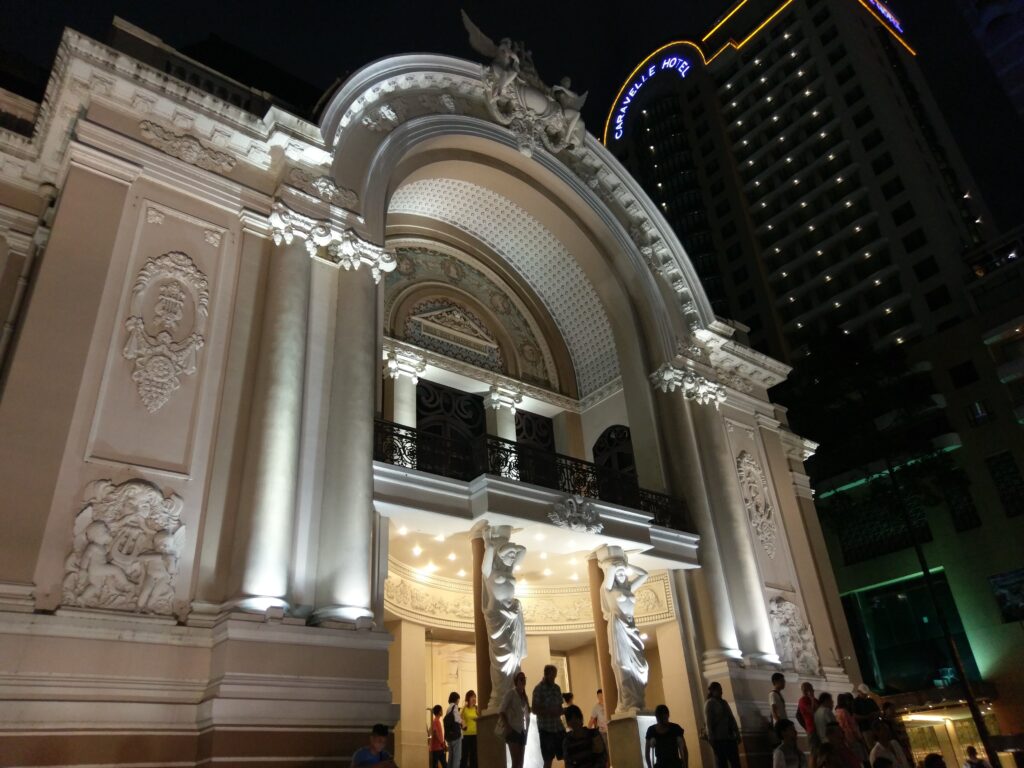 Day 2
9:53am
Breakfast at Camellia, Ali had peach mango tea that had fresh fruit prices in it and was freaking delicious. I had the traditional sweet milk coffee but it seems they forgot the sweet milk, so just straight iced black coffee. Not a problem for me! Ali also had a blueberry cheesecake that was good and I had cheese toast, which was delicious beyond expectation. The toast was thicker, like Texas toast, and was sliced with a very thin knife (likely not even a knife, but a wire or some such) so you almost don't notice it. The crust was crispy as if it had been fried, they drizzled honey over the whole thing and put a scoop of ice cream on top that soaked in and made it sort of gooey on the inside. The Asiago is good quality and stayed crispy even with the ice cream. Altogether, this toast if one of my favorite meals thus far. Edit – I still dream of this toast to this day, it was so good.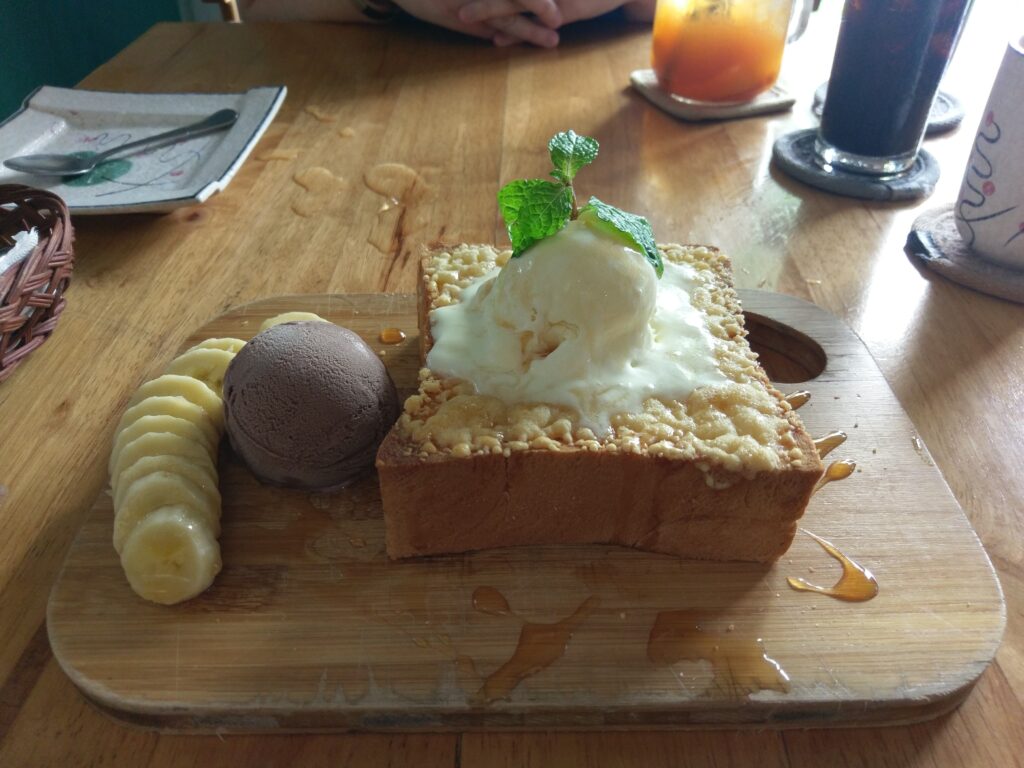 11:24am
Call me a convert to Buddhism, the Jade Emperor Pagoda was absolutely stunning. Currently on our way to the Catholic Saigon Notre Dame Cathedral.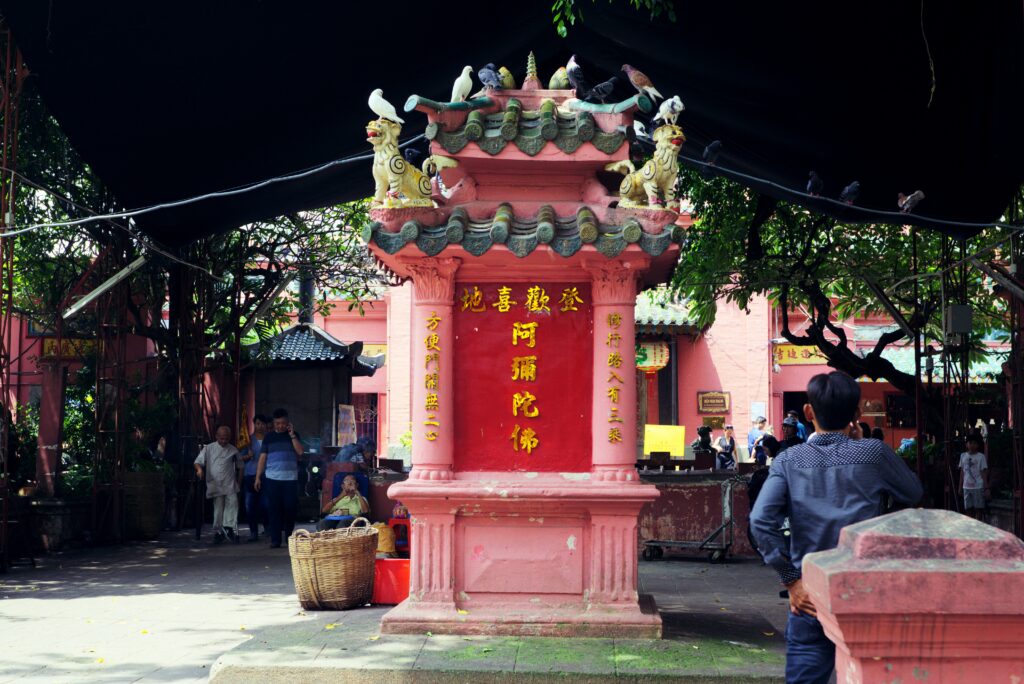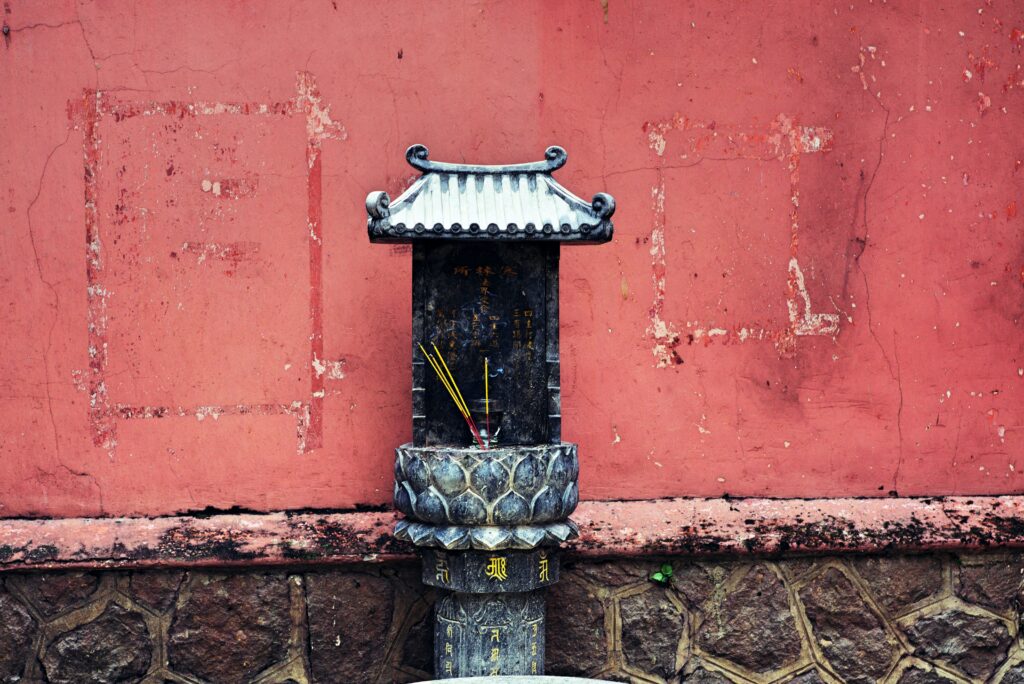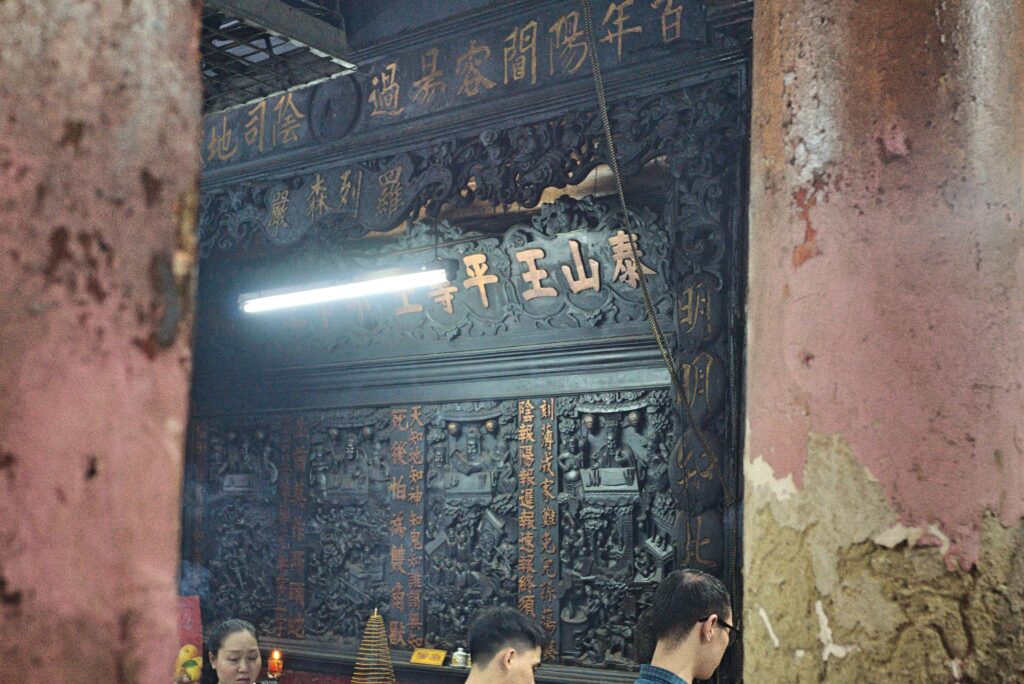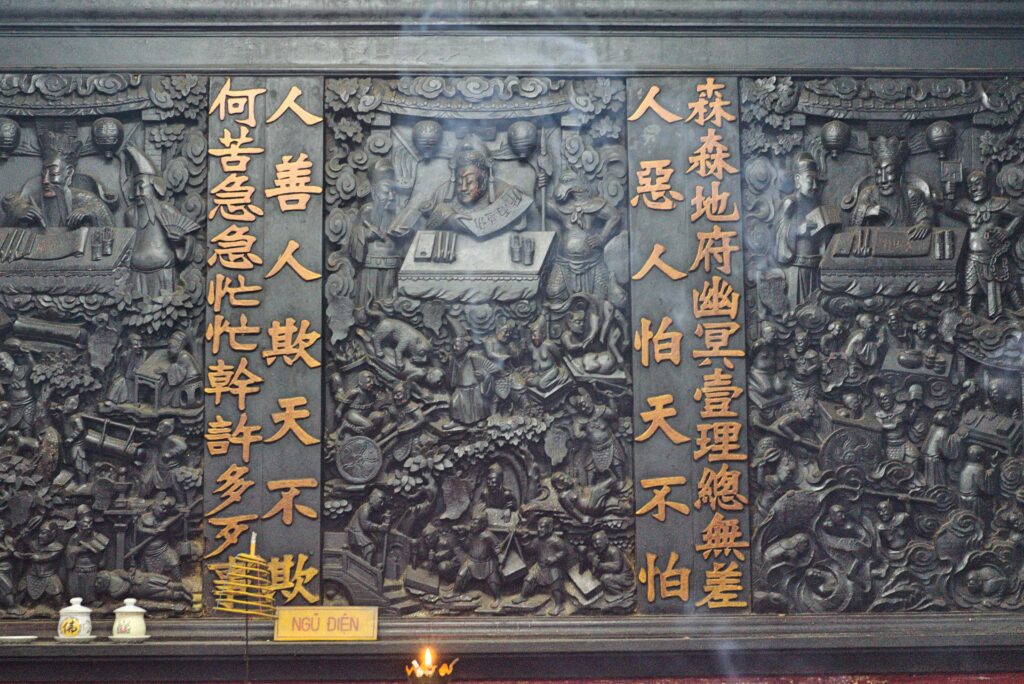 11:45am
Met a character who claims to have been born in 1930 and says he's 90 years old (he didn't look it). Speaks French, English, and Vietnamese at least. Apparently he was a translator or teacher for the Vietnamese embassy or some such? Also says he worked as a teacher of English when he was 25 or so and that he worked at the Rex hotel after it opened in Saigon. I uh, don't know what else to say.
1:27pm
Got my milk coffee, it's delicious. The cathedral was closed for lunch so we wandered the surrounding area and found a bunch of book cafes. Got my drink at one then we ate at McDonalds (yeah, I know). There is a perceivable difference in the flavor of the McDonalds food, which makes total sense but probably isn't something we would have considered before traveling. We're currently at the city museum about to explore!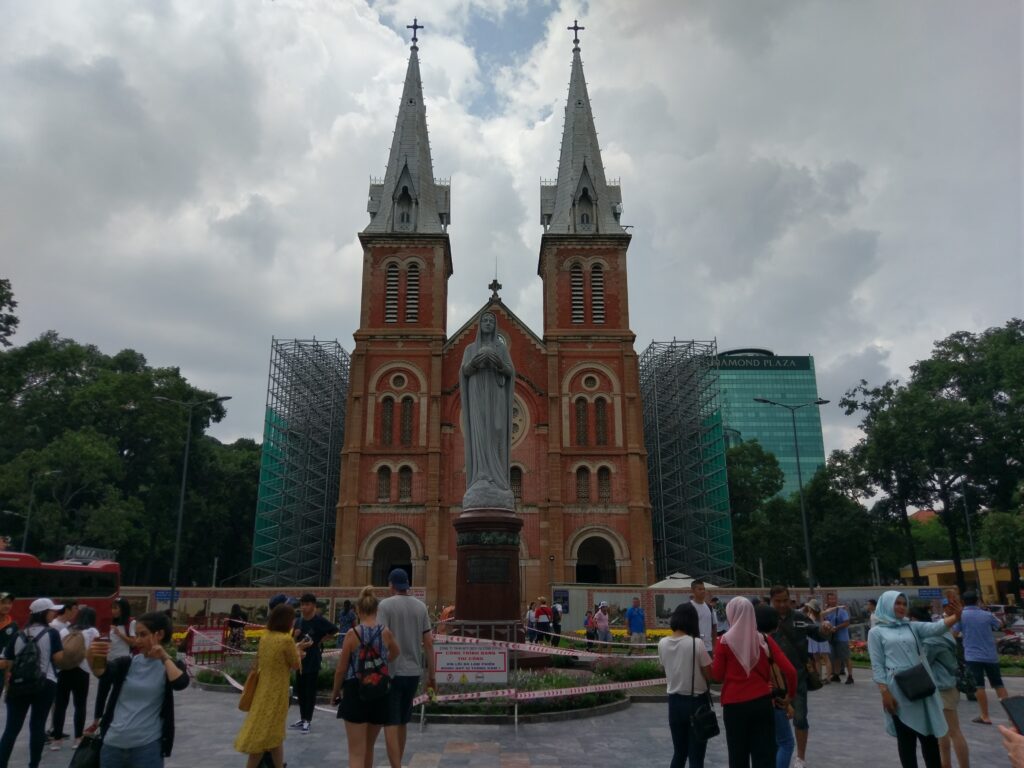 3:01pm
We've finished up with the Ho Chi Minh City museum, it's a cool lesson in the history of the city! Worth a wander through and that's basically what we did, wander and see rather than really scouring the place. Now it's raining and we still have no umbrella, so we're trying to figure out how to get back to the cathedral.
Found a 7/11 on the way back and grabbed some treats, an umbrella, and some Japanese condoms because I liked the packaging (Edit – in my defense the box is very shiny and we still have it!). There's a dick joke in there.
6:03pm
Cathedral was still closed, must have been either something going on or they're just closed Saturdays. We ended up going to the Mariamman Goddess Temple which was alright but not really what we were hoping for. Ended up heading across the street to a Vietnamese chocolate place and picked up some goodies. After that we walked down the street a few blocks to the Golden Dragon Water Puppet Theater (Edit – I remember this walk, the streets were pretty well flooded which made things interesting as we only had sandals!). Along the way we saw a really neat park that had trees a few hundred feet tall, just hanging out in a city. The puppet show was really neat to see but I can't say I understood most of the story. Still worth it as it was entertaining and they did live instrumentation along with the show. Apparently the water puppet show has been around since the 11th century. Currently in a grab headed back to the room to charge the phone and then probably wander the streets a bit and grab some dinner.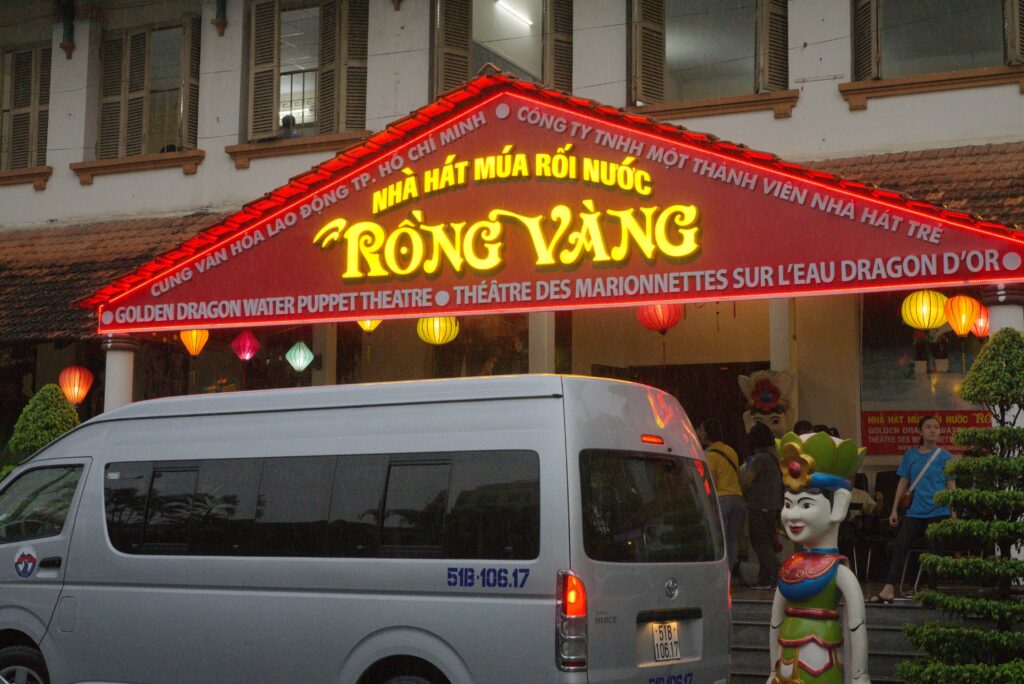 11:23pm
Ate at C.ON international food or something to that affect. It was decent, price was good and I can't complain much about the food. The walk there and back was nice. Trying to figure out how to get to Cần Thơ tomorrow is not so nice. One site said there were no tickets left except an overnight bus and the bus site itself said there were plenty left but wouldn't take my card. So we're going to try picking up our silks tomorrow morning and then heading to the bus station to see if we can just buy tickets to whichever bus leaves next. Guess we'll find out in the morning!
Day 3
8:46am
Currently eating at Cafe May again, drinking some lovely cafe sua dá and Ali has peach tea with strawberry ice cream on top, also great. I got a small Vietnamese pizza(!!!) that has a crispy crust that's super soft on the inside. Like a less crisp puff pastry inside, it's got green peppers and shrimp for toppings and I love it. I've been dipping it in the soup Ali got, and of course I don't remember what it is. It's pork soup but I don't quite think it's pho. Almost $8 for the two of us.
9:44am
Got our tailored clothing, the pants fit well and are straight cotton. The shirts are straight silk and need to be dry clean only (Edit – lies, we've just washed them like normal being conscious of what we toss them in with). I'll need to inspect the work closer but at first glance they look good and fit well. On our way to the Futabus station now, hopefully we can just get tickets to Cần Thơ there.
10:32am
We just barely caught the bus to Cần Thơ. Ended up following another passenger as we had no idea where to go. The buses are… Interesting. We got the last two tickets so we're on the top at the very back passenger side. Reeeeeallly should have peed before we got on but we had zero time, we literally got on and the bus left. Sitting directly over the engine and of course at the back so suspension is an experience. Hopefully we don't pee ourselves or die! Tickets were a bit less than $10 (220k) for both of us and included a small water to boot.
1:33pm
Arrived ahead of schedule! Must have been the semi crazy driving, it was interesting but not too horrible. I'd like to try Futa on our way back to see if they're just as crazy. About to get a grab to our stay for the night, bit confusing as the full address brings up two different places within grab for some reason.
2:38pm
Figured it out and made it to the hotel, it's pretty damn nice, especially for $13. They stocked the mini-fridge with coke, red bull, Saigon and tiger beer, and plenty of water. About to head out and grab a late lunch!
2:52pm
Booked a tour of the Cai Rang floating market for 6am tomorrow, we got a guide as well for $18/person. We also set up a bus for 5pm tomorrow to take us to the bus station back to Saigon, should catch a 5:30 bus back that way.
5:27pm
Had a decent meal in the area for 60k, I had egg drop soup which was fantastic and we shared a beef soup sort of thing that was also pretty good. Wandered down the road and checked out the Big C market which is on the top level of a straight up mall. Was pretty neat, grabbed a moon cake but it's a mass produced one so we'll see if it's good. About to rest up and then head to the Cần Thơ night market and possibly another night market further up the river.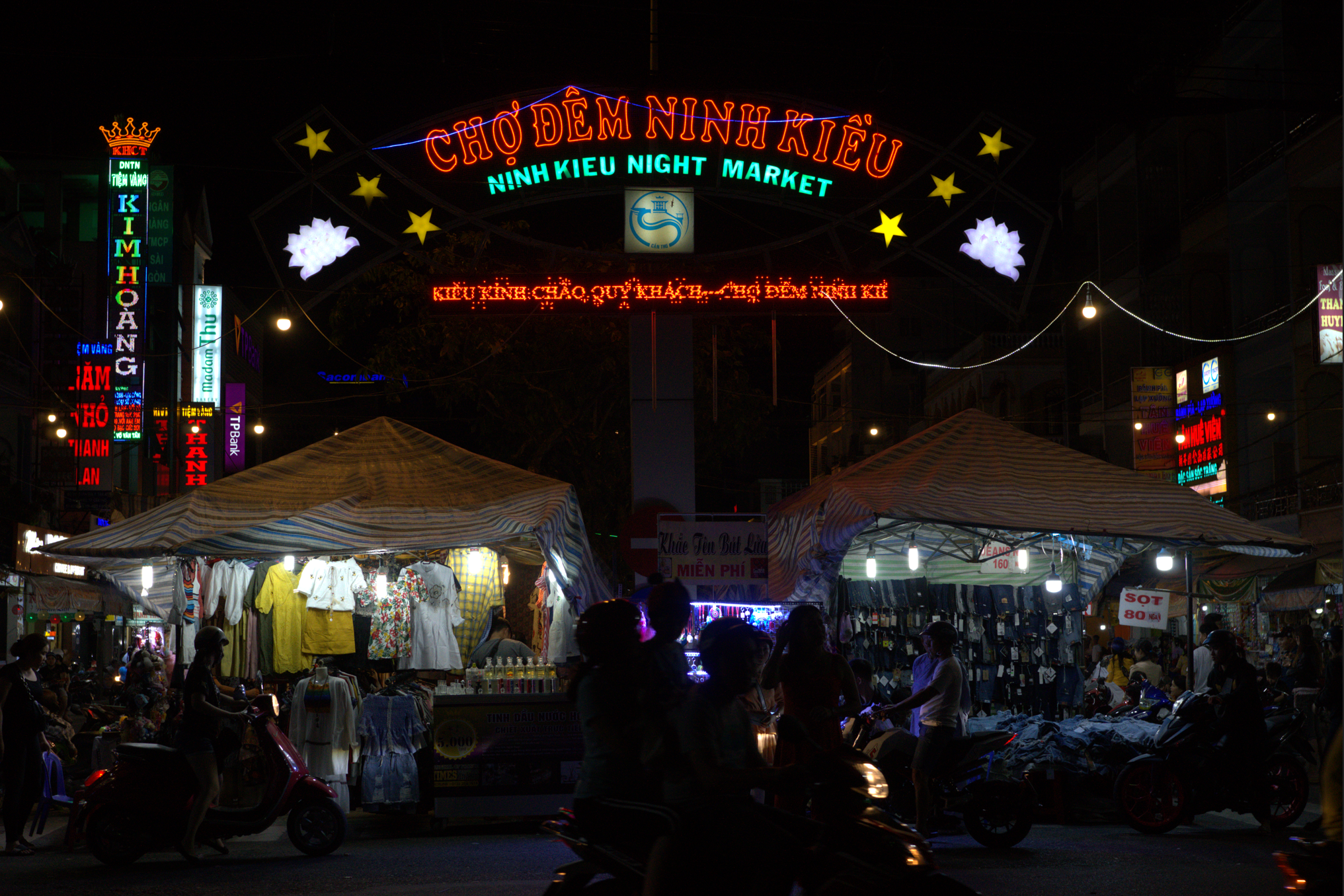 7:16pm
The night market is great! We got some pashmina (or what they say is) scarves, 3 for about $22. Got some sugar cane juice, it's very sweet to the point we don't really want to finish it. Might want to water it down a bit. We also got a banana crepe that was great and some sort of grilled rice fold over sort of thing that's pretty alright. All of this together was about $1.50. Now to walk the park along the river a bit.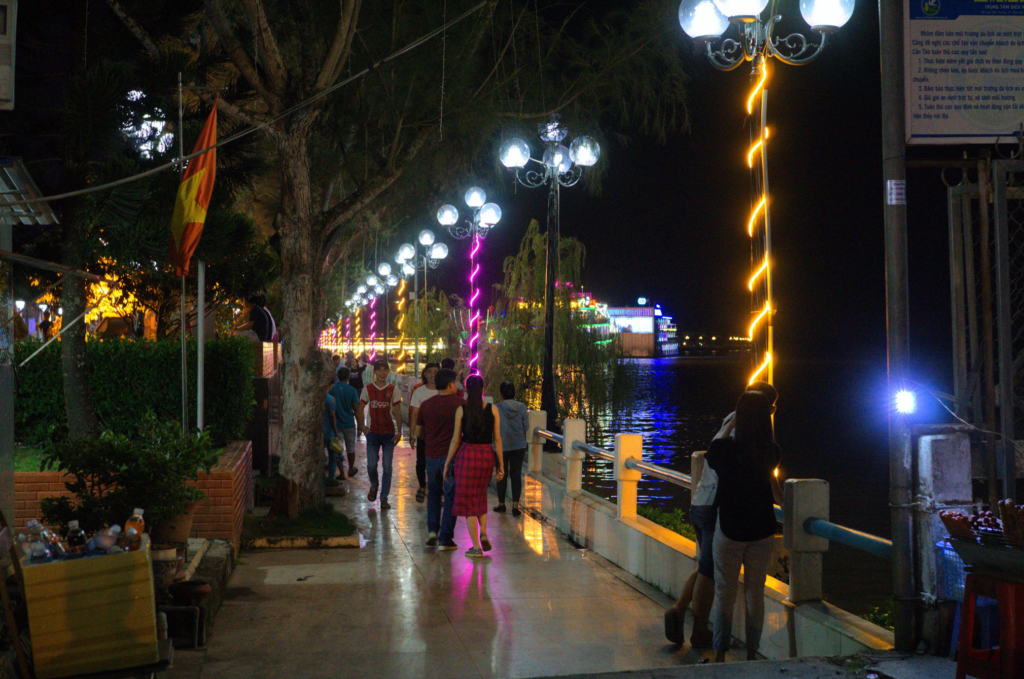 9:46pm
Gotta get to bed since we have to be up at 5:30! The market was pretty cool and the park was really nice to walk through. Not a whole lot else of note happened but all together not a bad day.
Day 4
9:30am
The tour was incredible. We got picked up at our stay on scooters and then left from the park by boat and headed down to the floating market. We stopped by a boat and got a coconut to drink from for Ali and a coffee for me. Heading on we came to a canal and ended up following that a ways then taking a nice walk to a rice noodle factory. We got to watch them make rice noodles and got to "help" a little bit. It was pretty damn neat but the rice noodle pizza was the highlight for me. Fried rice noodles, peanuts, some sweet sauce we drizzled on, and some sort of fibrous topping (I think coconut maybe?) that was delicious. We learned all about how cracked rice is used to make rice flour, then mixed with tapioca to make the noodle patty that then gets cut into noodles. The good rice is eaten. We also got a rice patty that had been dried with slices of banana in it. Delicious.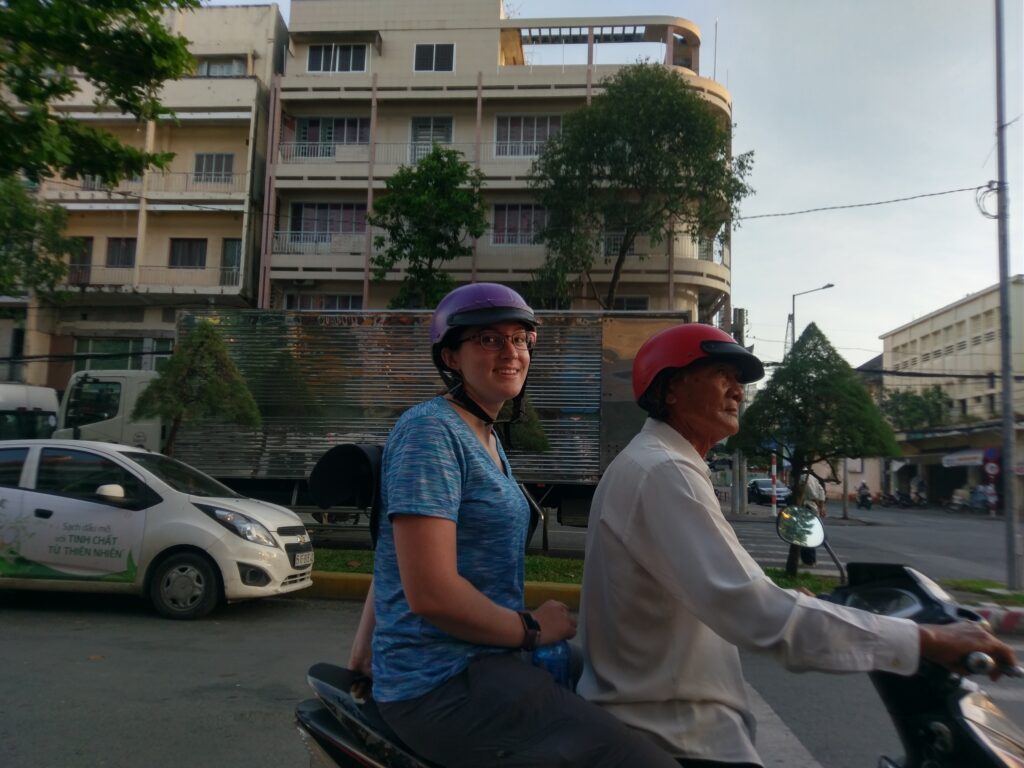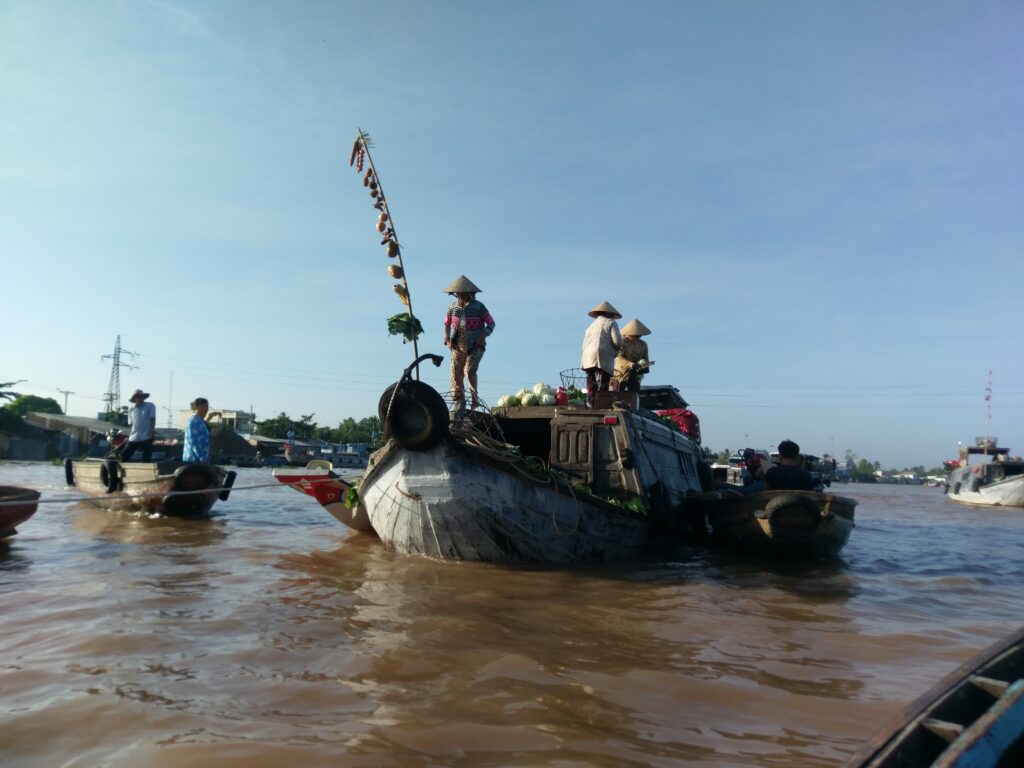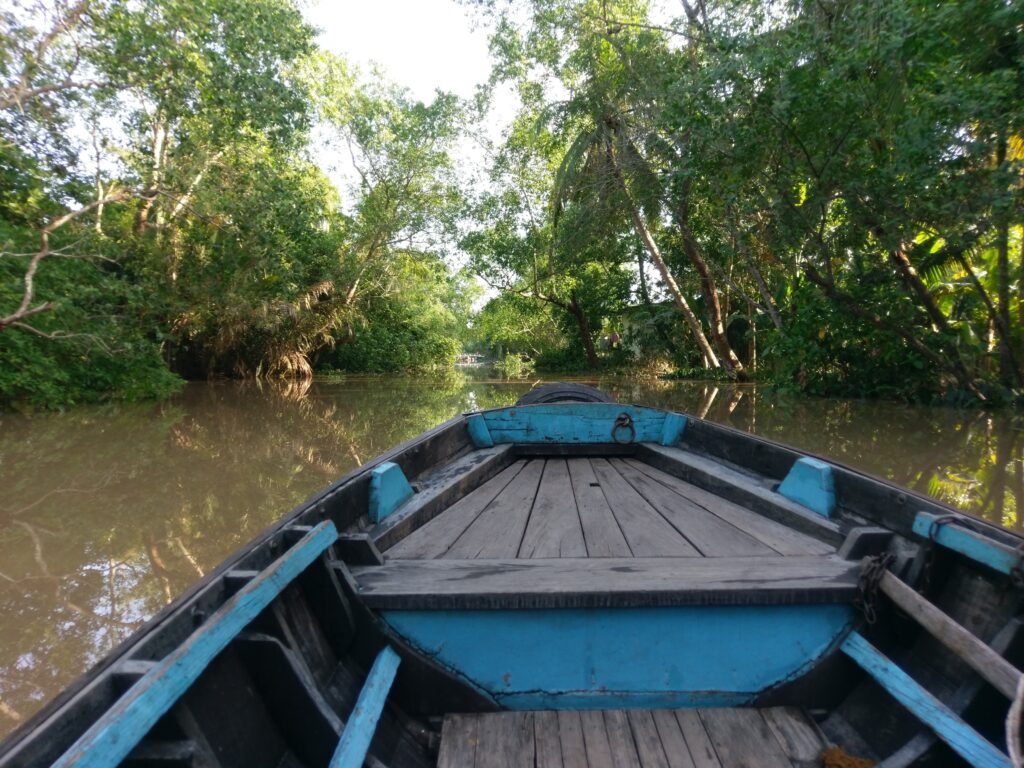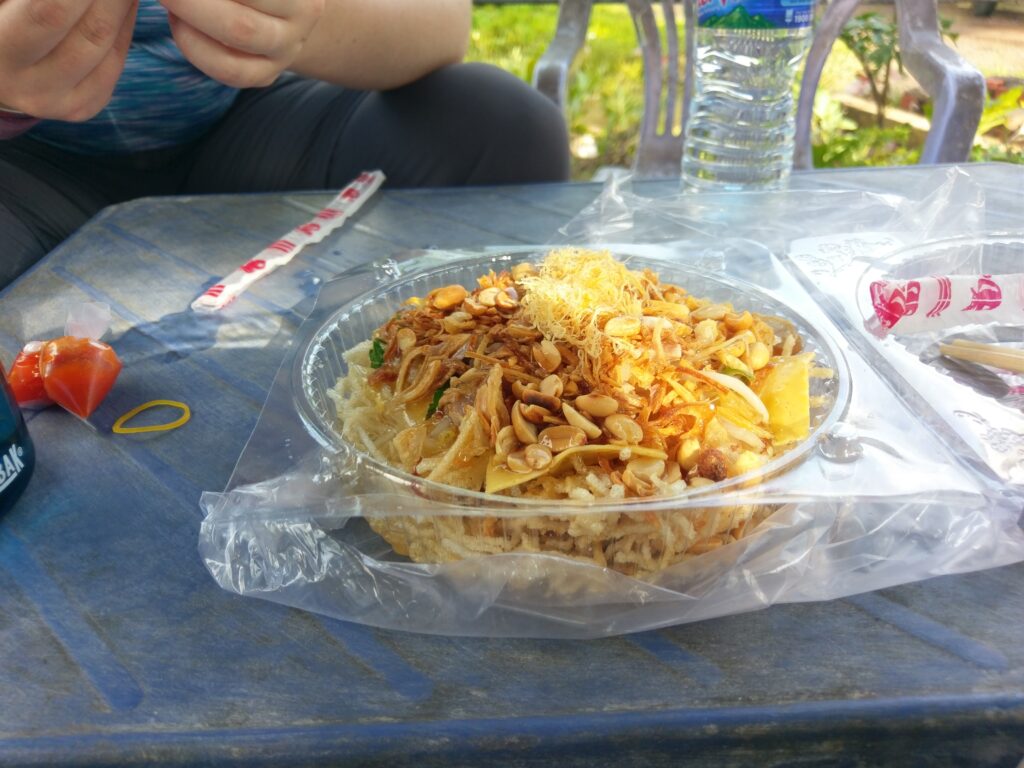 We got to tour the street market of Cai Rang which was definitely an experience, tons of sights and smells. We tried fresh made tofu with ginseng sweet sauce, a fried piece of rice mixed with banana, and got some rice and coconut balls. All good, though the tofu is definitely not something I'd eat often.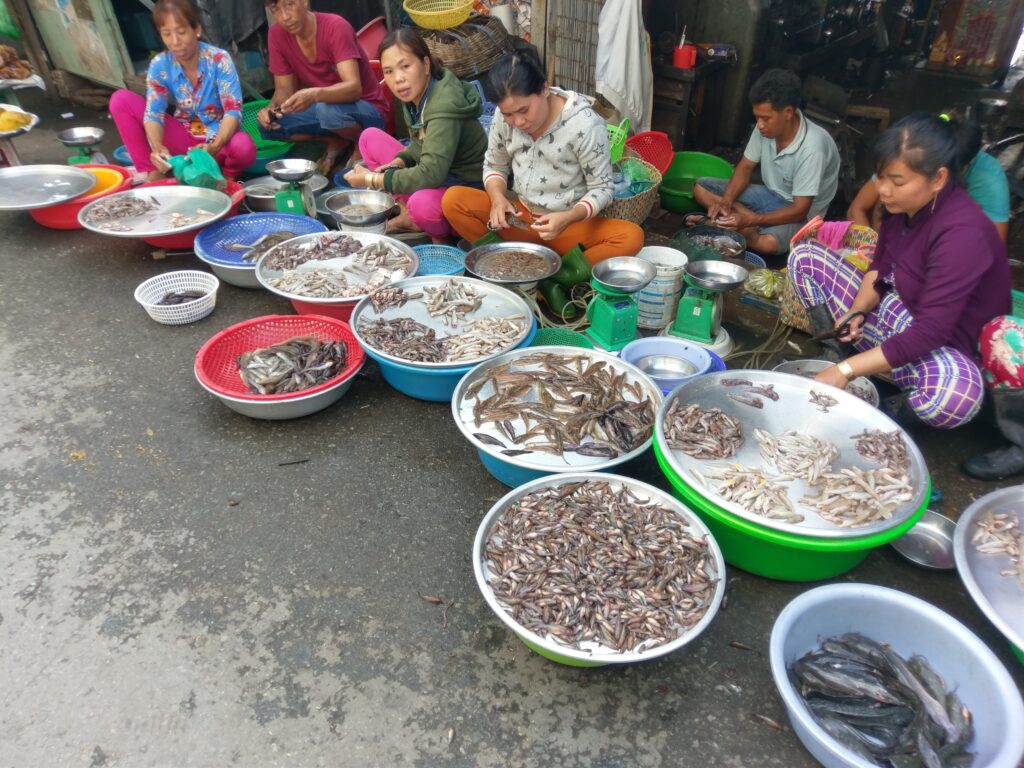 On the way back, our tour guide gave us some pineapple he'd cut up and crafted a little flower heart thing for us. Currently sitting back in the park about to head to the Ong Temple.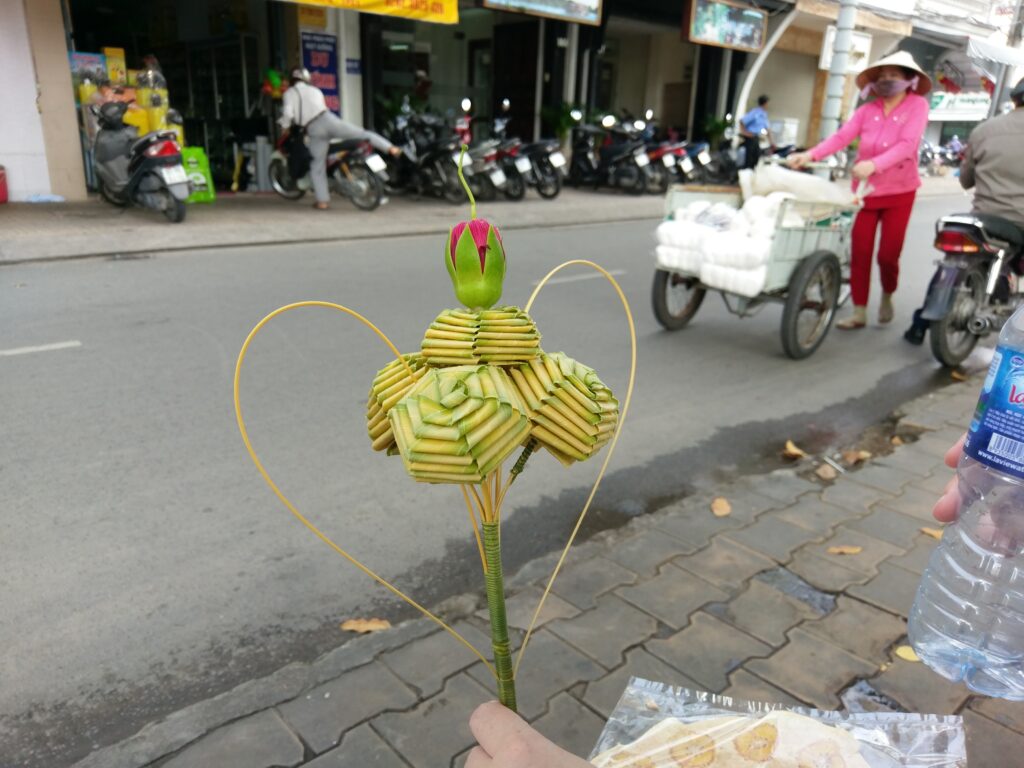 11:05am
Stopped for some food at a busy place near the really large Buddhist temple. That temple was really something else, giant carved Buddha and a ton of cool architecture. I think the Jade Pagoda is still my favorite, but this one is a close second. Ong was also really cool, smaller but the inside was crammed with incense burning and still had a peaceful feel to it. We've got one more temple on the list that we plan to hit up after finding a bathroom, then we wander. A street vendor came along and sold us some fried sesame sweet cakes 4 for just over $1. Good way to cap off the lunch.
12:51pm
Munirensay Temple was pretty neat but the Jade Pagoda was still the best hands down. We wandered into a few other temples as well, all neat but nothing mind blowing. Wandered into a mall that luckily had free bathrooms then found a bakery along a nearby street that had these really interesting cake things. The outside was a crispy fluffy pastry and there were several other layers of that, the inside was like play dough almost, but sweet and there was something that tasted like cheese on the inside. Cost us about 50c for that and a cream puff sort of thing. Currently we're sitting in a tea place as this is easily the hottest day we've experienced in Vietnam so far. Got a strawberry smoothie (strawberry seems to be gone every street place we stop) and after this we're headed to the Cho Cần Thơ again to see if we can get a decent travel bag for cheap.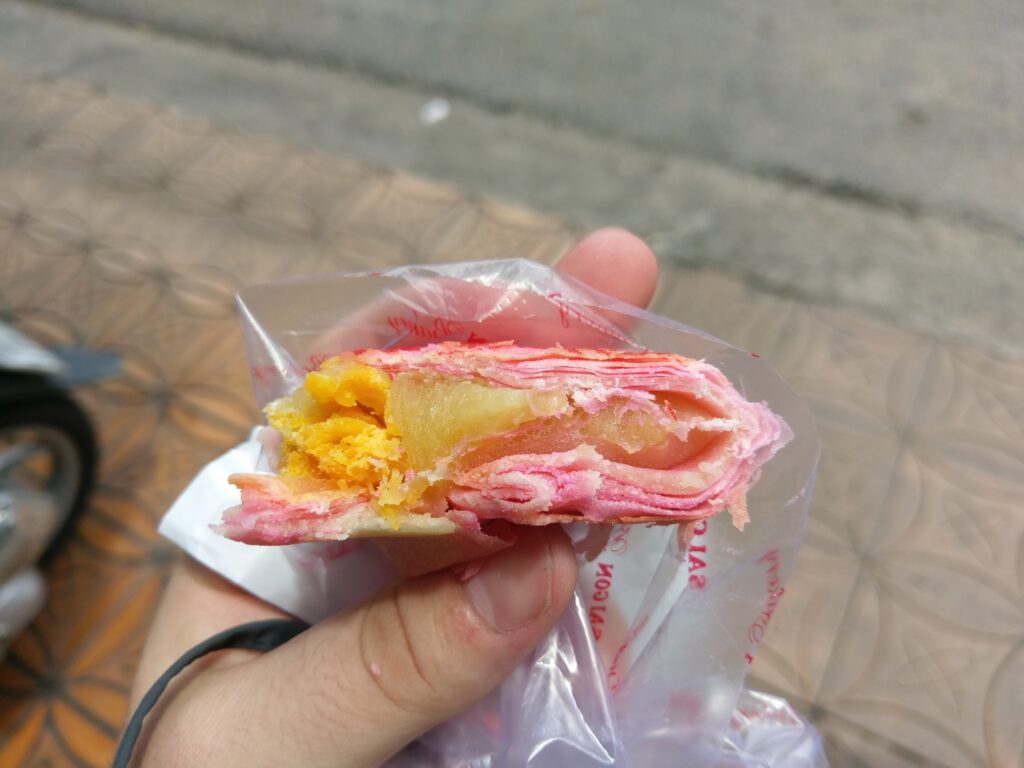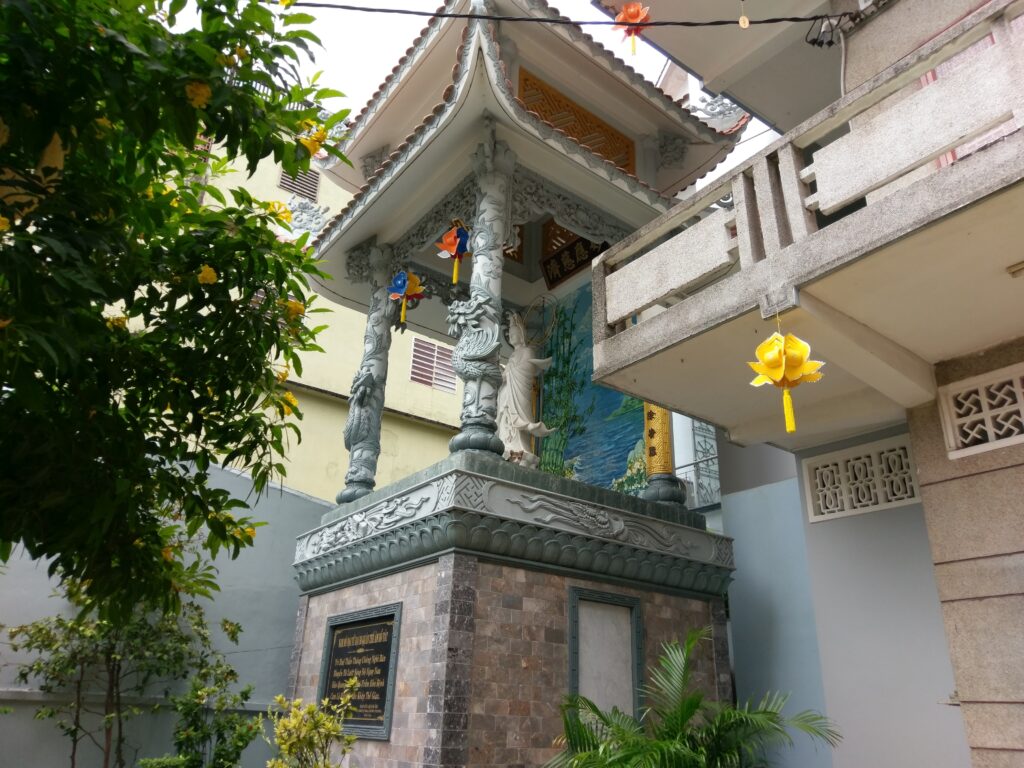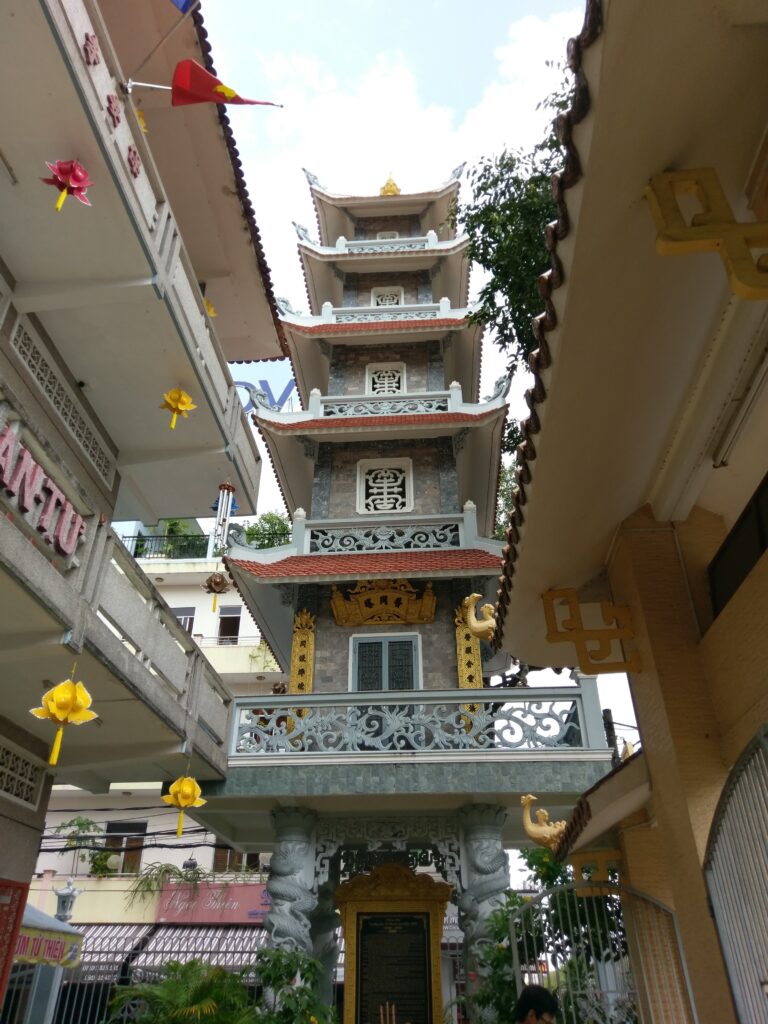 2:54pm
What do you know, not even a block down the street we found a small bag shop that sold us a hard side medium-small bag for 550k (about $23) that we then packed all our stupid stuff we've gathered so far into. We crossed everything off the list in Cần Thơ plus we got a tour so even though we had a single day here I'm happy with what we did! Currently on the bus about to leave for Saigon, trying Futabus this time, we'll see if it's any different. I've a feeling we'll be headed back to Cafe May when we get back for some dinner as we've loved everything we've had there so far. Then back to Lans to put some aloe on my burned body (took sunscreen with today, didn't use, idiot) and get ready for our super early flight tomorrow.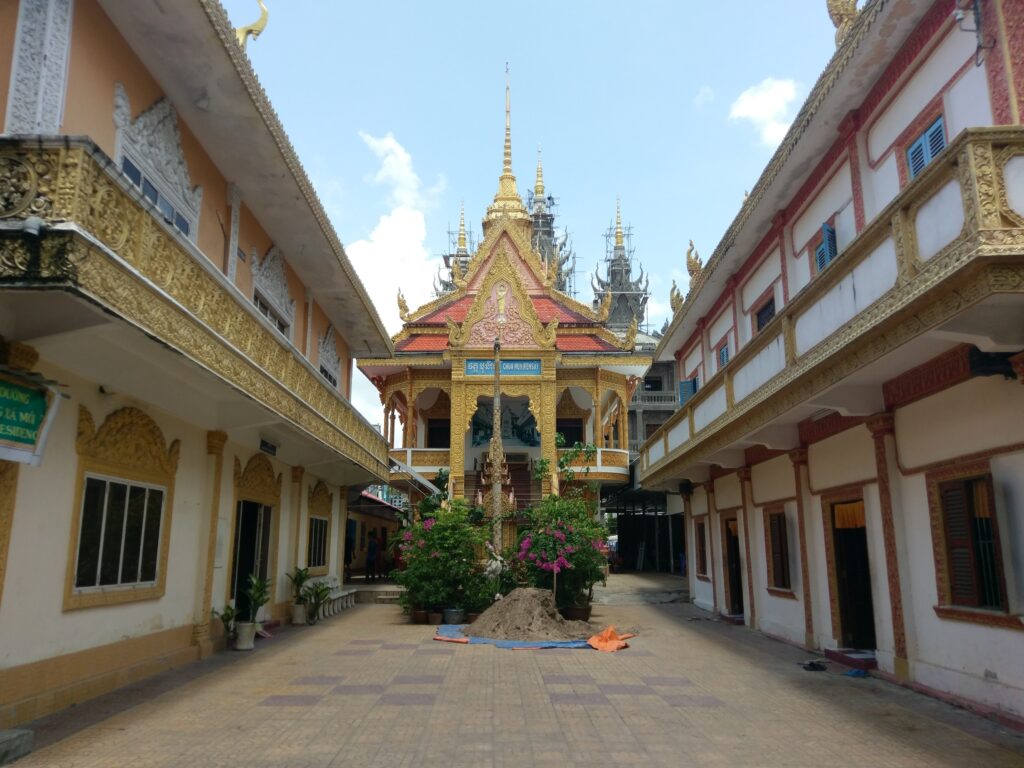 6:28pm
Bus ride was uneventful, the seats are a bit harder on Futa and they play music which was a nice touch. They stopped for half an hour at a rest stop but I knew that was a thing because trip advisor. Otherwise, not much different. I'd probably lean towards the other bus line as it was faster and a tiny bit cheaper. Currently in a taxi on our way back to our favorite place near Cafe May.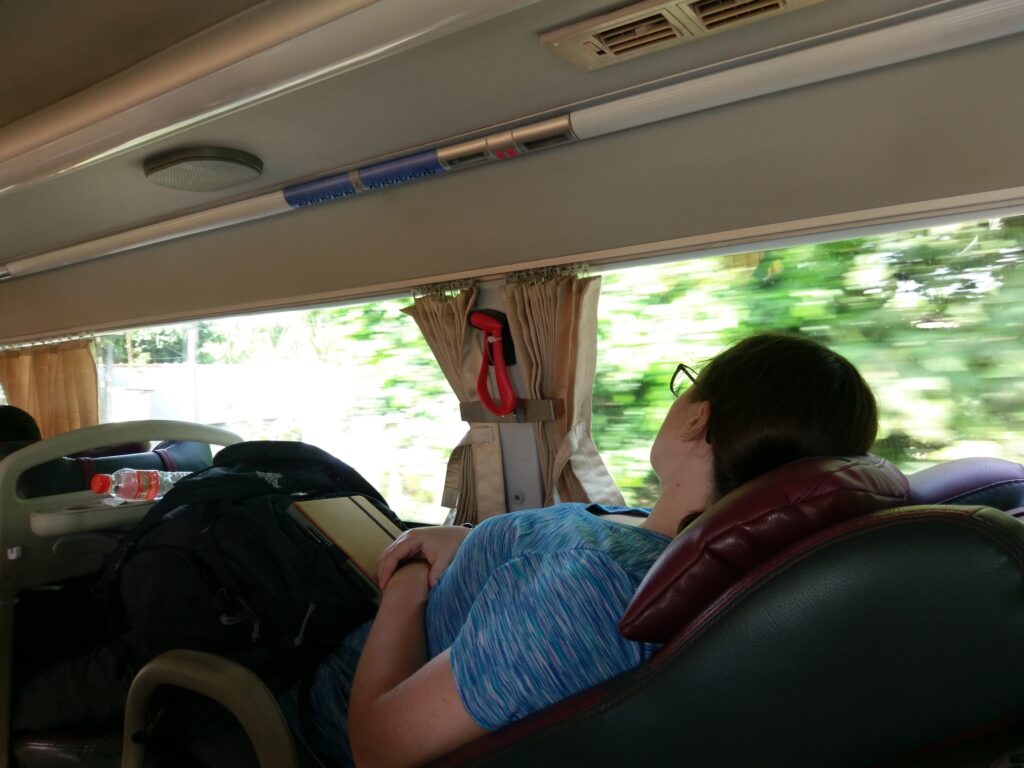 Day 5
6:04am
Well we damn near missed our flight. We weren't the most late folks (others arrived after us) but still. When we got to the airport (a bit late as grab confused the domestic terminal vs some sketchy side road nearby so we had to loop back) the check in lady was like "that gate closed already" but luckily they held it for us. It's wasn't a gate really so much as a bus you take to the plane and then board from there. Luckily I bought the expedited check in as the line was horrendous. We still had a hell of a line to get to the part where they check your ticket and passport but we luckily got ushered through a little quicker by some airport folks who were making sure us and some others got to our flight. In the end we made it on and are currently in the air. Tired as hell but flying! Edit – man we are not good tourists.
Last night was not a great one, it was incredibly hot all day so we were pretty well done for and both felt a bit sick due to the heat and being up so early. After we got back from Cần Thơ we showered, ate some bar (Edit – no idea what I'm talking about here, maybe little travel bars?), and went to bed. Today will be another fairly long day as it's the only day we really have in Da Lat. We've been in the air all of 10 minutes since I started writing and we're already landing. We expected a 40 minute flight and it's about 25 now so not bad!
7:03am
We ended up flying a holding pattern for a bit there, just landed and are taxiing now.
11:03am
Holy wow Da Lat is beautiful, the air is cleaner when you get higher up and out of the main town center. The Villa we're in staying is awesome and Thomas (our host) is really great as well. We've been wandering the town a bit and are currently in Maybe Blue Cafe which has an incredible atmosphere. There are three levels with sort of a greenhouse/airy vibe, it's beautiful. The blueberry smoothie is very good and I got hot chocolate milk with cinnamon which is very good.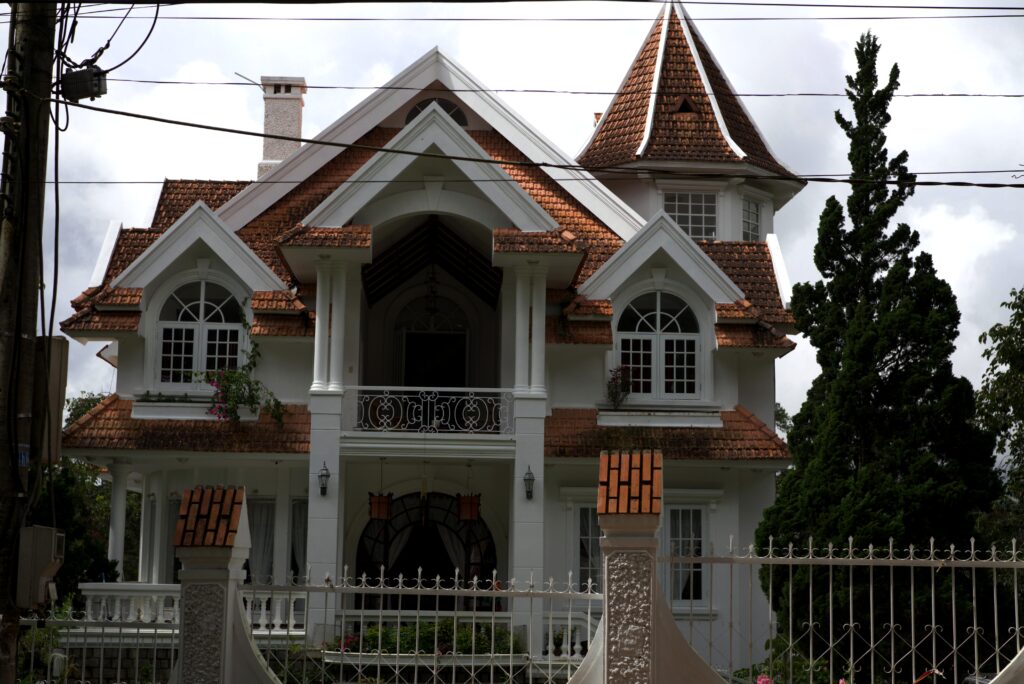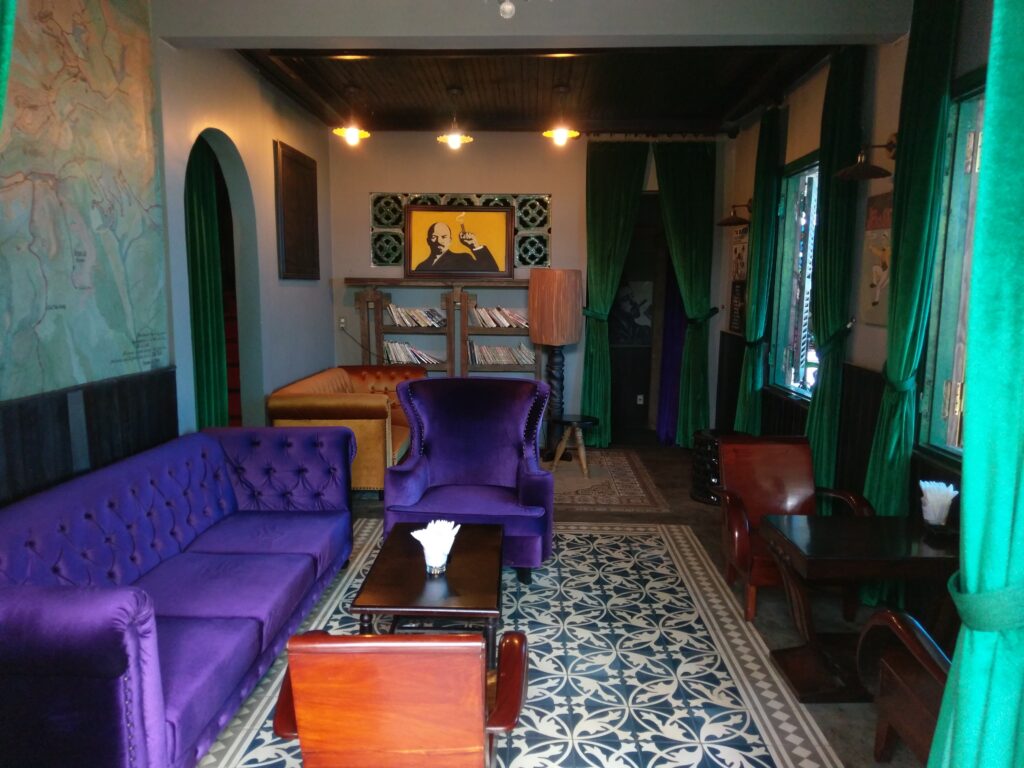 4:54pm
We checked out the Bao Dai Palace 3 (there are several!) and Crazy House. The Palace was kinda meh and Crazy House was great and also dangerous but we're hungry and I was a bit tired so I didn't fully enjoy it. We did do some good wandering and bought a silk painting in between the two places. They also had silk embroidery at the Palace which was quite tempting but the cheapest prices were about $20 and we've burned through a decent amount of money already. I hear Hoi An and Hanoi also have good markets for that, plus right here in Da Lat there's a market that's said to have better prices. We still haven't eaten since the little bit of pho we had around 10, starting to get hangry. BBQ Rio3 is just a 10 minute walk away but it's pouring out currently and the menu is all Vietnamese. Almost certainly just going to throw on our ponchos and just go for it anyway.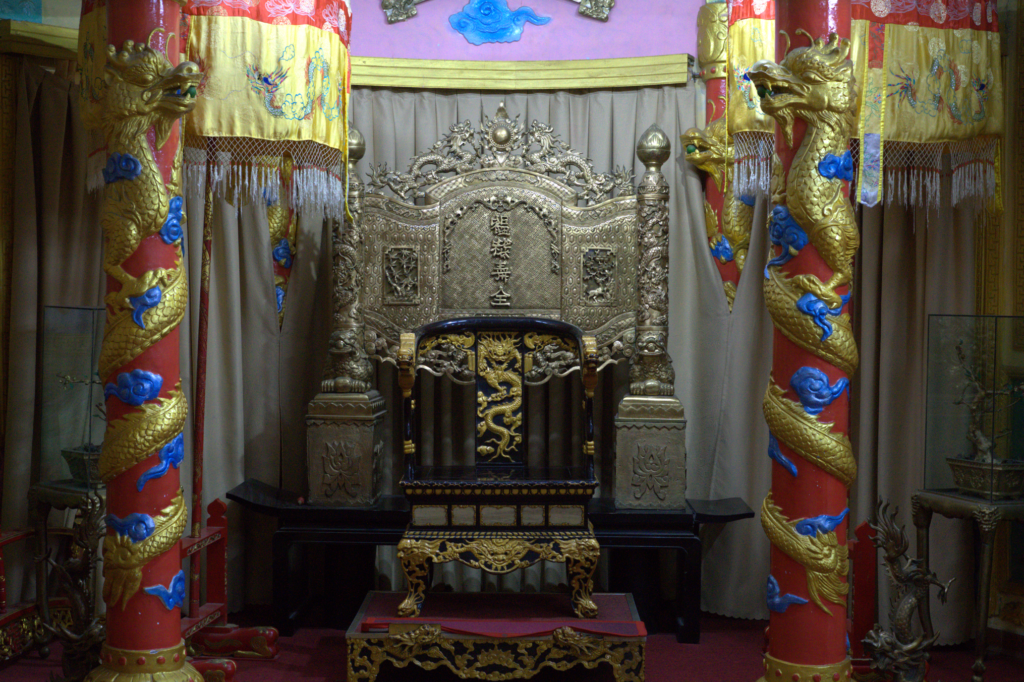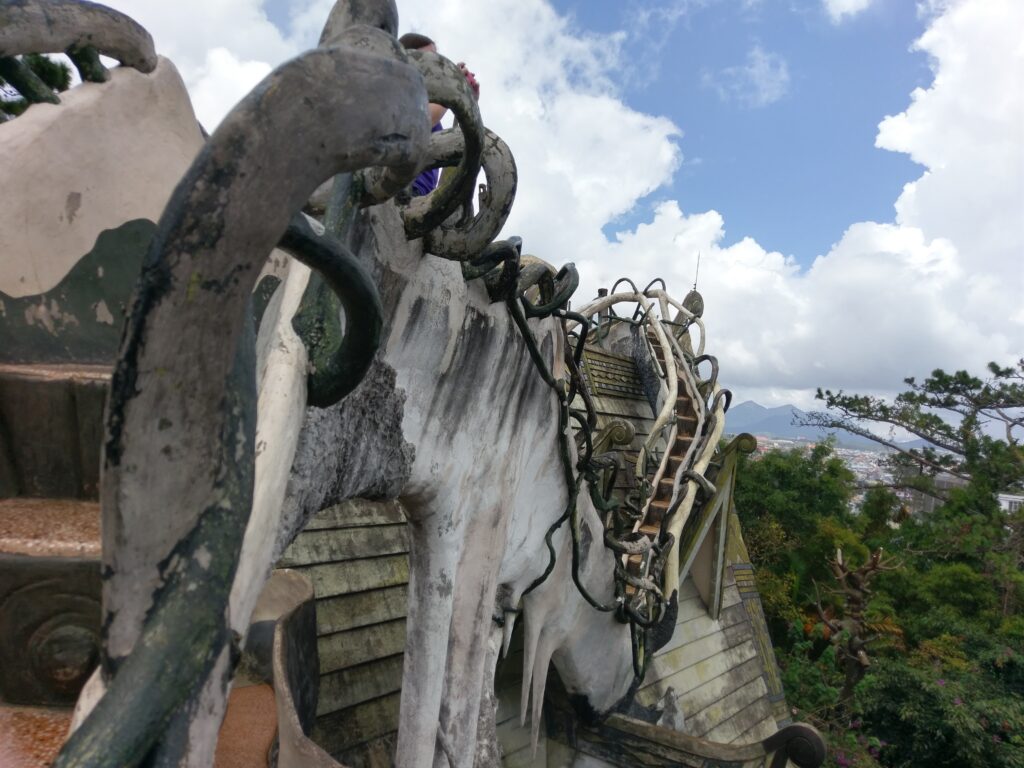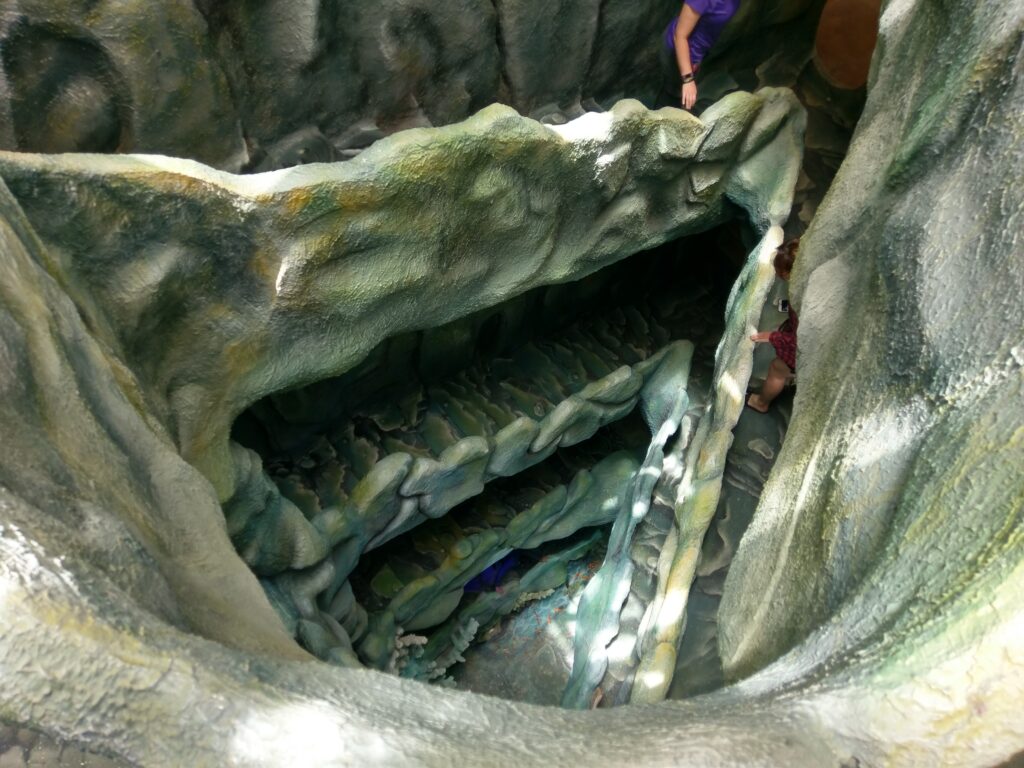 We also booked our night train tickets from Nha Trang to Da Nang, leaves at 8 and arrives at 6am I believe. 2 soft sleepers was $48 but we'll see how it goes, some of the reviews are rough. Now we just have to get a bus from here to Nha Trang and then figure out how to get to the station.
8:46pm
Rio K3 BBQ was alright. Not great but not bad either, though Ali didn't enjoy most of it as it was spicy. Still raining like crazy out, but we've showered and will be sleeping soon. Tomorrow first thing we have to get to the Futa station and book our bus tickets from Da Lat to Nha Trang, 2:30 departure gets us to Nha Trang around 6:30 and then we just hang out until the train departs at 8pm.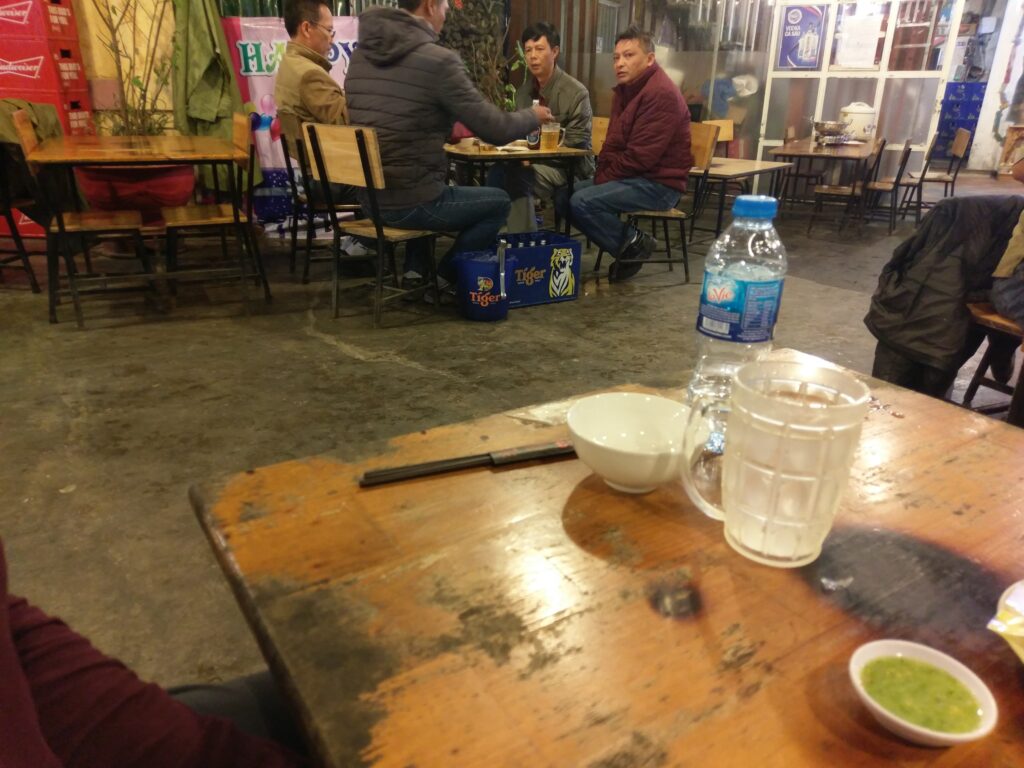 Day 6
10:11am
Eating at Le Chalet, probably the most expensive meal we've had so far as it will be close to $18. We did get bacon though so…
We also got our plan figured out for getting to Nha Trang and then on to Hoi An. We'll get picked up at Thomas's place around 1:45, got a Futa bus at 2:30 that should have us at Nha Trang around 6:30 and our train then leaves at 8:00 and arrives in Da Nang around 6:30am if we're on time. From there to our stay in Hoi An we'll likely catch a taxi or bus, should be about an hour and will be cheap if we bus.
2:33pm
Boy do they run a tight schedule! We just arrived in time to rush and find our bus and then board. We took off not a minute after we boarded kind of like before. The pickup van was sketchy as all hell but we only had to sit in it for something like 10 minutes thankfully. They arrived to pick us up a whole 20 minutes before the bus left which was cutting it really close, dude was driving like crazy to make up the time too. We actually flagged a taxi and had gotten in and down the street when the van showed up, I gave the guy 10k for his trouble as he helped us unload out of the taxi and into the bus.
After Le Chalet we headed to the Big C down the road a bit. It was in a mall so we wandered that for a few minutes, hit up the ATM for another 3million dong and then grabbed a bunch of candy and a towel set plus two big water bottles. Snacks are for the bus as we figured we wouldn't get food before leaving (we were right!) and the towel set is for Ali to lay on tonight in the night train. I've got a travel blanket so I'm set. Plus we also got the hand towel in case we don't get one somewhere we stay.
After the Big C we walked the banks of the town lake for a little bit but mostly as a way to get to the Da Lat market. There we picked up some bananas and an orange (we think) for about $1.25. Da Lat is known for its fresh fruit and flowers, so we decided to grab some fruit to try. As an aside, we passed a ton of green houses on the way out of town. Guess that's where all the fruits and flowers come from!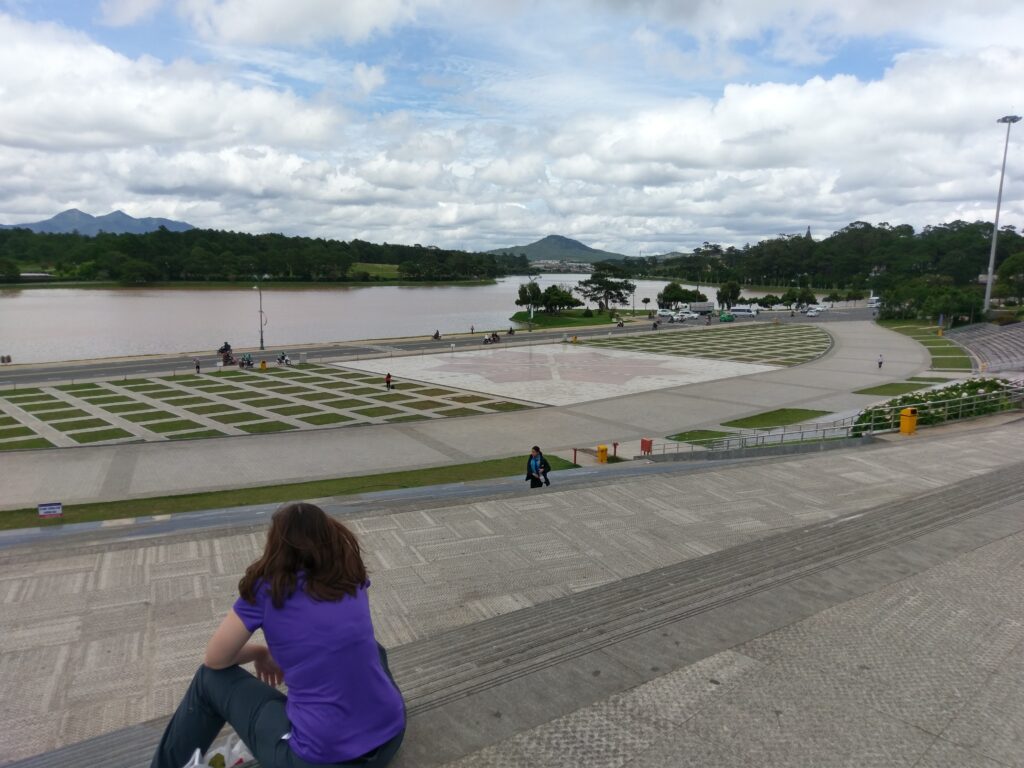 We gave our bottles a quick "wash" by putting a drop of hand soap in them and shaking them up then doing a few rounds of bottled water to wash out. They smelled pretty bad after several days of hot and humid mixed with some questionable water and our dirty hands. Smells like soap now, sorta tastes like it to. Probably fine.
Now we have to weather the 4 hour-ish ride to Nha Trang. It's said to be quite twisty and that other passengers sometimes get sick. A dude was walking around handing out bags just now so I'm slightly worried. Yay traveling!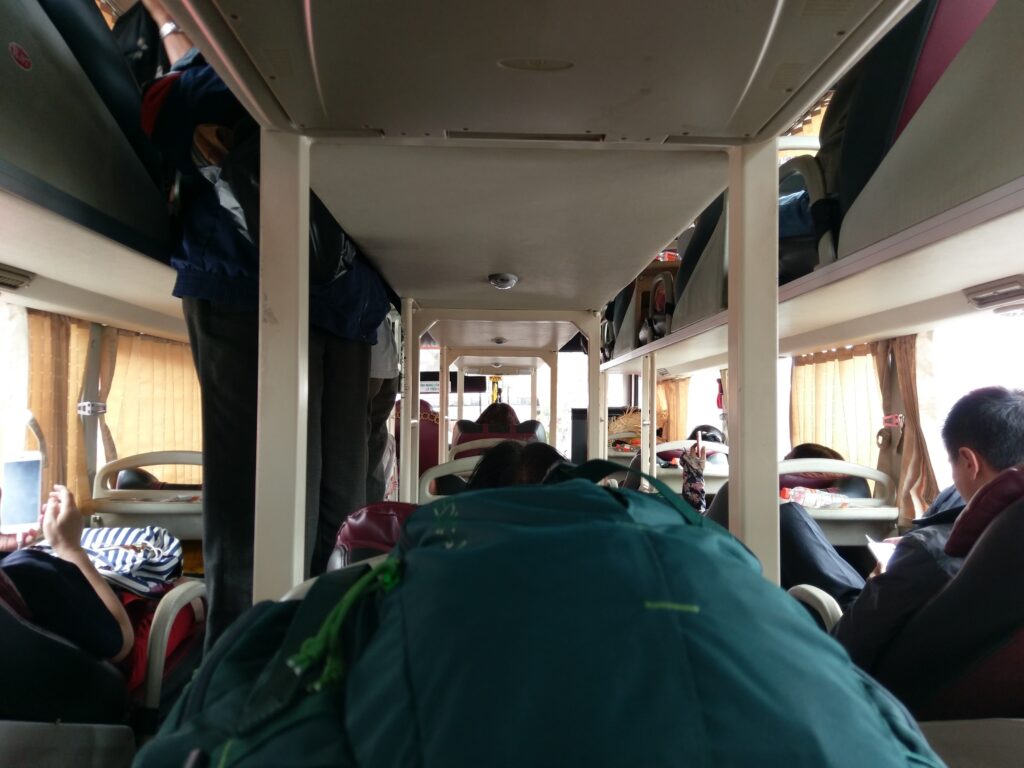 3:22pm
Greenhouses are everywhere out here in the hills. The local folk seem to carve out space wherever the mountain seems good for it. The soil out here is said to be some of the world's best, which explains why fruit and flowers are a big part of the local economy. We're seeing red clay everywhere from the locals carving space out of the hills for more greenhouses. If we'd had more time I'd love to take an easy rider trip out here to really enjoy the scenery and roads. Maybe we will have to return!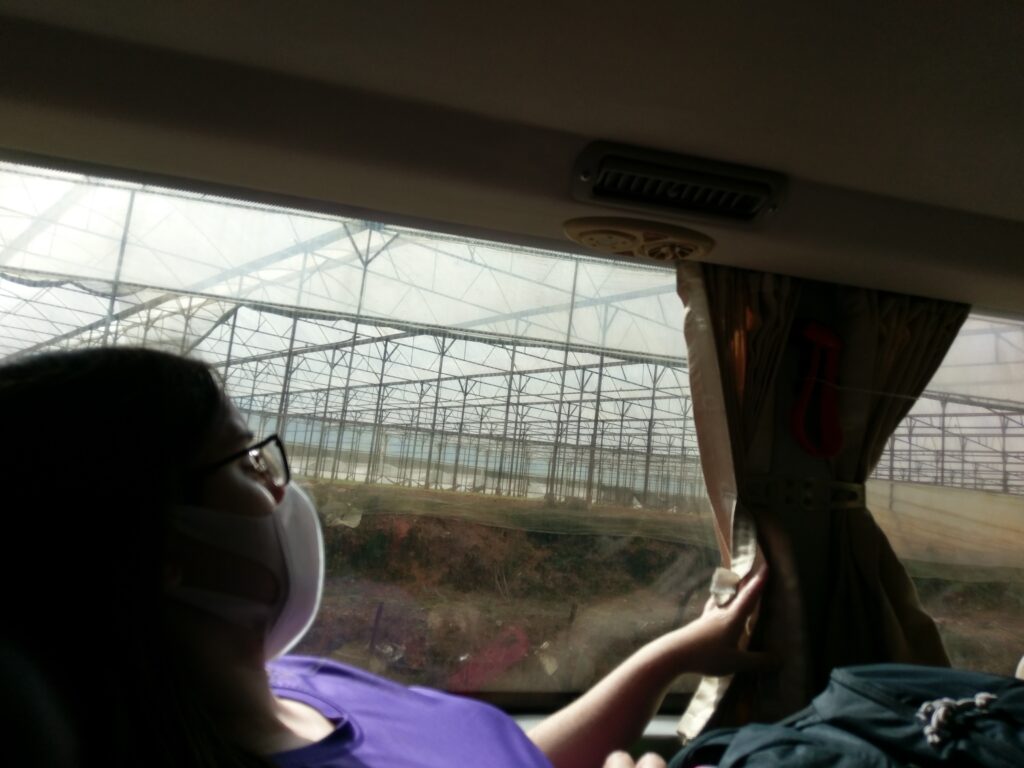 6:42pm
We made it into Nha Trang about half an hour early even with the half hour stop at a station. We're now at Beer26 waiting for fries and some beef stir fried noodles. Great atmosphere, rooftop garden sort of feel and it's actually on the rooftop along the main strip here and still only 5 minutes from the train station. Verified our train tickets are good and had them printed out so we should just need to show up and board in just over an hour. The rest of the drive was interesting, dude was definitely driving quickly, faster than I would have in a car let alone a bus on those roads. Plus he didn't mind overtaking bikes, cars, other buses or whatever on a blind turn as well as braking mid turn in wet conditions and not using engine braking to avoid brake fade. It was interesting to say the least! We ended up driving so far up we were driving through clouds which was really neat, it also rained like crazy so we got a nice view of waterfalls all down the mountain. Just absolutely beautiful and crazy and I'm happy we didn't die, not sure I'd want to do that again. They didn't play music this time and nobody puked so I'm counting it a win.
Side note: 2 waters, stir fried noodles with beef (a good amount!) and an order of fries was 215k, about $9. One of the best meals we've had yet!
9:30pm
Made it onto the train! It isn't terrible, the bathroom is messy but that's what happens when people pee while moving around. On the upside there is soap and toilet paper though which is not the norm here. The AC also works and we were able to charge phones, shut off the lights, and close the door. Only complaint so far is people smoking in nearby cabins which makes ours smell, we didn't even make it out of the station before someone struck one up. We've gotten settled in and are trying to figure out how to catch some rest, we've got about 8 hours until we should be near Da Nang!
Day 7
5:52am
Sleeping on the train was semi successful, we have enough room to actually sprawl out but then we'd need to leave our bags on the ground under our room-mates bunk. I'm sure it would be fine but I didn't want to risk it so I kept my bag up at the head of my bunk and Ali did the same. Unfortunately that meant not really stretching out, so I didn't sleep super well. From the sound of it neither did Ali.
We're maybe an hour from Da Nang now, we'll need to grab a bus to Hoi An. Our check-in time is said to be 11am so we'll either have to wait it out or contact our host when we finally get to Hoi An and ask if we can be picked up earlier.
I also managed to get locked out of our room when I went to the bathroom earlier. When the train stops the doors tend to slide forward and latch. The other lady in our room got locked out at one point as well. The others were asleep and I didn't want to make a racket, so I watched the countryside pass by while the sun came up. Not at all a bad way to pass the 20 or so minutes I was out there. Once I was back in we grabbed the bananas we got yesterday and ate two of them, they taste sweeter and have a different mouth feel to the ones we get back home. Likely a different variety than we're used to in the US.
7:30am
We made it and grabbed some drinks across the street from the train. We planned to grab some food as well but figured we have snacks. Plus we met a guy who drives folks to Hoi An for 300k ($13) which is what we're doing now as it seems Futa does not do routes to Hoi An or I just missed them. Either way the price isn't bad and we actually have someone to talk too, plus it's hopefully a bit safer than the bus we took through the mountains.
12:48pm
The ride took about 35 minutes and then we ended up waiting a bit for our host. We stopped at a food place right next to the alley we're down and as soon as we sat down our host showed up. Pretty much our luck! The room is small but nice enough and we immediately showered and napped for about an hour and a half. Then we hit up Phuong Cafe/Restaurant and got a chicken sandwich and fried spring rolls which were the star of the meal. Ali got a Hoi An specialty soup with rice noodles and shrimp plus pork. Definitely hit the spot as we missed breakfast.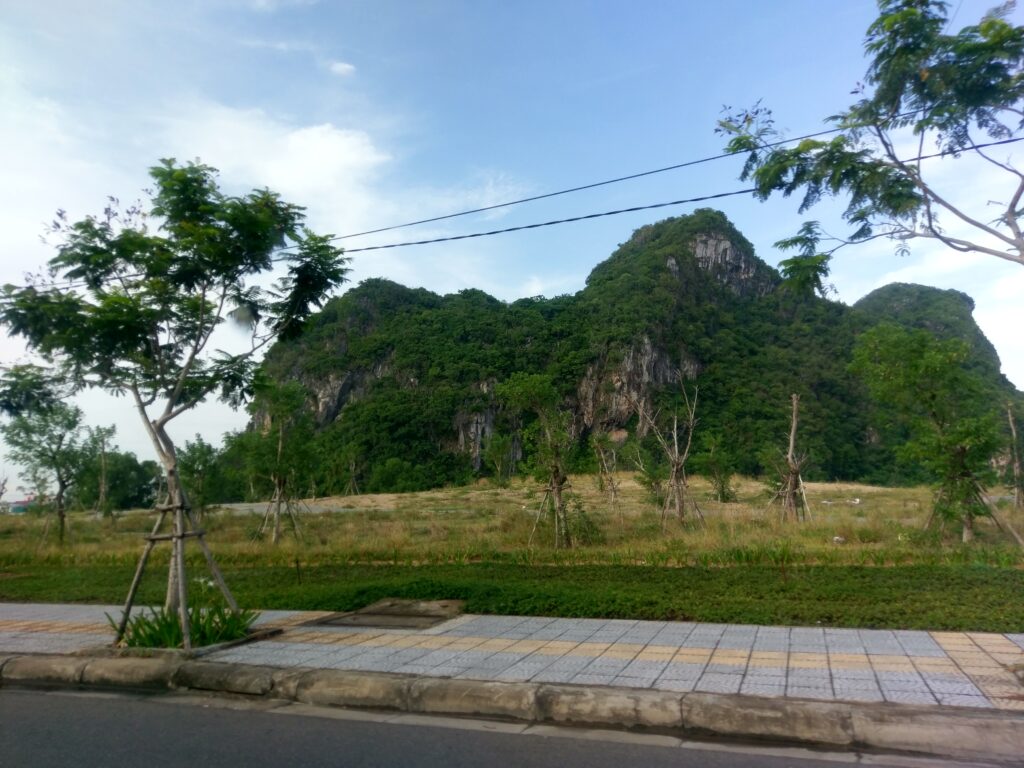 Currently Ali is browsing a clothing shop and then we plan to head back to the room, grab our dirty clothes, and then walk south through Ancient town to a laundry place. As an aside, this is definitely the most tourist heavy place we've been. There are people from all over the world here, we hardly saw anyone in Saigon who wasn't local (at least to our American eyes) and in Cần Thơ I don't think we saw anyone else unless they were on the boat tours like us. Da Lat was almost entirely local as well. We've seen more foreigners/tourists here in the few hours we've been here than we saw in all of the other locations combined.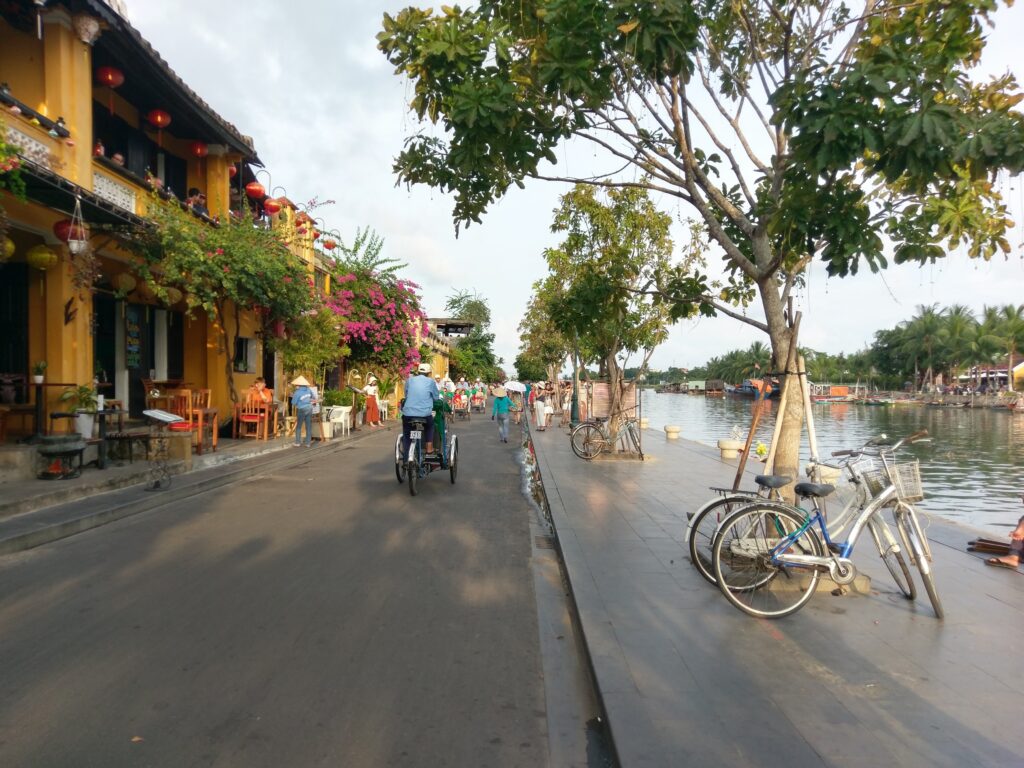 6:57pm
Well we got to check out quite a bit of stuff. We got taken in by a dude handing out some Vietnam tourism stuff and then they spent about an hour trying to sell us on a Karma travel thing. Noped out as soon as we could.
After that we found a laundry place and dropped off our clothes, about $3 to have them done. Should be ready at 10am tomorrow! Next up we just kind of wandered the area and watched the locals set up the night market. We walked the river front a bit which was beautiful, toured the ethnic folklore museum which was great, and stopped at a painting shop and spent too much. The ethnic museum was really cool, they walked us through the process they use to refine silk and let us see the difference between real silk and fake silk. We'll likely be stopping back and spending too much there tomorrow.
The art shop we stopped at had some incredible pieces for sale, we ended up picking out three smaller ones for about $77 to hang them near each other in our house. The next stop was Precious Heritage by Rehahn. That's an incredible and slightly sad experience, you get to see all this beautiful culture but also learn about how it's disappearing. Ali was feeling pretty crappy by that point (we both had sore throats about three days back, mine got better but Ali's definitely sick or having a rough go allergy wise) so we headed back to the room. We then realized we hadn't had dinner so we're back at the Phuong Cafe since the food was so good the first time.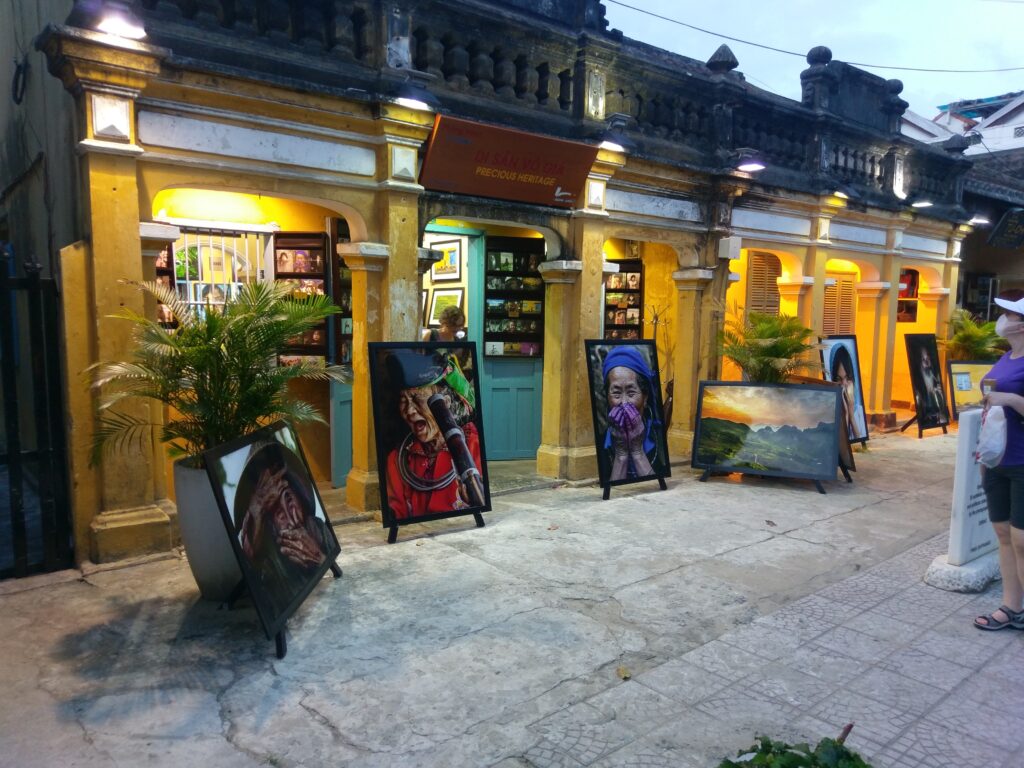 Day 8
9:09am
Got a good chunk of sleep in last night! Plenty of stuff planned for today, most all of it in the ancient quarter so we don't have to travel much.
11:20am
We stopped at an absolutely beautiful little shop that had card sized on up to full size living room sized pieces of calligraphy on rice paper. Spent a good $25 there but it was totally worth it. Got to see what it would cost for a full tailored vest, jacket and pants. $150 from Ba Ri tailors. Going to stop at Be Be as well as they're very highly rated to see what price we can get there. Currently grabbing a small bite to eat at Mun Cafe, good but won't be enough to fill us up this close to lunch.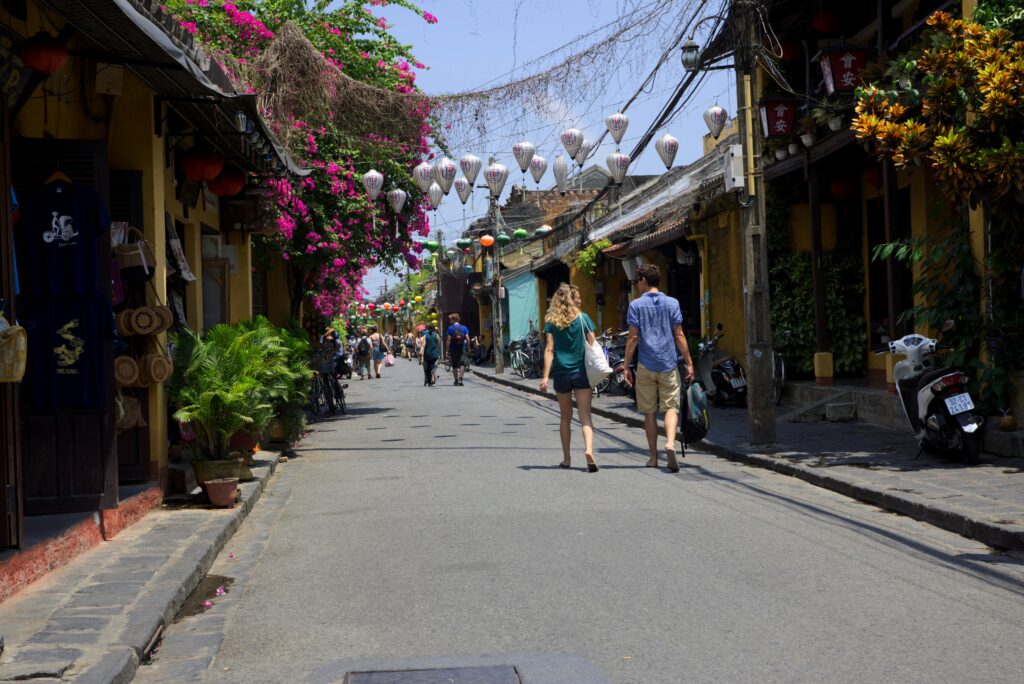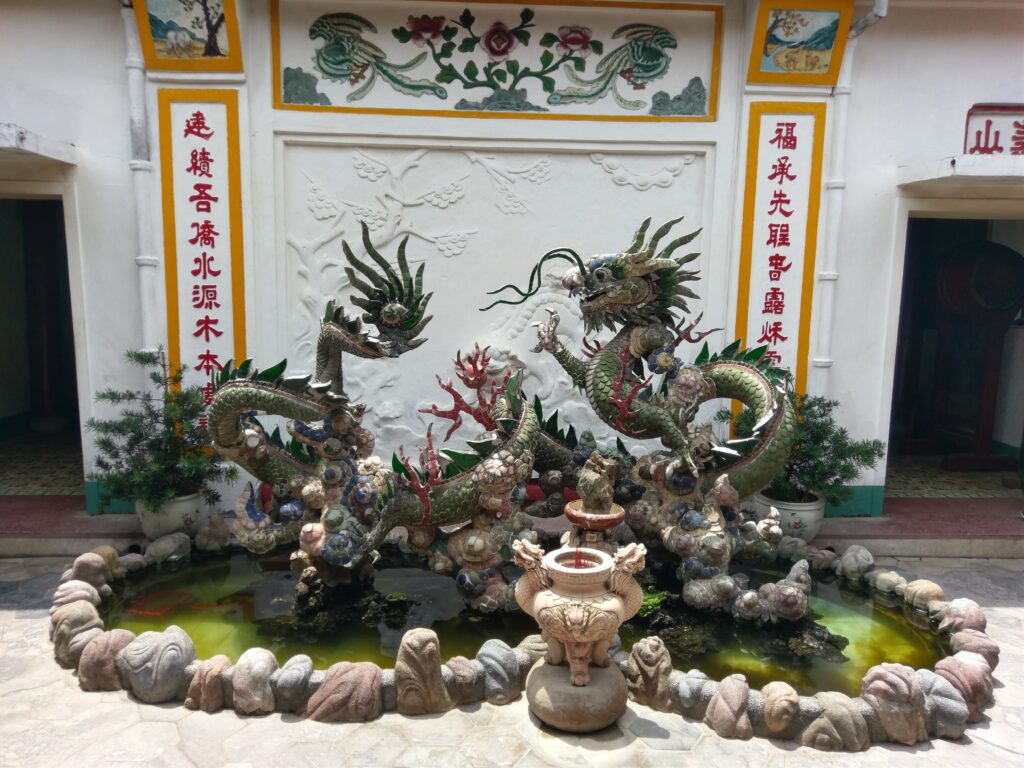 12:23pm
Glad we stopped at Be Be! My wallet isn't, as I got a full 3 piece suite tailored out of silk, cashmere, and 10% polyester for $280 and Ali got a floor length dress made completely from silk for $190. I wish we'd waited for Be Be rather than Tâm Silk as they measured a lot more than even Ba Ri did. Then again this is much more expensive than either of the other places. We've got a first fitting tonight at 5pm to make sure everything fits right and then they can alter if needed for tomorrow morning. We still haven't gotten our laundry as we've been wandering and checking out too much stuff. Currently getting our lunch at Madam Kieu, we're trying the two main foods I had on the list to try, Cao Lau and White Rose.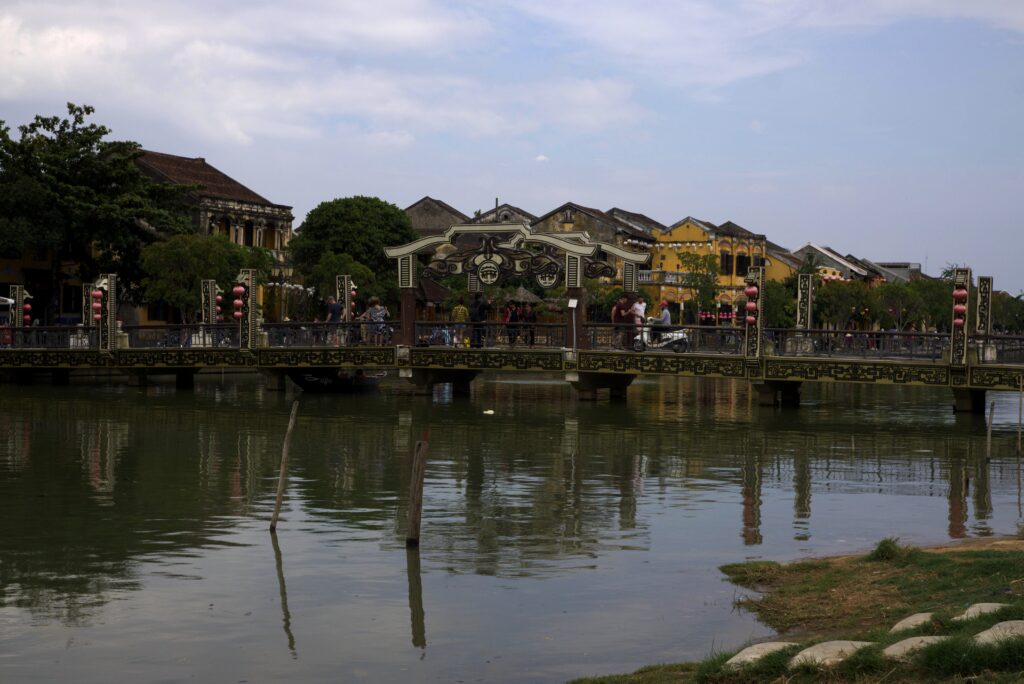 3:11pm
That food was really good! We wandered around ancient quarter some more and picked up some more souvenirs for folks back home. Luckily, we're almost done as we've spent a decent amount on said stuff! We're about to take a bit of a nap before we head back out and actually visit some of the places on our agenda.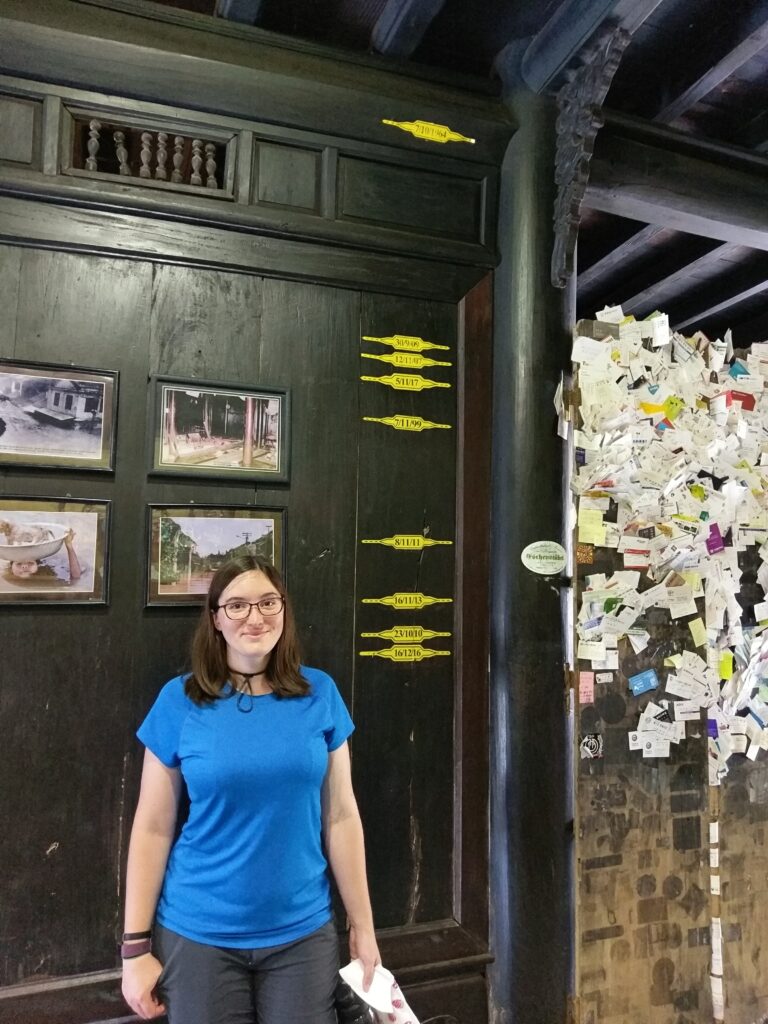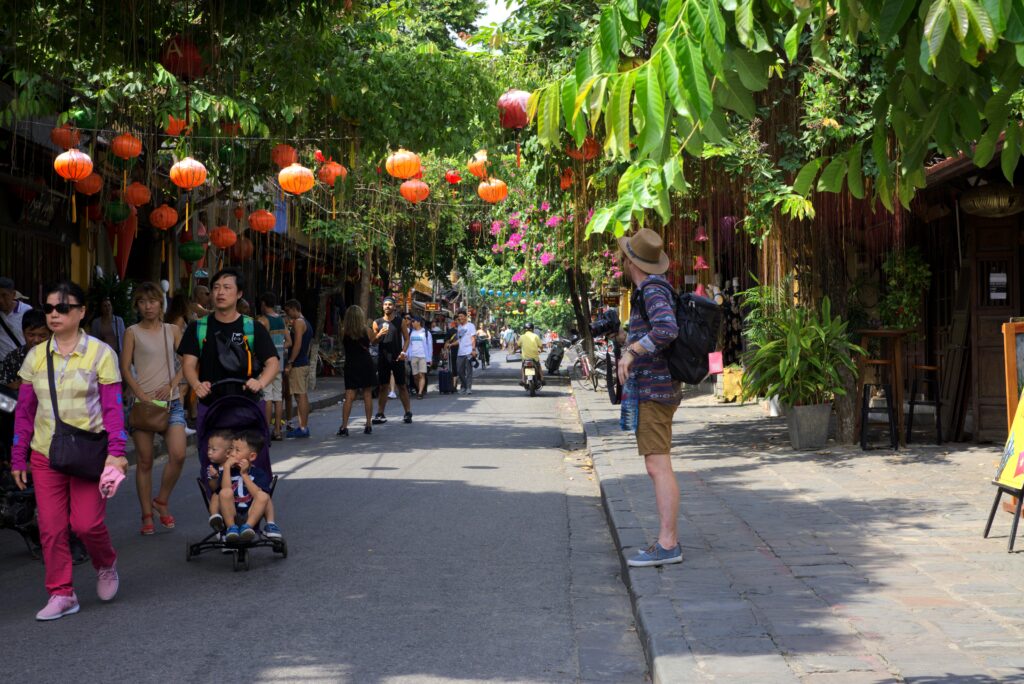 6:28pm
Grabbed some more of the calligraphy pictures for some of our people back home and did our first fitting which was great. The pants fit bang on and feel substantial, Ali's dress is beautiful, my jacket and vest need a bit of work but feel great as is and also look really damn good. Admittedly, I don't have a whole lot of reason to wear them but I'll find some because damn. We're drinking some bogo drinks at Gold Moon along the river and are about to get some food as well. Very happy with the first fitting and looking forward to the second one at 7:15!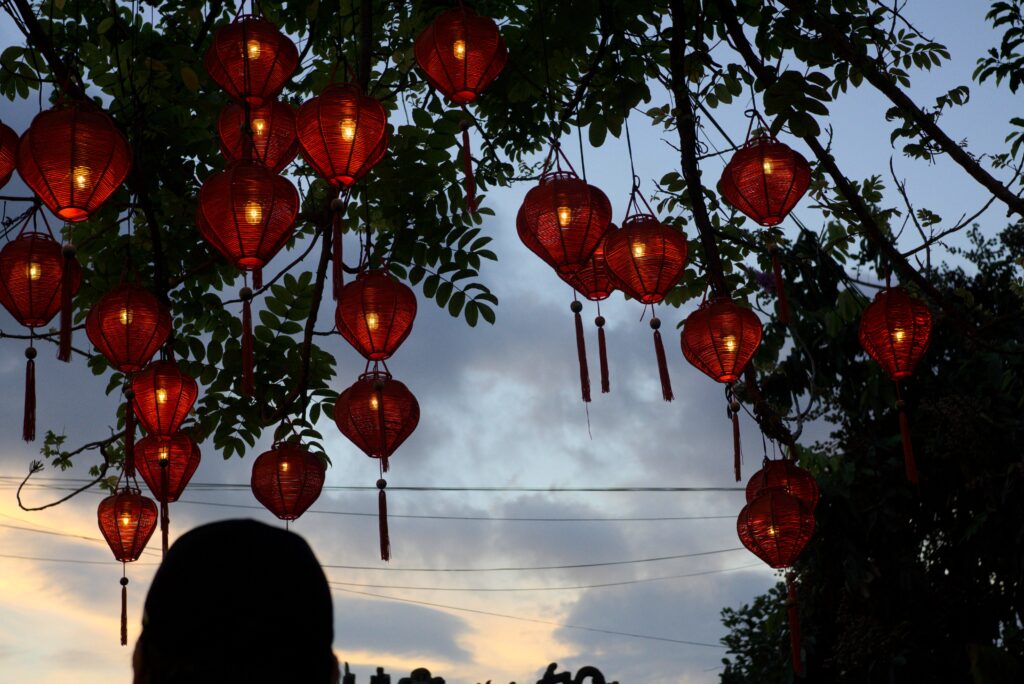 11:04pm
I think something at Gold Moon didn't agree with me, though Ali had shared everything with me and didn't have any issues. Anyway, the second fitting went well and they just did some final preparation work, cleaned everything up, and sent us on our way after I paid. The quality of the suit really is outstanding, the suit jacket is beautiful inside and out with some nice details inside that I wouldn't have even thought of. The pants feel great and are nice and thick, you can feel how nice the material is and the fit can't be argued. The vest is also great, I have a feeling I'll be using it as much as possible. I hope I get to wear the jacket as well, it's just so damn well made, absolutely worth the $280 and more. Plus they had everything ready to go in less than 12 hours which is incredible, there's a reason Be Be is the best there is in Hoi An. I'd be willing to put them up against other much more expensive options.
We caught up on some Philip DeFranco and plan to hit up our remaining attractions tomorrow before heading to Da Nang. Hopefully we don't get too sidetracked tomorrow, I definitely want to check out Silk Village. I'm afraid for my wallet though.
Best news of the day is that Ali is feeling better and we now have some clean clothes again!
Day 9
9:46am
Well we've been kicking ass so far this morning. Our host later today contacted us and we were able to arrange a car to Da Nang for 300k just like last time. More expensive than a bus but a lot less hassle.
We also talked to our current hosts and asked if we could check out at 12, once we do we'll just head to the corner cafe and eat and hang out until our pickup at 1. We also repacked Louie (the bag we picked up) and were able to fit almost everything other than my 3 piece suit. So we'll likely need a bigger bag now as I'm not sure I can take a 3 piece as a carry on in addition to my bag.
We got that all figured out and now we're sitting at the Hoi An Roastery getting breakfast. After this we're finally going to hit up the two old houses we want to see and then silk village!
1:14pm
In a Toyota Fortuner, on the way to Da Nang and this guy is flying. We didn't get to the Quan Cong or Silk Village but did end up visiting a few extra places like the Chinese Gathering Hall. Beautiful place, and we checked out some old houses as well that had a ton of beautiful mother of pearl inlays. Pretty damn fantastic! We'll just have to find silk embroidery pictures somewhere else.
4:33pm
Just had Banh Tom Ho Tay and Banh Xeo, pretty decent though the second one was an interesting eat as they leave the full shrimp shell and eyes on. I couldn't do it and took it apart. They also offered us what looks like corn milk as a drink. I skipped that as well, not feeling too adventurous at current. The room is good though and we're now trying to figure out what to do tonight. Since it's later we'll likely just walk the river and ogle the golden dragon bridge.
6:44pm
We've crossed the dragon bridge! Ate some Vietnamese ice cream that was… Not to our taste. Currently in a Baskin Robbin's, seems they spice their ice cream a little to flavor it more local. Expensive too, 175k for the two of us to get double scoops. Planning to wait for the dragon bridge to spit fire out of its head, that's supposed to happen at 9 so we've got some time. We saw some live music being setup under the bridge on this side of the river and it looked like there may be some dance/karaoke competition going on. Probably going to check that out while we wait as we don't have much else to do!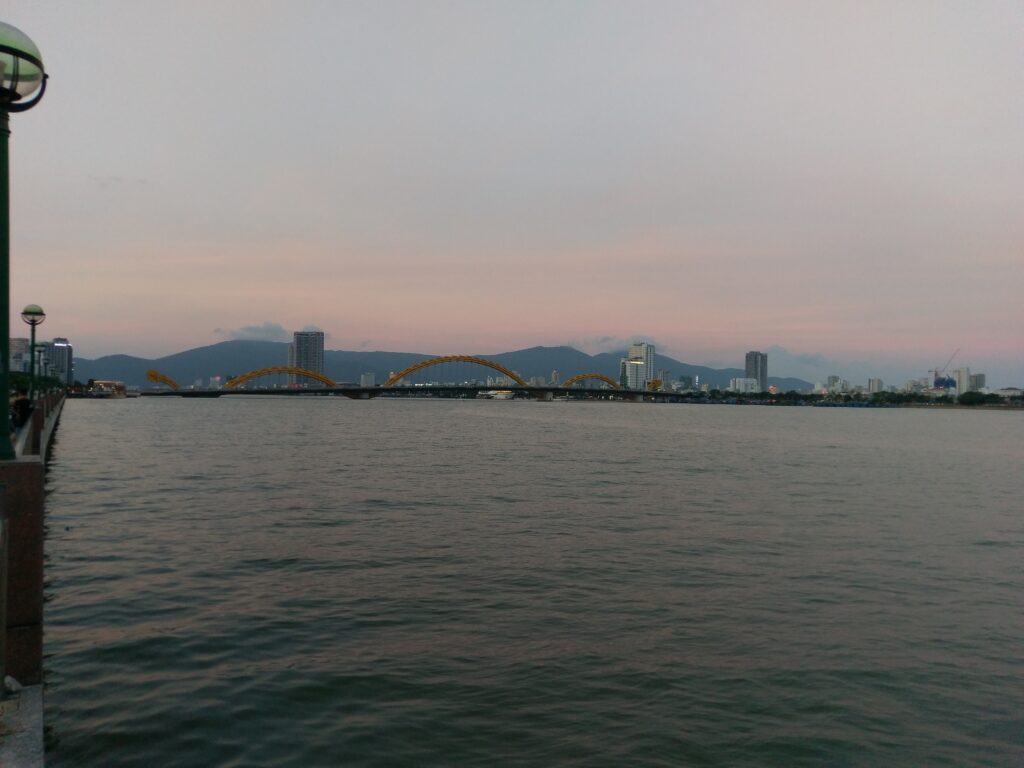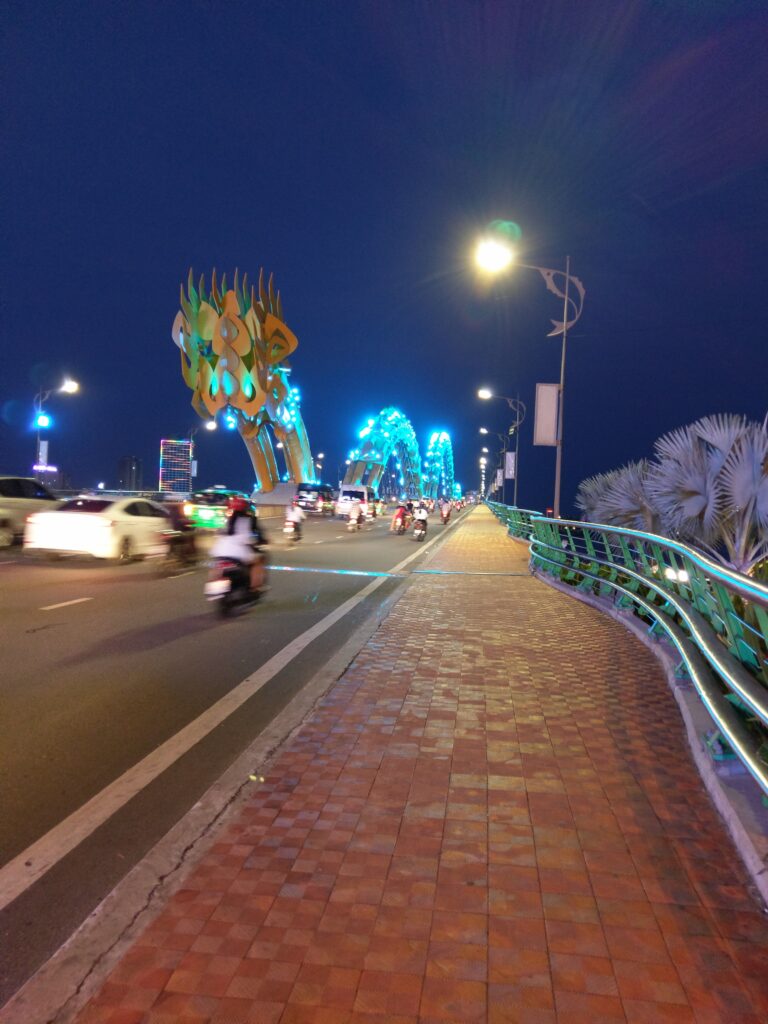 9:40pm
The dragon bridge with fire and then water was pretty damn cool! I'm really hoping I got some decent pictures and I decided to try video on my camera as well so we'll see how that goes. We also watched some song and dance competition sort of thing going on. Currently in a taxi on our way back to Mai's and looking forward to a shower and some sleep. We've also got to figure out what we're doing tomorrow since there's a few things we want to do that are all day sort of things. Then we need to figure out the next day as well so we know when we're leaving and how to get to Hué.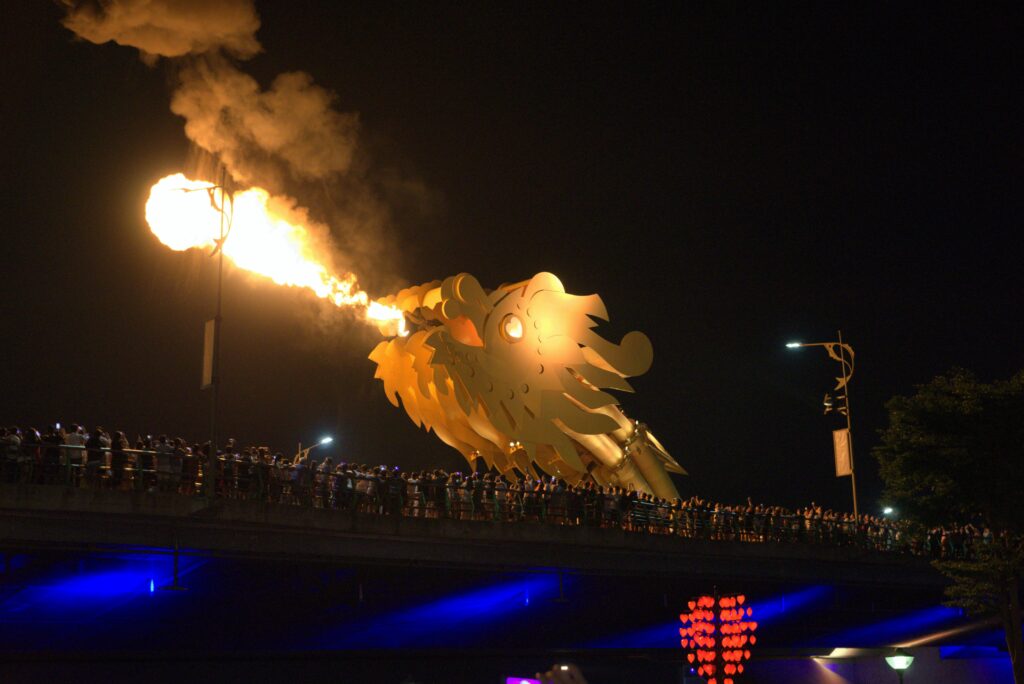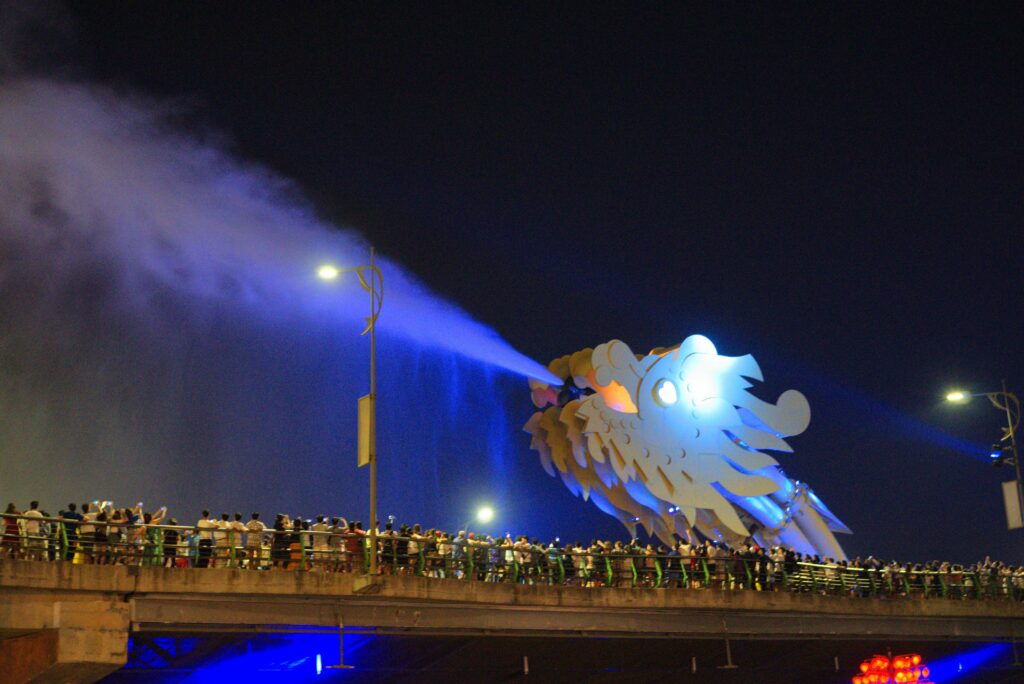 Day 10
8:48am
Trying to figure out where to get some breakfast and then we plan to head to the Marble Mountains. I really want to check out Am Phu as part of those. I also saw a Buddhist temple on the map not far from us, Bao An, that we may check out.
10:15am
Skipped the above, we'll probably check it out later. Currently getting breakfast at Ánh Tuyet and then hitting the Marble Mountains.
11:02am
Stir fry with beef was good and I got white coffee which was just coffee with condensed milk but warm. Good stuff, and now it's time to climb a mountain!
1:32pm
Am Phu cave was fantastic, worth the super sketchy climbs. Heaven is worse to climb up (single file, but people are trying to go both ways, super steep with no safety stuff) and hell wasn't as scary as I was hoping but was still worth the visit. We climbed to the peak of the water mountain and a couple other higher areas on the mountain, think we're done climbing for the day. It wasn't super fun to climb (I don't know what we expected), but there were good views to be had. Considering Ba Na hills now but we may be too late in the day for that, plus it's something like $30/person. Currently sitting in Old House cafe planning our next move.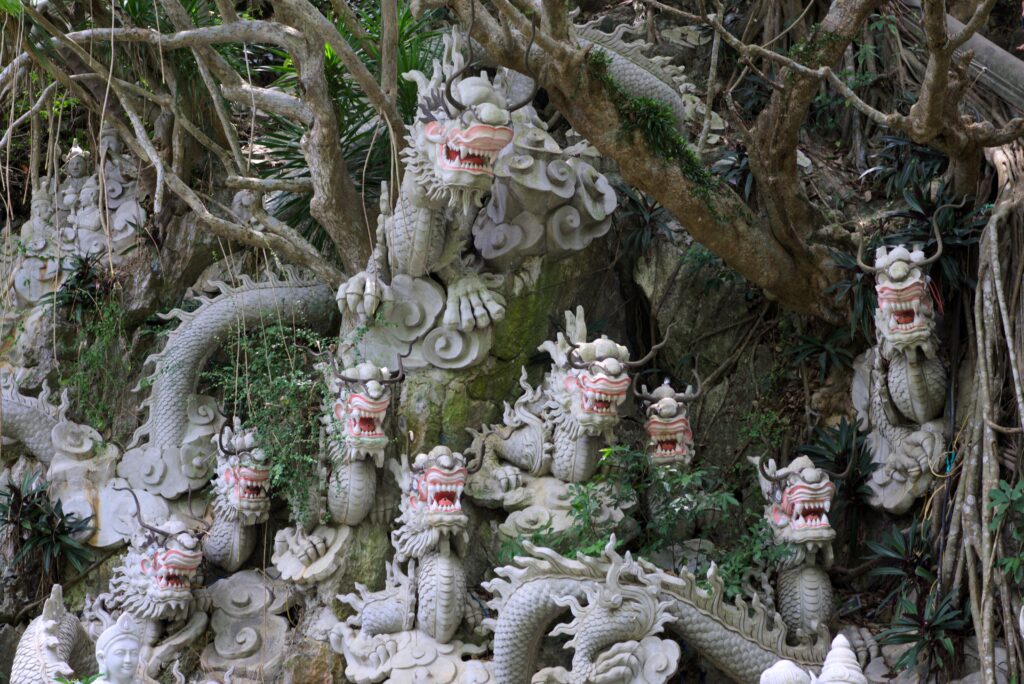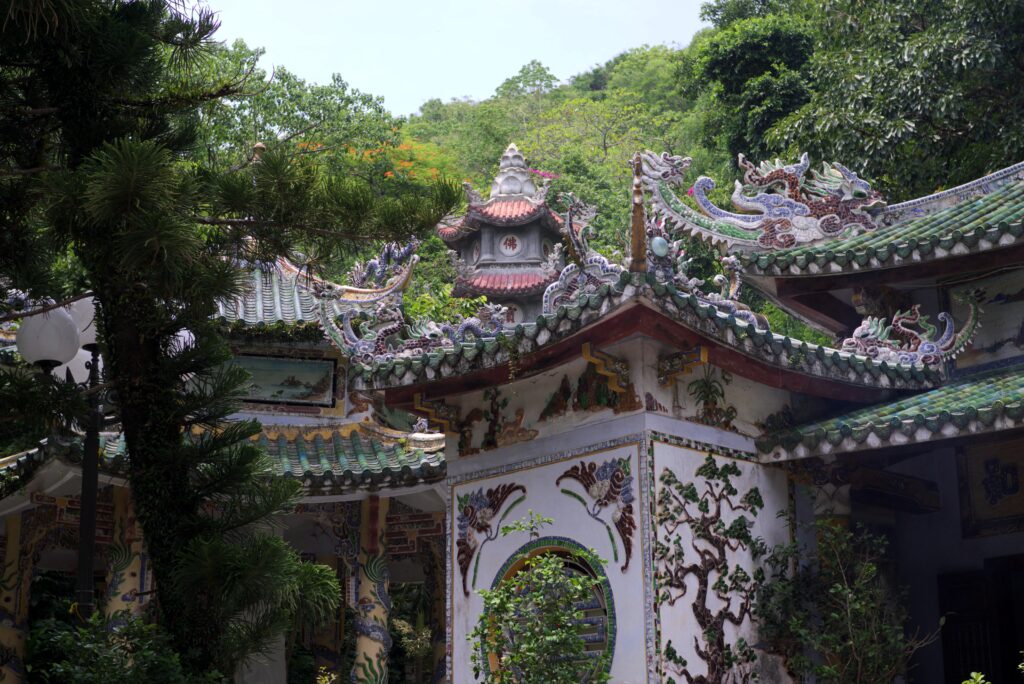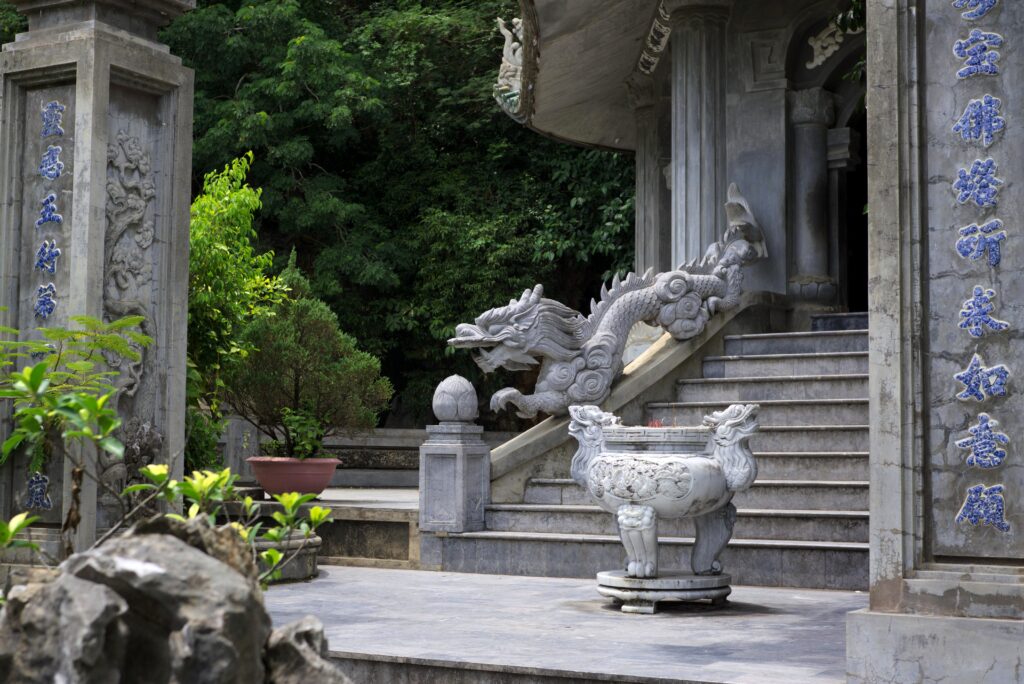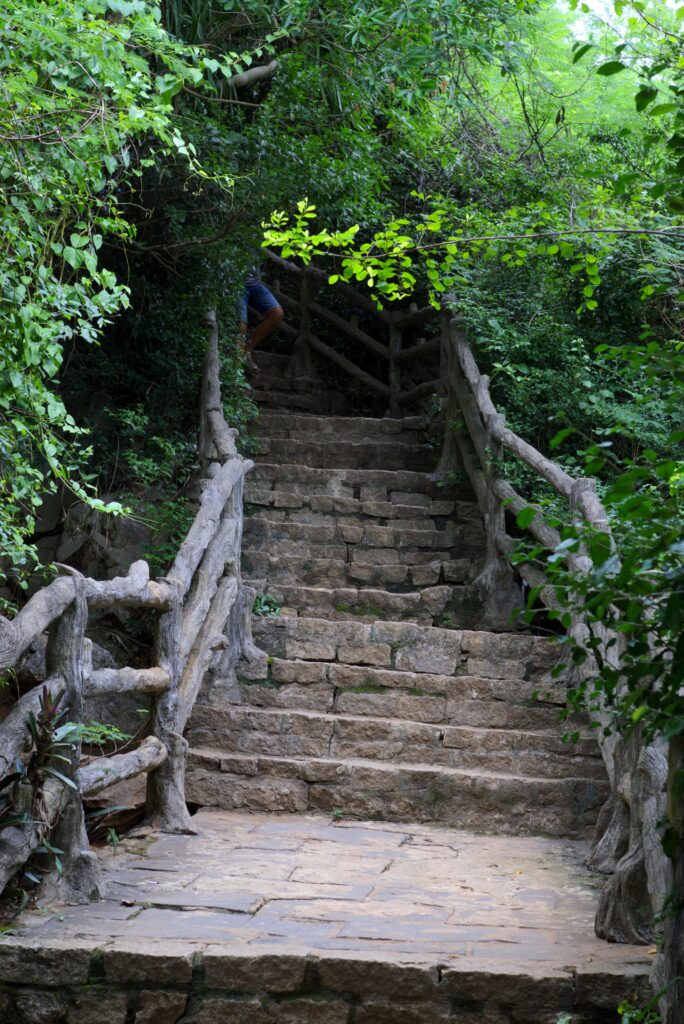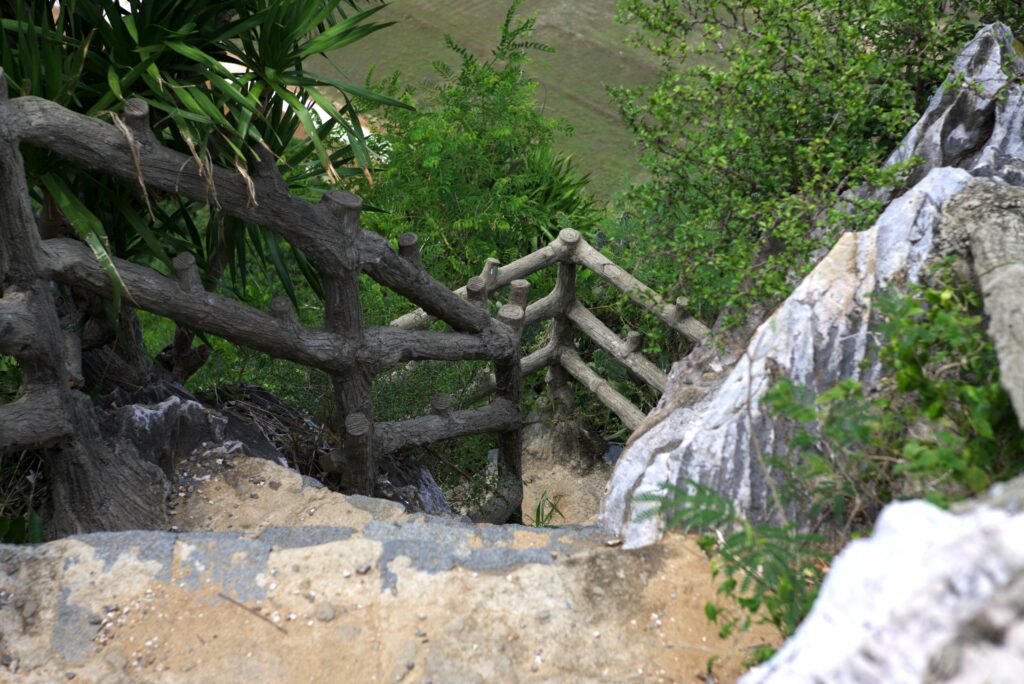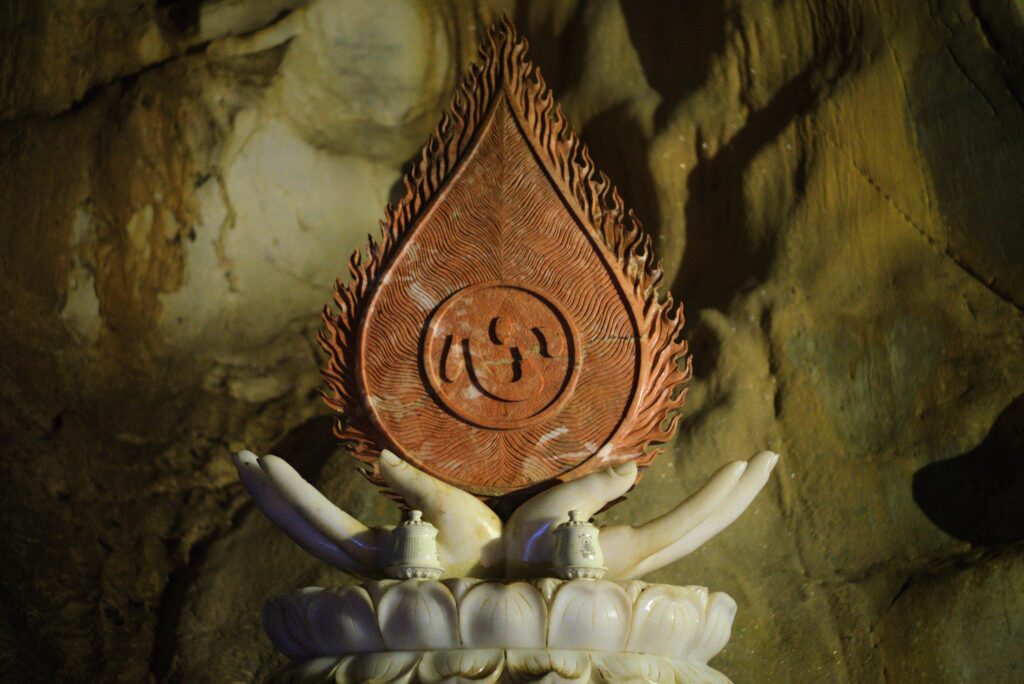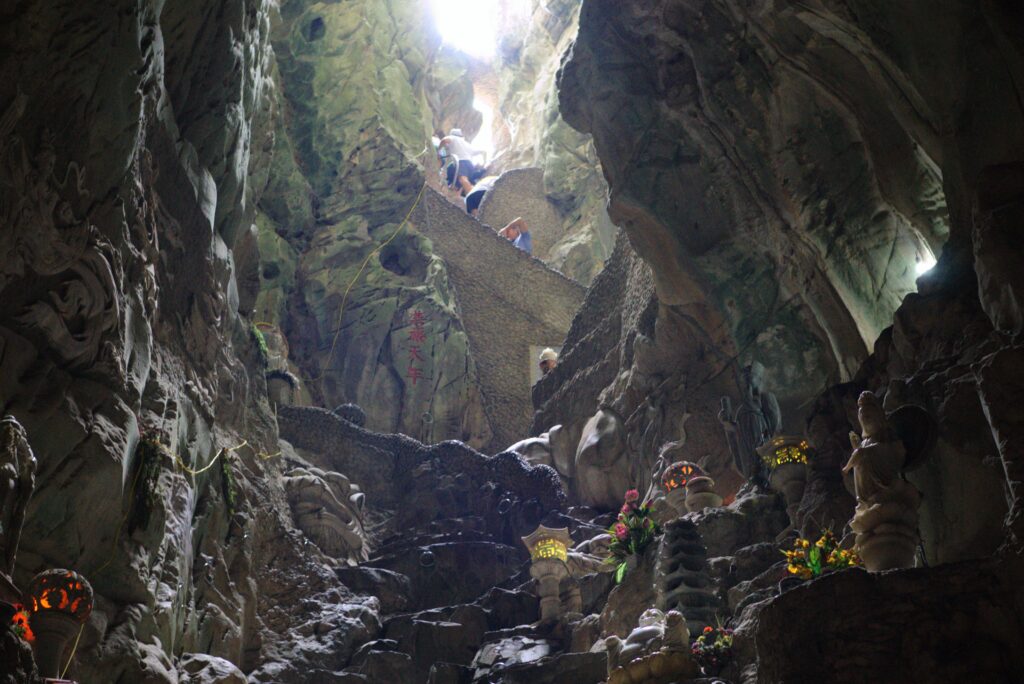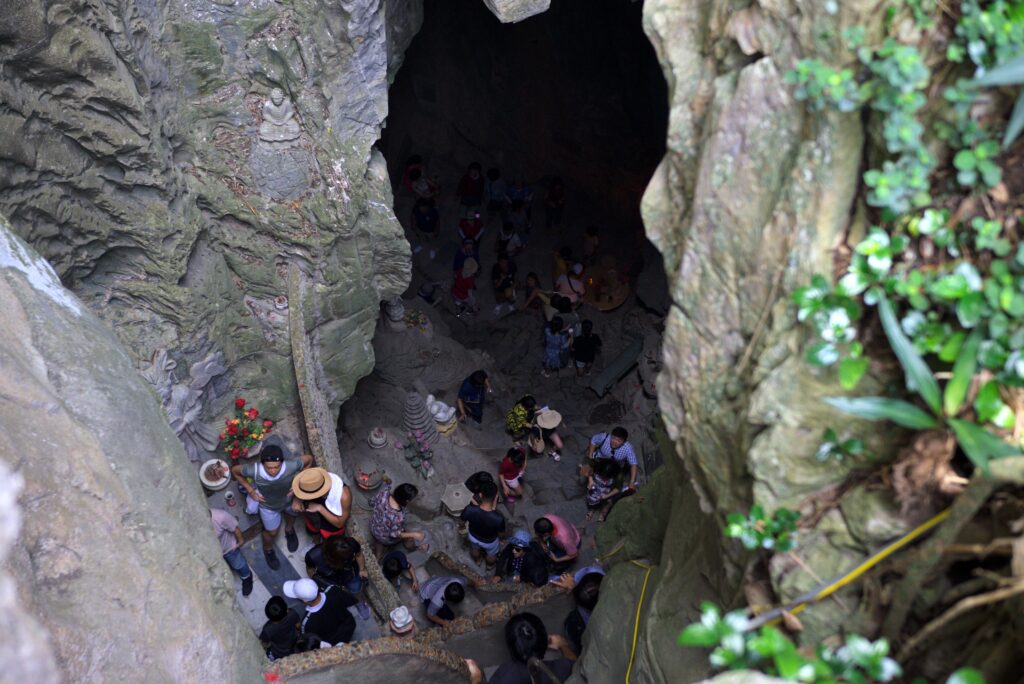 4:26pm
Museum of Cham Sculpture was actually really interesting! Some of the detail in sandstone from 1100 years ago was amazing. We walked down the street a bit to a Catholic Church sort of thing but it's pretty meh. It's the pink one people come to see, I would pass if I had a chance to get time back. We're currently in a Grab on our way to Chùa Linh Ứng the one with the giant lady Buddha said to be 17 stories tall and carved from a single piece of marble.
5:28pm
Holy wow the Lady Buddha is awesome. It's definitely giant and made of marble, and the whole temple area is great. Beautiful marble work and landscaping as well as some absolutely fantastic views of Da Nang, especially around sun set. Currently at The Amazing Taco, about to find out if it lives up to its name.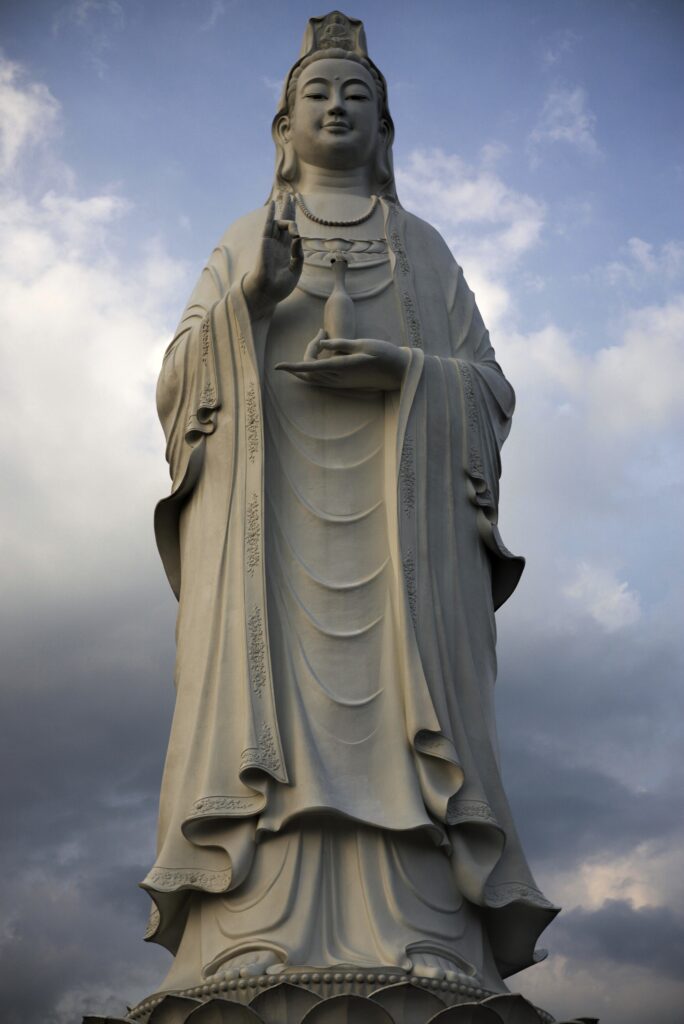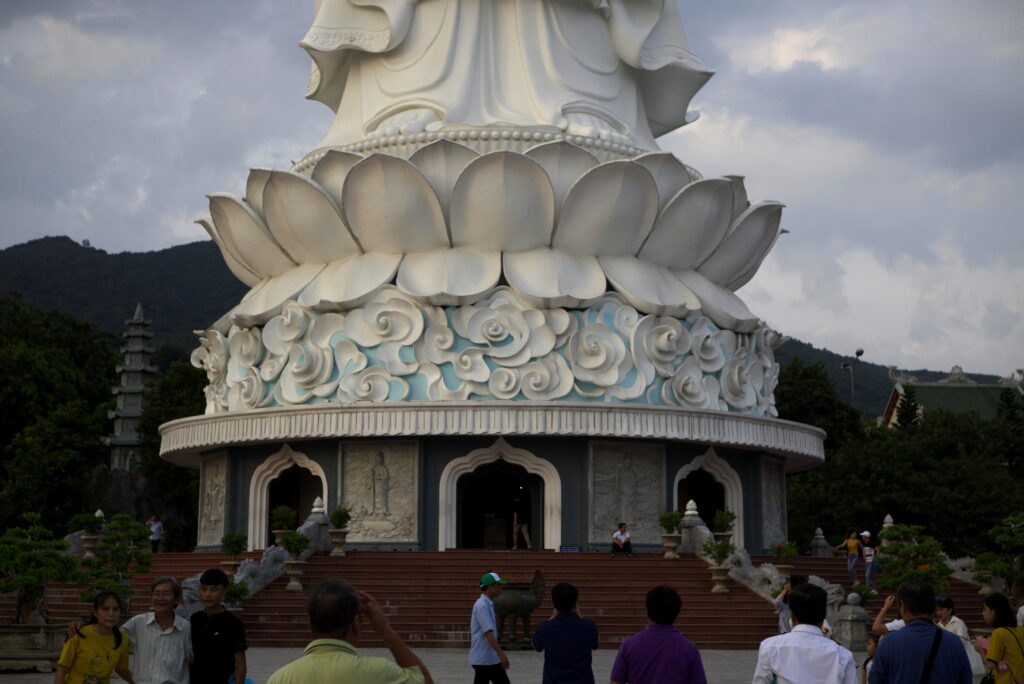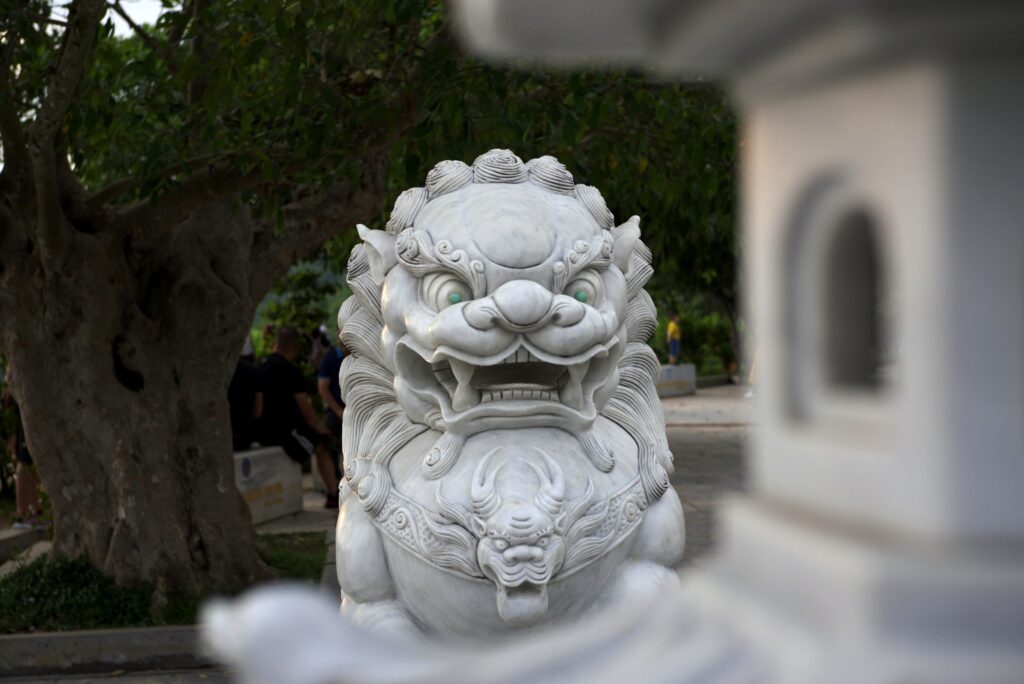 Ended up sitting next to two dudes from Alaska and a dude from Hawaii, sounded like they're over here trying to find remains from the Vietnam war. They said they'd spent 40 days/nights in the jungle working with locals to try and excavate and find soldiers that never made it home. Something like 60k soldiers are still MIA and they're working on trying to find some of them. Sounded like they're also heading home tomorrow as a typhoon is a coming. Hopefully it'll be North enough that we will just be getting some rain in Hue, at least that's what it looked like when we googled it earlier.
The food was delicious by the way!
Day11
8:31am
Packed up and ready to get out of here! Gotta let our host know we're checking out and then I guess we start heading to the train station and grab some food along the way.
Mai got us a grab to the station, now we just need breakfast.
11am
Breakfast was meh but it was cheap and served its purpose. Currently on the train and damn we have some great views. We're stopped right now for some reason and unfortunately our seats are on the wrong side.
Fortunately there's no one in any of the seats by us so we have free reign to take other seats with a view. The closest window is also unfortunately messed up, all condensation covered. There's another window that's better though, so once we get moving again we'll have more fantastic views.
1:36pm
We made it to Hué! At the station there were a ton of taxis asking for 50k per person for a 4 minute drive! That's crazy expensive in Dong but comes to like $2.20 so we ended up taking a 50k taxi even though the actual cost should have been closer to 20k. Our host lady is really cool, doesn't speak a ton of English but we understand each other. She brought us cold watermelon slices which is the bomb. Plus they have a free to use washing machine so hell yeah. Planning where we're going to go now, our host recommended a Bun Bò Huè place 20m to the left so we'll probably pop over to that and then maybe go for a massage.
5:04pm
Didn't find that place but we did find a nice little cafe for some drinks. I had a drink that was blue curacao, 7up, and milk. Sounds weird, tastes good. We then went for a blind massage which was an experience, it was about 30 minutes I'd say and the dude I had was definitely going for it. It was rougher than I'd expect for a massage but to be fair we went for the experience and certainly got one! Just had some Bùn Bò Huè at Ba Hoa, hopefully we don't poop ourselves. We're about 5 minute from the XQ museum that Ali wants to see, that's next!
Edit – this was the first time we'd ever gotten massages. As of posting, we haven't had any since 🙁
6:31pm
Admittedly, the work at the XQ was incredible. They have some huge pieces that are absolutely beautiful, and they also had a portrait on Martin Luther King that looked exactly like a picture. Fantastic.
We hit up the Healing Wounded Hearts workshop as well and got a set of coasters made from Tiger bear cans for Ali's dad and a cool little travel notebook that we'll probably give to another friend. We're currently sitting in a nice little restaurant called Rustic Kitchen about to get some Hué style crepes and onion rings. We were aiming for the cafe next door but we're kind of suckers.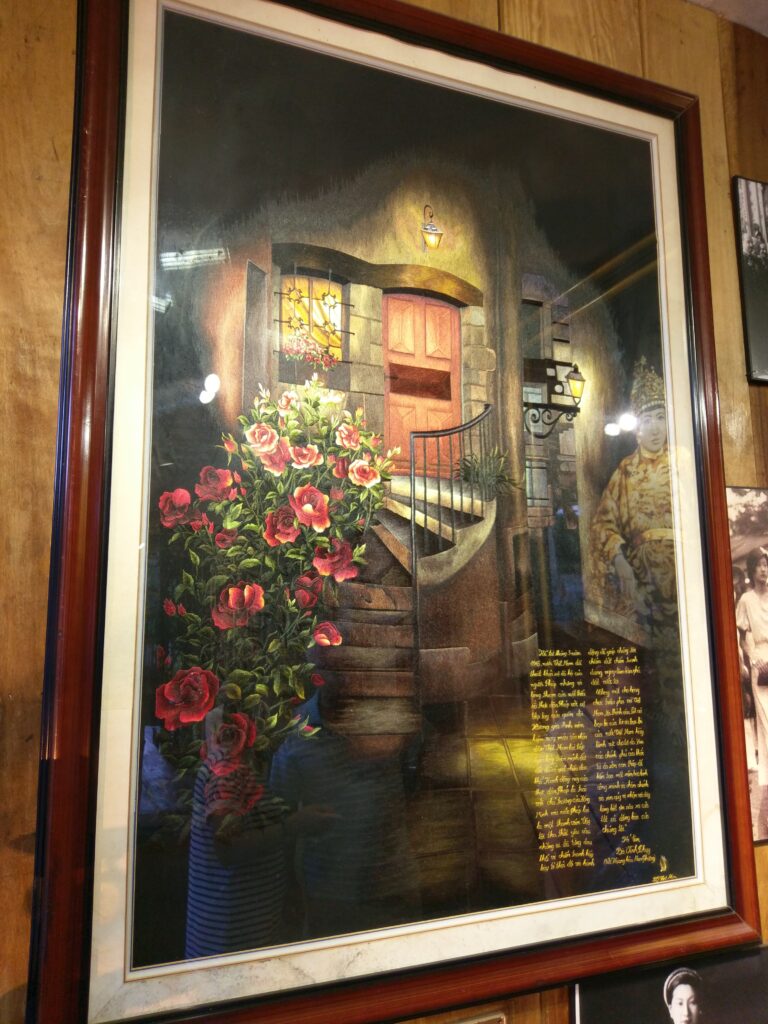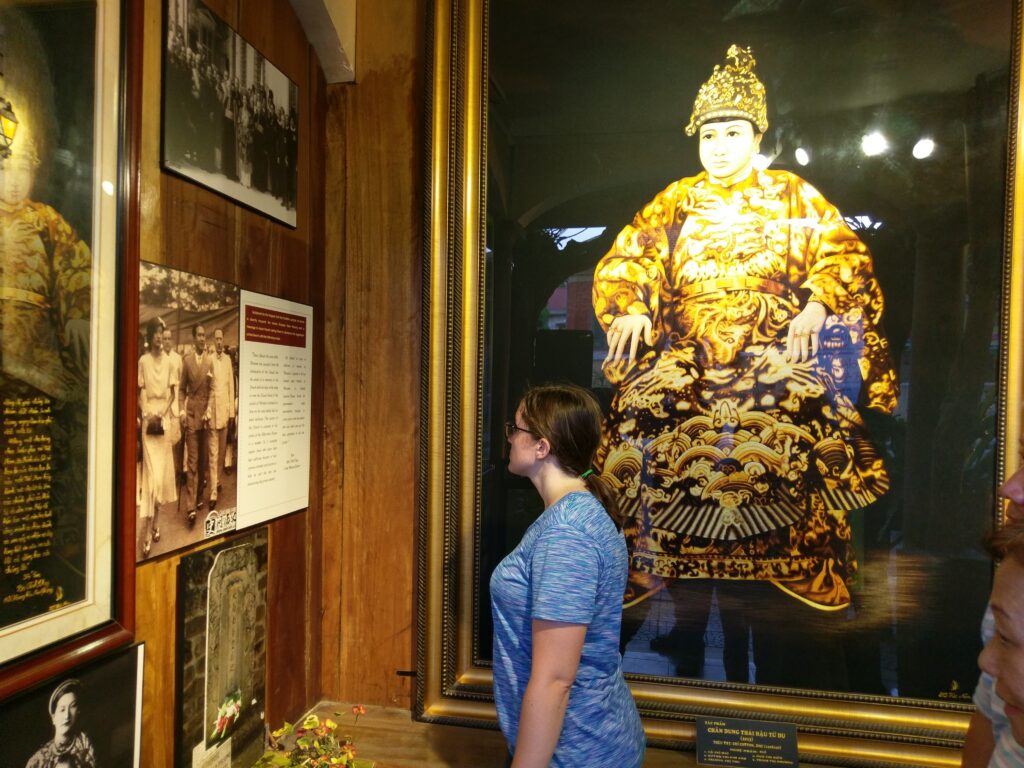 10:24pm
We got back to our room and the lady we're staying with immediately made some spring rolls for us. Oh man, we ate plenty for the next two days. Currently watching some good old Adventure Time!
Day 12
11:19am
We just ate at a place called Tai Phu, it was hands down the most harrowing meal we've had. One of the servers sneezed into her hands seven times and then touched our food while another server made a roll for me with his bare hands that we're visibly dirty. I ate it. We got one of the local specials, mystery meat sticks (with seemingly a lot of random hairs) that you roll into rice paper with greens and dip into a fairly tasty sauce that actually looked not unlike thick diarrhea. The dude reached into what appeared to be a silver garbage can, brought out a bag and pulled out the meat sticks with his hands. There was a red bucket as well that he pulled some of the greens out of, all with his bare hands. The meat was not something I could identify, full of gristle as well. Tasted fine but… You know. The lady server also stood behind us and watched us eat with her crazy eyes. Unsettling.
Not gonna lie, we are psychologically unwell after eating that. Hopefully we don't spend the rest of the day on toilets.
We walked right next door to some classy drink place and got a blueberry smoothie and peach tea to try and mentally recover. 🙁
Edit – We should have outright refused to eat what we were served, simply paid and left, but we didn't want to be super rude. We still joke about/fear this experience.
12:17pm
Before even leaving that last cafe we both needed a restroom. We just now found one, Ali's using it and I'm waiting for her to report on whether there is toilet paper or not. (Nope, but we made napkins work). We did come across other bathrooms but they never had toilet paper, just a sprayer and with how hot it is (90f) I really don't want to induce swamp ass. Guess we'll find out when Ali gets back, for now we've ordered a strawberry yogurt drink at Rodo Cafe about a block from the imperial citadel. Of course we didn't bring our hats or sunscreen so I'm not sure we should be wandering the citadel grounds for 2-3 hours just now. Yay!
Edit – Covid pushed us to try a bidet and we're fans. What they used in Vietnam is quite different from what we have, but I must admit they had the right idea!
3:25pm
The Hue citadel is pretty neat, tons of stuff to explore and check out or read up on. It was so hot we mostly looked at stuff and tried to stay in the shade. It was still pretty damn neat. We got to check out the Hope store but unfortunately they had packed up most of their stuff to take to a craft show sort of thing. It was still a nice visit as we got to meet some of the artisans sewing stuff and crafting recycled wire bowls or pottery. It was nice to visit, I do wish I had asked if we could buy one of the notebooks there or at least made a donation.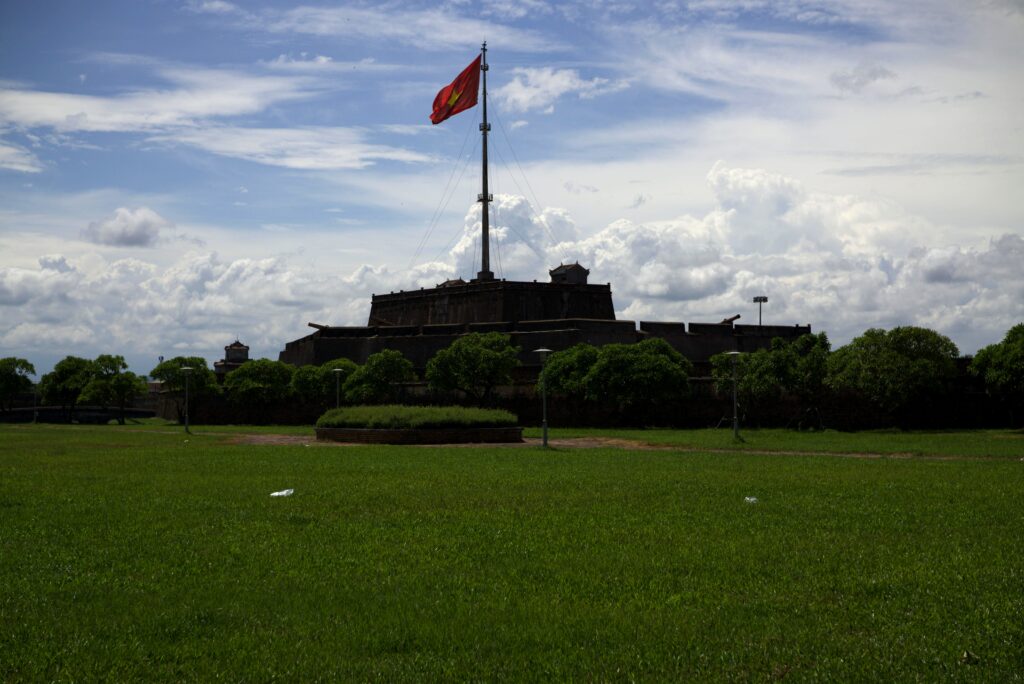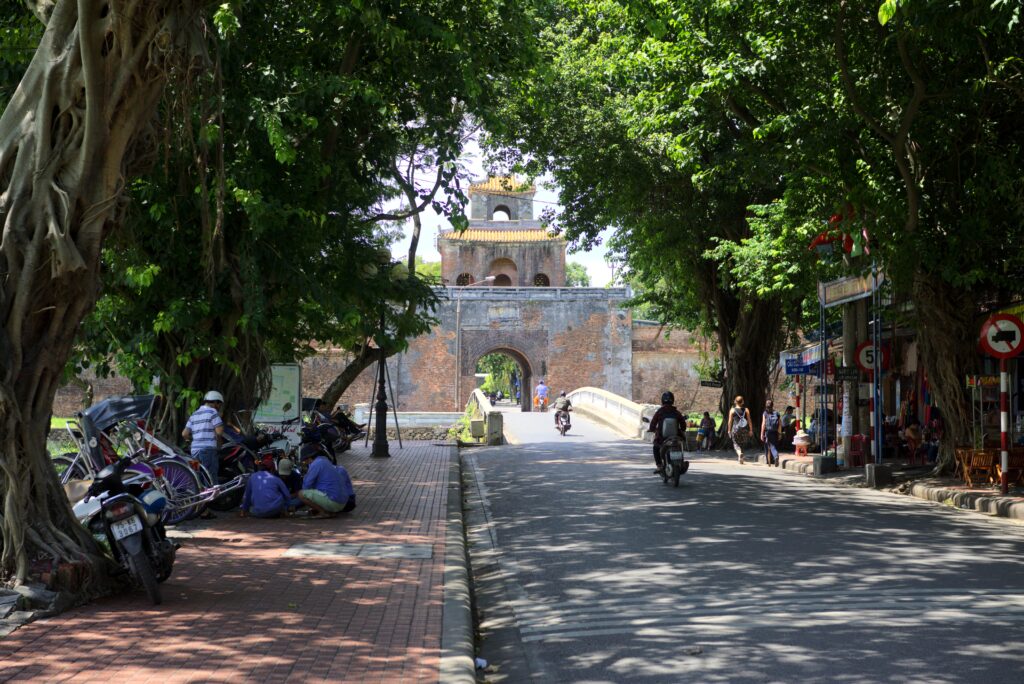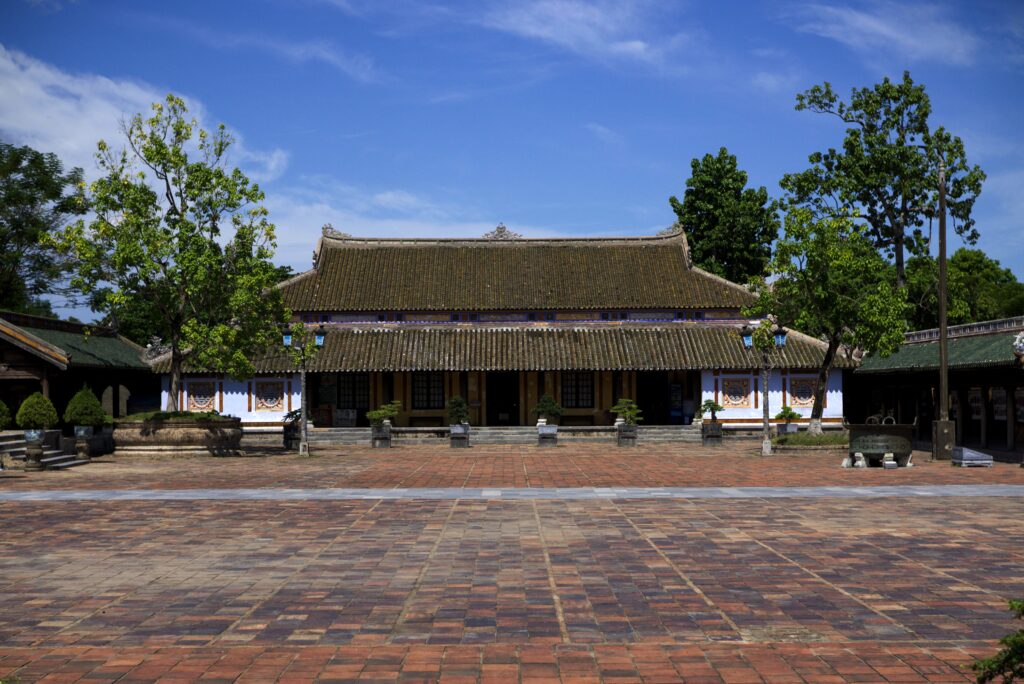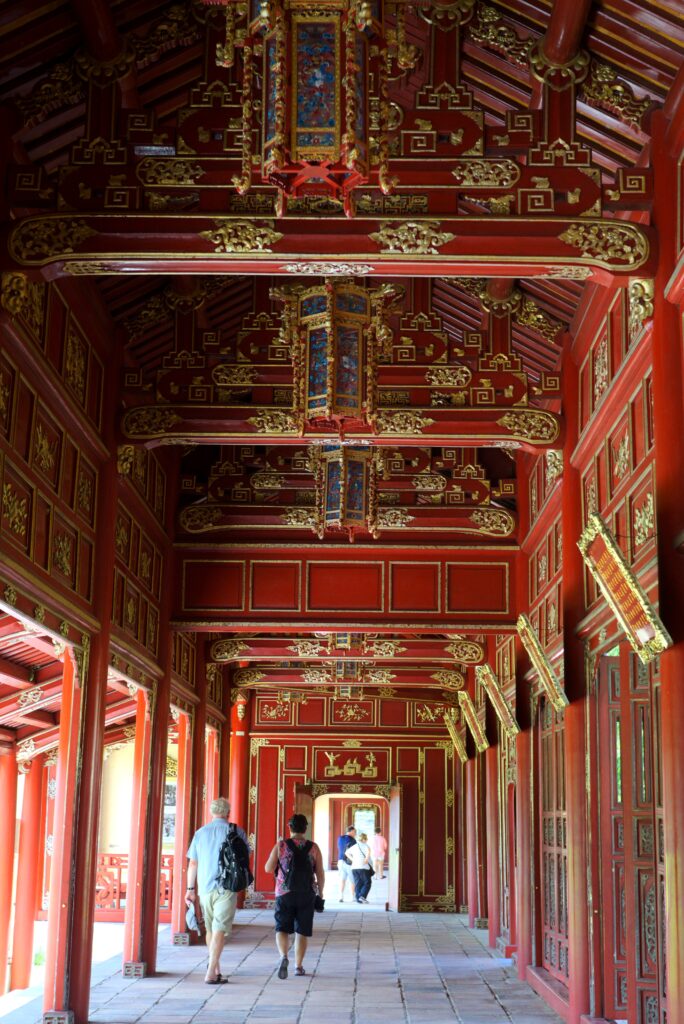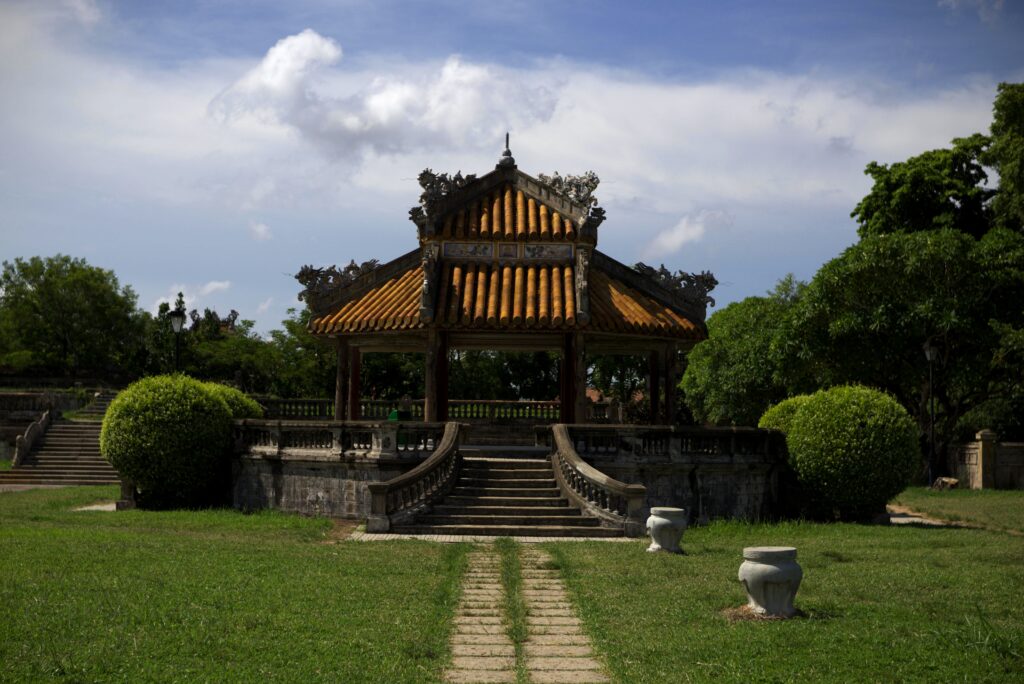 We're currently back at Rodo Cafe for some lunch. Getting a cheeseburger with fries and a coke and Ali got a fried chicken legs. After our mystery meat encounter this morning we're very much looking forward to this!
7:31pm
Well things kind of went downhill from there. The food was decent but we ended up walking all the way to the Thein Mu Pagoda, about 50 minutes by foot from the cafe. We stopped along the way for something cold to drink and did eventually make it. Hot and tired, we didn't stay too long but it was quite a sight and offered great views of the perfume river. We caught a cab back to our room and wanted to get some drinks, found a nearby liquor store and ended up with two tiny sample bottles of vodka and whiskey for like $20! Probably should have just walked out but we were tired and wanted a damn drink.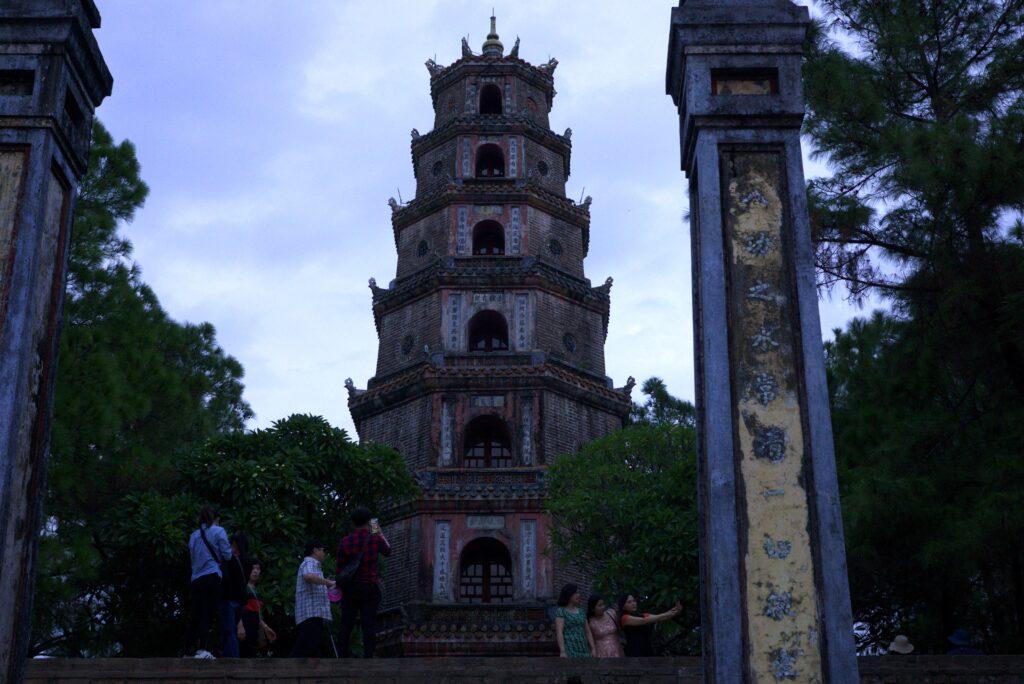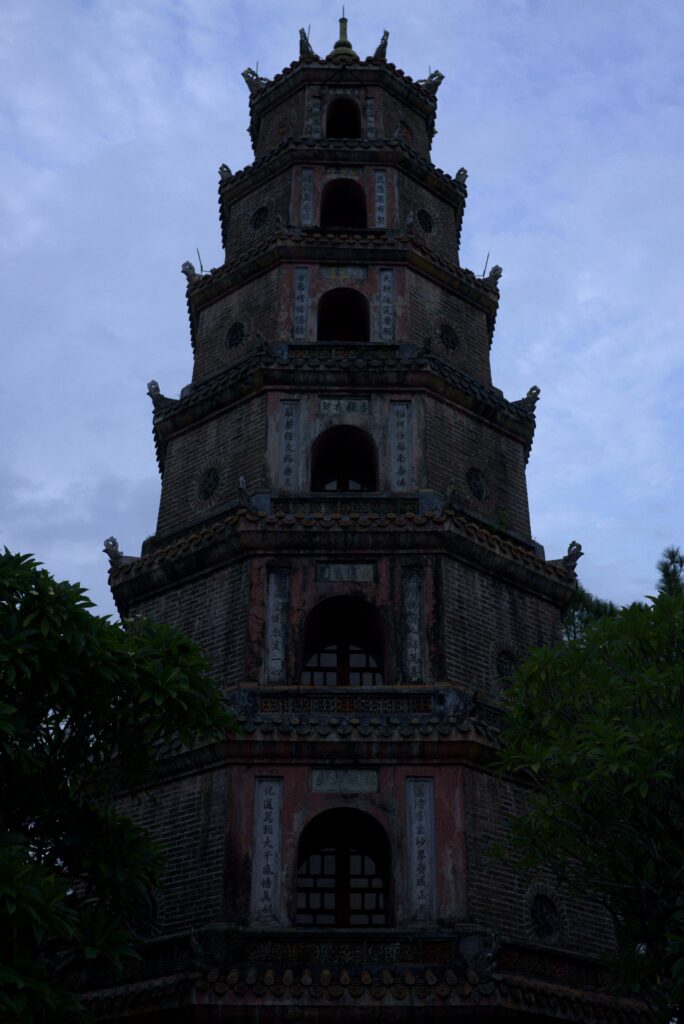 Currently back at the room, not drinking. Just one of those days. We have a train to catch at 5am(!!!) tomorrow to get us to Dong Hoi around 8:30am. Hopefully we'll just drop our bags and then head out to explore for the day and I really hope we get some sleep on the train. Gotta find an ATM as soon as we get there too, not sure if we'll have enough for a taxi to our place there at this point. Unfortunately, the two things we wanted to see (Paradise Caves and Phong Nha Caves) are about $45/person so we aren't sure we want to do that just yet. All in all? Probably my least favorite day in Vietnam.
Day 13
1:28am
Either having acid reflux like a mother or a heart attack. I don't suspect heart attack but most likely no one ever does. Good news is we're 6 minutes from the Hue general hospital, which is pretty much the second best in the country and actually saved a French guy from a heart attack last year. That's the good stuff!
Bad news is we aren't sure what it is. I'm leaning towards heart burn since I have acid burps and feel vomit-y, did have some other gastro upset, and it gets worse when I gulp water (little sips ya dummy). We're damn near out of water (poor planning) but I got some from our host before we went to bed so I just went and filtered it with the squeeze. Another fun fact is our bed slopes toward the head so I'm thinking that didn't help but then again neither did only eating half a snickers and a granola bar for dinner. So yeah, currently can't sleep because of chest pain but Ali's mom thinks it's heart burn as well and we have a plan if it's a heart attack so things could be worse. Still have to make a train at 5am. Travel isn't all fun!
5:36am
Still alive! Turns out it was indigestion of the "fucking terrible" level. Still flares up if I drink a big gulp or two but much easier to live with currently. Our host called us a taxi so now we're on the train. A dude took our seats and is just straight sleeping across them, so we took someone else's seats. Good news is they're keeping the doors closed this time, bad news is apparently we don't have AC. There are "premium" soft seats in the coach up from us and that's all AC. Some bullshit they should probably make clear when ordering tickets. Guess we won't be making up any sleep.
Edit – Man I was salty at this point!
6:39am
We stopped at a small town and dropped some folks off, luckily that included the people across from us so now we can stretch out. And the AC started working to boot, maybe today won't be a repeat of yesterday after all!
10:29pm
Things are looking up! The Dolphin Homestay is beautiful. The host is incredibly welcoming and helpful which is refreshing and has helped with my shitty mood. Our last host was the cutest little old lady and was welcoming and helpful as well but didn't speak great English and of course we suck as Vietnamese.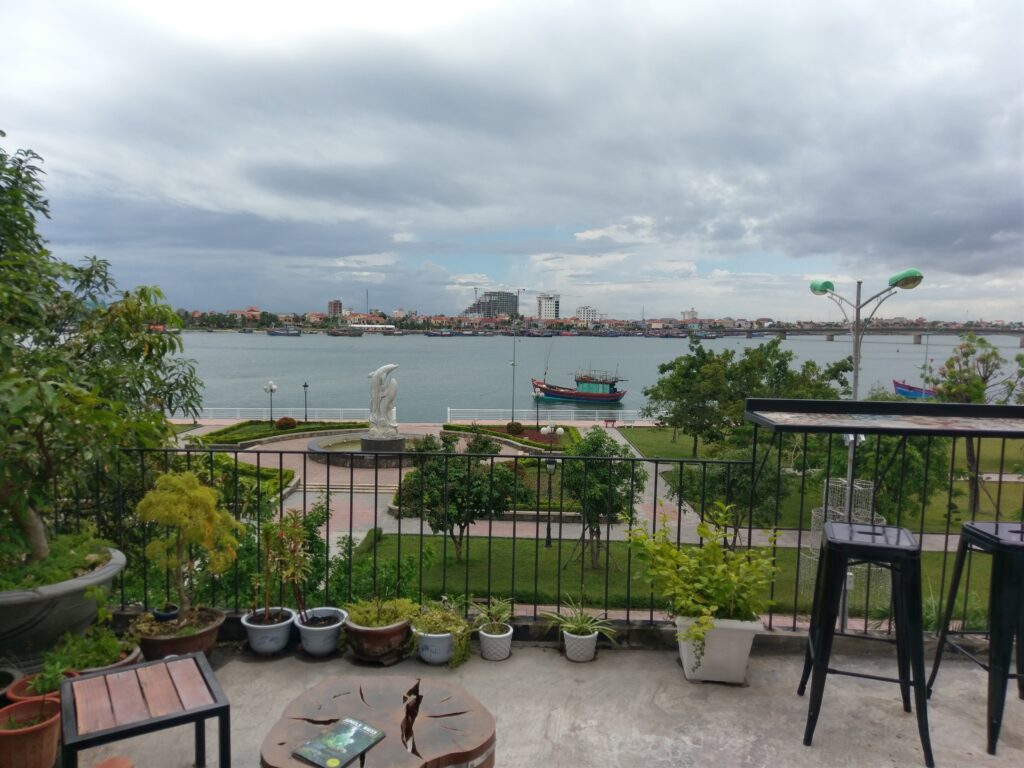 Anyway, this seems like a good location. We've got a shared balcony that has a great view that I think we're going to love tonight if it's not too hot. Thinking we'll take a nap, then hit up rainforest cafe and possibly 7th Heaven at some point tonight. There are also dunes nearby that we may check out, sounds like we can borrow bikes here. Admittedly, we just had breakfast so it's likely just feeling that much more human is what has brightened my outlook.
3:13pm
Ended up napping much longer than intended, so it's time for another round of food! Currently sitting in Treehugger Cafe and it's really neat. They have an upstairs with handicrafts from ethnic minorities (we spent almost 700k there!) and their Saigon style coffee is really good. We're having a waffle made and I'm thinking we may come back later for some drinks. It's like half a block from our room so I'd like to get a little buzz on and then sit out on the balcony there. Planning to likely go to 7th Heaven after wandering the area a bit to take in the sights. The riverfront is pretty and not nearly as busy as places we've visited so far. It's still got traffic but just not as much. I think we might extend our stay a day to just kind of soak up the vibes.
5:14pm
Seems the blind massage place here is closed currently. I suspect it's too late in the day for a massage, so we'll have to stop back tomorrow. It's a very short walk from our room so no biggy. Currently sitting in 7th Heaven. Ordered their version of a sunset drink as well as a pizza and fries because of course we did. Hopefully it's all good!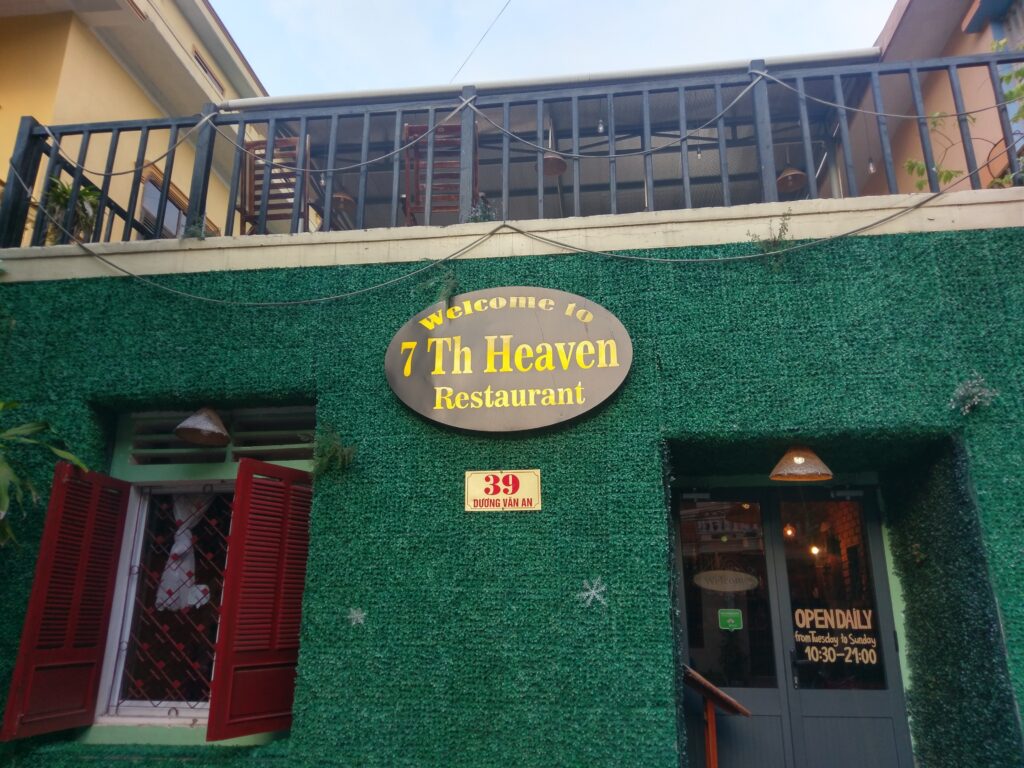 6:05pm
The pizza was great and the fries were perfect. We only ate half the pizza as we ate our very dense (and quite good!) waffle with ice cream not terribly long ago. We're currently back at the treehugger getting some more drinks before we head back to the room! We still have a half a pizza for when we get hungry again later but I need to be careful that I don't get that stomach stuff again as its been fine all day as long as I eat and drink in small amounts. Ali got a long island iced tea and they gave us the rest of the Coke they didn't use in the drink, score for my whiskey drink later!
6:18pm
They just put on Sweet Home Alabama, what a world!
Day 14
9:40am
We'll we got a nice buzz and then headed back to the room and watch YouTube videos on the balcony. Mostly PhillyD and John Oliver but of course we ended up watching fail videos in our room later as well. Then the terrifying spider incident occurred. As Ali was brushing her teeth a freaking huntsman spider (?) at least the size of my palm dropped in through the bathroom window. Ali wanted me to kill it but I wasn't going near the mofo, it was fast (plus, rude). The worst part is it disappeared maybe an hour later, I think it crawled into a little drainage looking pipe in the bathroom and likely got back outside from there but man, shit was terrifying. We still aren't sure about that bathroom, and the best part is we only just told our host we wanted to stay another night here when this happened.
I had some more heartburn bs last night but nowhere near as bad as before. This bed isn't slopey and we also have extra pillows so I can prop myself up when I sleep. About to head over to treehugger for breakfast!
11:56am
Breakfast was good! We tried to find the blind massage place again but my best guess is it's closed, the address on Google Maps exists but isn't in the place Google says it is and the gate is closed so… We did start heading to the citadel to check that out but encountered some intestinal distress, apparently that mystery meat has more to give 🙁
About to head out again, might try to grab some of the free bikes to get around quicker. Ali wants to try and wander a beach a little and head out to the sand dunes just out of town later. I'm down for both and we actually put sunscreen on this time!
1:36pm
Aaaaand we're back in our room. It's miserably hot out so we came back to our room after checking out the citadel (can't go in) and the gate thing that was of ancient importance as well as a monument that was pretty neat. Little too hot out to appreciate it a ton unfortunately. Gonna eat our leftover pizza from last night and watch something and then probably nap a bit and try again around 4 to see if it's cooling off.
6:27pm
I took a small nap, watched some stupid funny Netflix show while I ate leftover pizza slices and then we ended up biking out to the nearby sand dunes. And by nearby I mean we biked 4.6 miles out. I went a little too fast on the way out so I had Ali lead on the way back. There were some great views out there though so I'm glad we went, I just don't want to ever do that again! Currently sitting in Red Peppers waiting on a coke and whiskey as well as some chicken. Very much looking forward to this, then some more drinks and ice cream over at Tree Hugger before we head back to the room for some more movies/shows.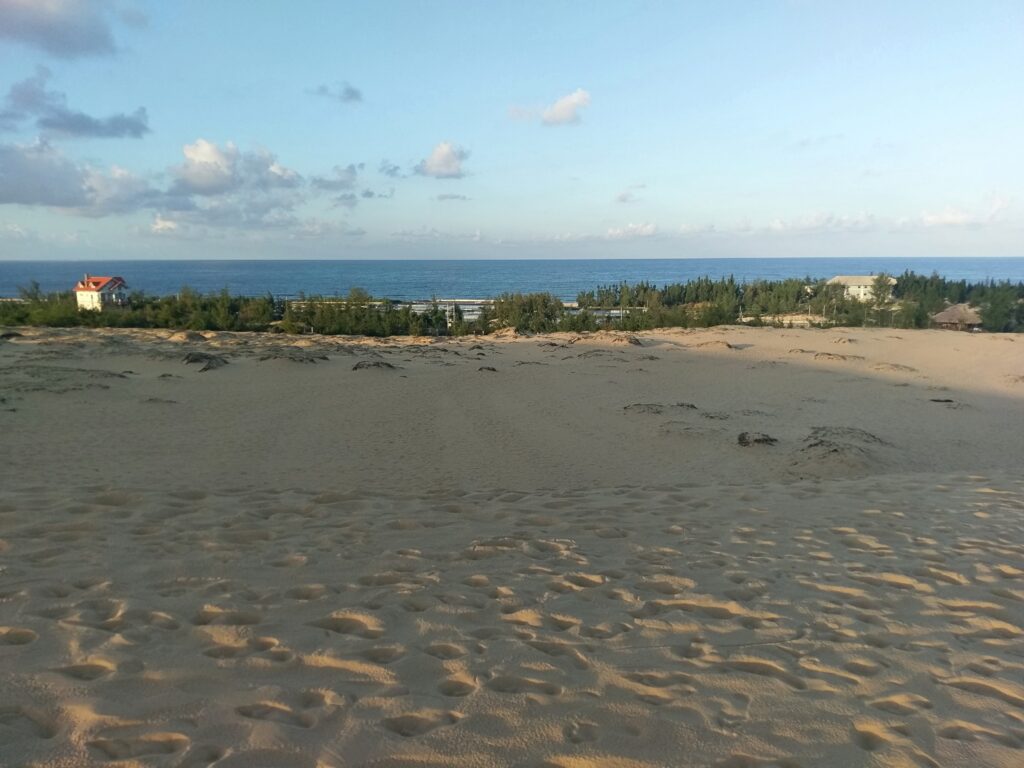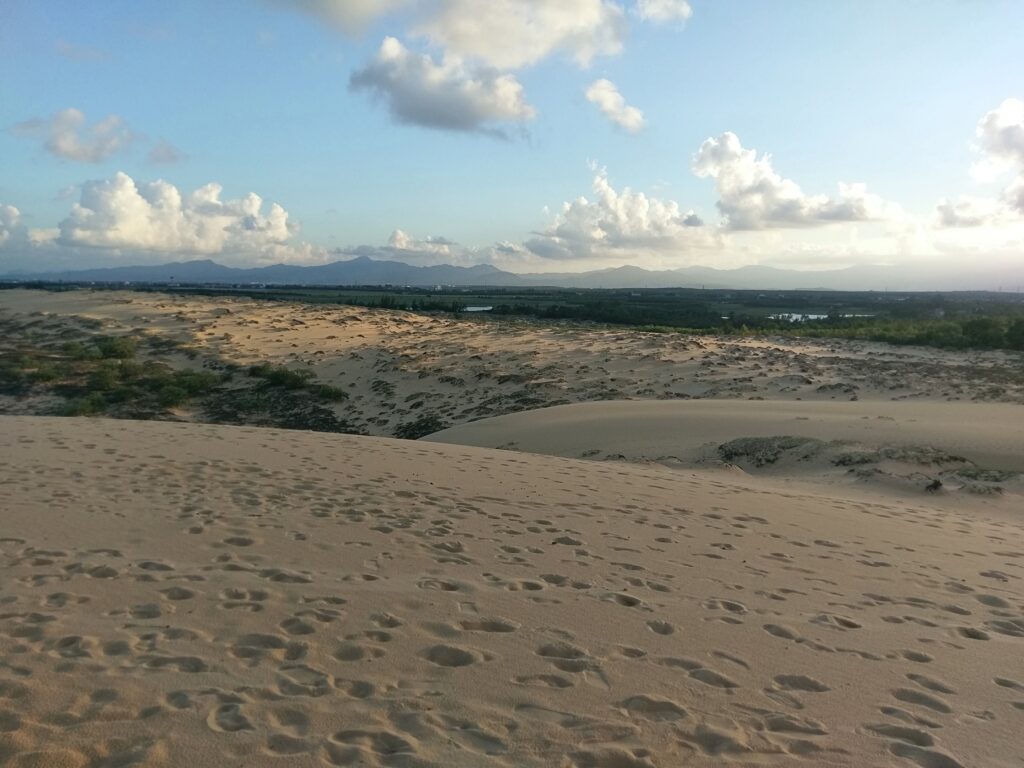 11:05pm
The food and drink was great at Red Peppers. We had to run back to the room for some uh, indigestion, and when we returned downstairs our host had made some spring rolls and cut up guava for us to try. All good, plus we got a bit of conversation in as well about traveling and such. We did end up going to Treehugger for some ice cream and I got some coffee beans for me, some for Sam, and some whole black peppers for my mom. After that I made sure we had our train tickets for tomorrow setup and then bought our tickets for the day after as well so we can get from Vinh to Ninh Binh without issue.
Now we just have to figure out getting from Vinh to Nghi Van and back. Sounds like there's a bus that runs pretty often between the two but we don't know for sure. It also sounds like the homestay there will be interesting. Bathroom is an outhouse sort of interesting, but this is what we signed on for and this will likely be our most authentic Vietnam experience. Worst case, it's only one night so our pansy asses just gotta survive.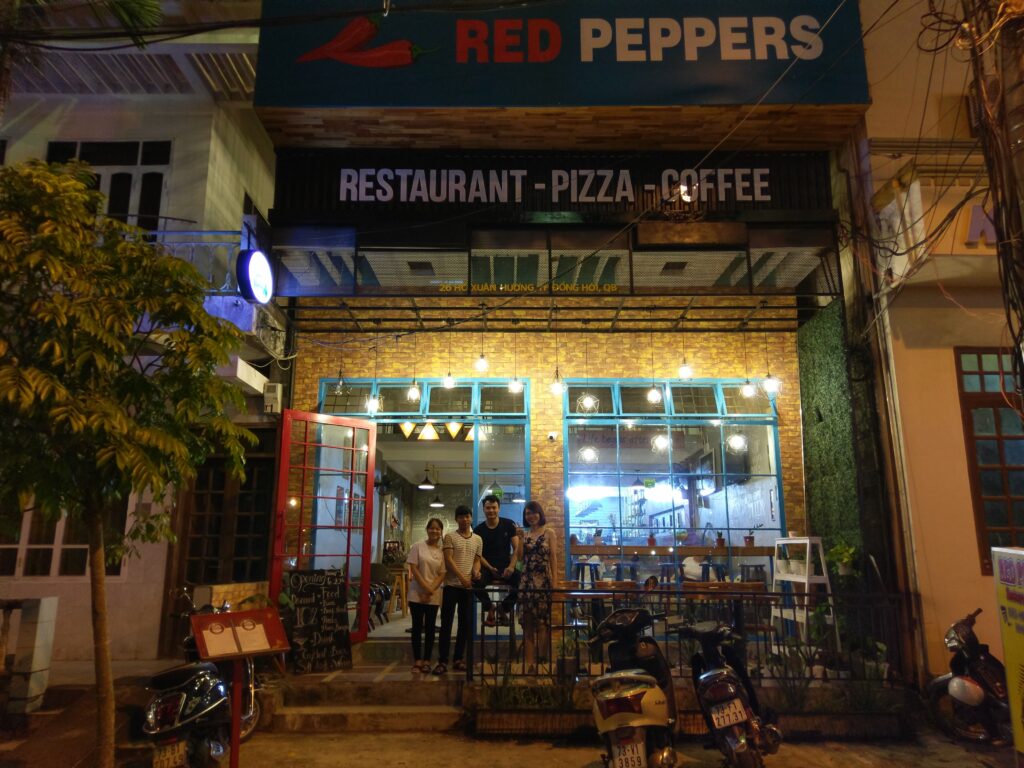 Day 15
10:57am
This morning went exactly as planned. We got up, made sure everything was packed, grabbed breakfast and then our host had a taxi called for us to get us to the train station. Probably the first time everything went perfect. Currently about half way to Vinh, there's a ton of karst topography along this route. I didn't sleep the best last night so I've been napping along the way but what I've seen has been awesome. Planning to grab lunch in Vinh and then find that bus.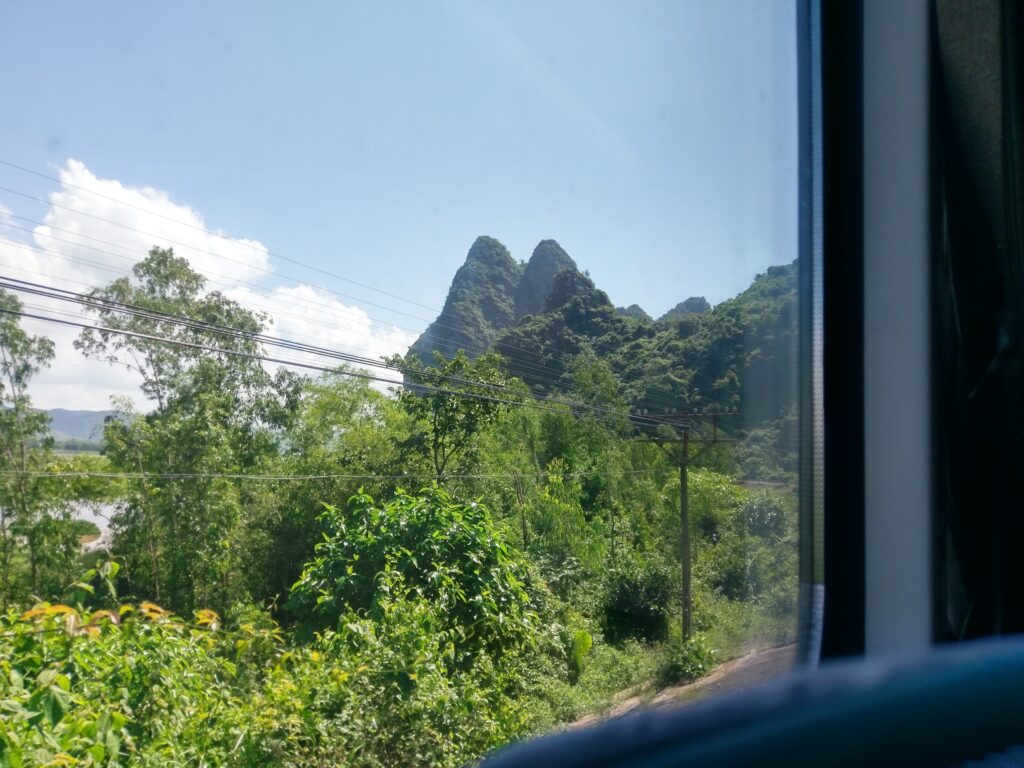 1:59pm
A little girl on the train started singing the Barney theme song at the tops of her lungs, this went on for a good 20 minutes as she couldn't finish the entire rhyme and kept starting over. Wasn't terrible but it's a good thing I'd already got my nap in. They also went around and sold those fertilized and then fermented eggs (balut). The smell alone threatened to resurface my breakfast. Man, who does that on a train?
Highlands coffee appears to be the Starbucks of Vietnam. It's overrated and while not as pricey as Starbucks equivalent, it's got a similar feel. Skip! About to walk 20ish minutes to the bus station and hope like hell it's the correct one to get us to Nghi Van. Need to hit an ATM along the way again as we seem to have an issue holding on to money! Otherwise things are fine, just hoping we have the right station.
3:23pm
I guess when they said bus they meant a local bus, not a bus station bus. Like go to a road side bus station and wait for a bus, not go the big bus station and get laughed at by the locals when you tell them you're trying to get to Nghi Van. 🙂
Turns out the bus station near the train station in Vinh is shut down now as they have a newer northern station. We got quite the character for a driver there, he actually offered to take us to Nghi Van for 300k, probably should have taken it to avoid the fuckery and what will likely be an unsafe bus. We got to the northern station, which also doesn't go to Nghi Van since that's too local I guess. They did offer a taxi for 400k but yeah, no thanks. So we're finally at a random ass bus station that says it runs bus 28 which better get us to Nghi Van. Otherwise… Fuck it we're going straight to Ninh Binh or some shit.
4:29pm
We found the bus! It showed up and we jumped on. None of the folks onboard spoke much English (I mean, duh) but they were helpful and we got dropped at the local high school. It was an interesting ride and they had their share of laughs at us but they also gave Ali a fresh loaf of bread and a small water bottle for free so I'd say it's a wash. Kids here have all been taking pictures and trying English on us that is usually successful. Tried to contact our host as he said someone named Vinh would be hosting us. Not sure who to look for or what but… Guess we're just hanging out at a school for now.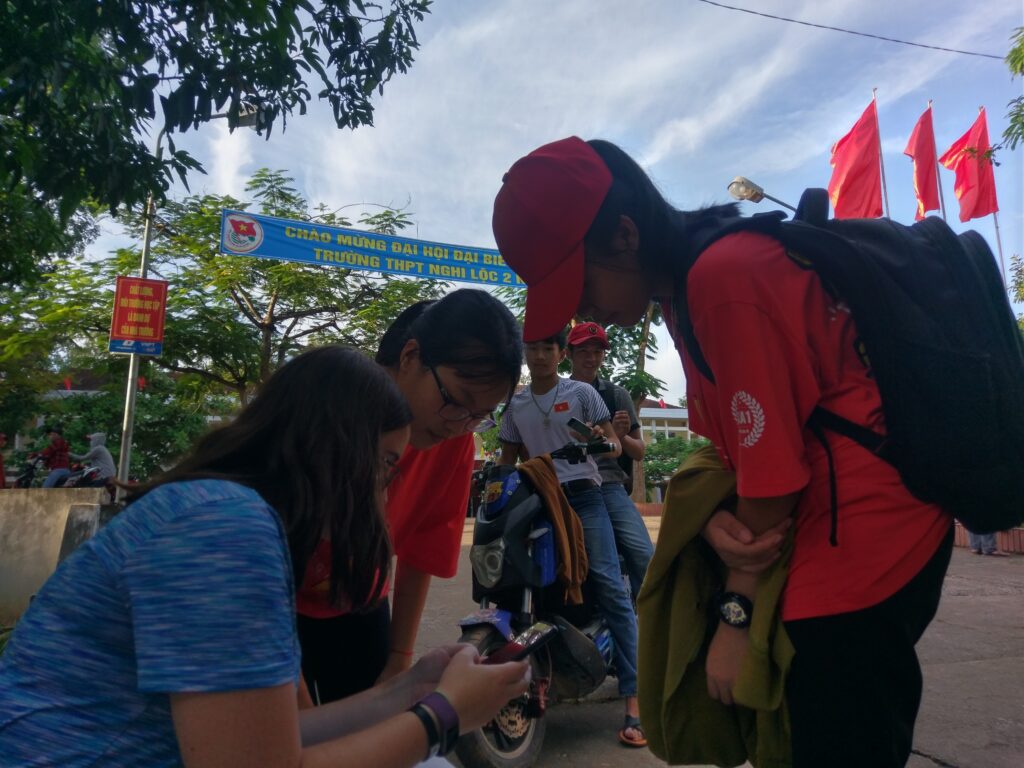 Day 16
9:48am
Last night was verifiable crazy. We ended up talking with the school children for probably a good hour yesterday and they had us follow them to a football game. Some of them spoke really good English and had been studying for something like 9 years so no surprise. Pretty crazy how even a tiny rural school in Vietnam requires children to learn two languages. Shortly after all that Mr. Vinh's son found us and invited us to drop bags at his house. We did, then ended up heading back to watch a little volleyball and a bit more football before Mr. Vinh himself showed up and invited us to dinner. That's where things got crazy.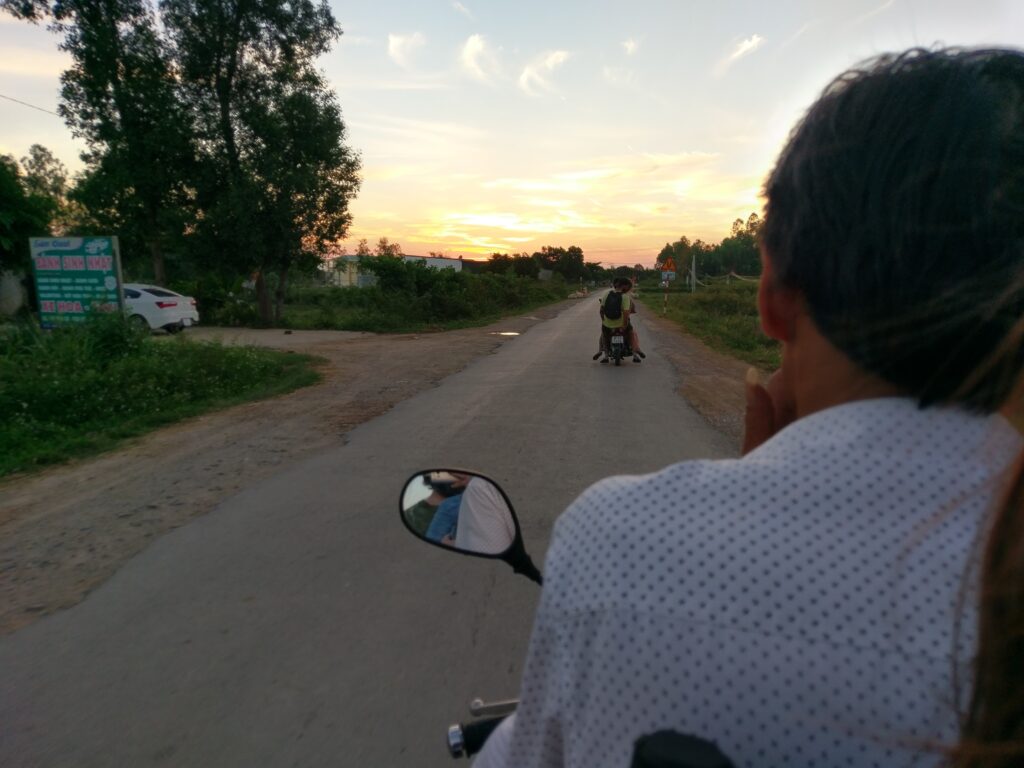 We met two others staying with Mr Vinh, a couple from the UK that have been traveling for a few months and will be for a few yet. A tattooist and a teacher, great folks to hang out with. We also met an Australian guy who's been living in Vinh for a few months now teaching English and will probably need to find his way back to Australia soon. After all the crazy stuff below we all sat around at Mr. Vinhs house and talked for a good hour or two, went to bed around 2am I think.
Note – We're still FB friends with the couple from the UK & see posts from the aforementioned Aussie from time to time!
We started dinner with just two local teachers. We were just doing dinner, some sort of plant based food which was actually quite good. Then they started cracking beers and though I don't like or drink beer, this Huda beer is very light so I thought "why not". One turned into something like 8 in total or more but not before more people showed up and we moved to a larger room for dinner. That's where the rice wine started, it was just in regular water bottles which caused some confusion later on in the night when some folks accidentally got rice wine instead of water or the other way around. Not that I'd make that mistake of course.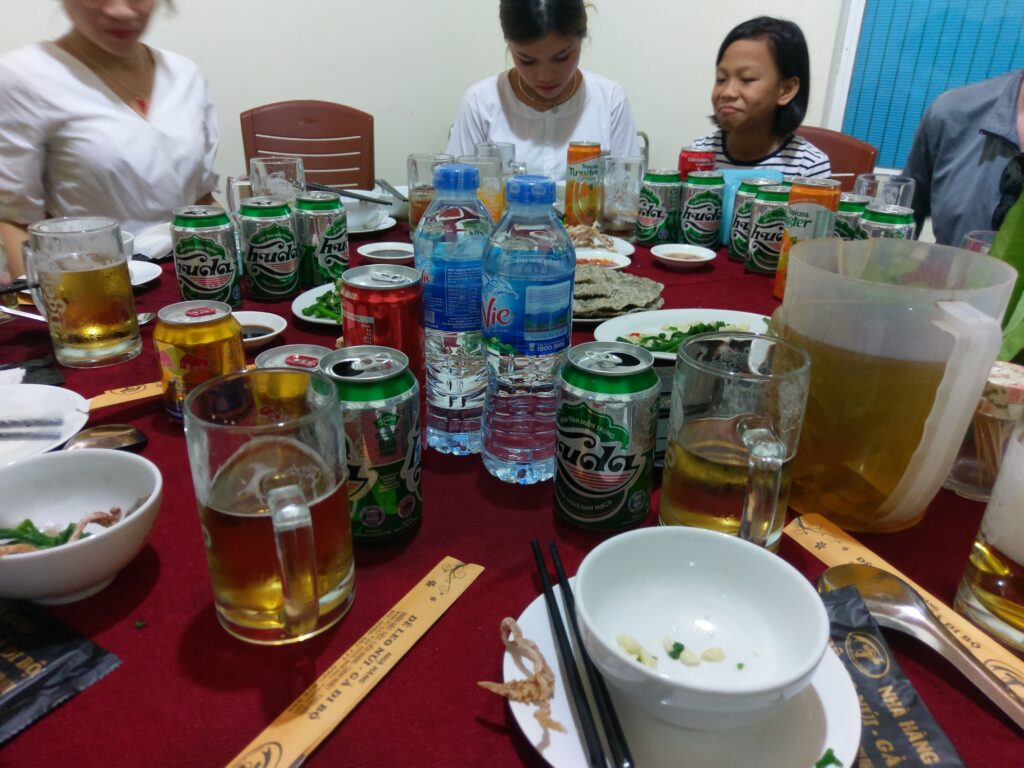 They have a unique way of toasting people here, you point to the person you want to toast and then pour the shots. Once you clink and drink you then shake hands as a gesture of respect and friendship. If three or more people are drinking together they put their hands all in together and do a "hooray" sort of thing. I challenged one of the younger teachers to a few shots but she only took one. To be fair she was very red in the face before I even challenged her, and I don't think anyone was sober beyond maybe 30 minutes after dinner started. There was another teacher who outdrank all of us, it was impressive. She handled her liquor way better than the rest of us.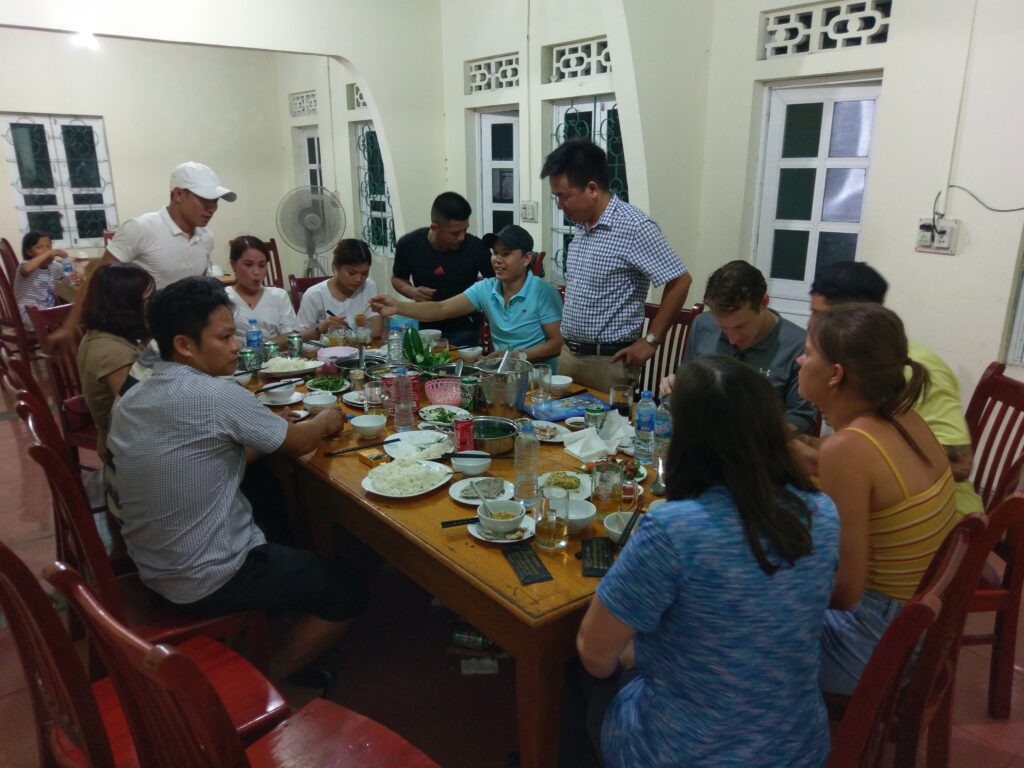 After a good 2 hours or so of dining on various dishes (I ate dried cuttlefish) and drinking quite a bit (we were almost all assuredly drunk) we headed back into town for some karaoke. Yep, we did that. More beer there but no rice wine thankfully. That was a hell of a good time and luckily I'm not feeling bad this morning so no complaints.
Our bed was literally just wood slats so yeah, it wasn't the most comfortable but I'm surprisingly not feeling too bad. Anyway, now we have to figure out how to get back to Vinh and the train station!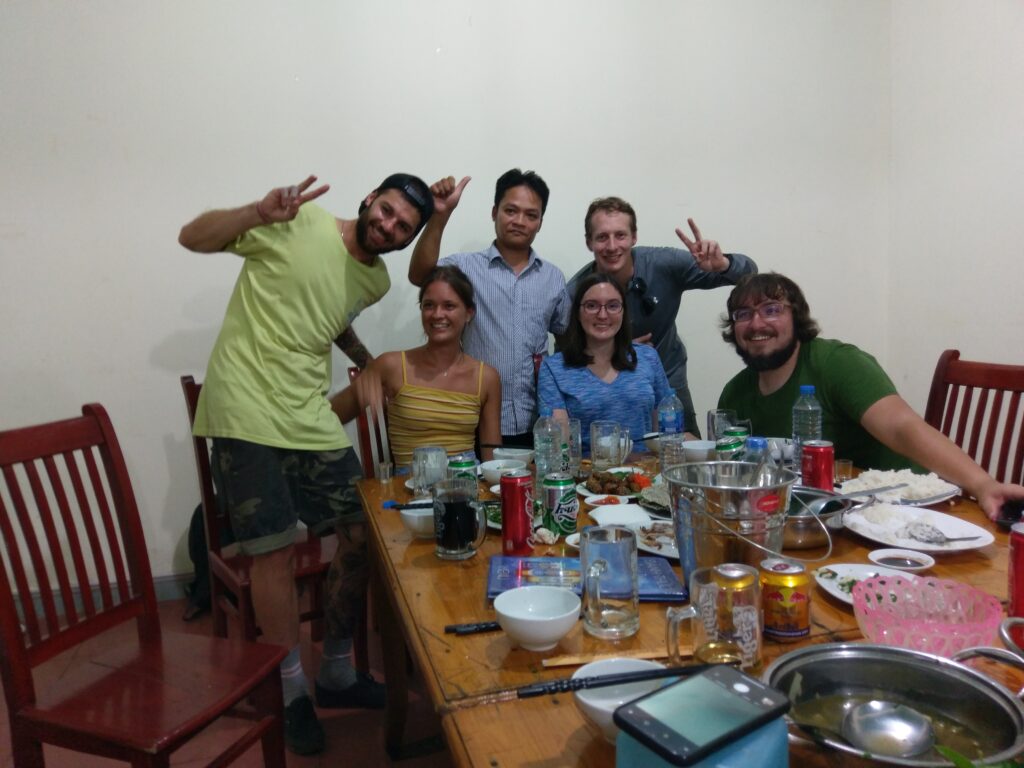 10:44am
Bus came through at about the perfect time, we're on our way back into Vinh. Not sure where we'll get dropped off but we can just find a taxi from there. Also of note, my sandals started to fall apart about 2 or 3 days ago. I think it actually has to do with the CF inserts I have. They seem to have cut some of the sandal material so I've taken them out in hopes the sandals will last the rest of the trip. Got another 11 days to survive!
11:58am
Got dropped off one long ass block from the train station. Not bad. Walked to the VRC and got some Bread Talk for lunch. Thinking about getting some more as we've got another hour before our train leaves.
Day 17
8:47am
Well, we were supposed to get up and go to the Trang An Grottoes by 8 to beat all the tourists that bus in, but here we are. We'll still be going of course, and then Ali wants to hit up the bird park later.
The train ride yesterday was pretty meh, the AC was right on the edge of working or not working so you were held at the temperature where you're clammy but not full on sweating. Once we got to Ninh Binh we found a cool dude that definitely overcharged us but provided good conversation and gave us his card to get to other places if needed. May end up using him to get to the bird park.
We grabbed dinner at a little spot up the street that was cheap and pretty decent. Hoping to try breakfast here this morning and have our laundry done as well. I'm free balling it today but somehow still have two shirts left, not entirely sure how I managed that.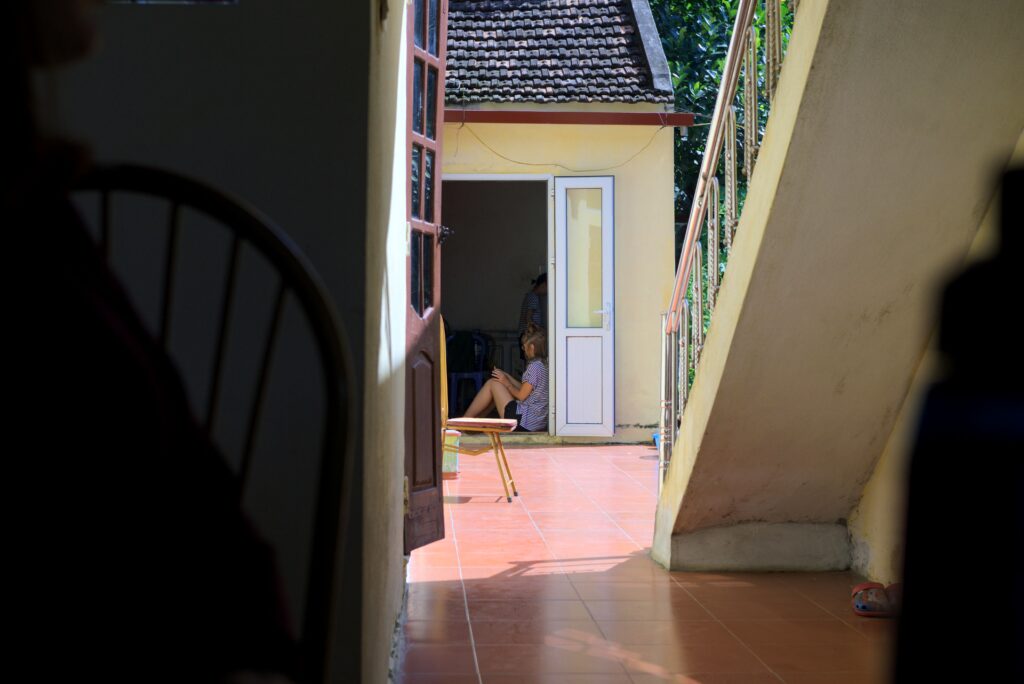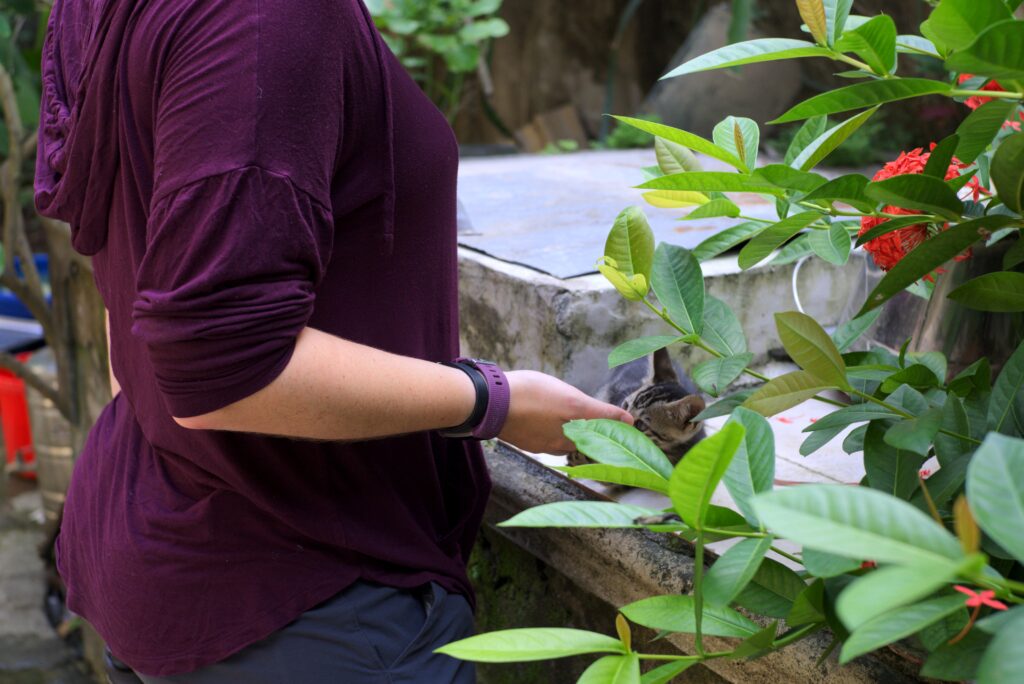 10:16am
We heard two days ago that the president had passed of cancer when we were talking to school kids in Nghi Van. Now it sounds like he may have been assassinated by poison. Intrigue!
12:20am
Well the Thai Vi Temple was smaller than expected. Really neat as it was stone carving rather than wood, and we got to hear the guy play a "tham bo". I'm sure I killed that spelling but it was cool. We wandered down the road a bit and found the Tam Coc Central Bungalow, sounds like they literally opened today. We may be the first to stop here for all we know, they're still unloading and setting stuff up so we just grabbed some tea. Something cold is better than nothing! The karst topography out here is wonderful.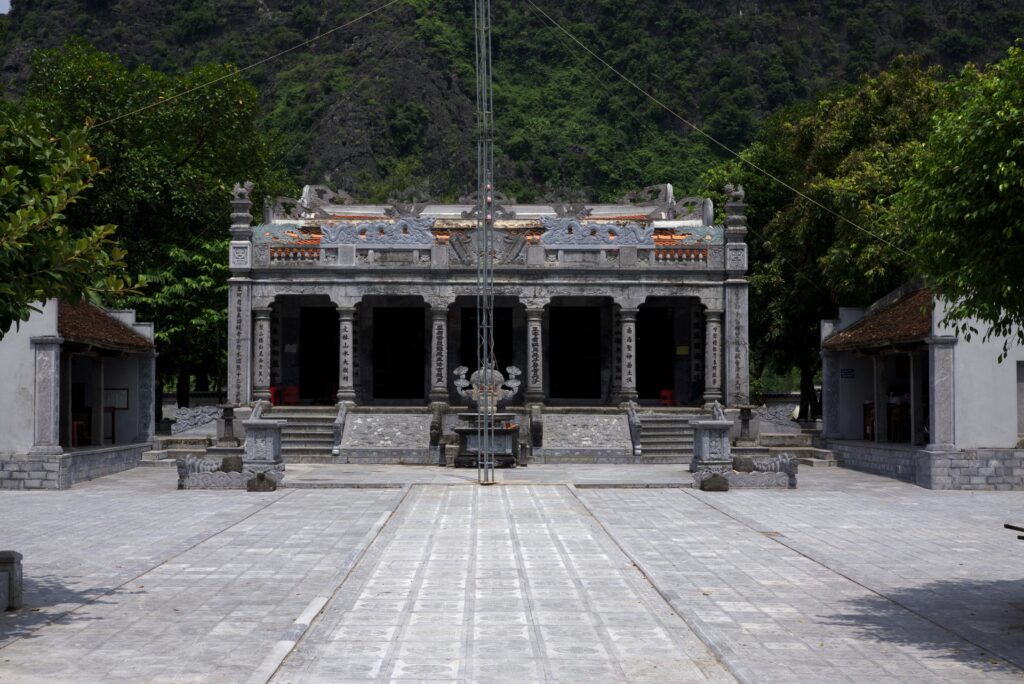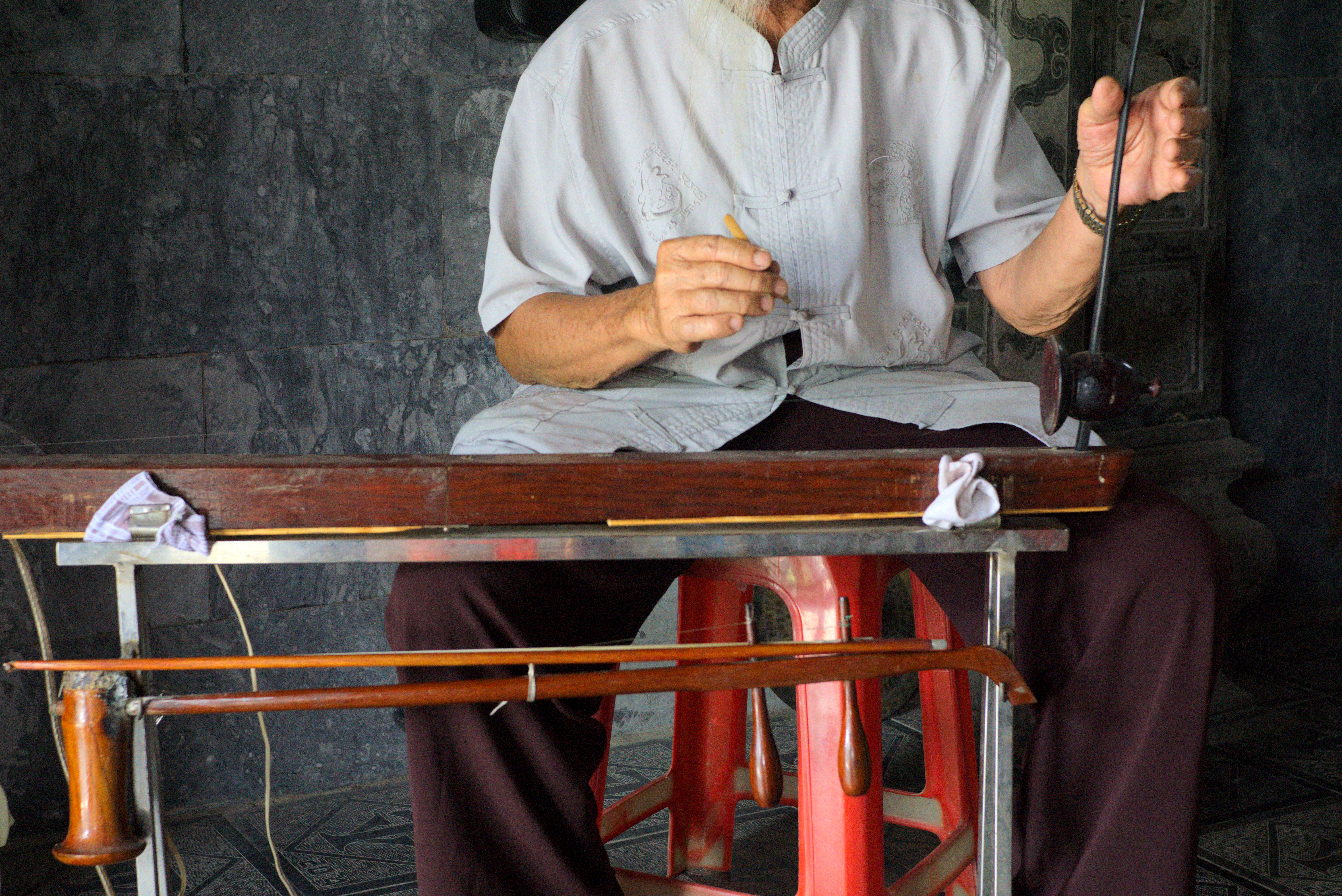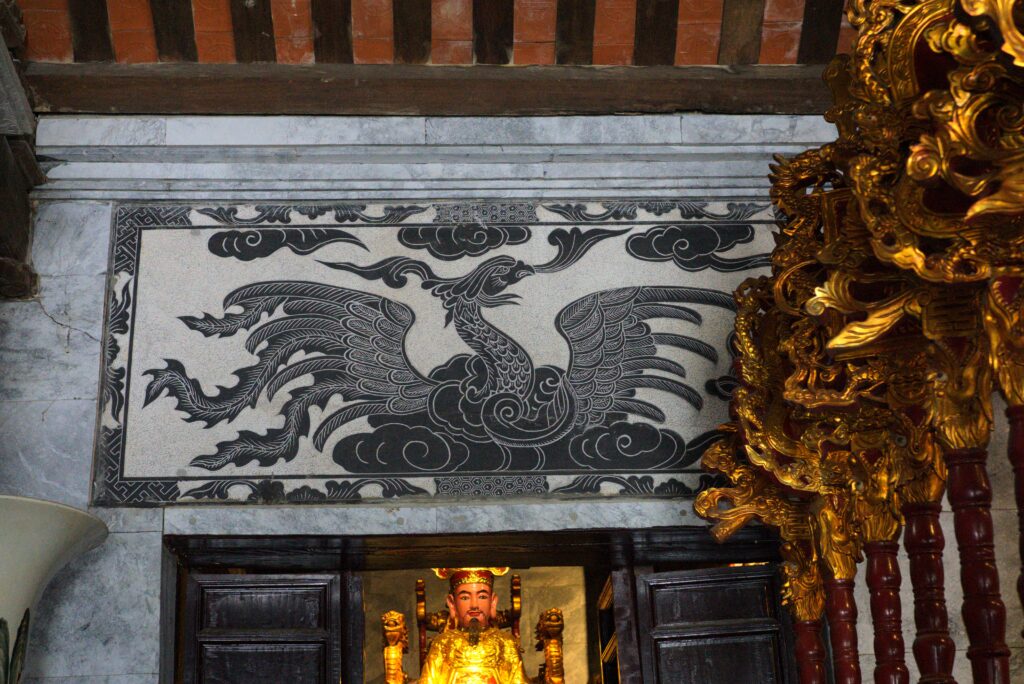 3:22pm
We did a bunch more walking, grabbed lunch at a thoroughly meh place, and eventually made it to Bich Dong Pagoda. Much cooler than the last one, there are a few different areas to check out. When you first walk in there's a small temple, then you climb up to another, and then climb behind that and through a cave with bats to another sort of pagoda area. It was pretty damn cool, glad we walked all the way there. We're currently in the car with Long again and headed to Bird Valley!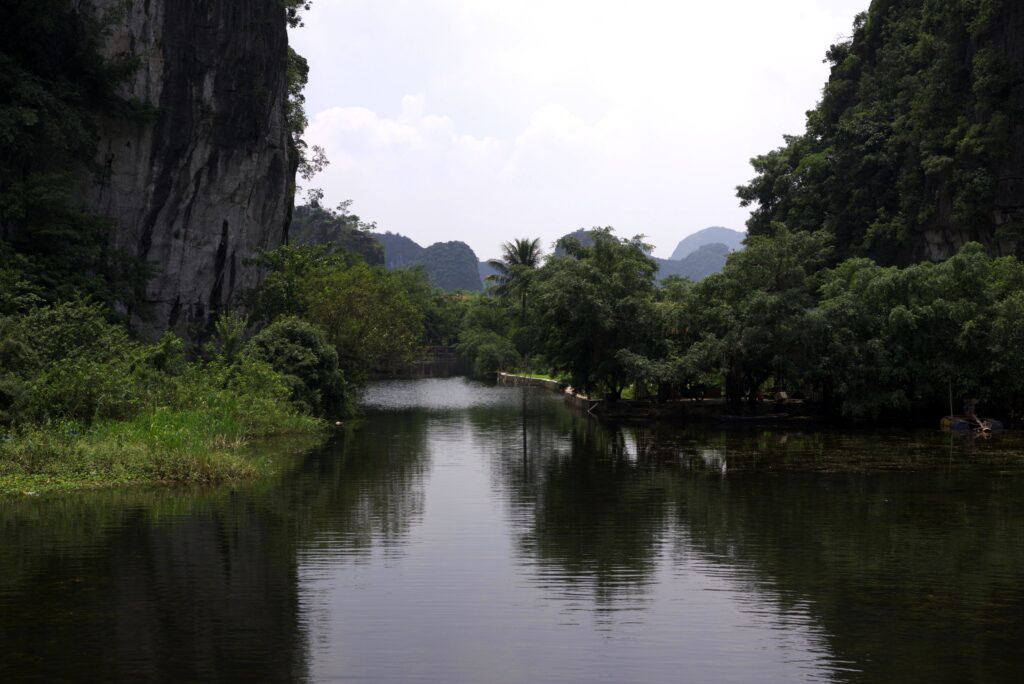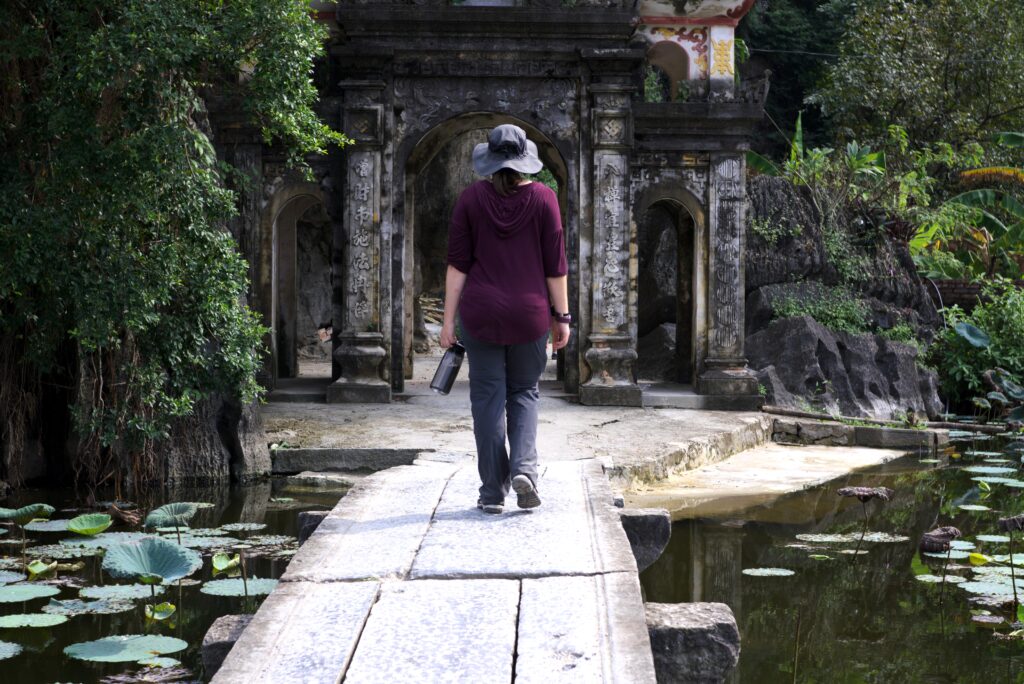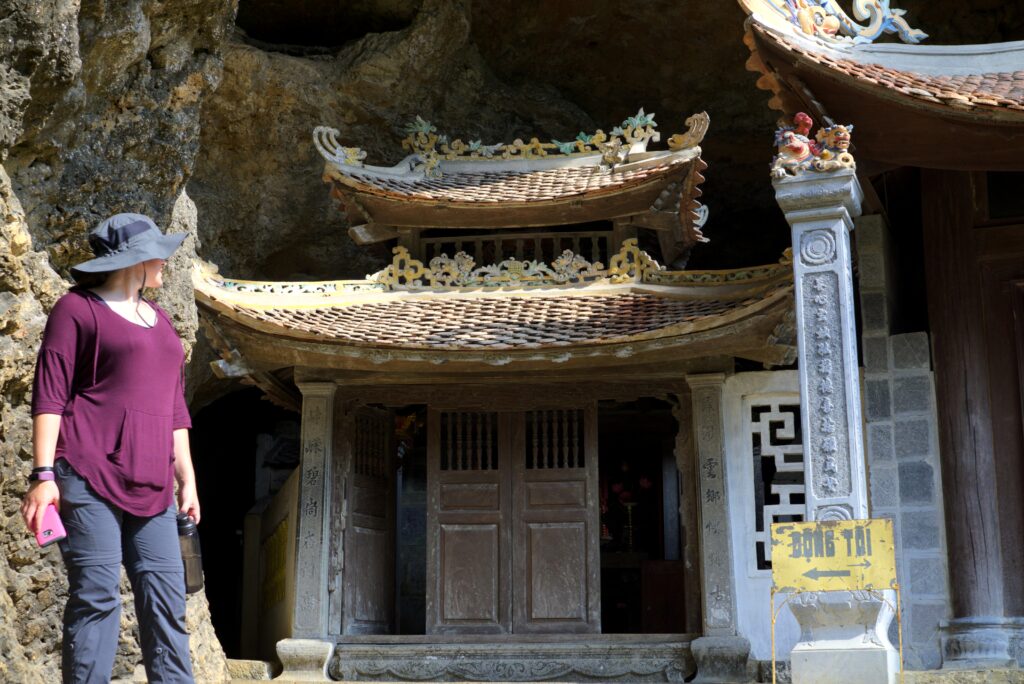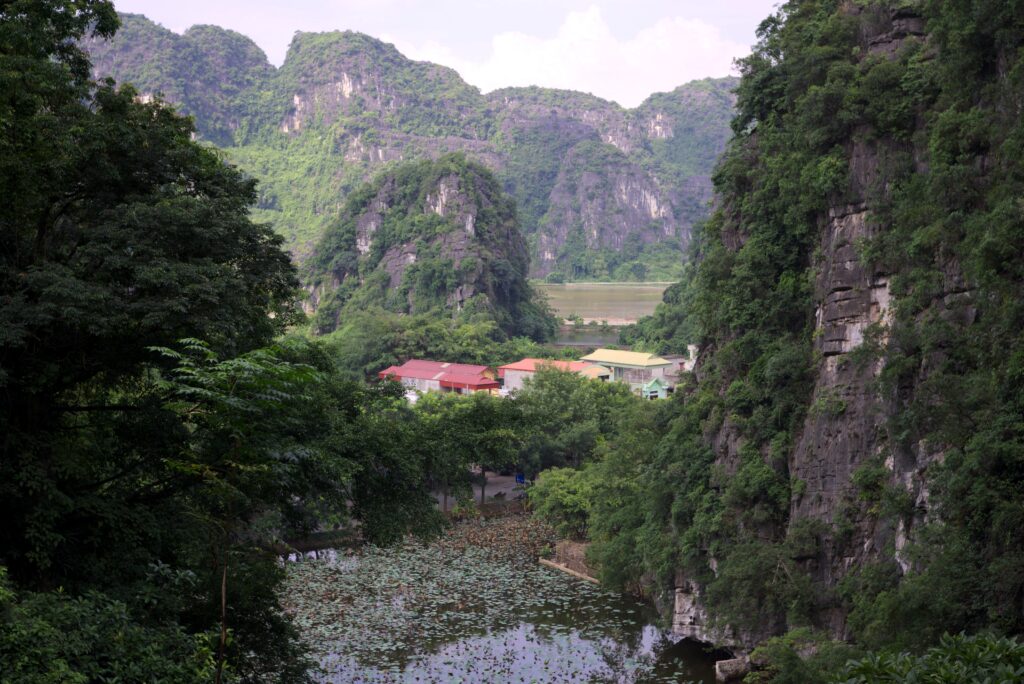 Day 18
2:22am
Bird park was pretty neat, we went into mermaid cave but didn't walk the whole thing as it was longer and lower than expected so you're really crouching through it. After Bird park we had Long take us back to our stay. There we waited for a bit until dinner time, probably around 7:30-8pm. The food was good and the conversation was better. We ended up sitting with Tom and the UK lady accompanying him as well as Dave (I think, he was from Hawaii for sure), and a lady from Ireland. They was also what sounded like a French lady but she was sick and ended up heading to her room right away.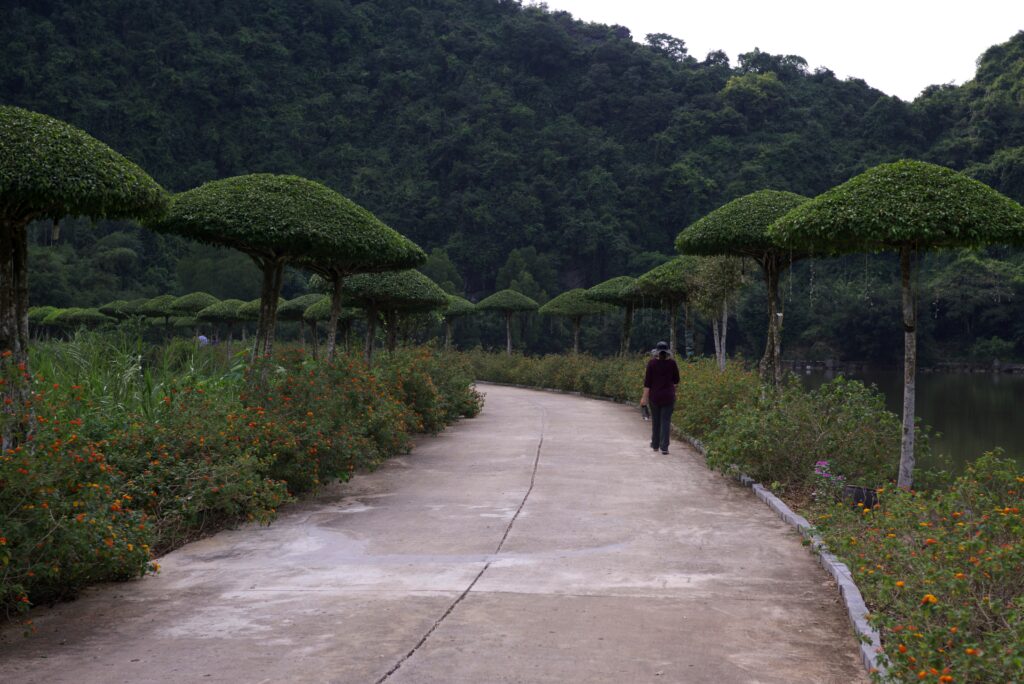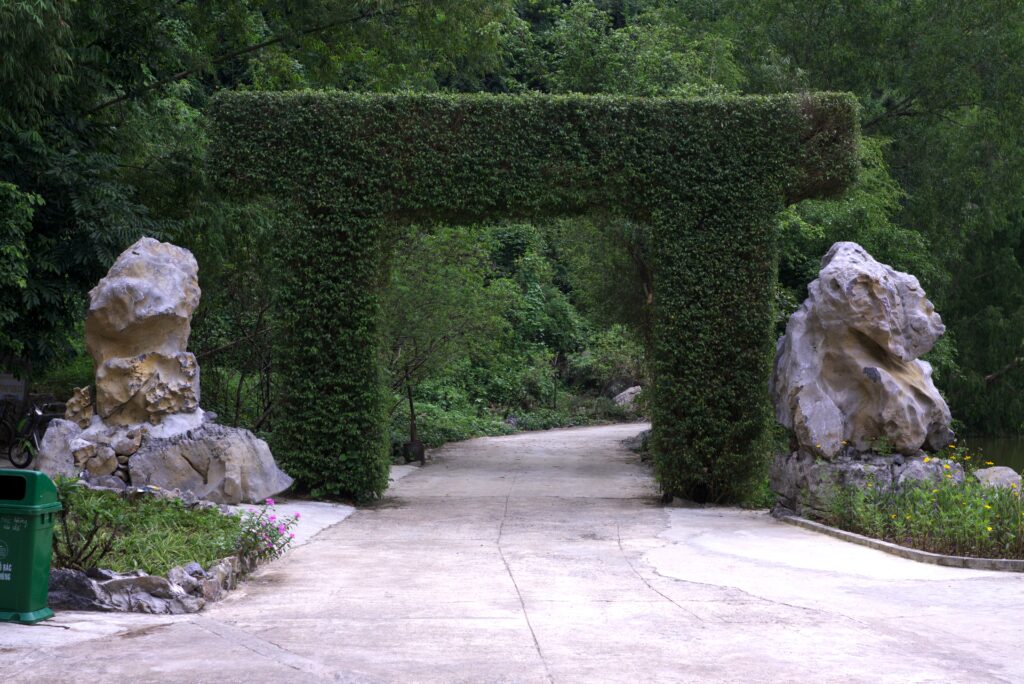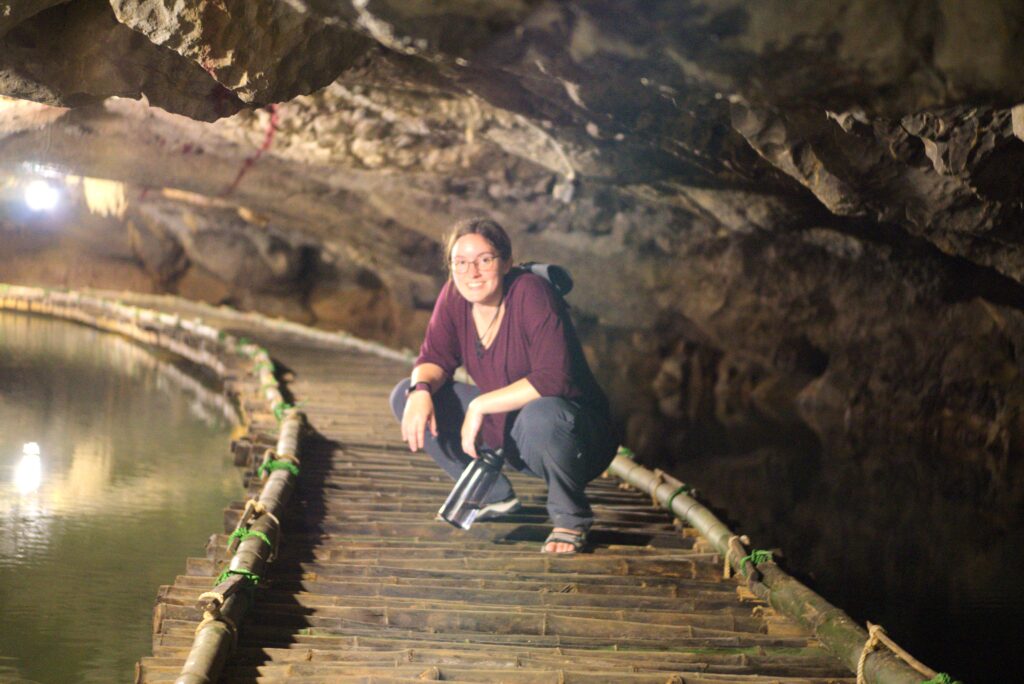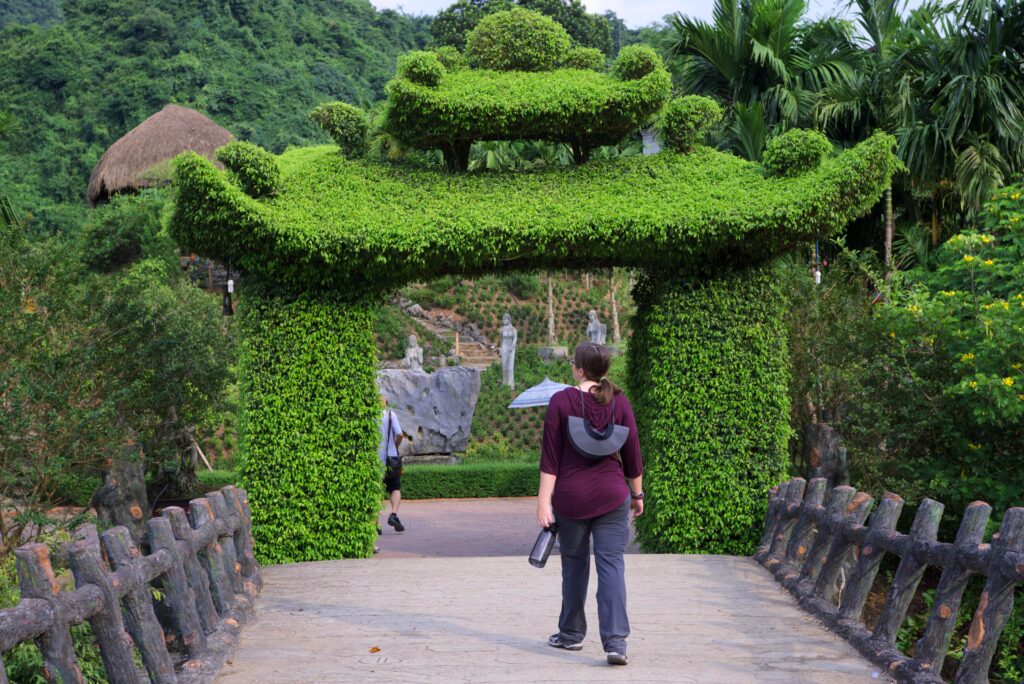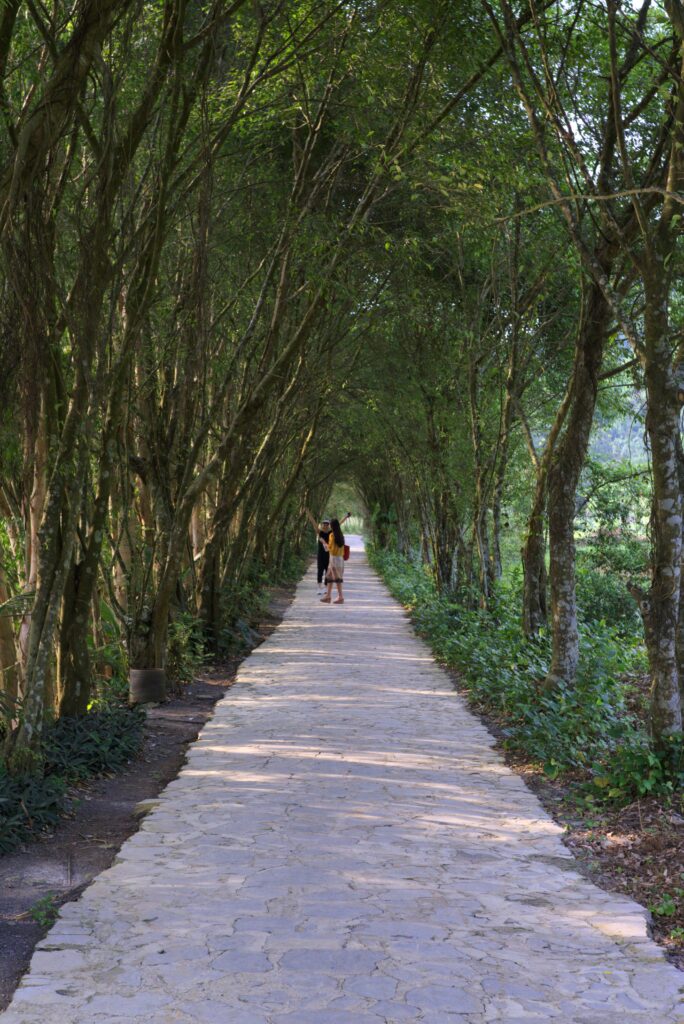 After the dinner we all sat around and talked, had a few beers, and played some cards for probably a good 2-3 hours. We then moved from the front of the shop to the patio out back and ended up with more conversation. Gave up on cards as the conversation took over and eventually the UK folk rolled up a joint and offered it around. They rolled another later and offered that out as well, they cut both with a cigarette oddly (to help cover the smell perhaps?). They said they'd bought their marijuana here in VN which is interesting as VN has incredibly strict laws around marijuana.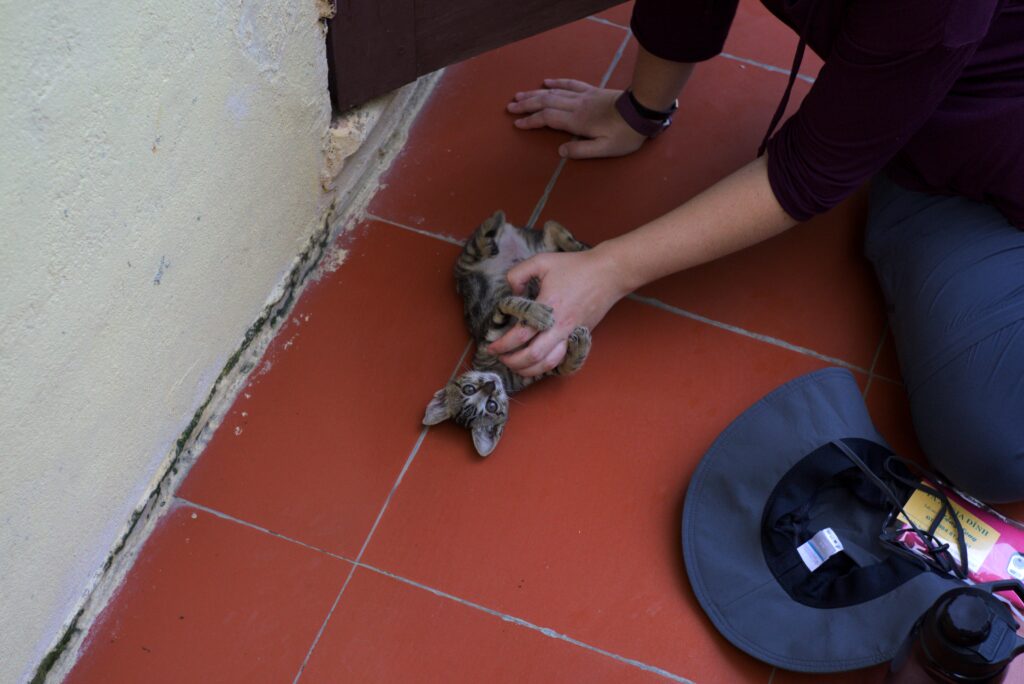 Anyway, we all had a great time and some lovely conversation. I didn't get any last names though so I don't think we'll find each other on FB or anything. Oh well, it was great while it lasted. We've got a train at 1pm today, we're still clinging to hope that we can get a Trang An Grotto tour in the morning.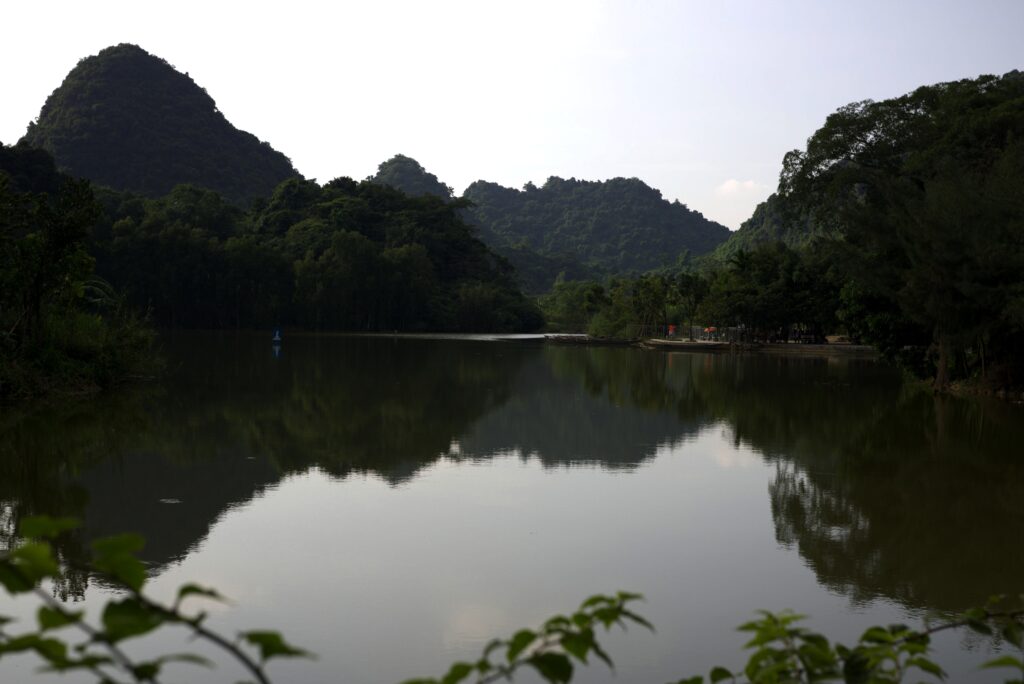 1:25pm
Didn't make Trang An, tried to wake up at 8am and that didn't work. Ended up finally getting up around 9:30. Grabbed some breakfast and chatted a bit before saying our goodbyes and catching a ride Thanh had scheduled. Train just left the station headed to Hanoi, so in 3 hours or so we'll be in the second to last place we're staying on our trip!
4:40pm
Made it to our room in Hanoi! Our taxi driver was a bit sketchy. He had a button or switch to the left of the steering wheel that would make the meter run up about 1k every half second. Luckily I caught it as soon as we pulled out of the train station, tapped the meter box and indicated I thought it was broken. He probably got the idea because he only did it two more time in short bursts when I was looking at my phone. Probably added 20k total (less than $1) but still shitty.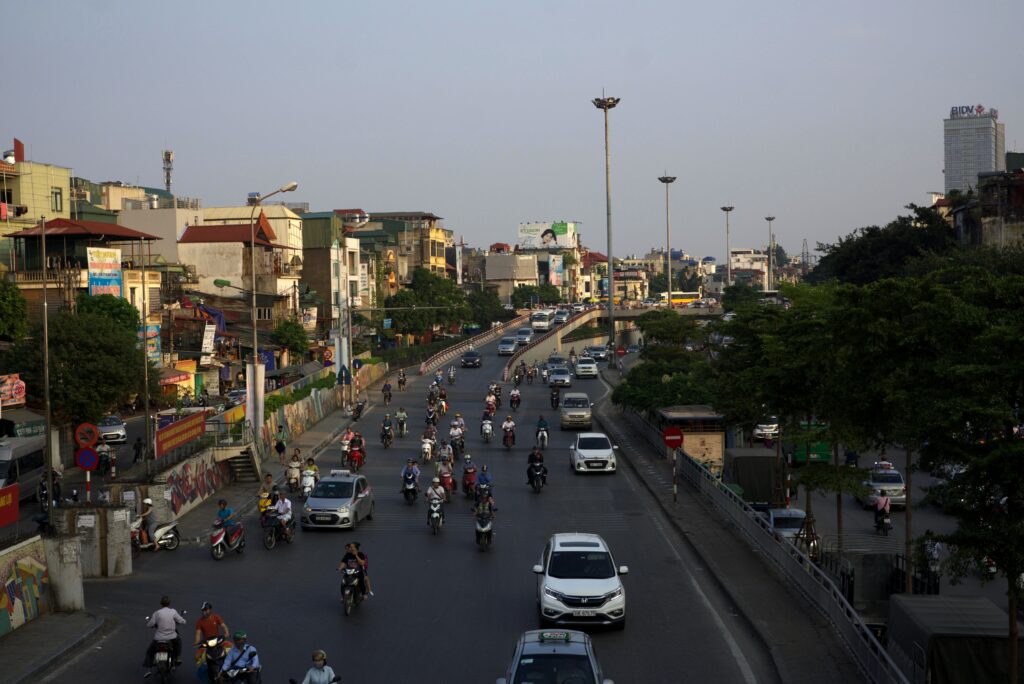 Now that we've settled into the room a bit we're going to head to the ancient quarter and try to find some food. Late breakfast and no lunch means hungry Justin!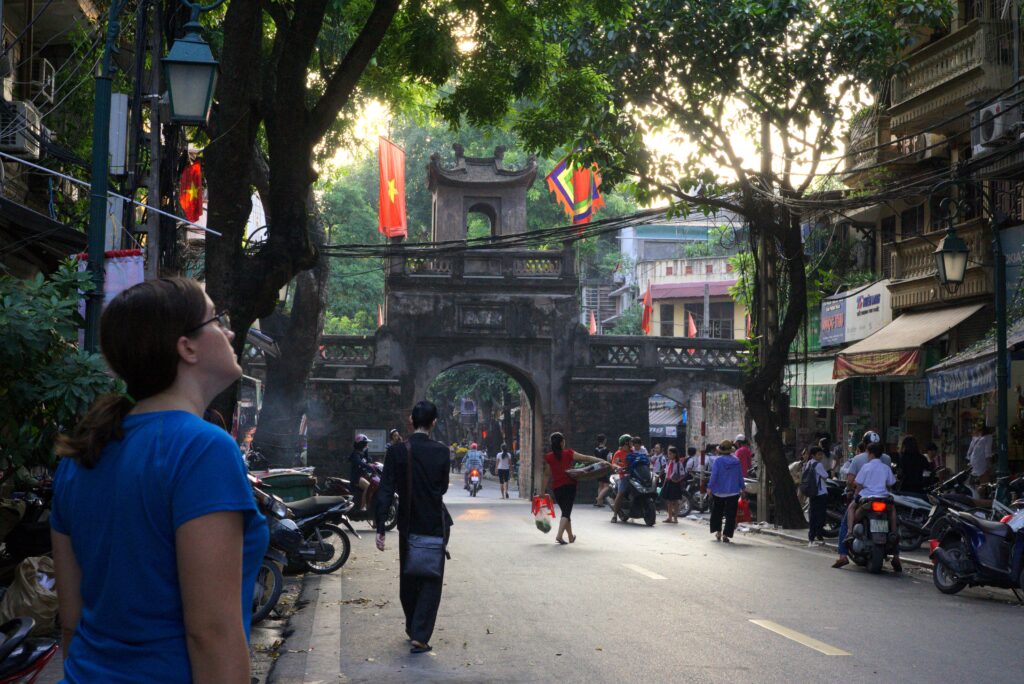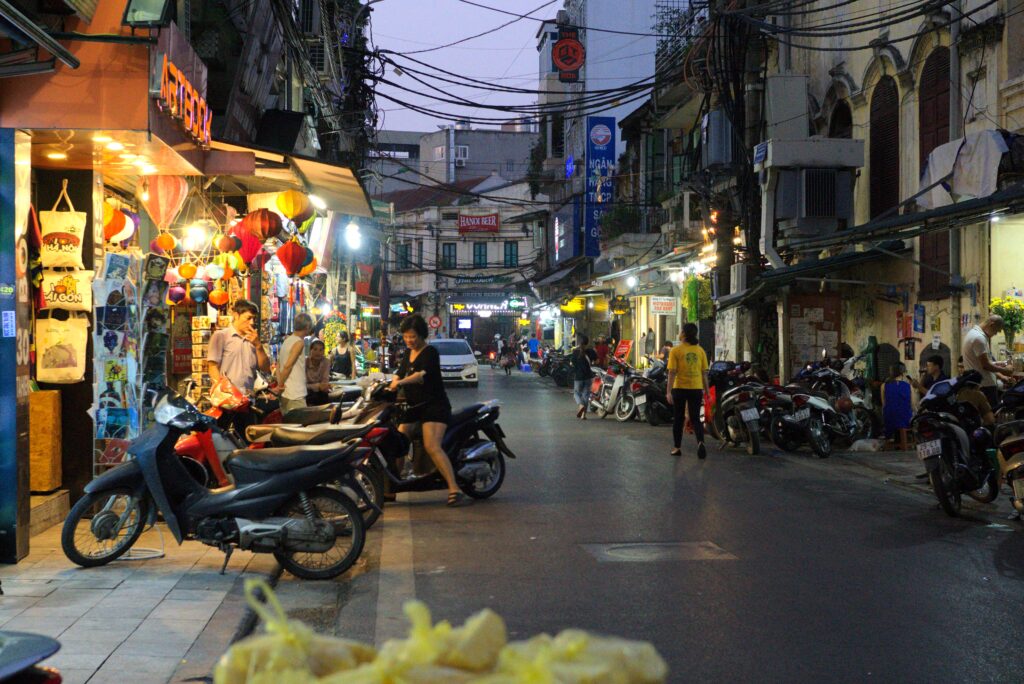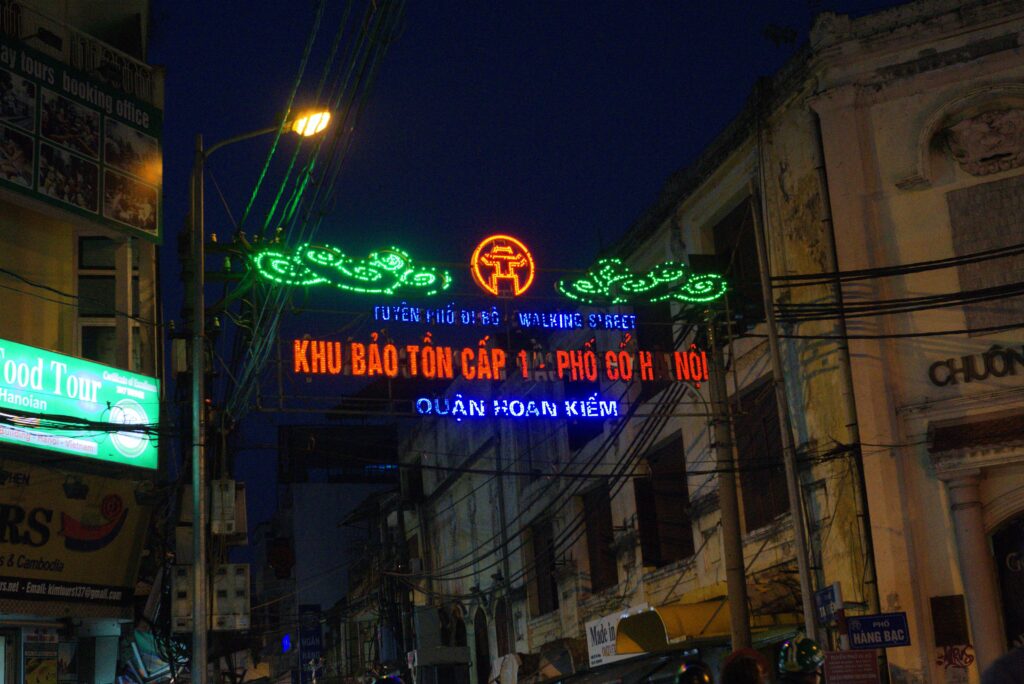 Day 19
11:54am
Man I've been bad at keeping up on this! We went and wandered the ancient quarter of Hanoi last night, gotta say, not as cool as Hoi An. In Hoi An they've preserved it better and don't allow bikes/cars past a certain point. Here it's just crazy busy and traffic where ever. We ate dinner at Hanoi Taco Bar and never again, it was very spicy but not in a tasty way, more in a spicy in spicy out kind of way.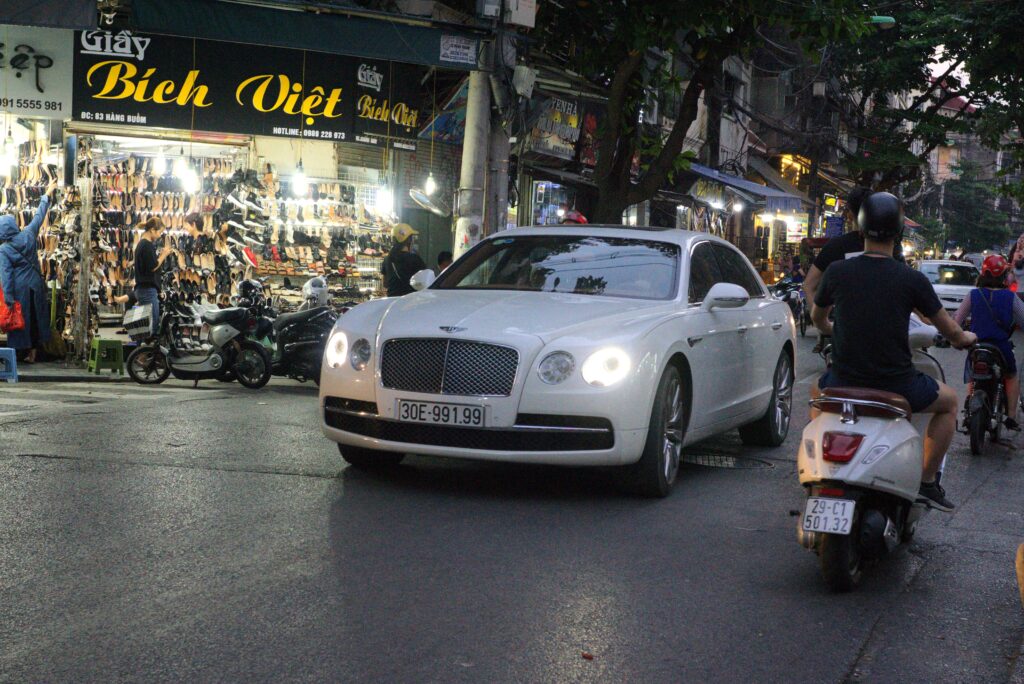 We're currently eating at The Note Coffee and it's pretty f-ing cool. It's 3 levels and the whole place is just plastered with post it notes. I've got the egg coffee which is interesting, the egg seems to be whipped and sweetened so it's almost creamy and I like it.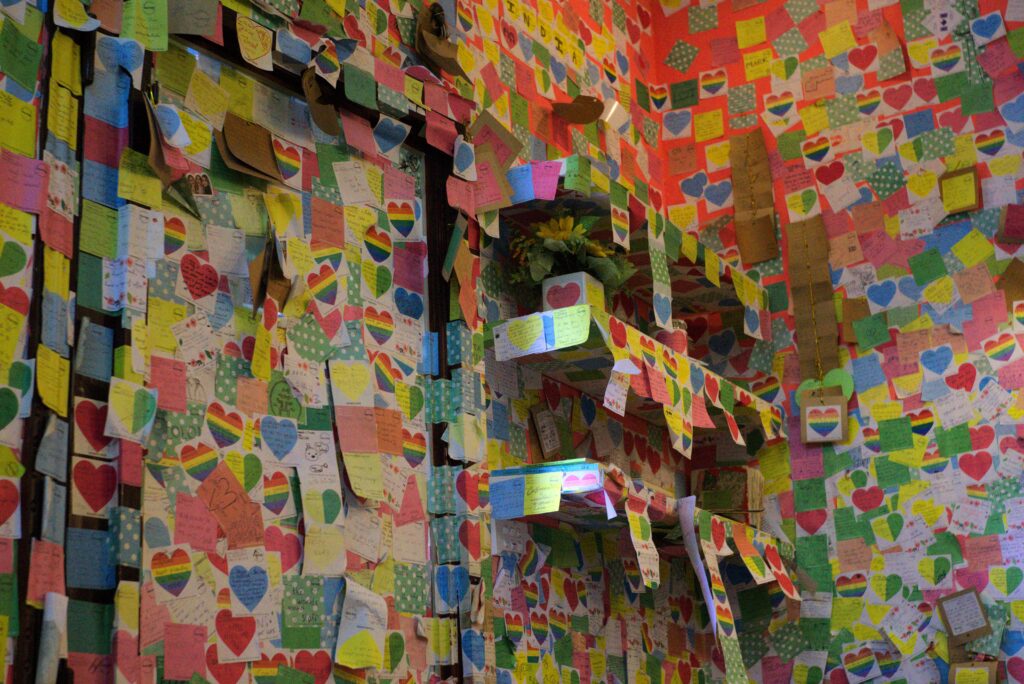 We had another fun encounter on the way here, a dude literally took the sandals off my feet and started to sew the busted seem and then polish it. I was fine with this (I'm too fucking nice most of the time) until they asked for 700k which at about $30 for 2 minutes of work, that was not happening. I gave them 280k and left. That's already like $13 and more than enough for something I didn't ask for and didn't really need. Anyway, we've got a ton of spots on the list to hit today so once we wrap up brunch we'll get to stepping. Guess I'll find out if their work holds up.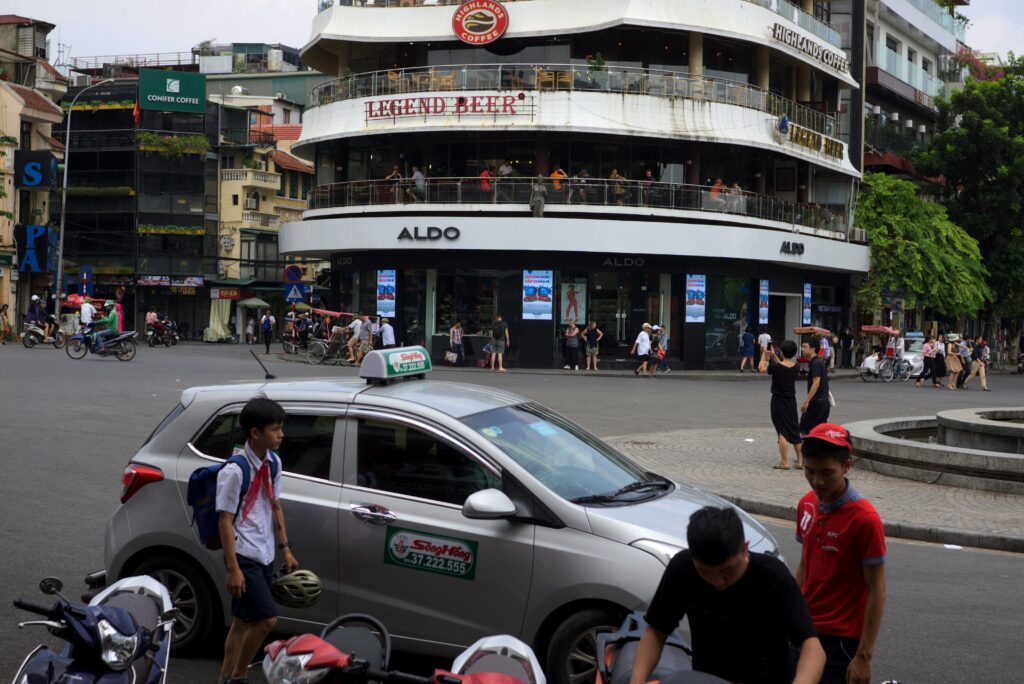 3:30pm
We've seen the Temple of Literature! It was pretty damn cool and shed some light on Confucius that I was unaware of. We're currently in a Dimsum shop that apparently doesn't serve any of the lunch items on their menu, which was fun to find out. We should be close to the Quan Su Temple now as well, that's our next stop. Unfortunately Google Maps is not being very clear as to where we need to go. I'm thinking after we find this temple we may go to the massage place we found, MF Spa.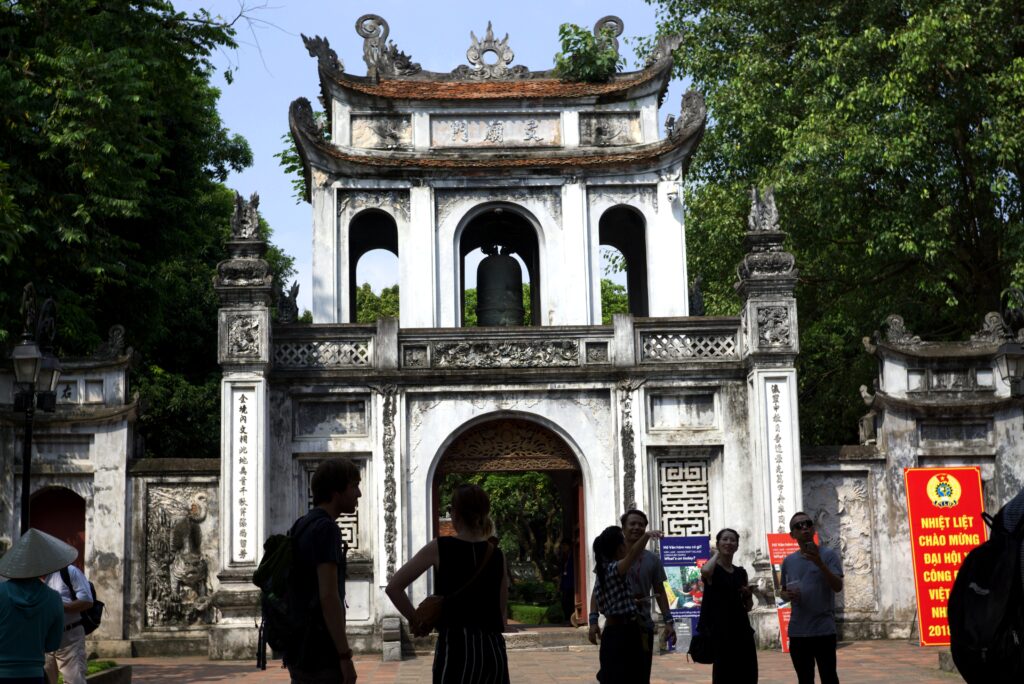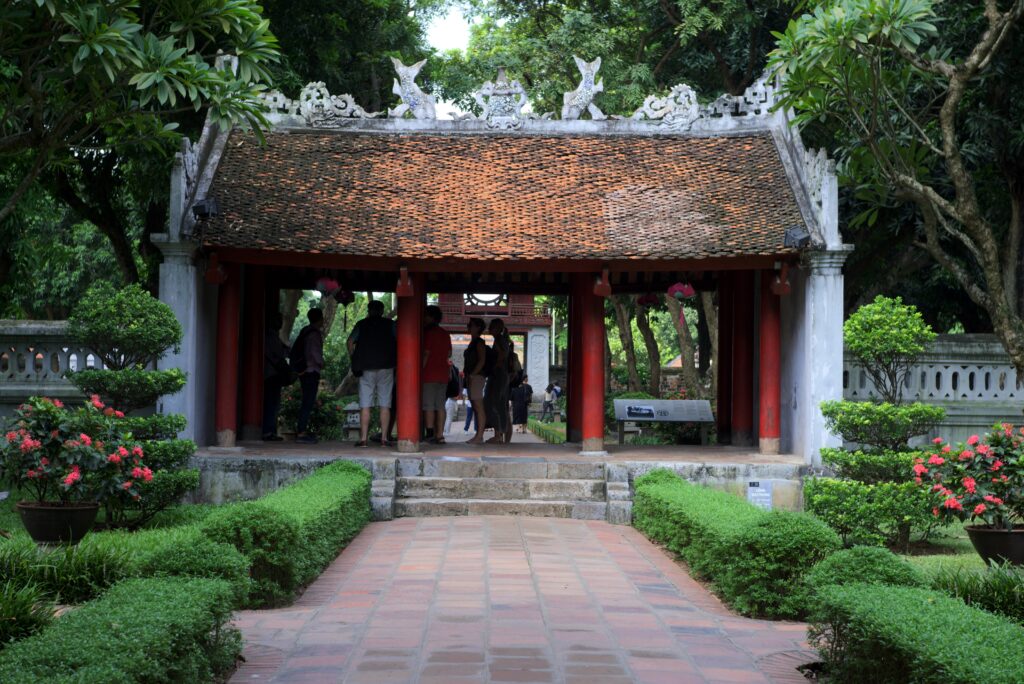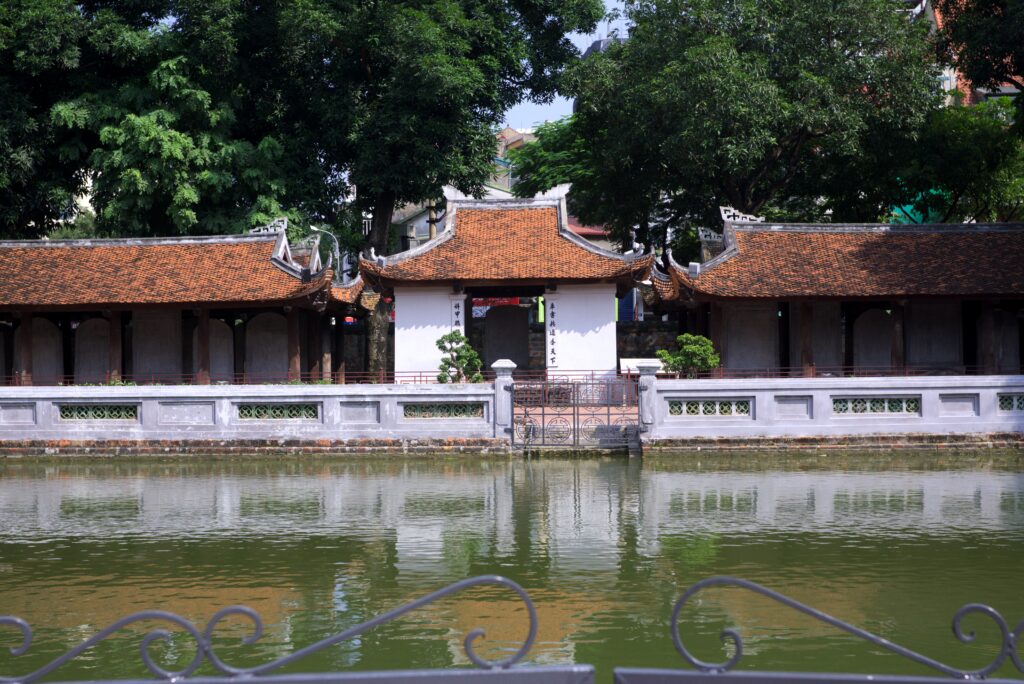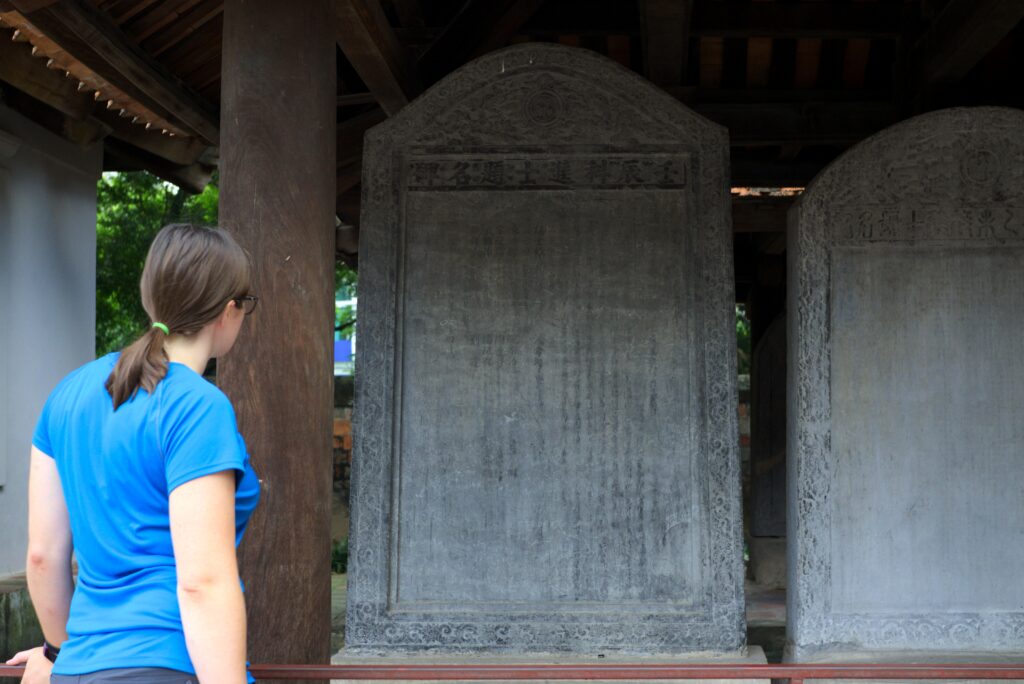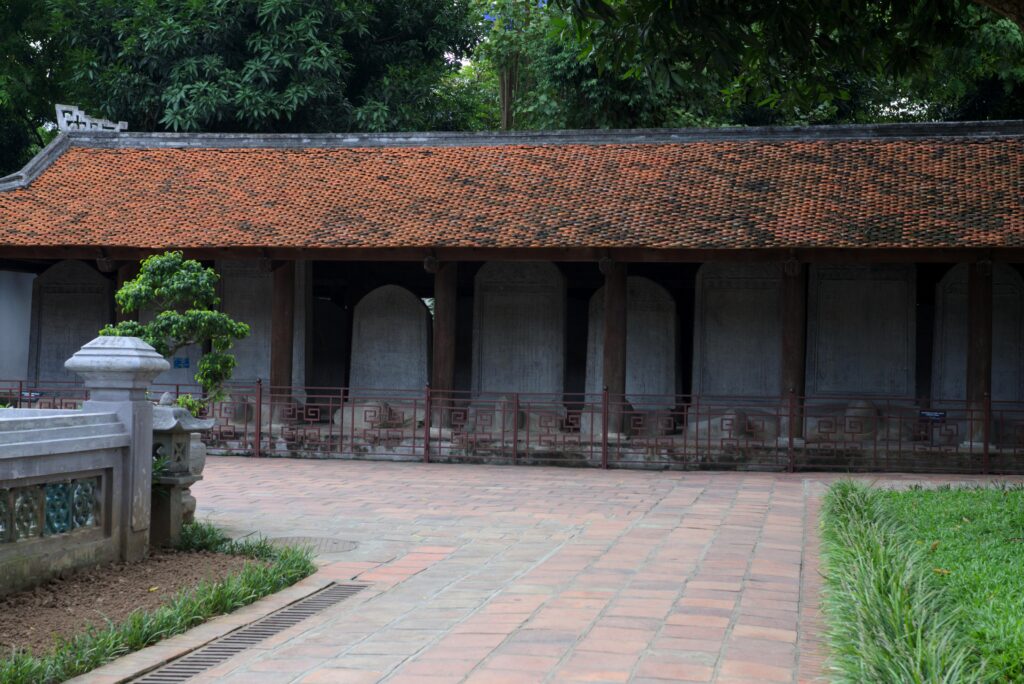 4:07pm
Well the place we just ate at kinda sucked and it was a tiny amount so we ended up at a bakery. Getting a pork sandwich, cheese cake, and a drink to split. We're right across from the temple so hopefully it doesn't close at 5pm.
8:19pm
Yeah, it was closed. Not sure if it was time (we wandered over at 4:45) or just they aren't open on Tuesday's or something. Either way we ended up just heading to MF Spa Hanoi and having an hour long Swedish massage for both of us. It was awesome, and only cost around 800k after a 3% credit card fee, no way you could get that done for about $17/person in the US.
After that fantastic massage we went straight to KFC because we just wanted some damn crunchy chicken. They didn't have popcorn chicken (apparently they run out often over here as well) so I got a shrimp burger, Ali got 3 pieces of fried chicken, and we also got two things of mashed potatoes. Sometimes a shitty day deserves a massage and junk food. Currently finishing off Buddy Thunderstruck before we hit the hay.
We'll probably sleep in a bit as we've got a train at 10pm tomorrow night to Lao Cai. Should arrive there around 6am and then take a bus or something to SaPa. Going to be odd as we have to check out around noon tomorrow but then we're still supposed to stick around until nearly midnight for our train.
Day 20
9:22am
Just extended our stay here through AirBNB. It isn't the best room we've had only because the Wi-Fi keeps dropping. But we have a night train leaving at 10pm tonight and would have to check out before 3pm. So we'd need to figure out where to stash our stuff or, more likely, carry around all our junk for a good 7.5 hours. It was just under $15 to extend so now we can just check out any old time today as long as we can make the train. That also means we can shower before taking the train. Worth it.
3:01pm
We checked out the Bach Ma pagoda, it was closed when we first arrived so we tried to get breakfast at a place called Slusnack or something of that sort. Didn't exist anymore, so we found another place to sit and eat. The sandwiches there were actually ordered from another place and brought over on bike, pretty interesting. I got the egg coffee there as well and liked it.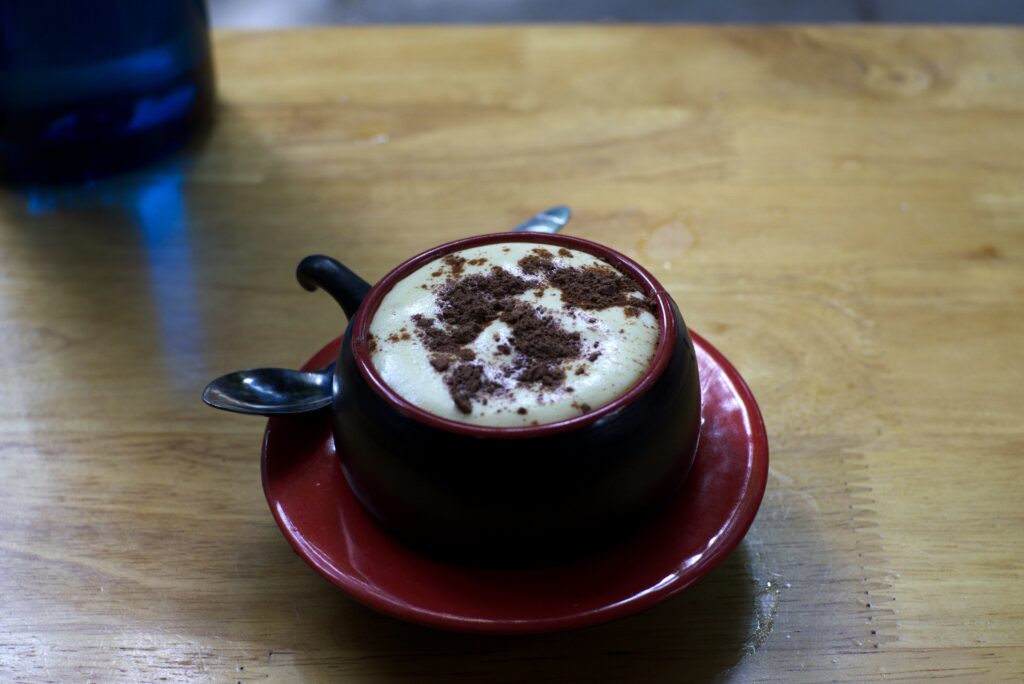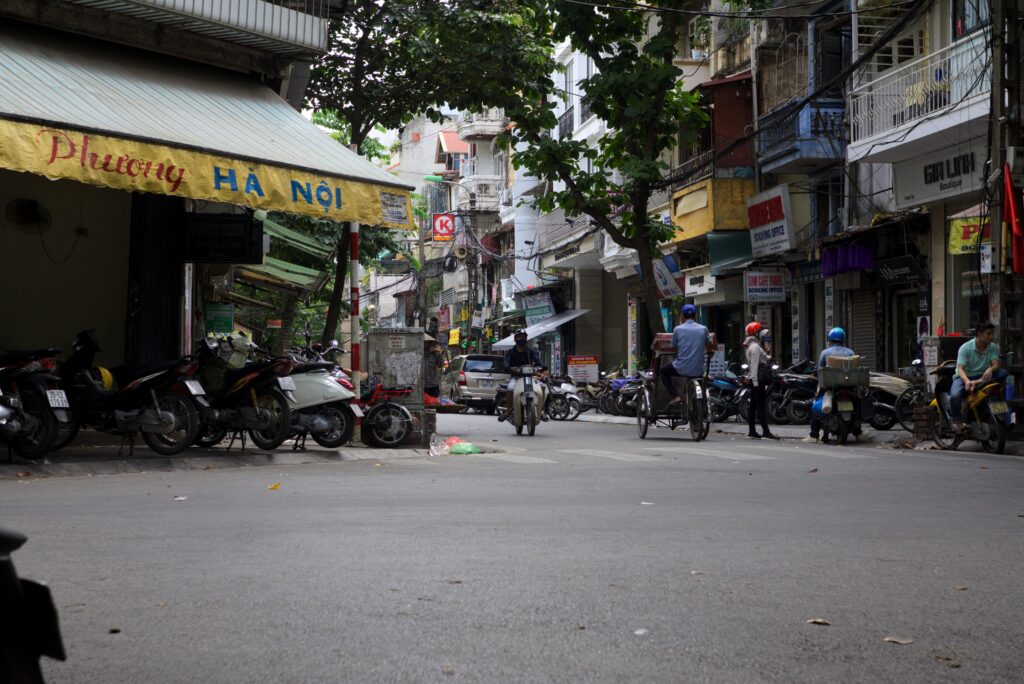 After that we finally got to see Bach Ma and it was neat. Small but it's ancient, like originally built in 1010 ancient. It's been rebuilt or worked on a few times but it's still damn cool.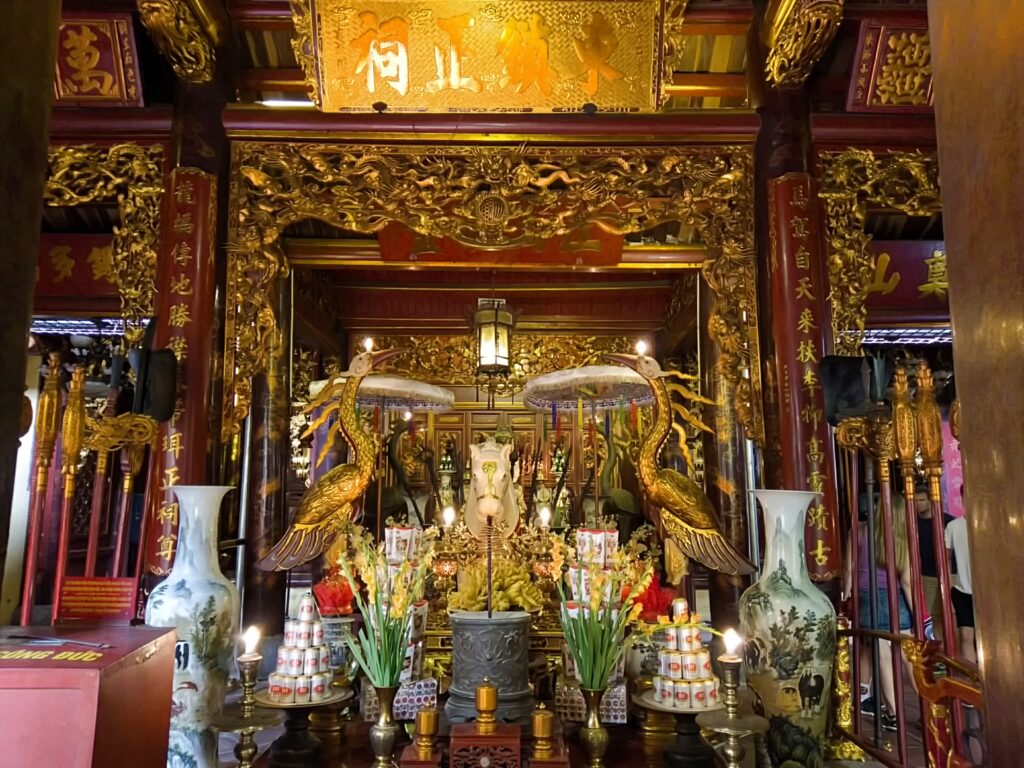 From there we opted to walk to One Pillar Pagoda as the Ho Chi Minh mausoleum closes at 11am every day for reasons. So we're currently at Cong Ca Phe waiting on drinks before we finish the last 5 or so minutes of the 30 minute walk. Something kind of cool I noticed is that some of the tables here are old Singer sewing tables, they only have the foot pedal left but it's still neat. We also walked past Lenin park on the way here as well as the Hanoi citadel. I was planning to check those out but we're too lazy and we can still say we saw them. Good enough!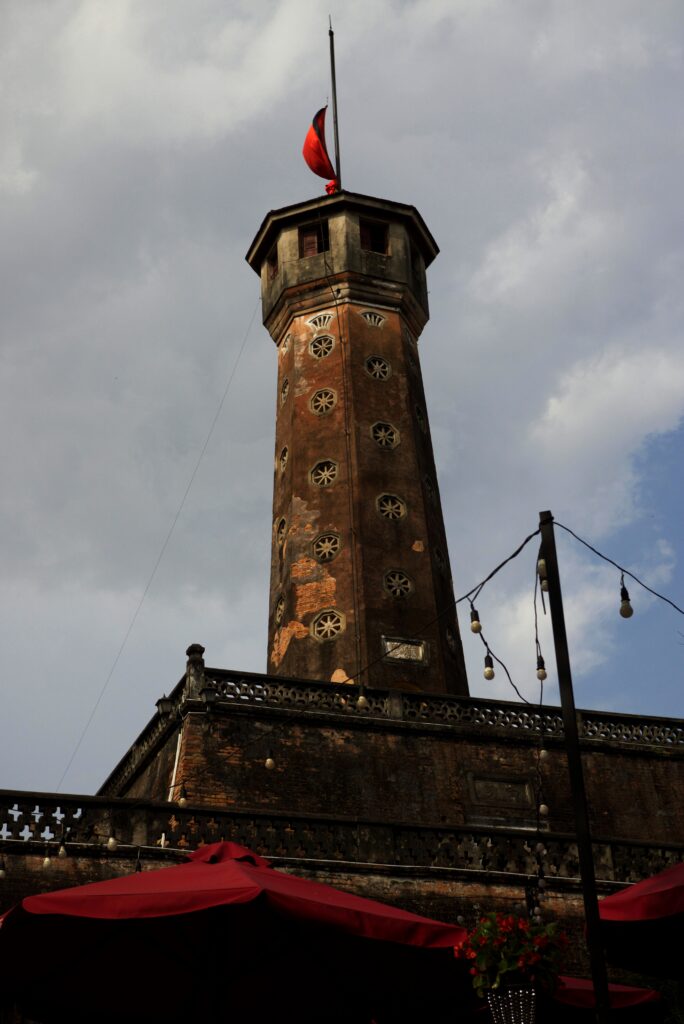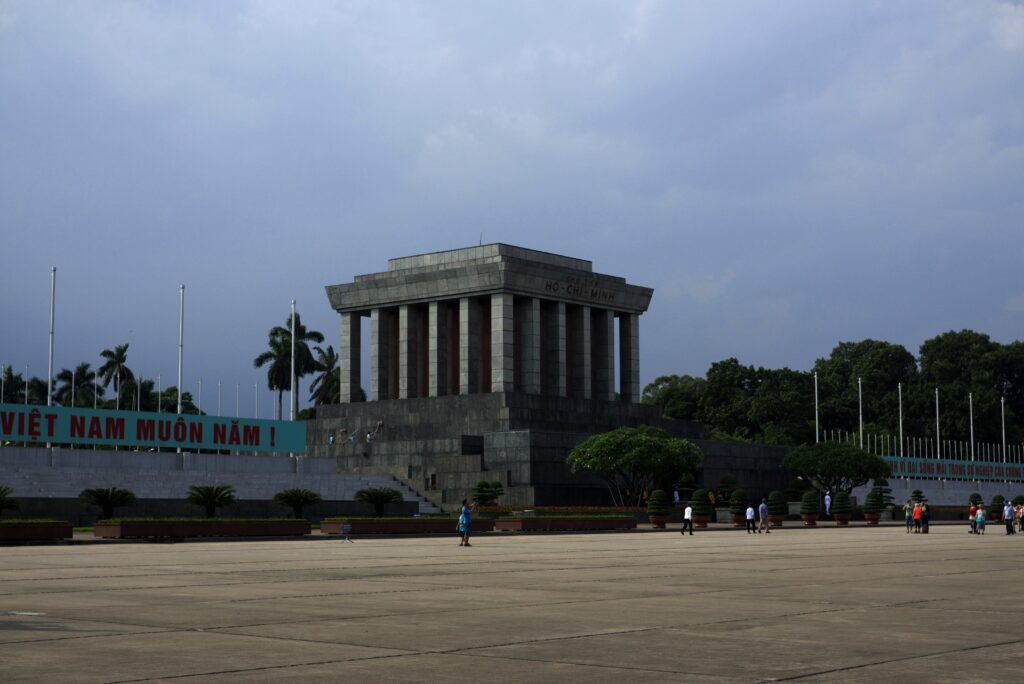 4:22pm
Looks like rain! We saw One Pillar Pagoda and it's just a pagoda, on one pillar. It is really neat but not something to particularly get worked up about. We also walked right past the Ho Chi Minh mausoleum to get there, so we saw that too. It's freaking massive. They were flying the nearby flag at hast mast and I'm wondering if that's from the recent death of their president. As an aside, I've noticed two or three times in that area where a single police car was driving through with lights and siren while two black S classes followed. I'm thinking dignitaries of some sort?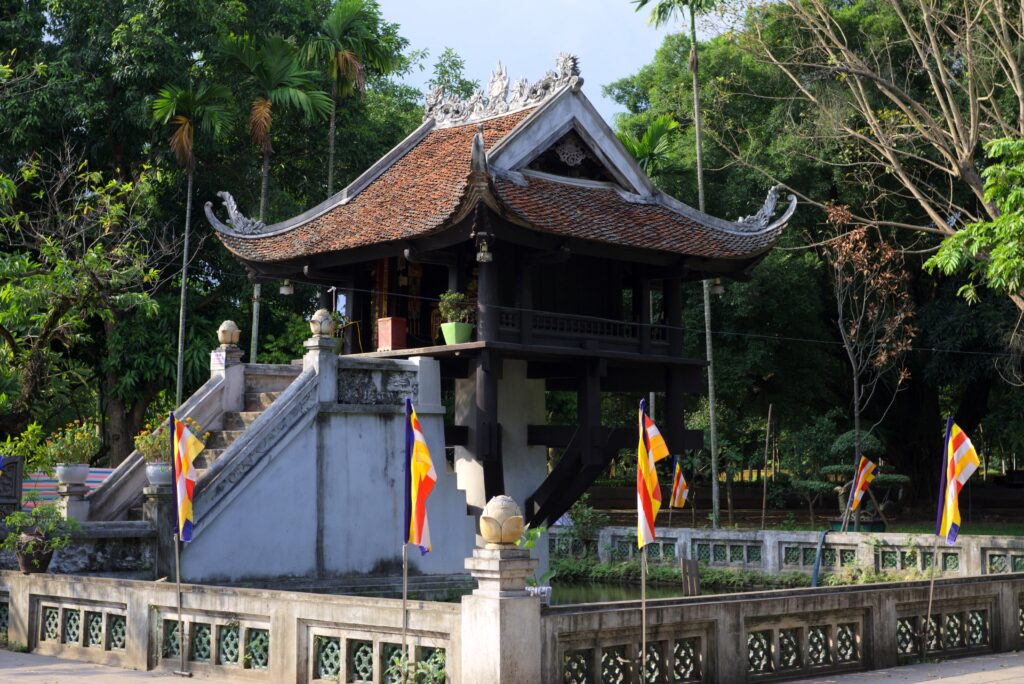 Getting to the bomber lake was interesting, you walk down a bunch of random alleys until boom, a lake with the wreckage of a B52 bomber in it. Saw some lighting streaks in the sky as well as a nice big boom when we approached the lake. Probably a sign. Pretty neat! Unfortunately school was just letting out as we tried to get back to a main street for a taxi so the alley was clogged with bikes and people. We did make it out though and are now in a taxi on the way to the University of Industrial Arts. Ali wants to try and find some brushes there to take home. After this we'll probably get food and then head back to the room to chill a little and shower ahead of train time.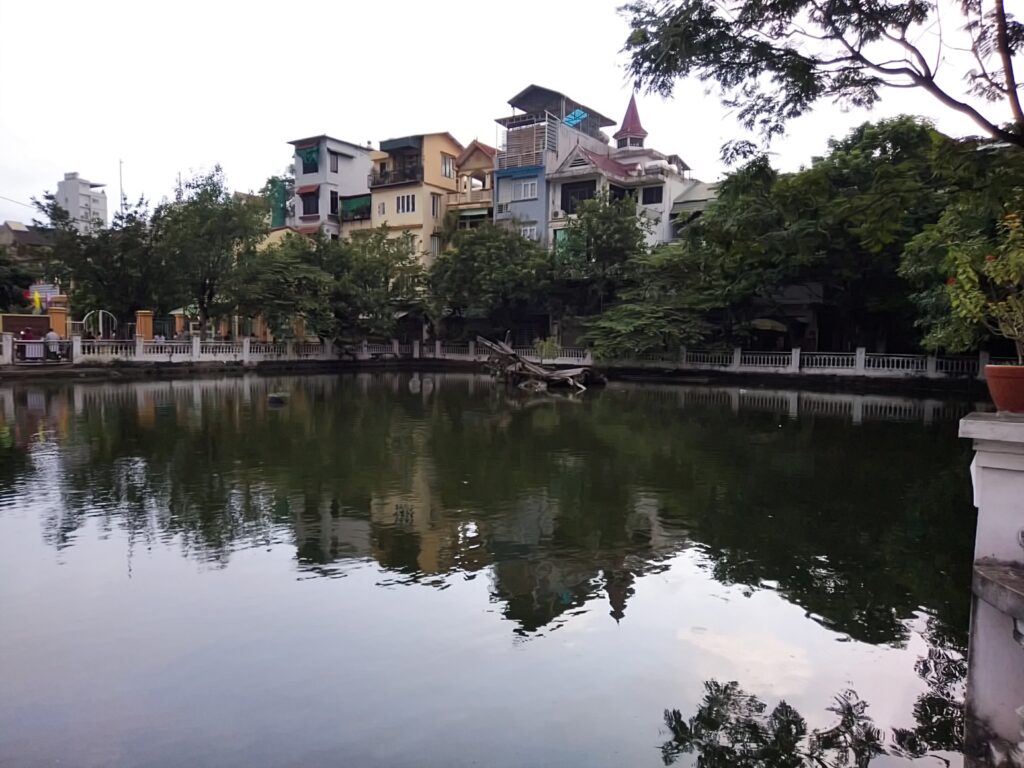 8:17pm
It was rain. Lots of rain. We couldn't find the place Ali wanted to get to (actually, we were on the right street and probably just didn't go down far enough, yay us) but what she was really looking for were brushes in the area. We didn't really find those before it started to dump rain, though we did find some shops that sold brushes on our way to our dinner at Le Hanoi Gourmet. Of course we were in a taxi so… The dinner was excellent of course, and we even left a 50k tip for the waitress as we had a great conversation about how she wants to travel to Hoi An or Da Nang. We had Pho Bò and Bún Cha, both delicious. Currently drying off from our shower and then it's time to pack up and get to the train station.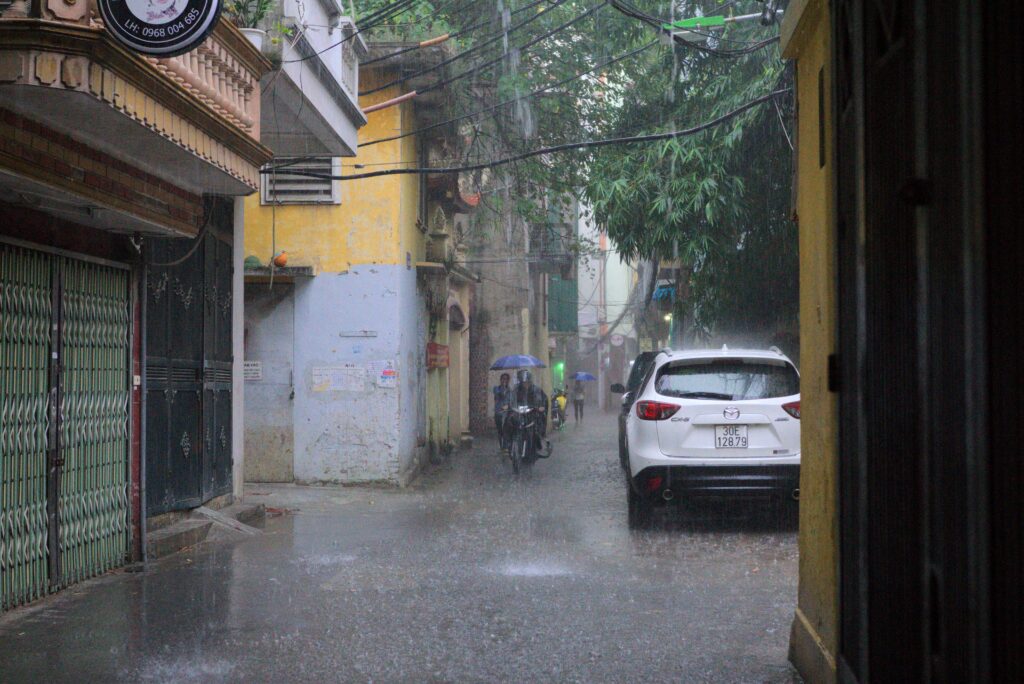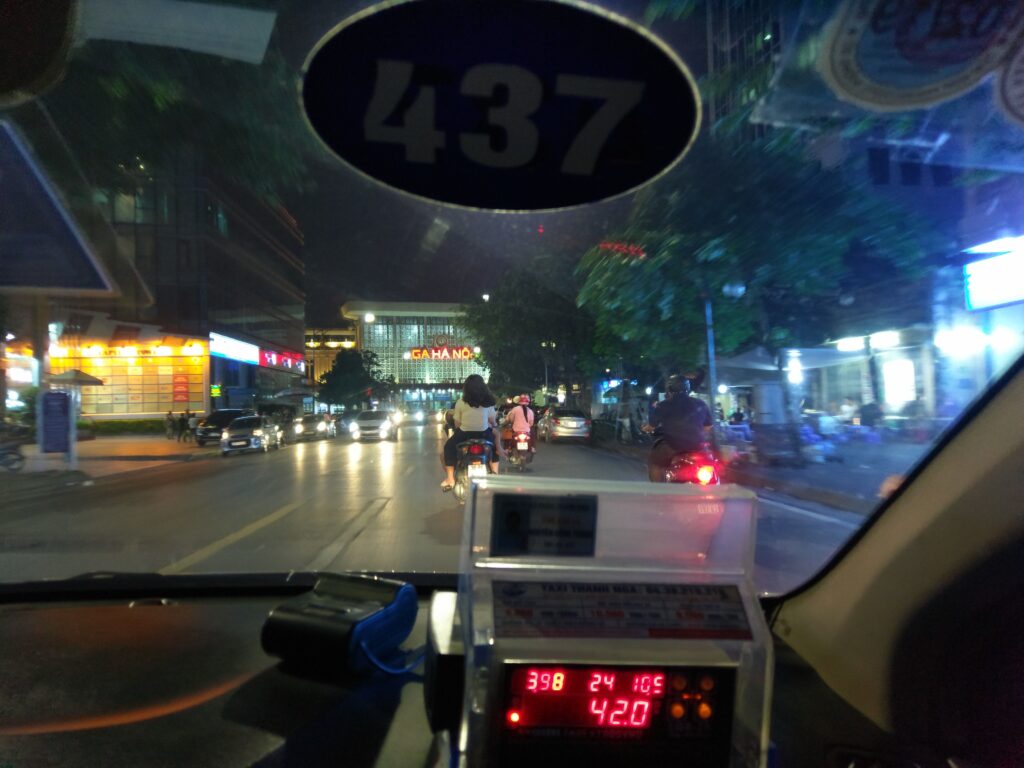 9:56pm
They ended up changing our seats on SP3 so we're bunking with a couple from Europe! One half is a nutritionist from Italy and the other is an account manager for a frozen food brand in Europe who is Dutch. We're having a great conversation!
10:50pm
Talked politics and the like for a bit and just random talk of how each of our parties has traveled so far as well as thoughts on the country, people, and food. They've got another two weeks and have been in Hanoi for about a week if I recall correctly. Heading up to SaPa and even on to Tavan Day just like we are so we may see them around there. From there they'll be headed down along the coast it sounds like to as far as Da Nang and then they fly to Singapore and home. Glad we met them!
Day 21
5:41am
Almost to Lao Cai! Maybe 15 minutes out at this point. It's misty out here, very mysterious looking and also slightly cold looking. I know when we looked at weather it said it would likely be something like 60-70f out so downright cold compared to what we've had so far. Guess we'll find out soon enough!
6:14am
Minibus drivers are bloodthirsty, they got us. 180k to from Lao Cai to SaPa for the two of us.
7:19am
Sketchy! The Viet's have a passion for overtaking on blind corners. I don't get carsick ever but I was damn close there. They dropped us at the Stone Church, which is a thing. We're currently navigating the local ladies pushing us towards trekking tours and then we're going to try to find some breakfast and a toilet. After that we contact our host and they should have a car here in about 10-15 minutes.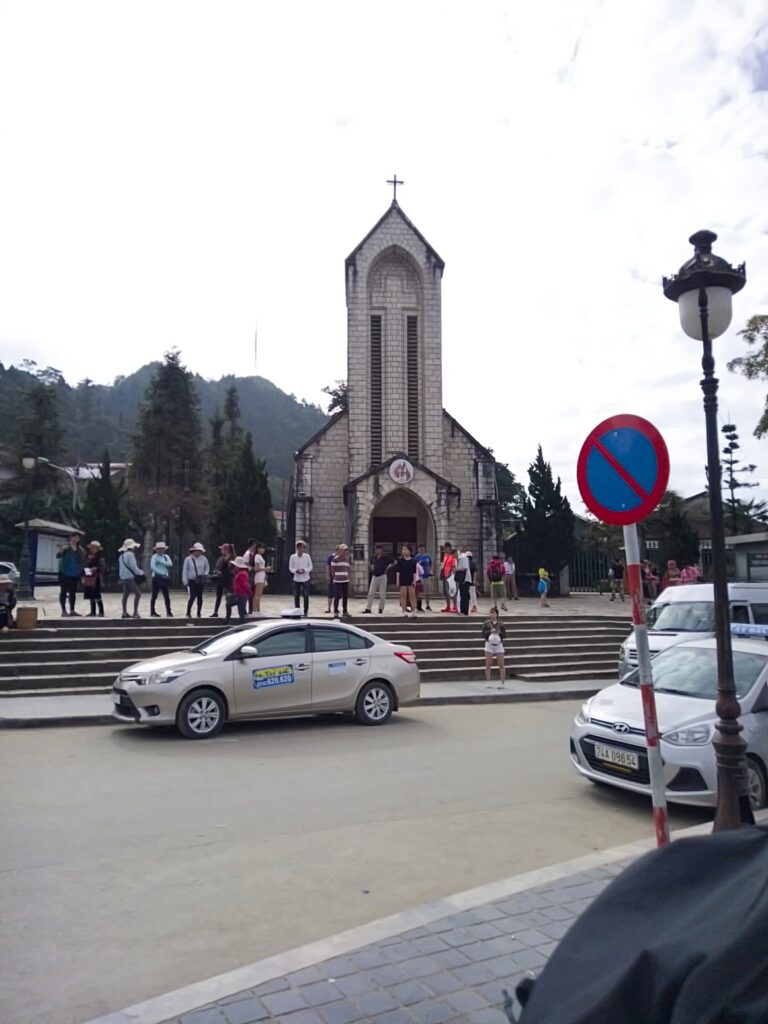 All that said, the drive from Lao Cai to SaPa was beautiful. Like Da Lat to Nha Trang but with terraced rice paddies hundreds of feet high set into mountain sides. Fantastic. Right up there with the aforementioned and the train from Da Nang to Hue.
8:55am
Found a nice little cafe for breakfast and coffee and then a nice restroom to use before our trip out to the Tavan Day village. We also gave in and spent about 300k on a nice bag for Ali and two bracelets. (Note – worth it because she still uses the bag!) One of the ladies gave us an extra bracelet for free which was nice. I've noticed the hawkers here are less persistent but when they are, they're much nicer about it. They were funny too, "you can only say no for so long" and "maybe later? Maybe for sure?".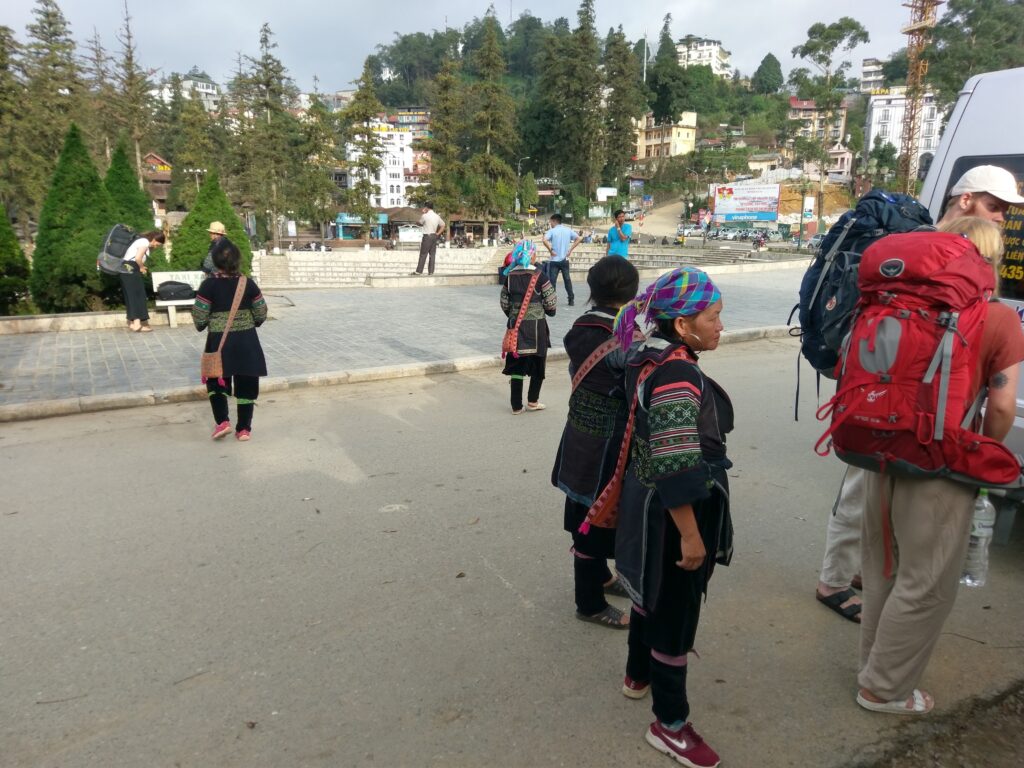 Called our host and they had a taxi there right quick. Currently on our way out, can't wait for some relaxing in a remote village!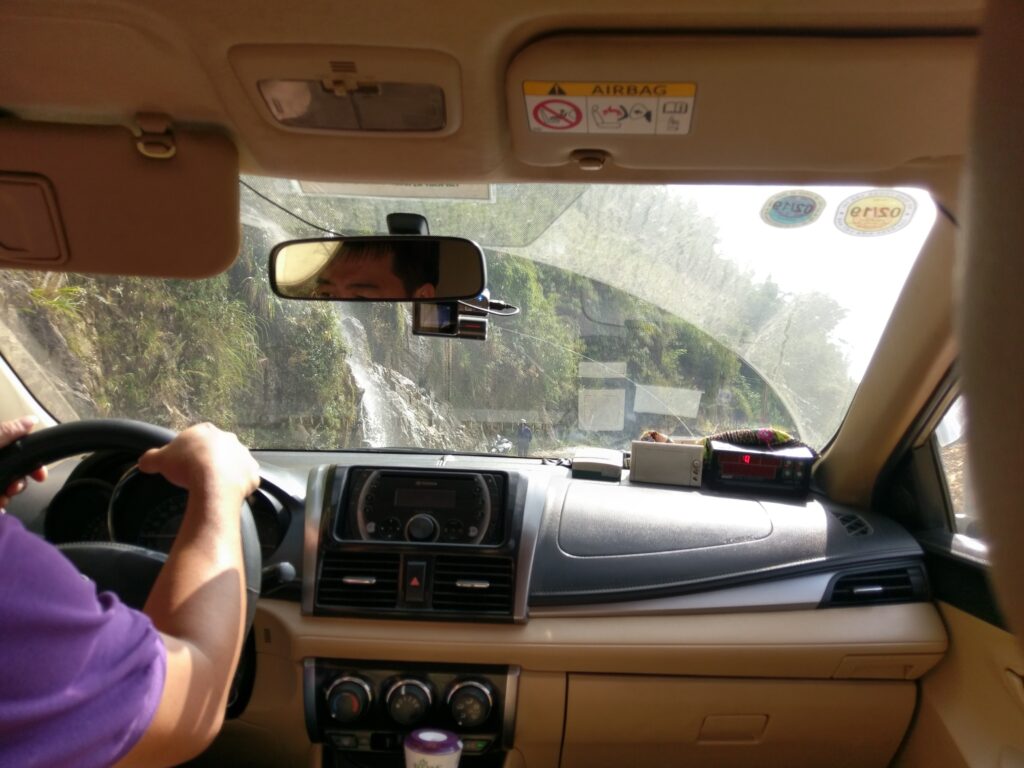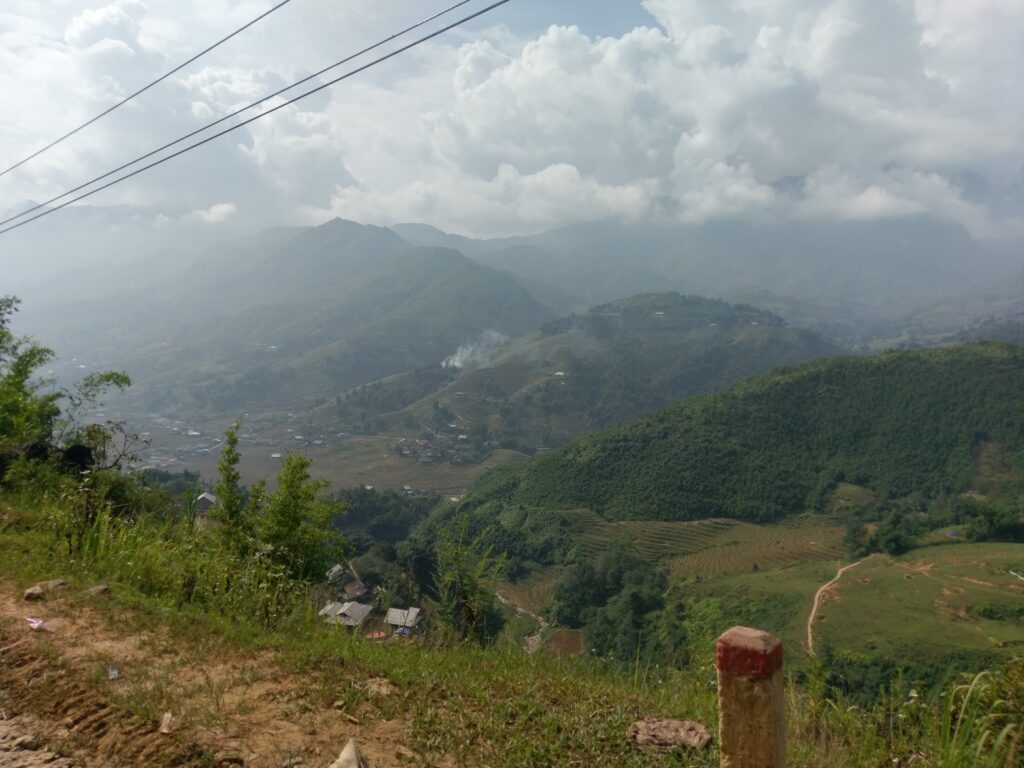 11:28am
Man it is beautiful here! John seems easy going and I think we're going to enjoy staying here. We've also met another guy that stays here, Jason. He's from LA and used to work for Go-Pro doing camera work but currently free lances video and production it sounded like. He was in Hanoi for a week or so, went to Monkey Island (the good one) and Cat Ba island and then came here. He's just been living here and helping out in exchange for food and shelter.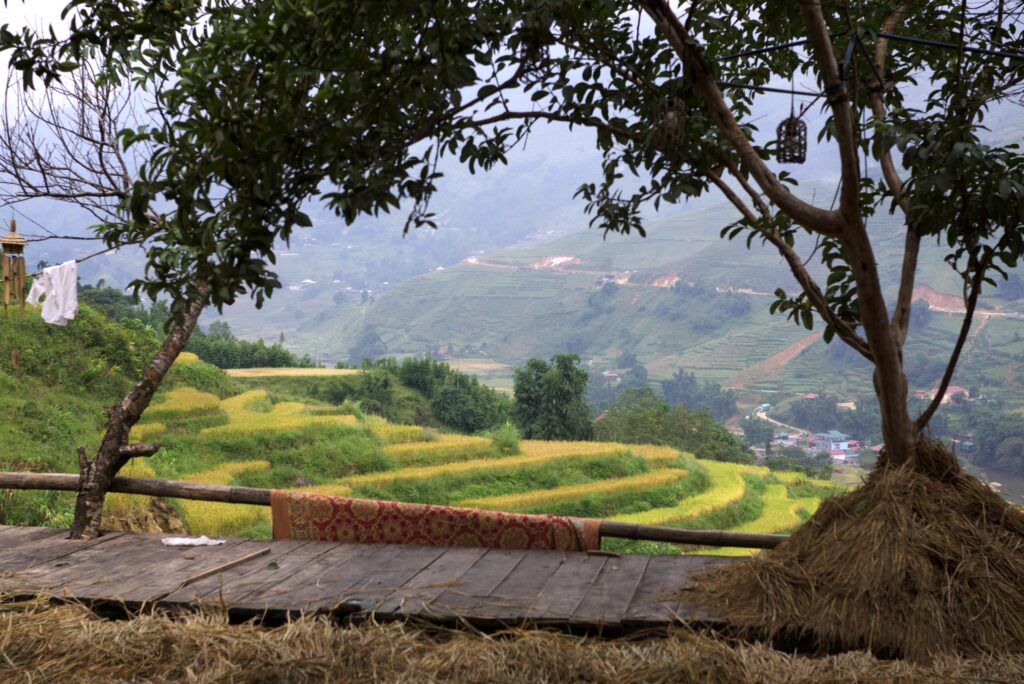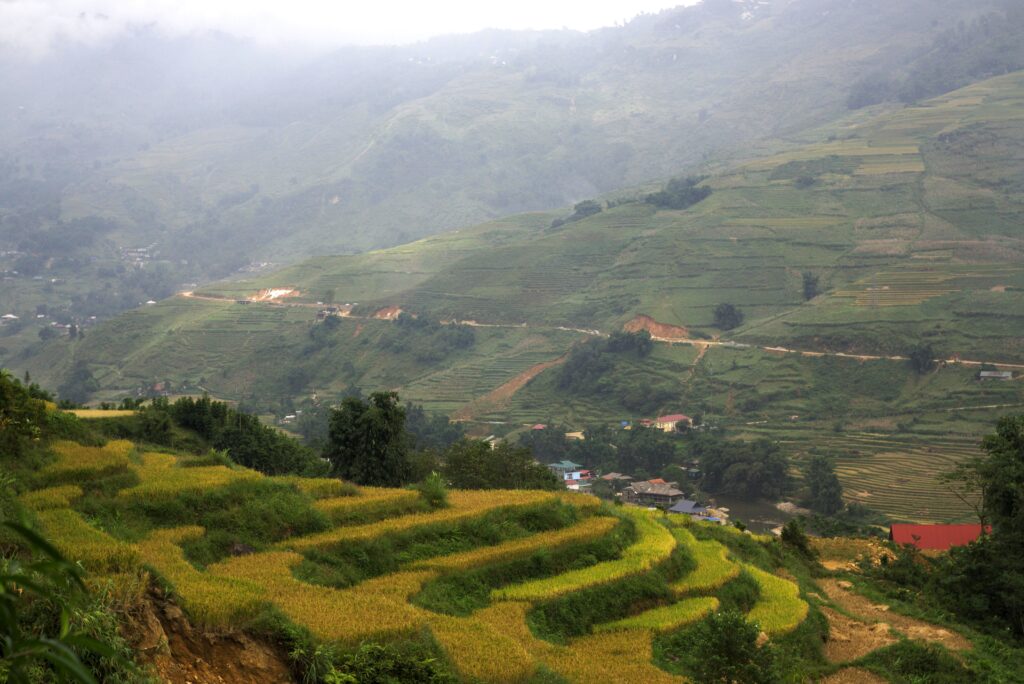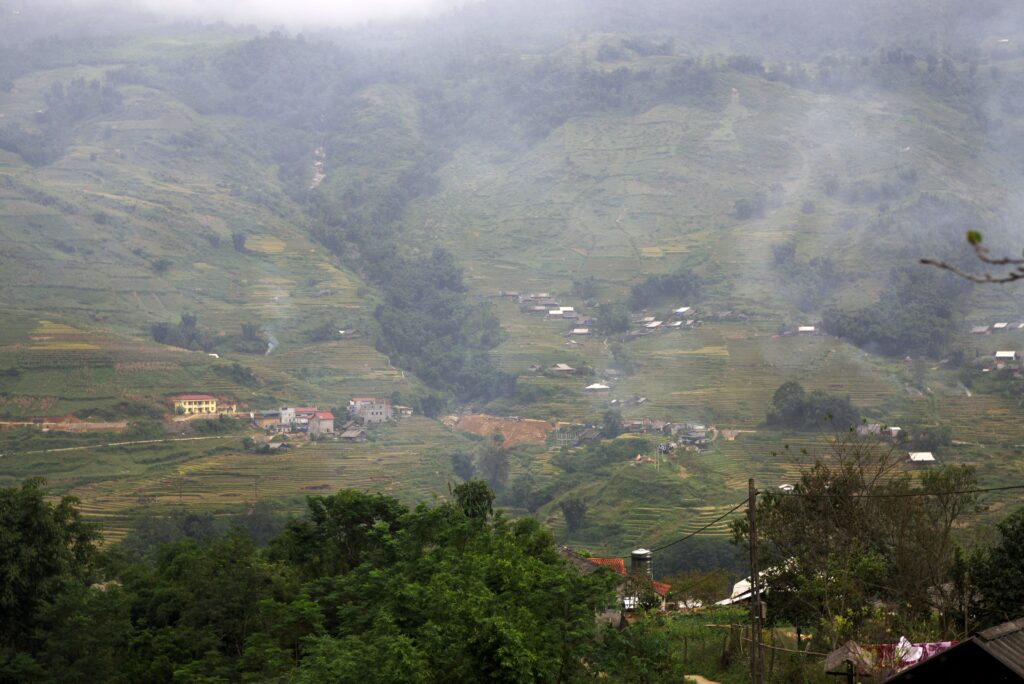 There's a fairly large spider here hanging out and catching mosquitoes, it's a little terrifying. Our hosts say that's a small one too. Yay.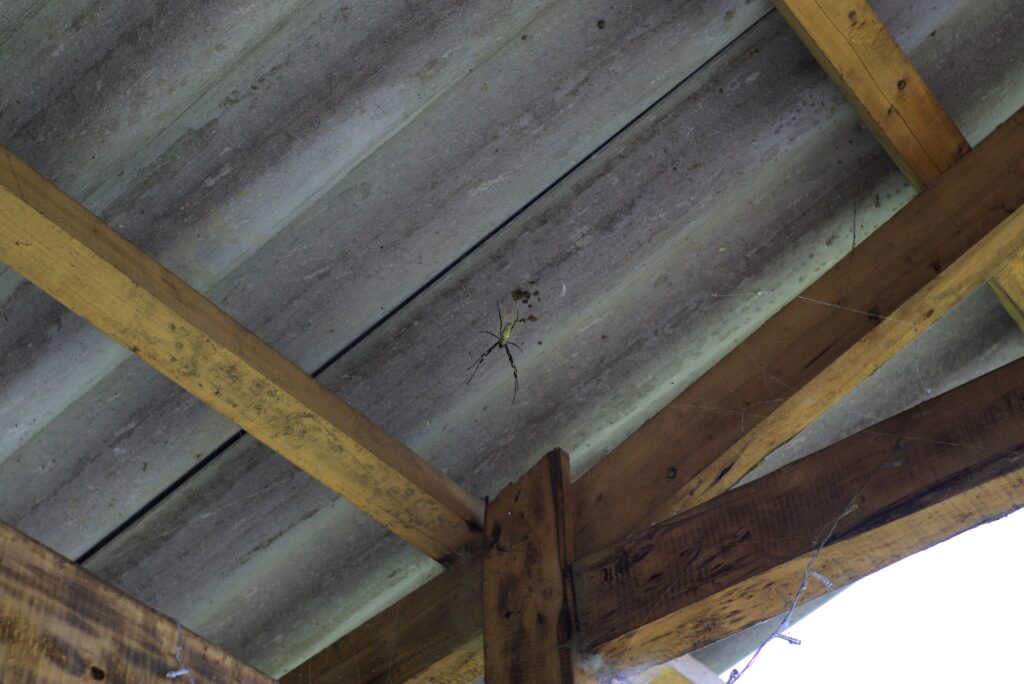 Currently I'm taking photos as they bring what appears to be rice stalks or some sort of leftover stalk after harvest. They're drying it and then building small mat sort of things out of them.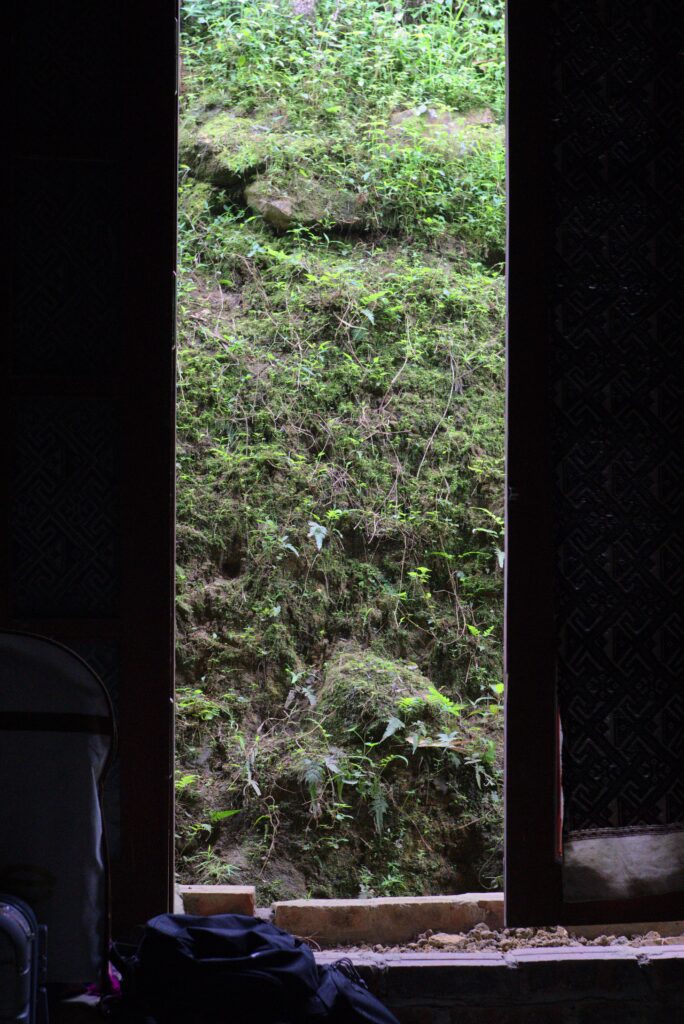 1:01pm
There's a German lady, Julia, staying here the next two nights. Sounds like she just finished school and is going to be headed to university for social work after she finishes her travels. She started in Japan and was there for something like two weeks and is now going to spend probably two weeks or so in Vietnam. Neat!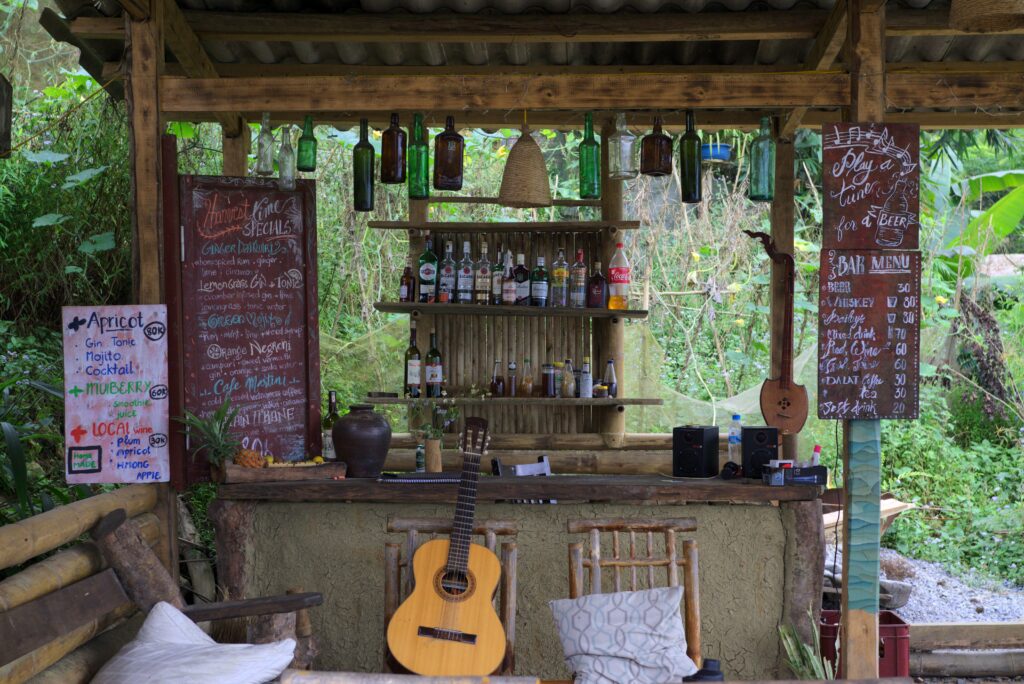 2:40pm
Bun Cha for lunch, made from stuff bought at the local market. Delicious! About to head up the hill a little and check out the huts they're building with the rice stalks.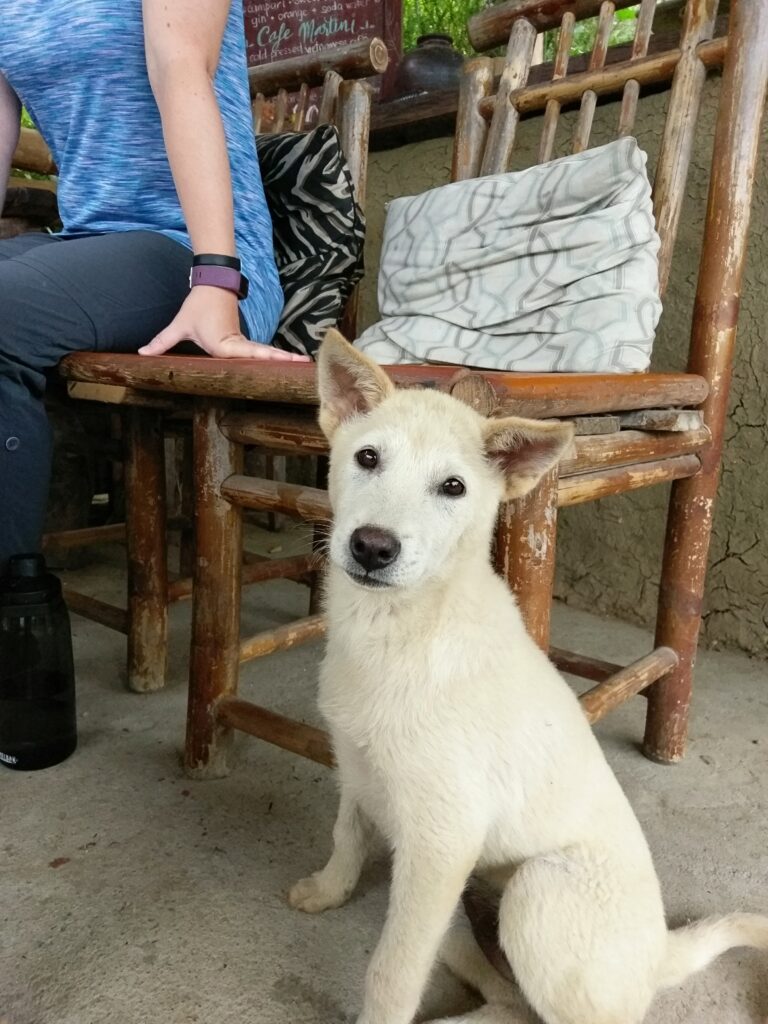 5:00pm
Shit is cool, they're gonna kill it when they open those things. There are three cottages they have set up and it sounds like they plan to be done in the next month. Even if try only do $20 a night they are gonna crush it. I'd easily pay that for a night there next to the stream. It sounds like the neighbor actually owns the land and is paying for the construction and such but John will handle the guests and logistics on that side then they just split it 50/50.
We also just got back up to the homestay from swimming down at the bottom of the valley. We met another group that are staying just down the hill from us and they came for a swim as well. One of the ladies cut her foot on some glass unfortunately, as there is glass all over down by where we were swimming. Kinda sucks. I did jump in and made it perfectly, luckily didn't cut myself on the way out despite not being able to see anything. Took us 10 while minutes to walk back up the hill! Peak heart rate coming back up hit 170, that hill is no joke! Hopefully we don't do that more than once a day.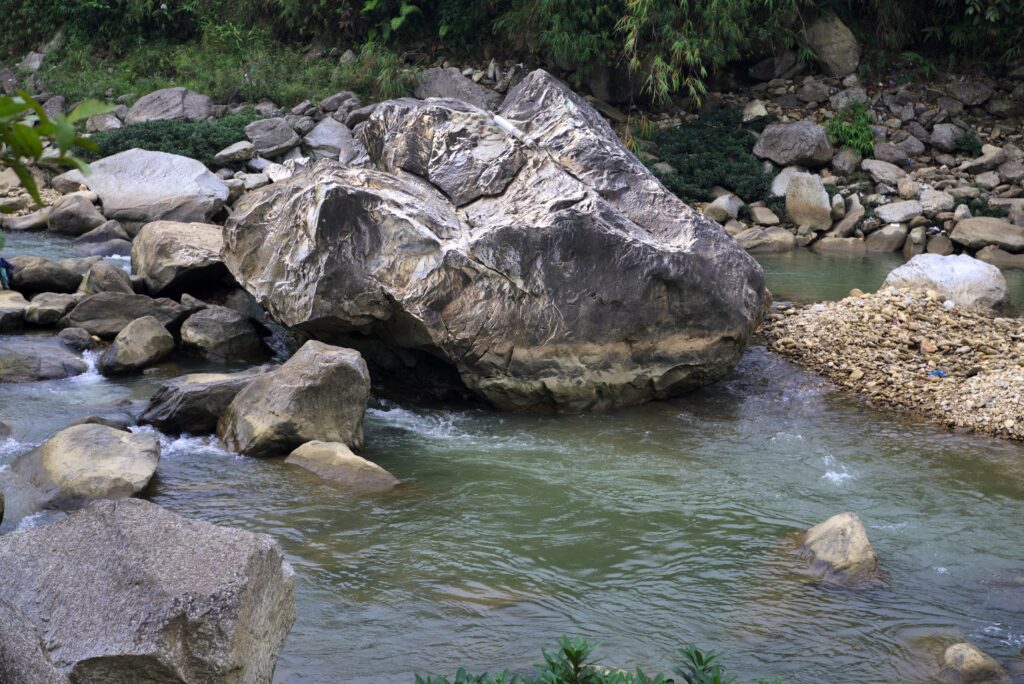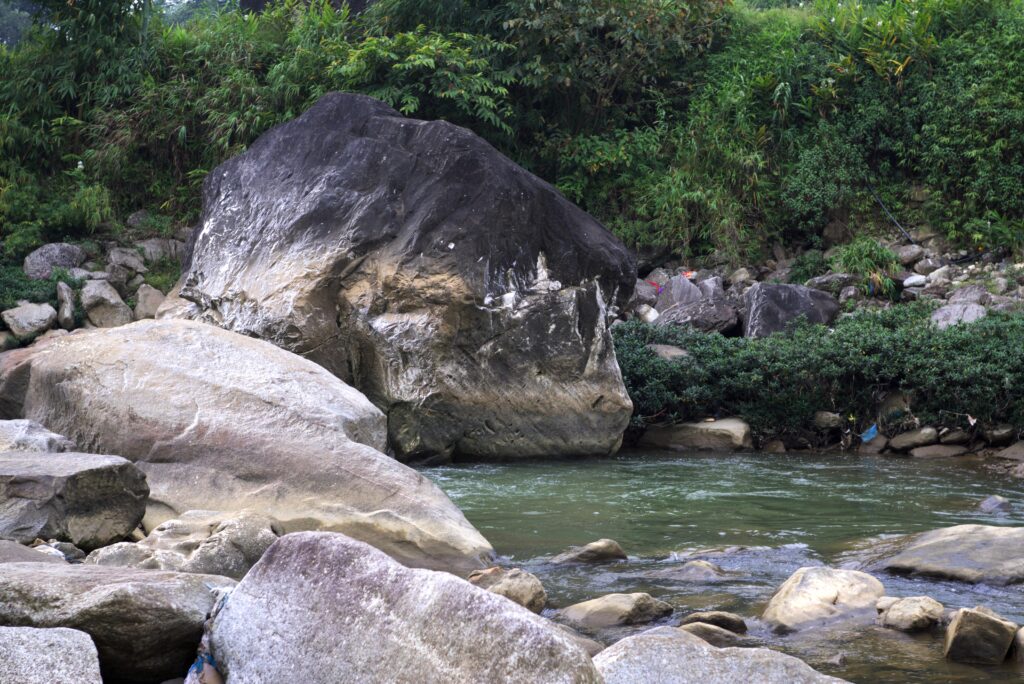 8:56pm
Another excellent meal down and I'm about to try an apricot cocktail. This place is magic, time takes on a hazy sort of mercurial nature. Currently we're just chilling in the bar area listening to some chill music and just enjoying life. Jason has a good taste in music, or at least a good app lining up music.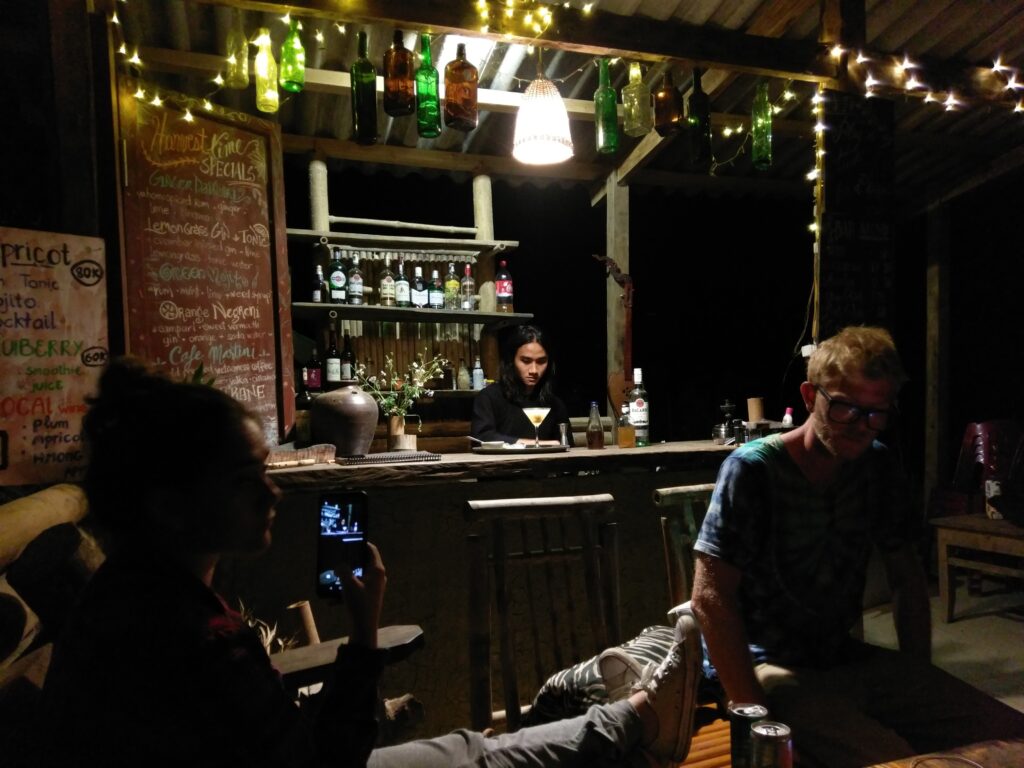 9:48pm
Jason is an interesting guy, he's met a ton of music folk doing music video shoots and such. Talked for quite a bit!
Day 22
11:07am
Sheepy visited us a few times last night, scared the shit out of me the first time as she just jumped on the bed on my side all the sudden. Pretty sure she licked my mouth at one point to. Yay. When I got up it was around 8 and so foggy that I couldn't see more than 4 feet in front of me. Around 10am it was still foggy but not as bad. Plus it's raining now so across the valley there's a waterfall off the mountain and the stream next to our stay is now like a whitewater river. Freaking awesome.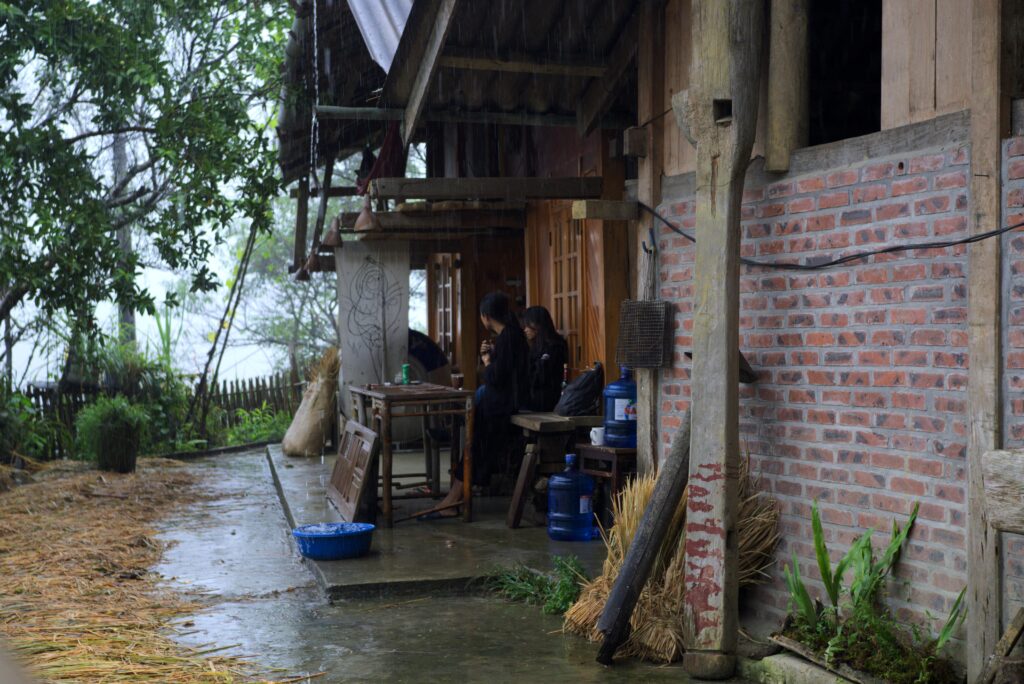 Just sitting here eating eggs and drinking the strongest coffee I've had in some time while listening to John and a younger local lady practice guitar. Cannot top this.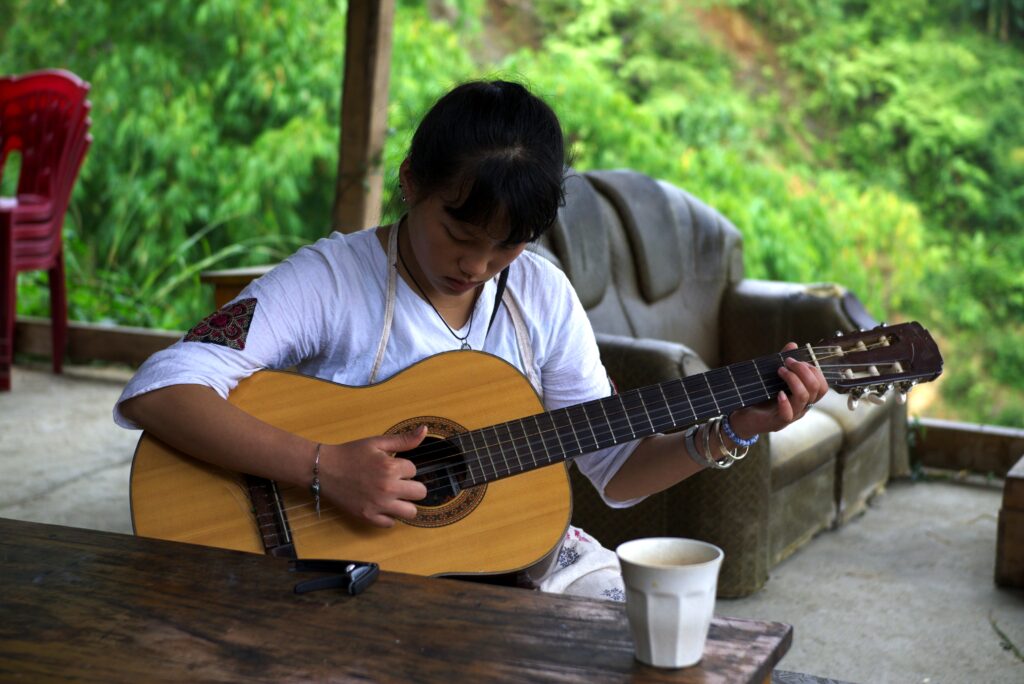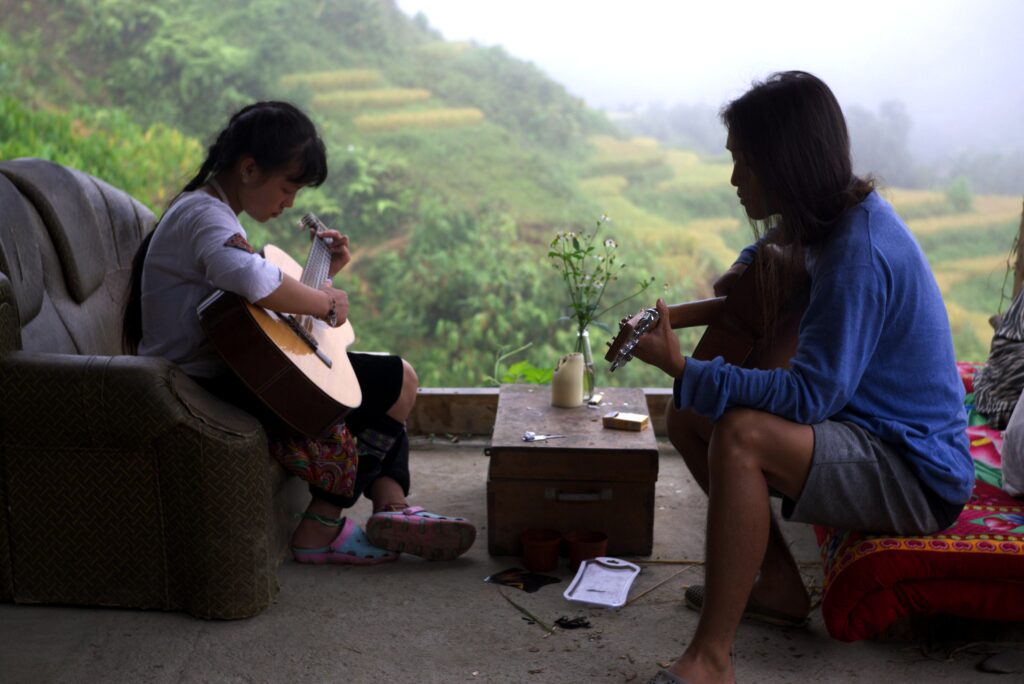 2:34pm
Playing cards (bullshit) with Jason and Julia while we wait for lunch. Sounds like fried chicken and potatoes. After that we plan to head down and take an herbal soak sort of thing. Beyond that? No idea. At some point I'd like to do a trek here to visit some local villages and we may accompany Julia on her way back to SaPa tomorrow so we can wander there and hit an ATM. We're close to the end of our stay though so we don't want to take out a bunch and then take it home or have to exchange it back at a less favorable rate. Plus a ride there and back would be like 300k probably so we aren't sure yet.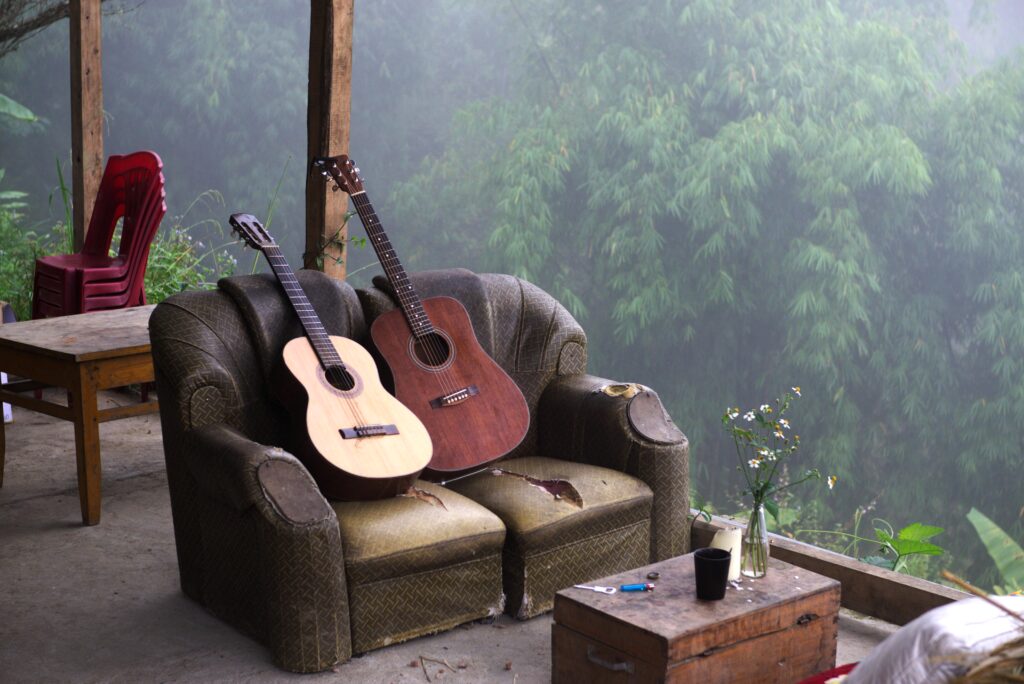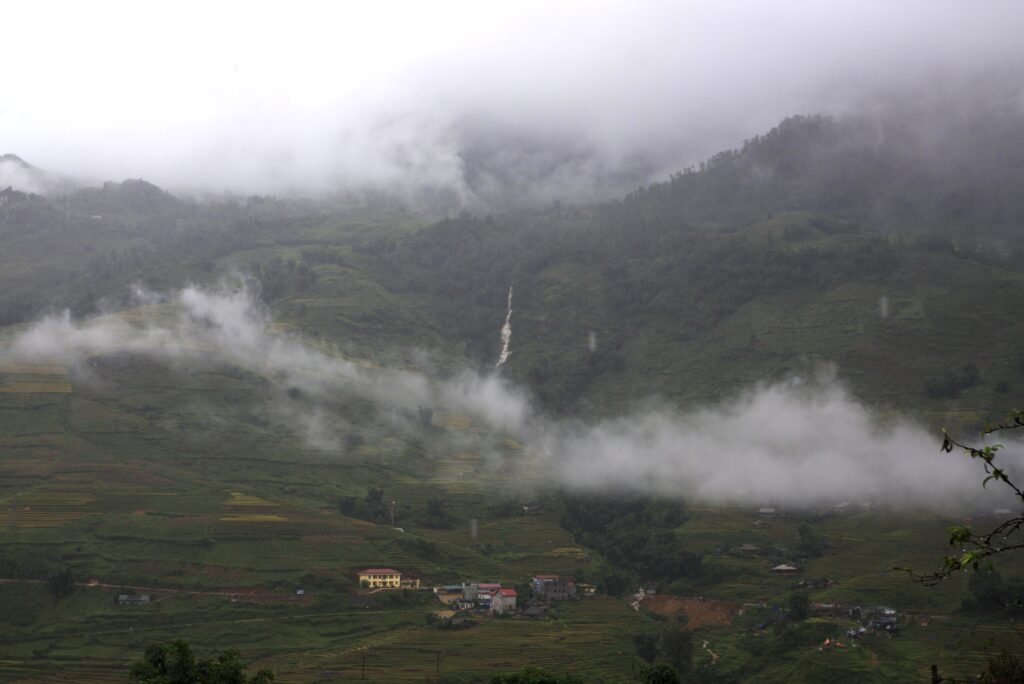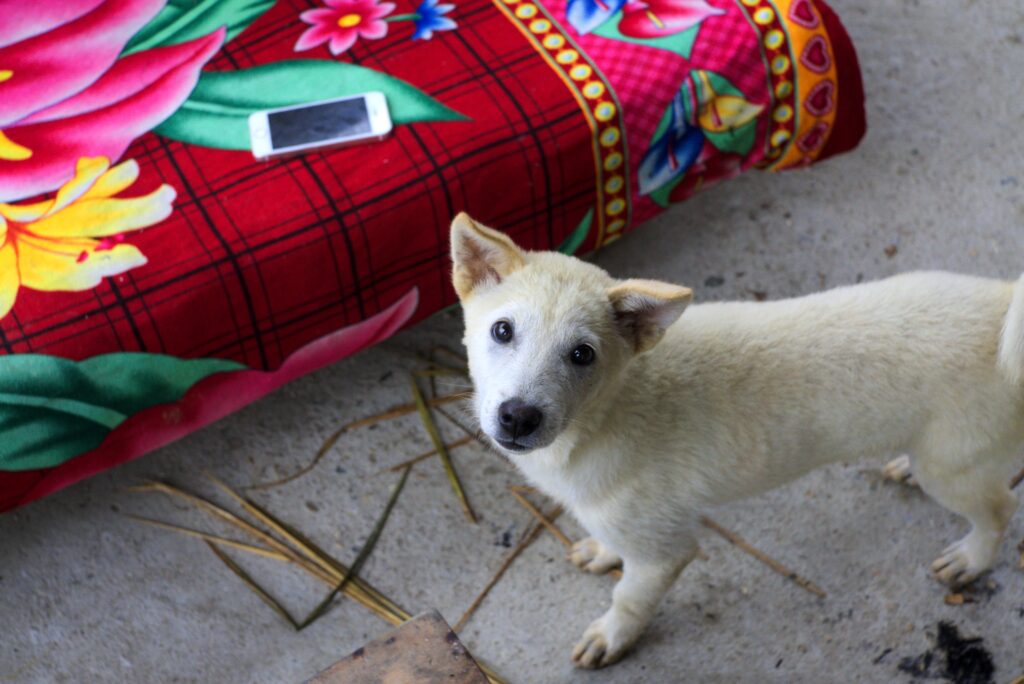 7:04pm
Turns out the place was booked up till 7:30 so we ended up getting dinner at a nice little spot nearby. Freaking fried pork and fries man. I left my credit card, which is dumb because before leaving I was thinking I should grab it before I headed down. So I got to walk back up the hill and grab my card and then come back down to find out I didn't have to rush as we had to wait anyway. Oh well, exercise is healthy and all. More good conversation, probably going to walk back to La Dao in a few and get ready for a 15 minute herbal soak and 75 freaking minute massage!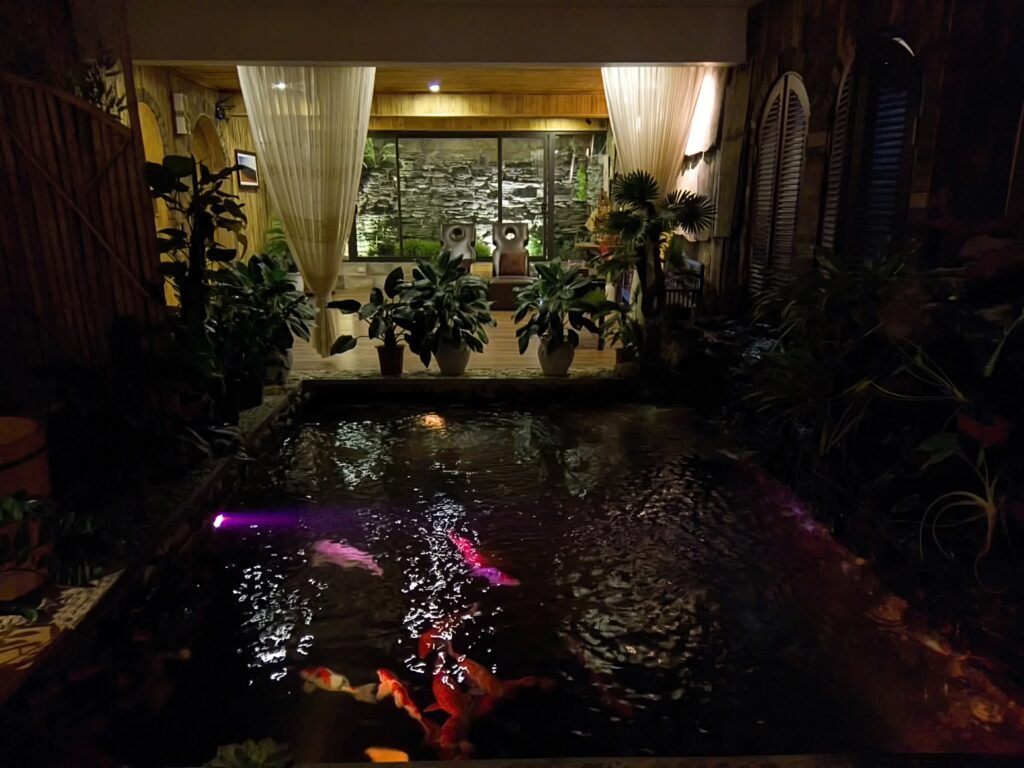 9:46pm
The massage was great and we're back up the hill now. Surprise, John loves Don't Mess with the Zohan! Currently watching it, what a trip.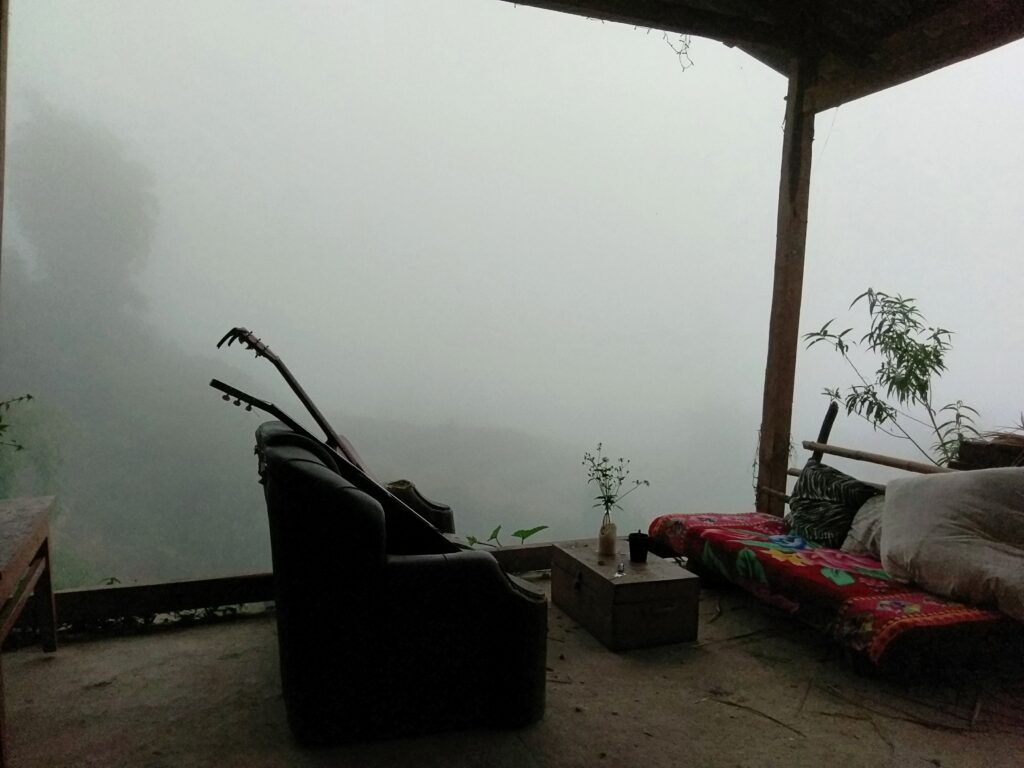 Day 23
12:01pm
Woke up around 10am again. Made myself some coffee and now we're thinking about wandering the town and grabbing some food. Once again, no real plans in place. We did at least buy our train tickets for tomorrow, leaving Lao Cai at 8:55pm and arriving in Hanoi around 4:30am (!!!!) and then we've got a flight at 2:15pm to Saigon where we'll spend our last night in Vietnam and then catch our flight home at 7am the next day. Gonna suck tomorrow night and Monday but that's travel.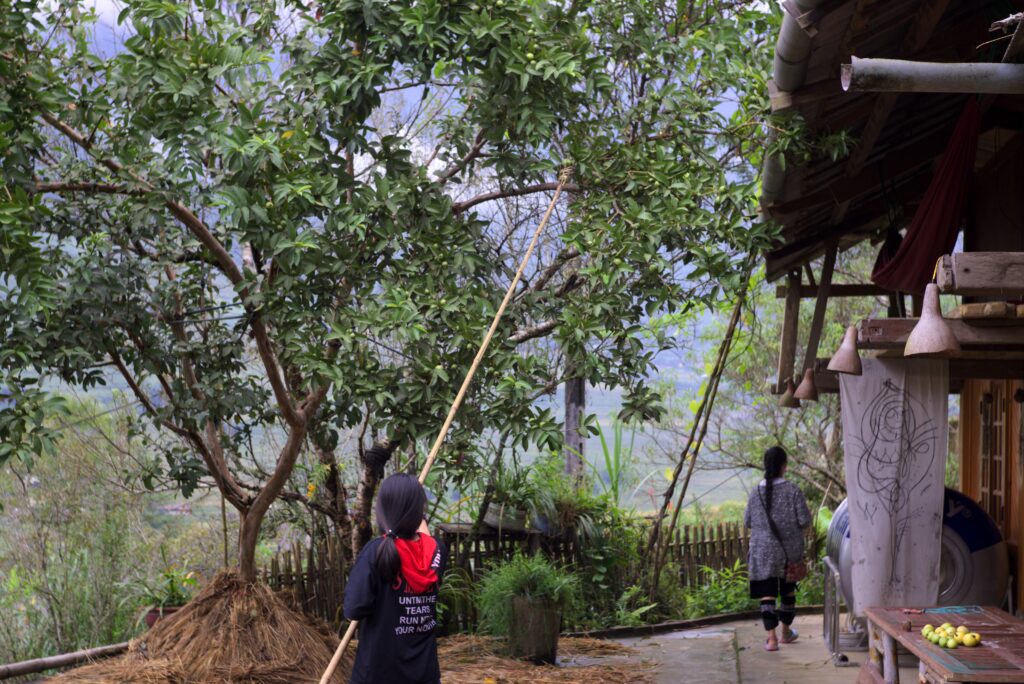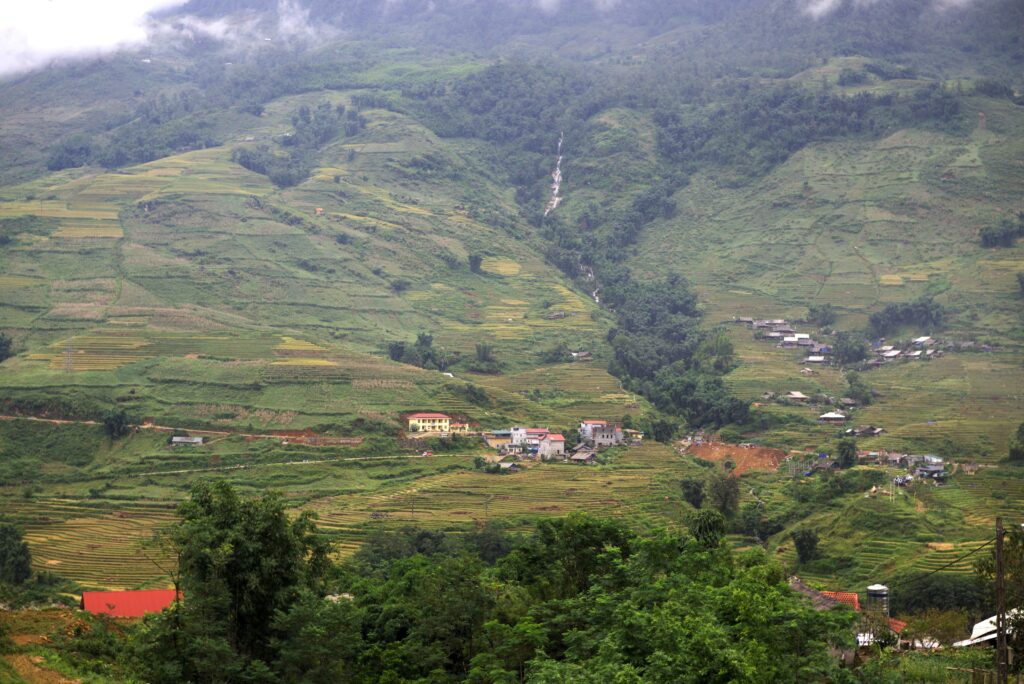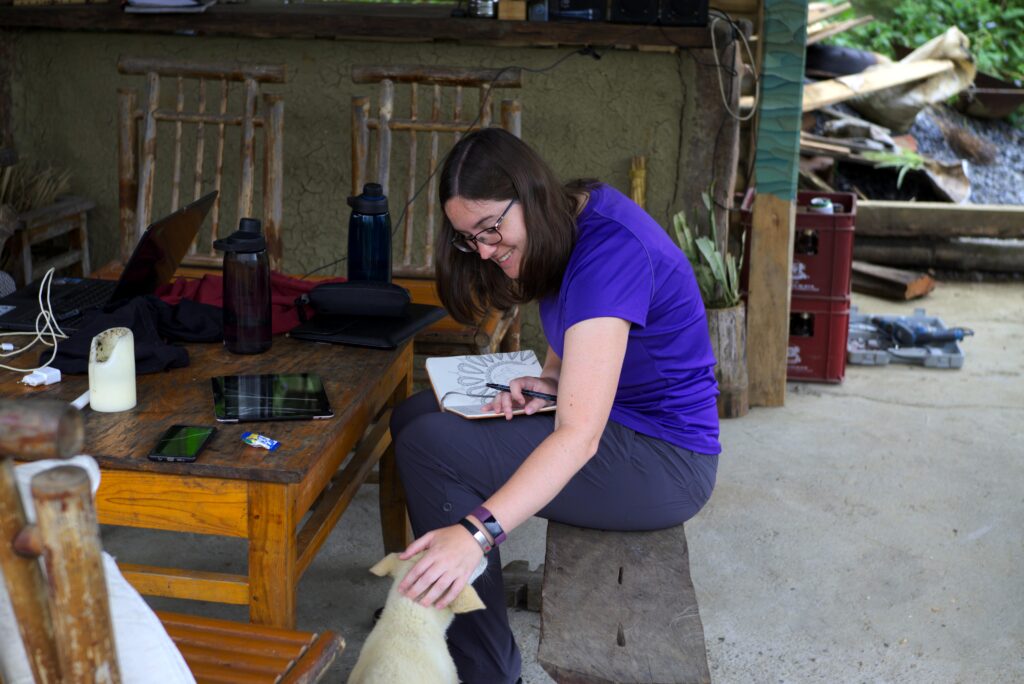 1:35pm
Lunch was great, had eggs with toast and bacon. The view here is still incredible, only been two days but it does not get old. We all need a restroom stop but then we'll head out to wander on. Sounds like Julia is leaving around 5 and then it's just us and Jason.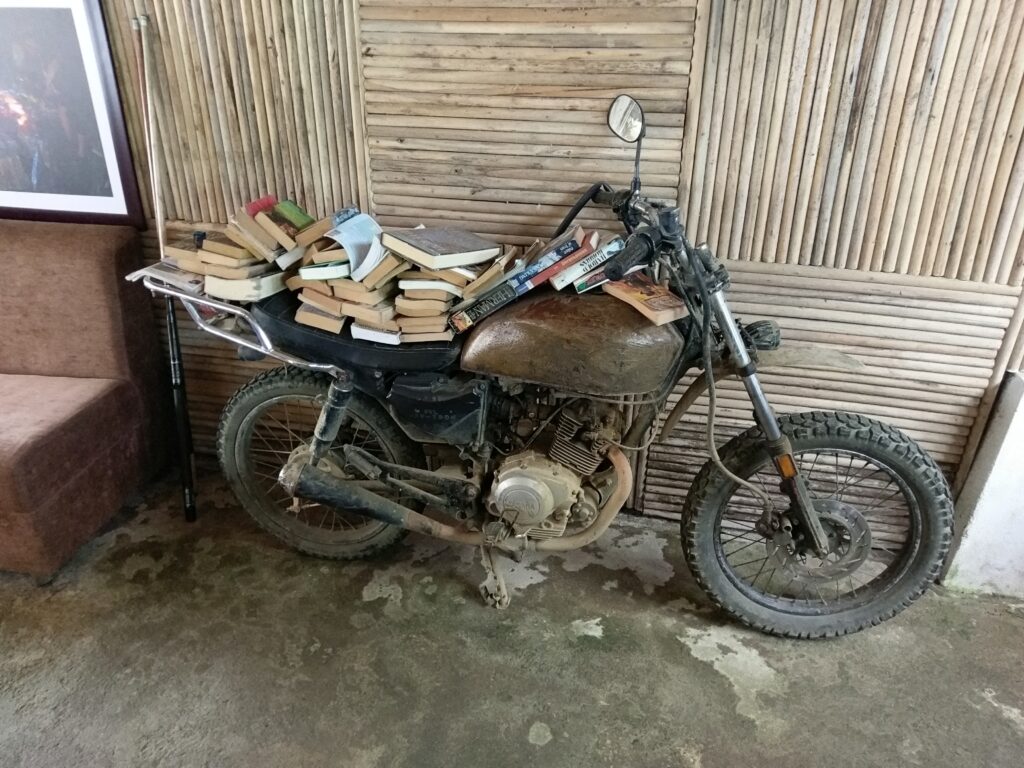 4:48pm
Julia is about to head out but her and Ali found each other on Facebook so we won't completely lose contact. There's another guy here from New Orleans so we aren't just hanging out alone or with Jason, depending on if dudes friendly or just hanging out. Probably just gonna hang out some more tonight and maybe watch a movie.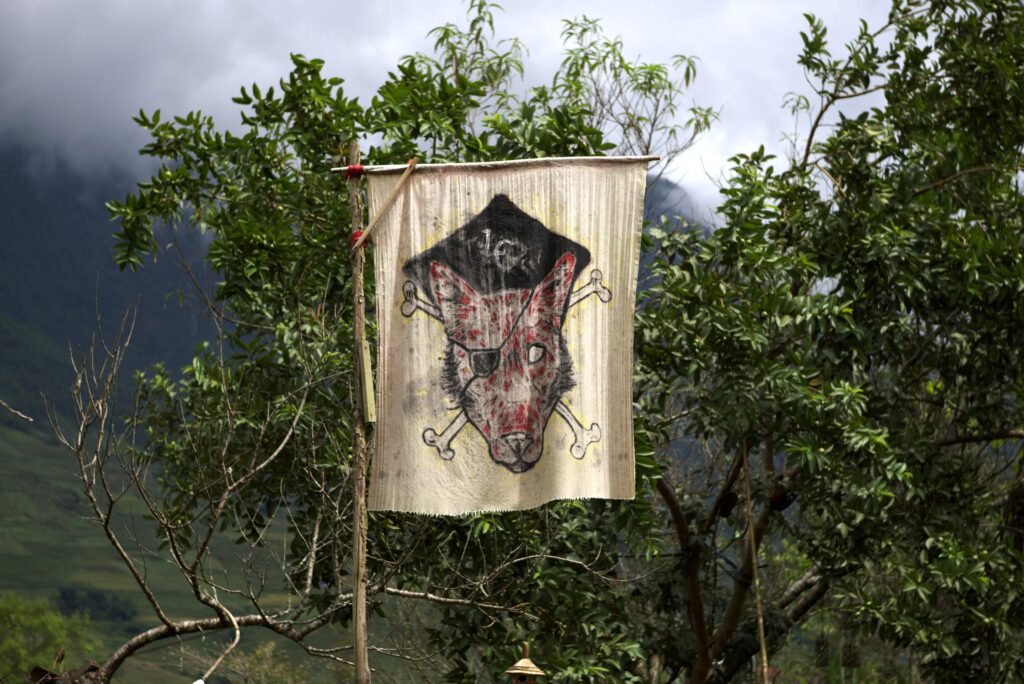 8:40pm
Dinner was fantastic! Jason left for a date in SaPa and a few other locals showed up for dinner so we had 3 Americans and 8 locals dinning. Currently we're drinking a bit and have Settlers of Catan setup but haven't played yet.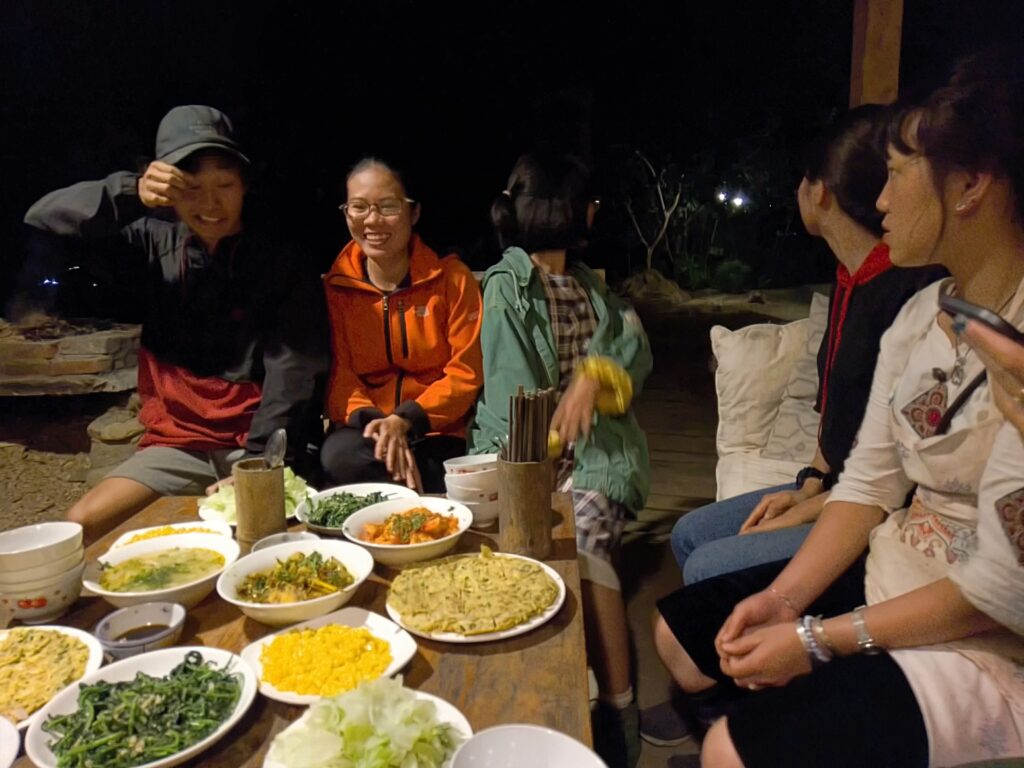 Day 24
11:18am
Yeah, we didn't play it. We ended up just putting it away as it was getting late. Then Mua (moo-ah) tried to show us a game with chopsticks and a tennis ball that's pretty much jacks. Didn't have a tennis ball though, just a lemon. We ended up staying up to around midnight just talking about random stuff. It was a great time!
Woke up around 9:30, grabbed some banana crepes for breakfast, made myself another Da Lat coffee (and confirmed that even with condensed milk it's still really damn strong) and showered because I felt gross not showering last night.
We've got most of our stuff packed up, though some of the clothes are still damp from being up here, and will need to figure out when we want to head back to SaPa and then on to Lao Cai to catch our night train.
1:55pm
Nap complete, now hopefully we can still sleep on the train. Thinking we may head to SaPa soon to maybe do late lunch and wander a little. Not entirely sure.
5pm
Ended up having lunch and laying around a bit more. Another guy from Germany showed up so we chatted with him a bit and then John setup a taxi for us. Currently in said taxi on the hell-coaster back to SaPa. Once we get there we just find the bus station, make sure we have a time to get back to Lao Cai then make sure we know how to get to the train station.
5:21pm
Made it! Ali is car sick now so we aren't just jumping straight onto the bus to Lao Cai. Might hit an ATM for a small amount and wait for a bit.
7:14pm
Made it! Ride was about an hour and ten minutes and just as crazy as the ride up was. At least this driver was familiar with engine braking. We also left with 4 passengers and had picked up another 10 at random places by the time we got to the train station. We're currently at Terminus Restaurant across from the station getting fries with garlic and three cheese pizza because Murica.
8:57pm
The pizza was delicious and filling! We've just left the station on our way to Hanoi. They let us on early which was nice as we were able to watch an episode of One Punch Man and have some Oreo's for dessert. About to try and get as much sleep as I can, luckily it seems our door will actually stay shut in this cabin and we're the only two here so total score!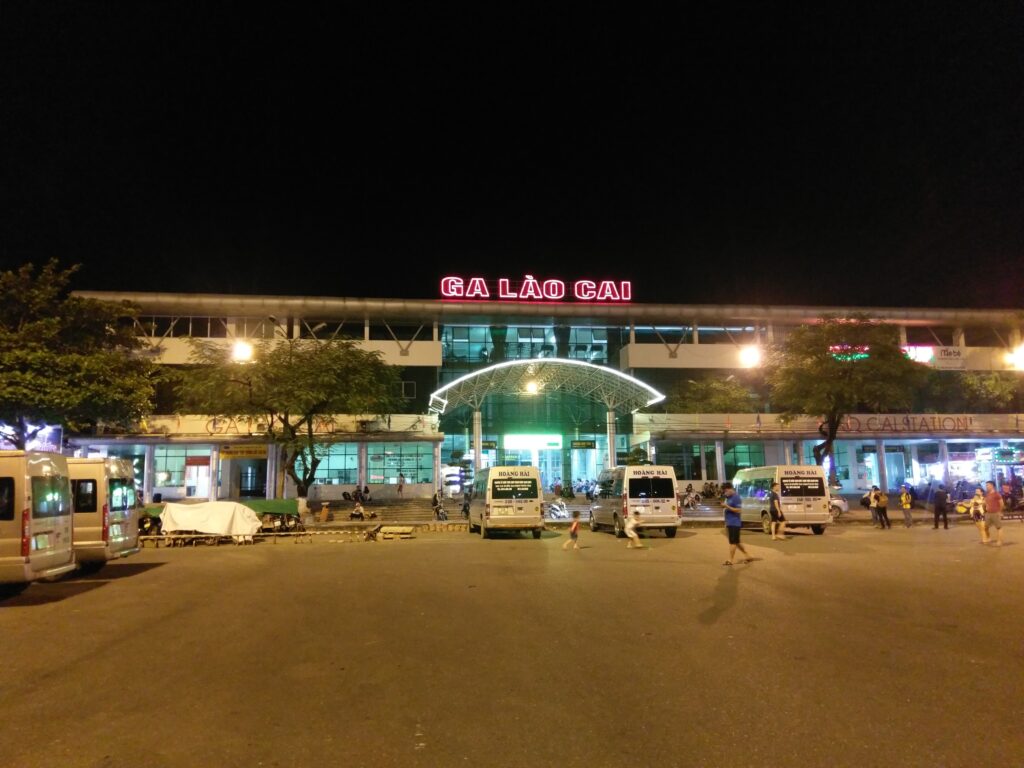 Day 25
4:38am
Back in Hanoi, and way too damn early. I could use another two hours of sleep or so. I slept well enough I guess but it's still a train with a thin bed. I think Mua said the first bus from the train to the airport was at 5am or maybe 6am. I'm just hoping there's a place open for breakfast that we can chill at for a bit. Otherwise we'll probably go straight to the airport so we can check our big bag and not worry about carrying it around while we wait.
7:56am
Yeah, nothing was open so we caught 86 to the airport and got off at terminal 2, which is for international departure. We had to wait for the shuttle to come around and take us to 1 which was interesting as instructions were not clear. Can't check bags until 2 hours before our flight leaves, meaning we've got another 4 hours before we can do that. Currently sitting in Lucky Cafe in the terminal drinking a very weak mocha. Should have got a damn whopper at terminal 2 while we were there. Now I want a freaking whopper.
2:10pm
Got a damn whopper! We ended up paying about $18 to sleep in a bunk pod sort of thing for 2 hours which was nice. I feel a bit better than earlier, and having a whopper did help. Buuuut our flight has now been pushed back from 2:15 to 3:20 due to late arrival and operational issues (!!!???). So now we get to wander and see how long this actually takes. This is also why we made sure not to have our flight home scheduled for today.
Maybe we'll go have another whopper.
3:01pm
Boarded our plane to Saigon!
5:38pm
Waiting for our bags now. Then on to our room for our last night in Vietnam.
9:54pm
Our last dinner in Vietnam was DQ. Mostly because we wanted to have some decent ice cream and the blizzards fit the bill. About to head to bed and then wake up too early again to get to our flight in time!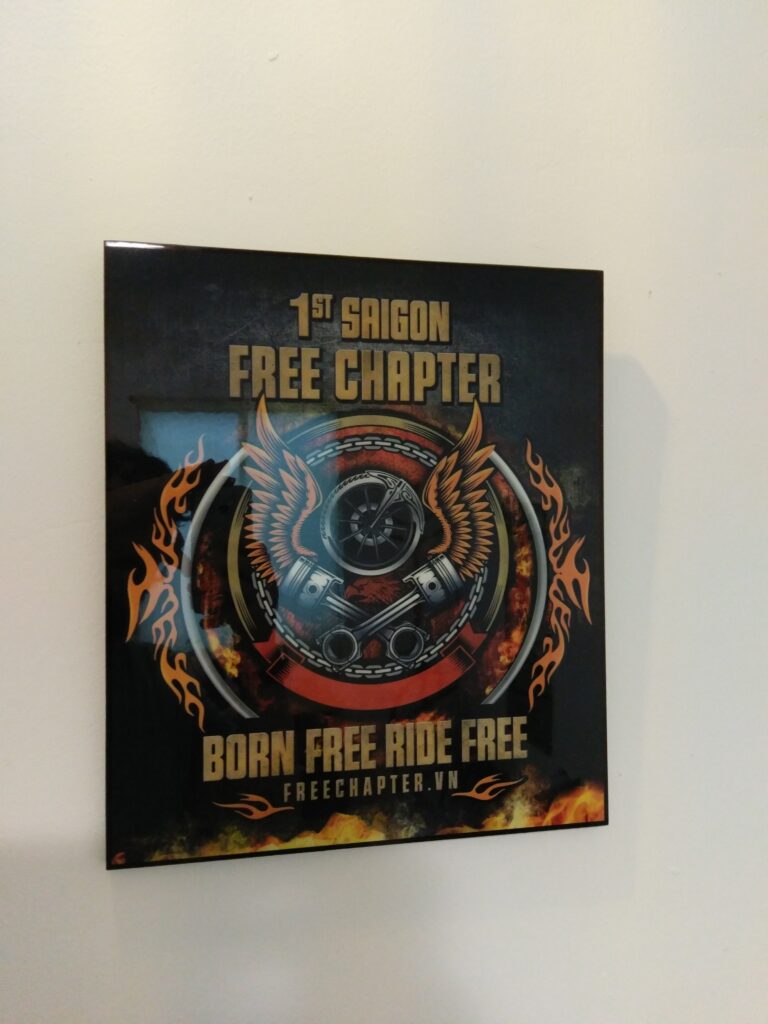 Day 26
6:24am
Currently in the security line but we did make it to our ANA check-in with time to spare. Supposed to be boarding about now and then taking off around 7am so I think we've got time. As soon as we got up this morning we were damn near hit by lightning (on the balcony of our stay no less) and it started pouring so we're hoping the flight doesn't get delayed. We did see some canceled flights on the way in.
6:51am
Made it! Good thing they come around with the sign and let you through security line faster if you're late as hell. They jumped us through and we made it to the gate 2 minutes after it technically closed. We were nearly sprinting towards the end though, tallest guy ever was speed walking. Fucking security lines man, we even built extra time in this go around!
12:30pm Saigon, 2:30 Tokyo
We've landed at Narita! Crossed back two time zones so we've got 10 more to go. Currently taxiing to disembarkment point. Had a nice nap on the way and will likely sleep some more at the start of our next flight.
4:39pm Tokyo
Nearly boarding time, flight is supposed to take off around 5:10. Sounds like they just announced boarding is starting.
Bought some whiskey at the duty free shop, an 18 year aged one for dad and a larger bottle (but cheaper!) of Japanese whiskey for myself. Probably split it with Ali's dad as a thanks for picking us up and all. Thought about getting some very fancy smokes for Sam as well or some cigars to split with everyone when we get back but decided against it as I have virtually no idea what the exchange is. I think I paid about $60 for the two whiskeys but… Not entirely sure.
3:23pm Chicago
Made it! Currently on our way out of the city. I didn't sleep at all on any of the flights back so I'm pretty damn tired. I don't smell as bad as I expected but my breath is something else. Either way, we made it back and we're on our way back towards home!
Other Observations – Cars!
Didn't think you'd get out of talking about cars did ya? I took notes on what kinds of cars I saw in the various places we stayed. One thing that we noticed immediately in Saigon is that all the traffic lights have visible timers, so you can see how long you have on any given cycle. This also means everyone would leave from the red light with about 2-3 seconds before it was going to turn green and just start cutting off other traffic. Despite this, there also seemed to be an unspoken agreement to stop a bit before the line, rather than on or over as you might see here in the US. I gather this was to allow scooters to get ahead of the cars (possibly for safety?) and also allow more room for those turning.
Scooters and small cars dominate the cityscapes of Vietnam. It's not uncommon to see scooters weaving through traffic and heading up streets the wrong way if they're relatively clear of traffic. Sidewalks aren't safe from scooters either, so you want to keep your wits about you when the stop light rush starts in case they reckon the road has gotten too saturated. We also saw cars head the wrong way up streets fairly often as well and sometimes even attempting to turn around in the middle of the street/traffic. Scooters aren't afraid to get right up to cars in traffic as well, more than once we had riders push off side or front the grab we were riding in.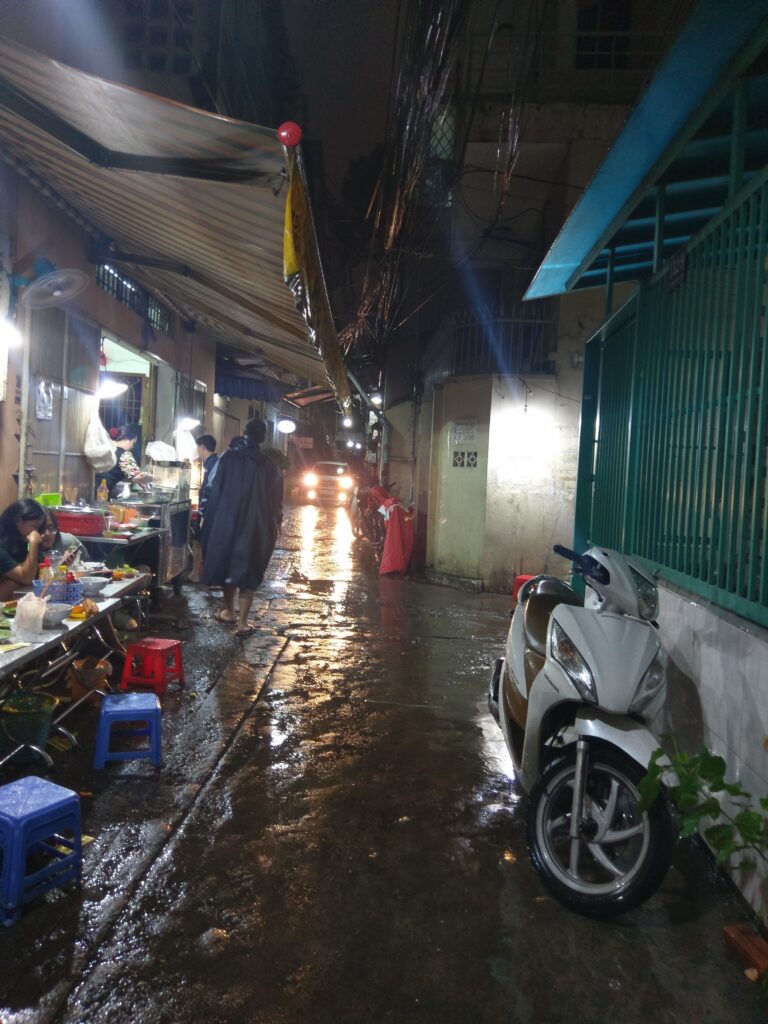 Far and away the most common cars you'll see are your smaller economy cars and hatchbacks like the Mazda 2/3, Honda City, Toyota Vios and Innova, and Hyundai i10 as well as Kia Morning. A few times I spotted Mazda CXs, a single mid-2000's Ford Escape, a few of the global Ford Rangers (which they just brought to the US!) and every once and a while you'd see a Toyota Fortuner. Minivans seems to be really rare and I can't say I recall seeing any wagons, much to my dismay. In general you don't see as many SUVs, trucks, or crossovers here as you would in the US.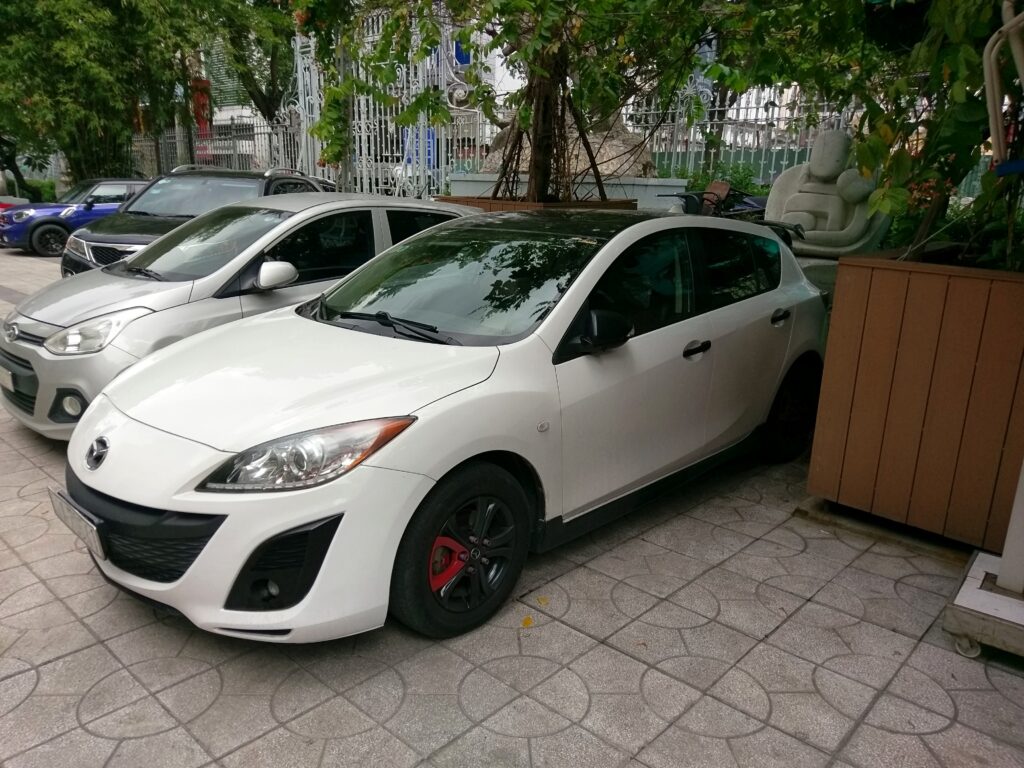 Luxury cars are also less common. However, in Saigon and especially in Hanoi I did spot multiple C and E class Mercedes as well as Audi A4s. Less common again were the S class (I only spotted S500's oddly) and the occasional A7. On one occasion I saw what looked like a legit AMG car as well as an M3. The rarest stuff would be the Bentley we saw crawling through Hanoi (it wasn't the only Bentley I spotted in Hanoi either), and very rarely I would spot a Lexus or Range Rover. In generally Hanoi had more higher end cars where the Saigon elite seemed to use SUVs as a display of wealth.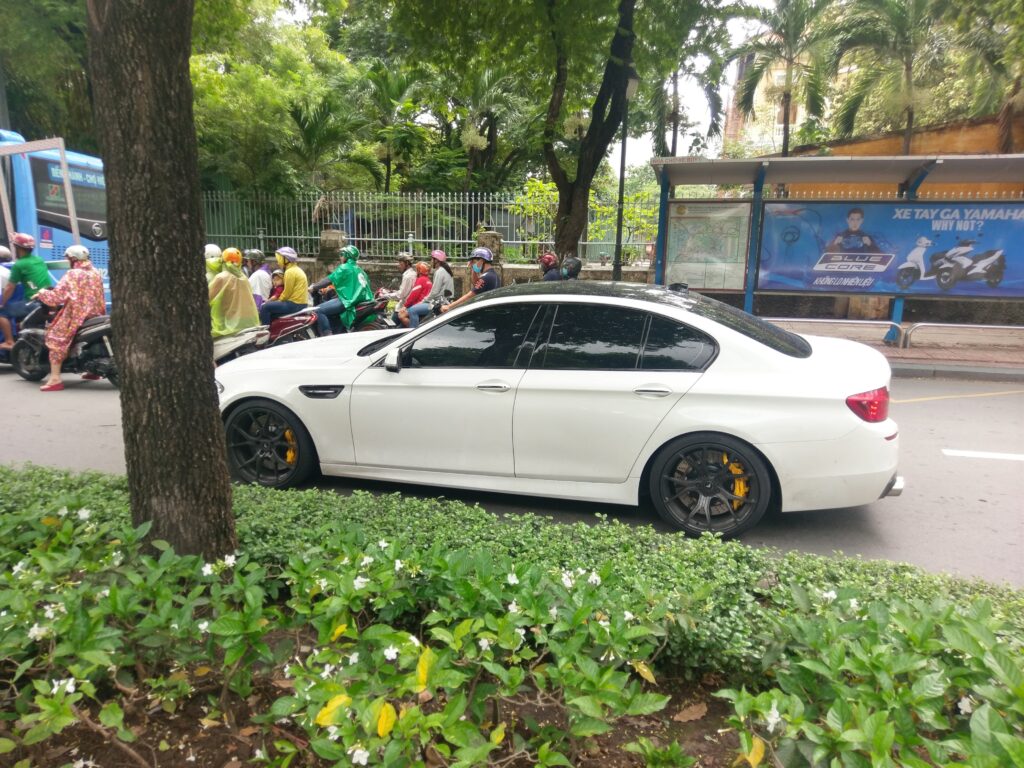 Some of the cooler stuff I spotted would be things like a Toyota Crown (I really want one someday), two Lada Niva 1600's, a few Porsche Cayenne and Panamera's, a single Mazda BF50 pickup, a seemingly out of place Ford Focus and a very yellow and also out of place BMW Z4. I also spotted a single newer Volvo, a Peugeot or two, and a few Chevy's as well including a single Chevy Colorado High Country. Finally, I encountered two CJ Jeeps as well as a single resto-mod flat fender, and early on I spotted a Ford Falcon in Cần Thơ!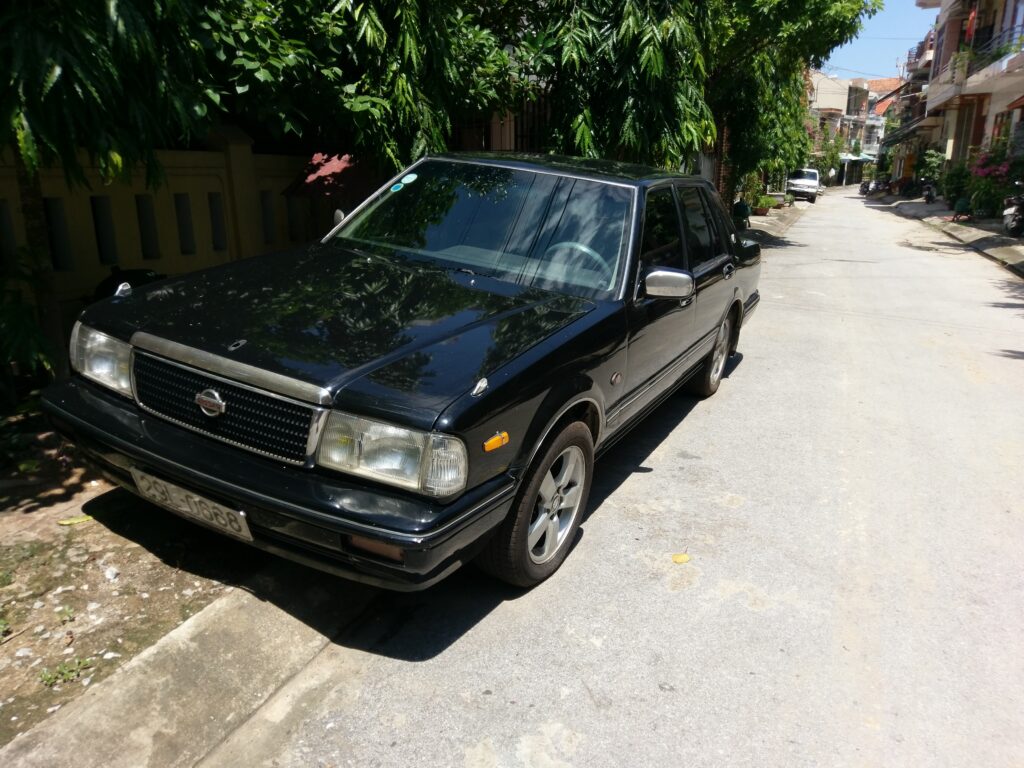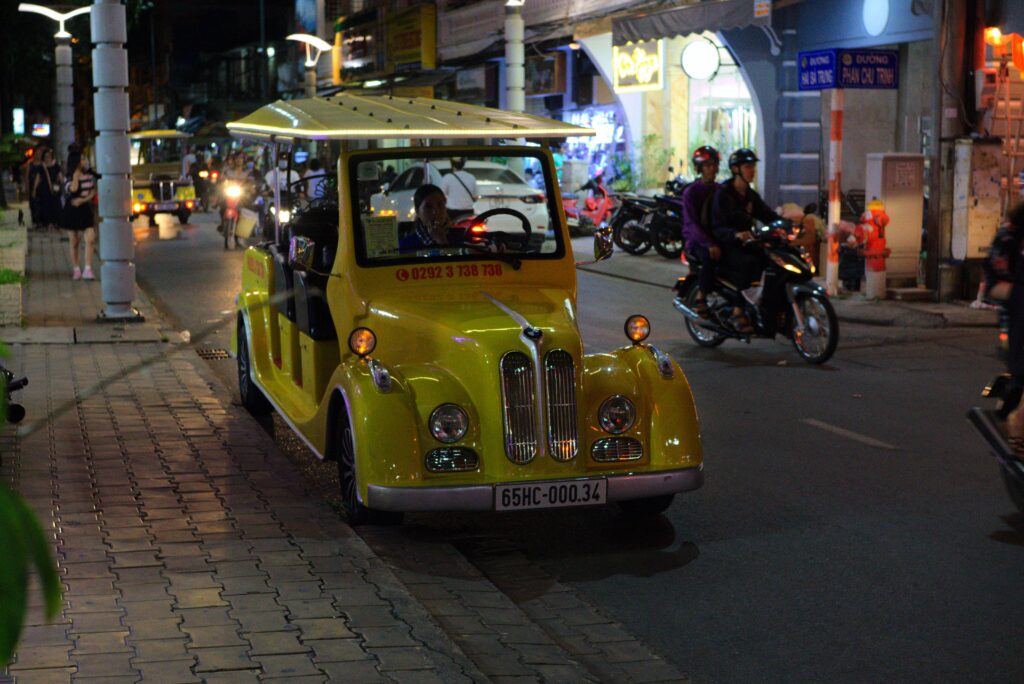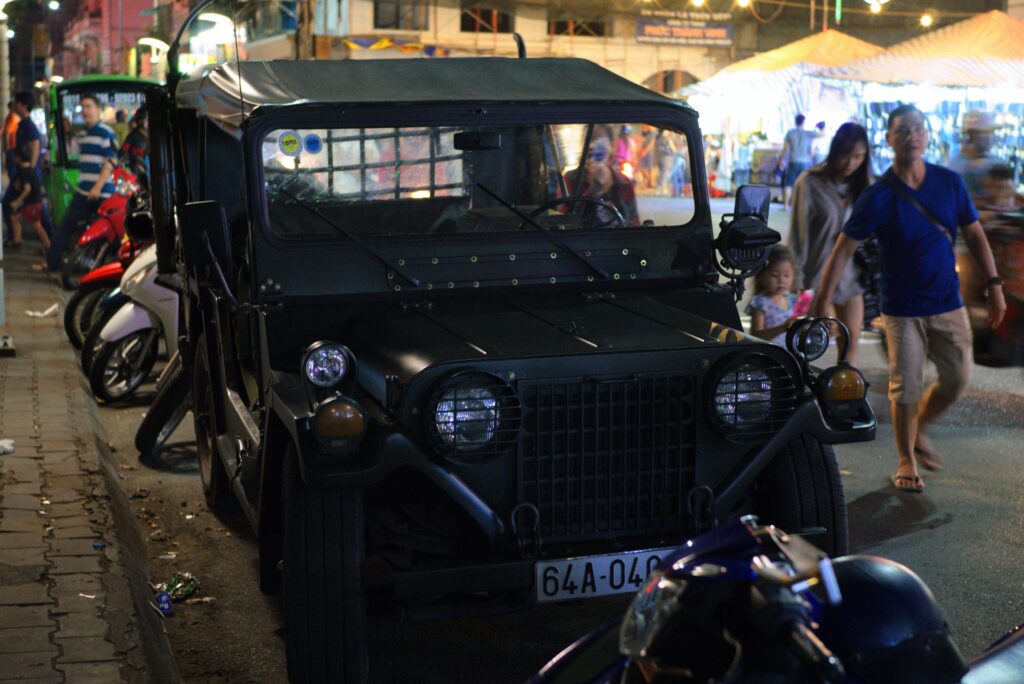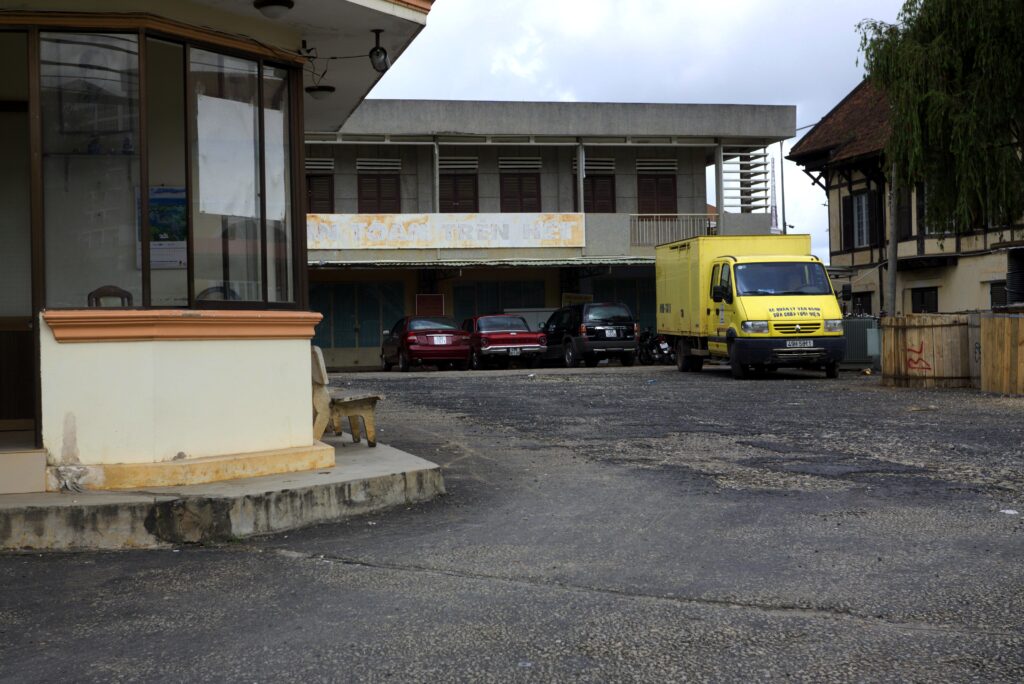 At one point I spotted a stripped out hatchback of unknown origin in Da Nang, it had no glass or lights, just the normal body panels. Also, I have this entry from the Hanoi Train Station at 5:24am: "Saw a dude on a scooter doing a wheely with someone on the back. My lord." so you know, that.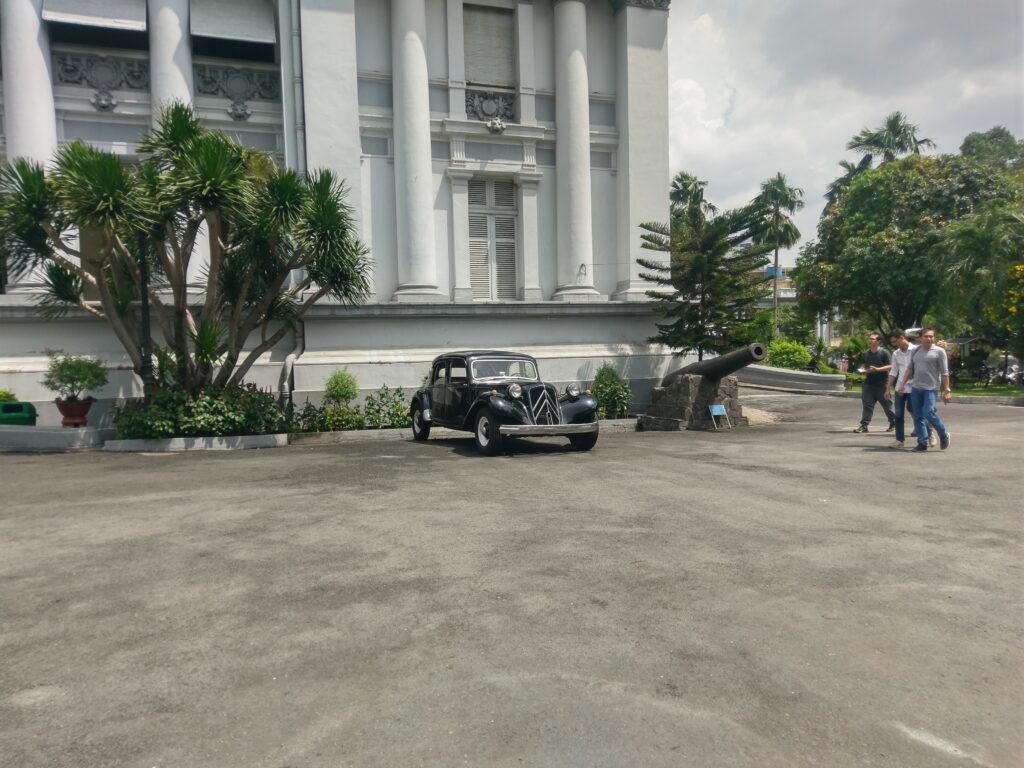 Interiors are a bit different as well. Some of the cars we rode in had plastic covering the ceiling, I'm not sure if this is a factory option or a popular mod for those that anticipate picking up a lot of riders. Quilted ceilings and dashboards also seem semi-common, which I think is fantastic. Dash mats also seem common as well. Finally, I noticed that more than a few cars had tinted windows but had these little cut-outs for the side mirrors so they could see clearly.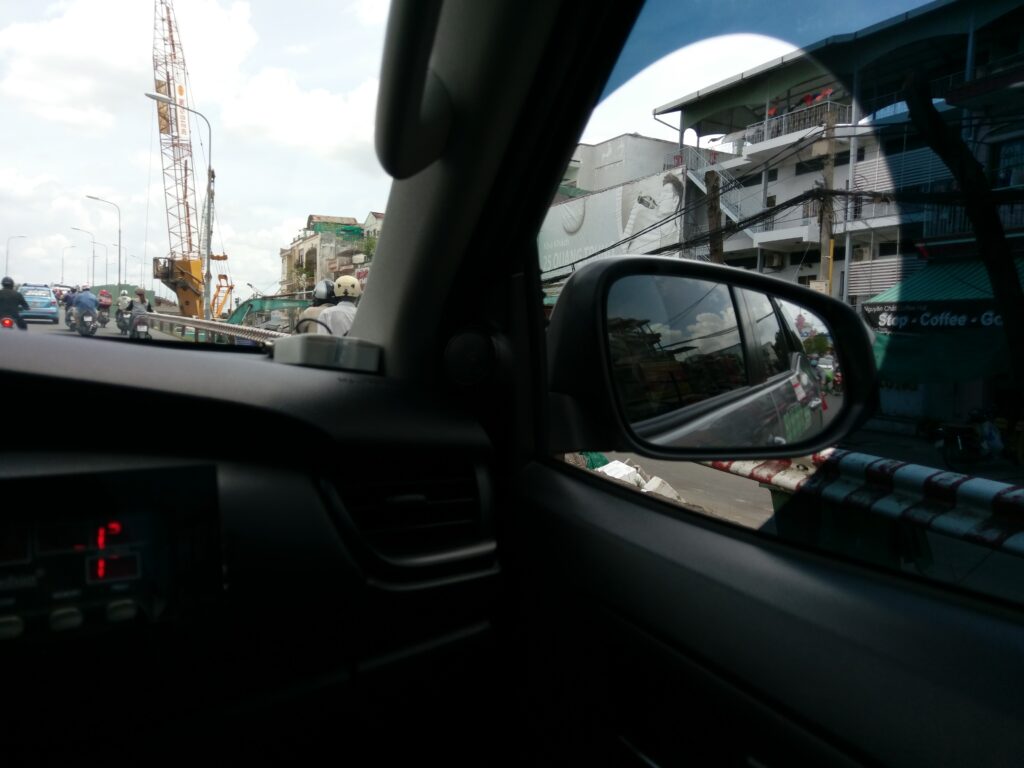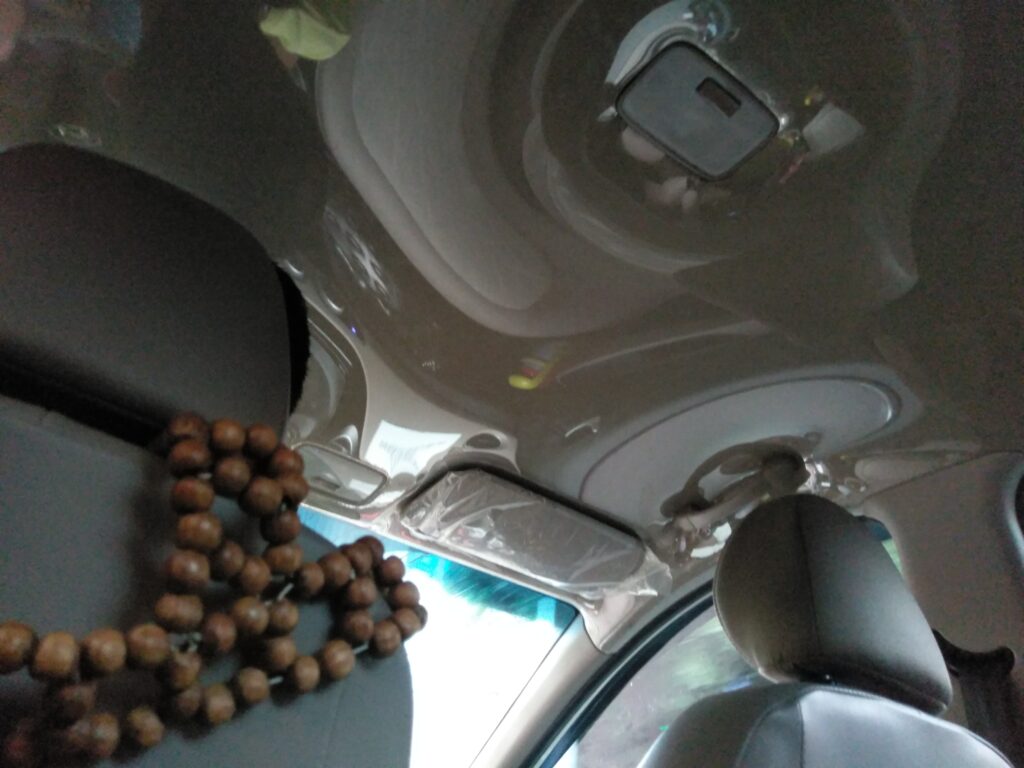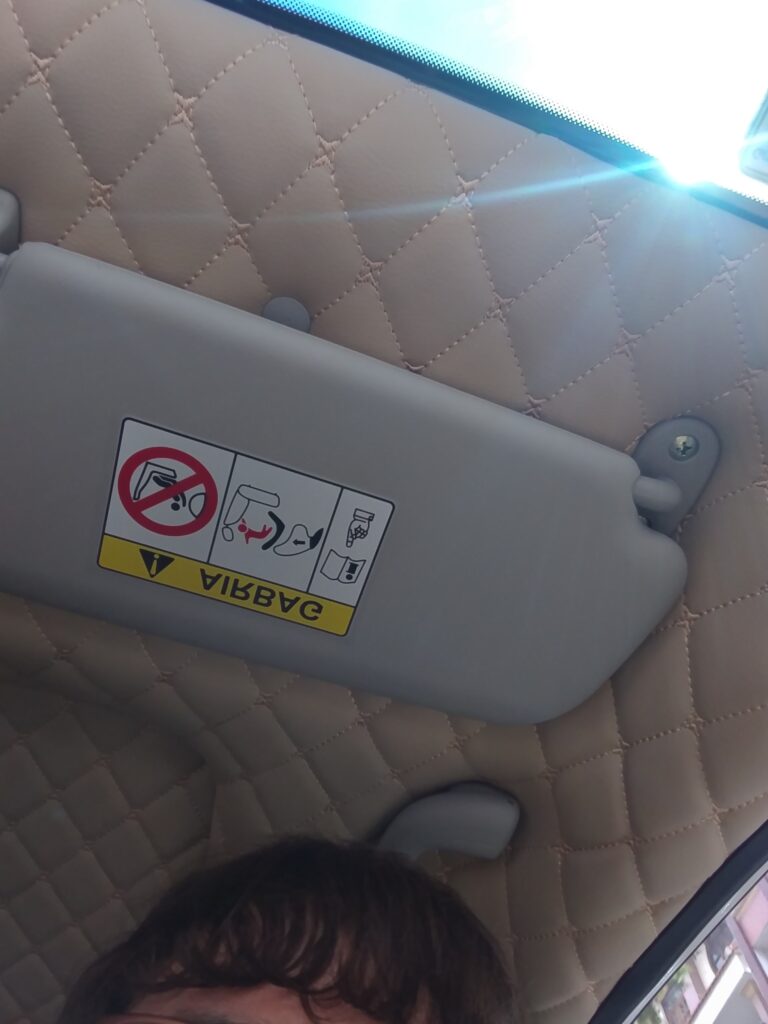 The vast majority of cars we rode in had manual gearboxes (excluding things like busses of course) and either it's very common to start in second (which wouldn't surprised me, if you drive all day you probably want to shift as little as possible) or some vehicles have a shift pattern that starts with 1st at the bottom left. We only rode in two normal vehicles the entire trip that had automatic transmissions. Something I found funny was that both of those drivers with the auto transmissions would shift into neutral at stops. Some of the manual drivers would set the handbrake as stoplights as well.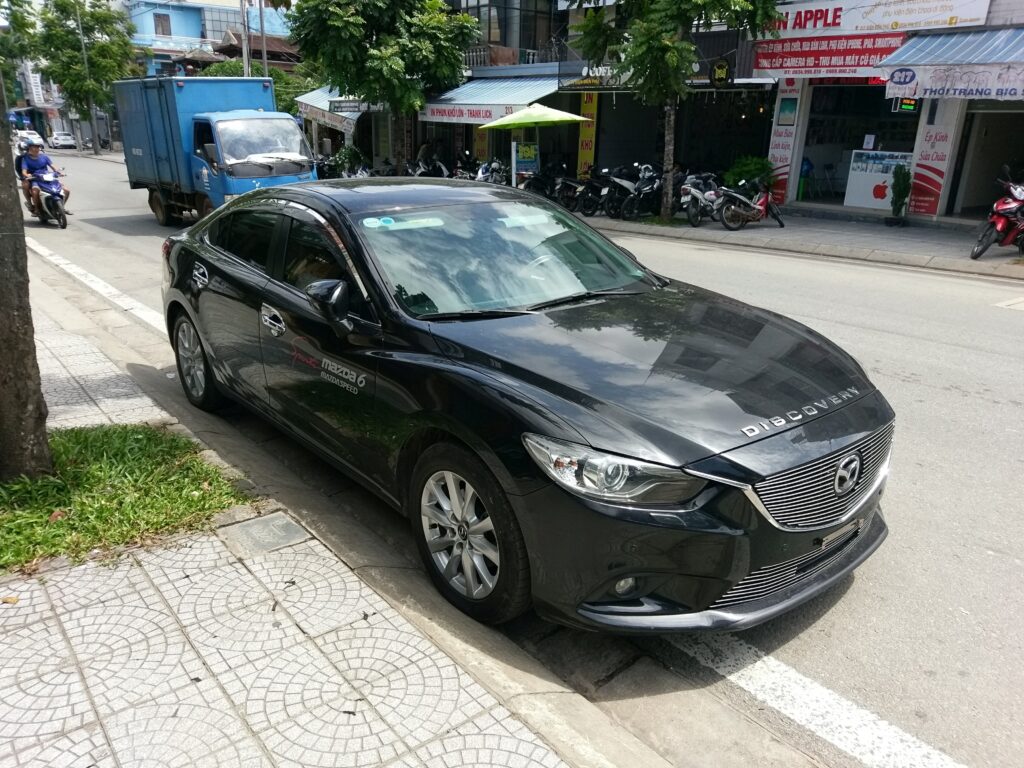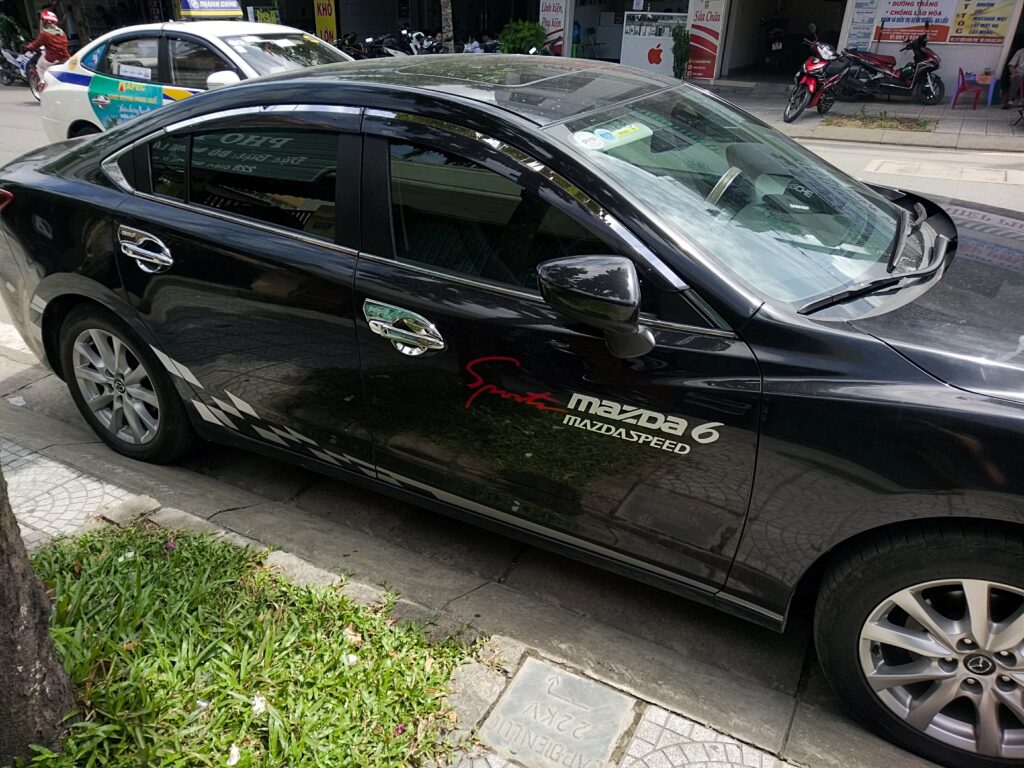 As you can probably tell, modified vehicles do exist in Vietnam as well. I don't know much about the tuning scene but we certainly came across our share of aesthetic mods. Very different style than the kinds of styles/mods I'm used to seeing.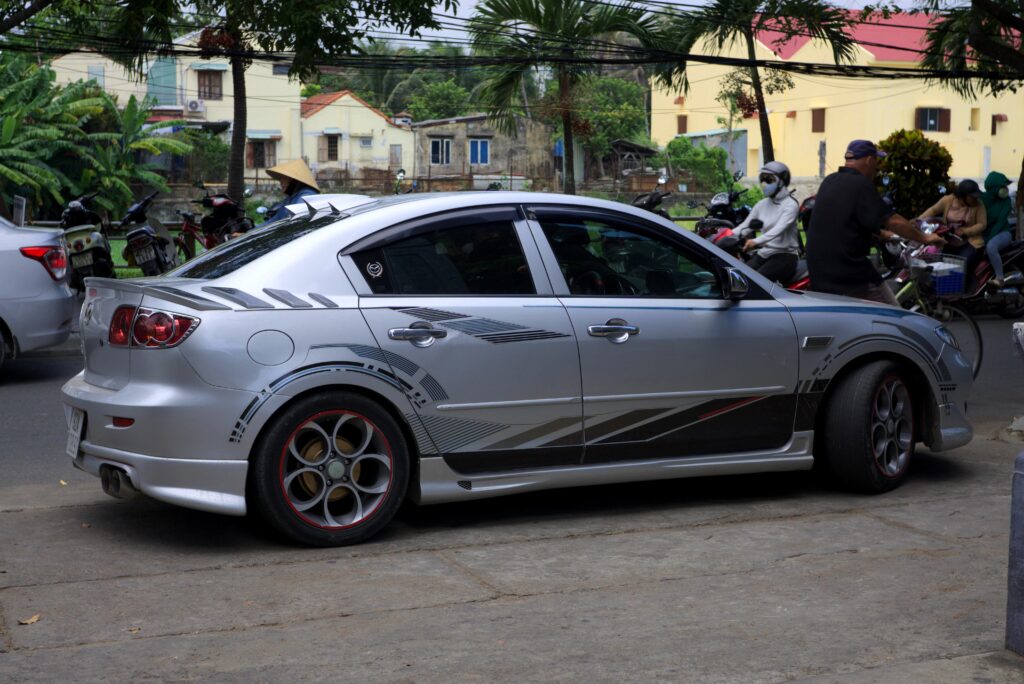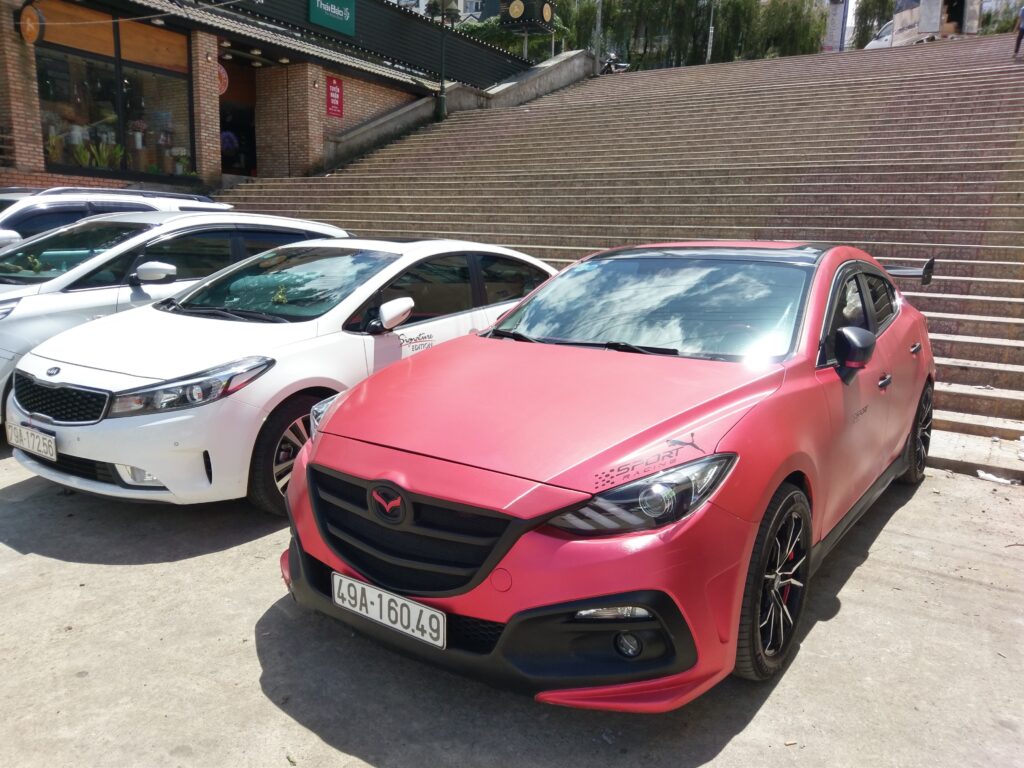 Mazdas seem to be a popular pick for those looking to modify their cars, but they're far from the only brand of cars we saw modded.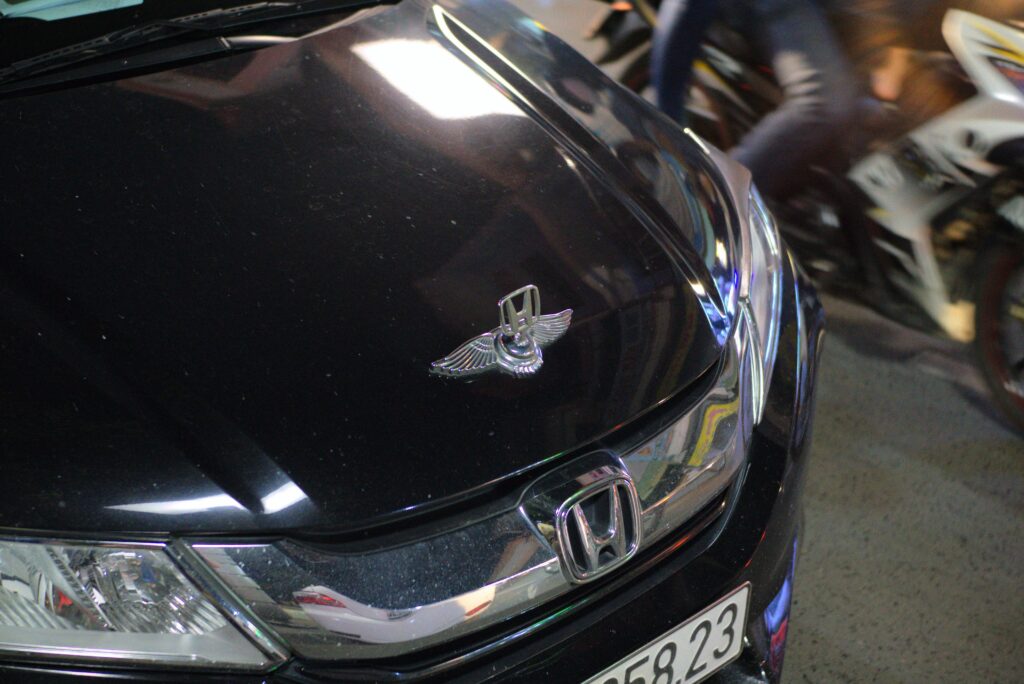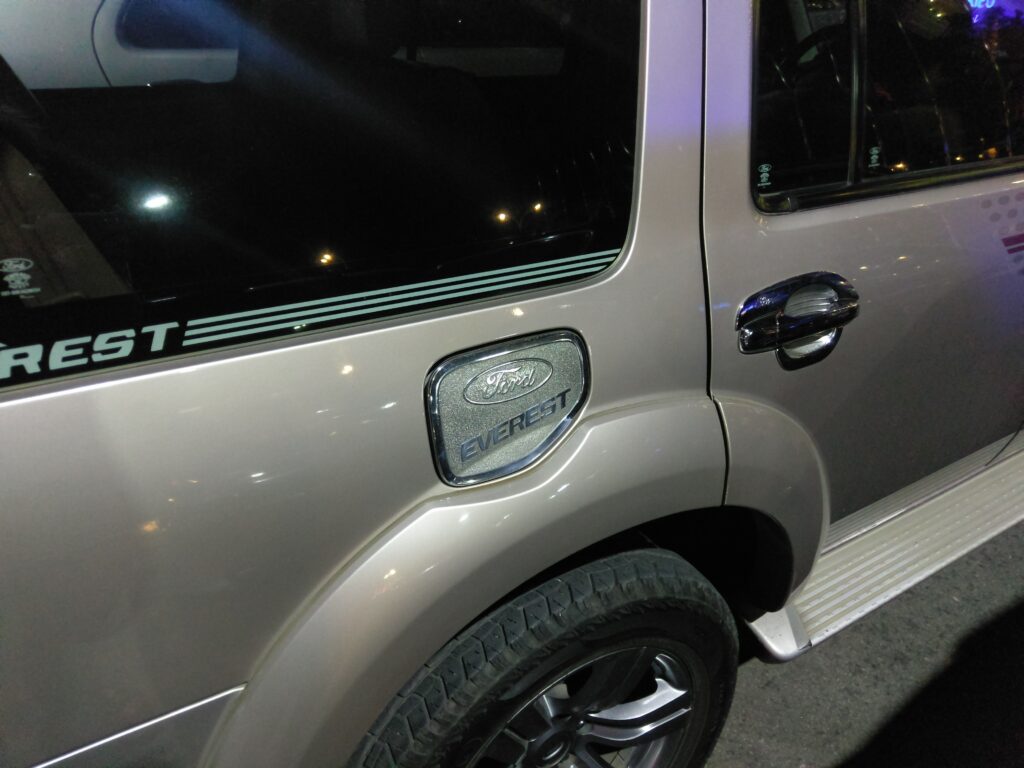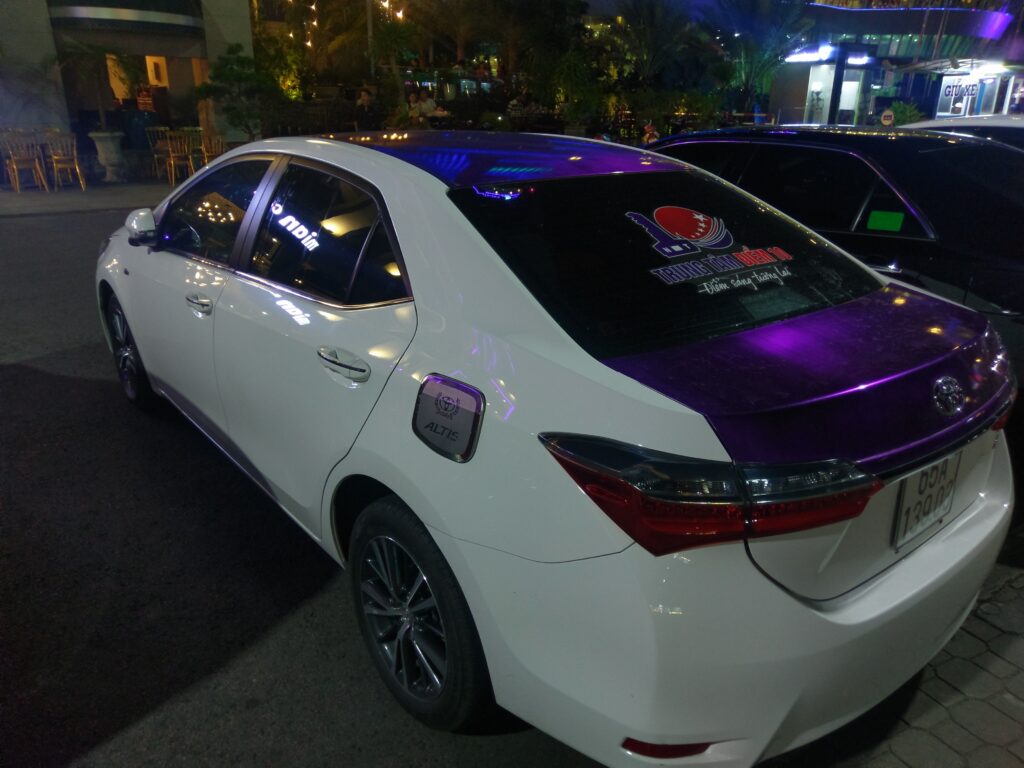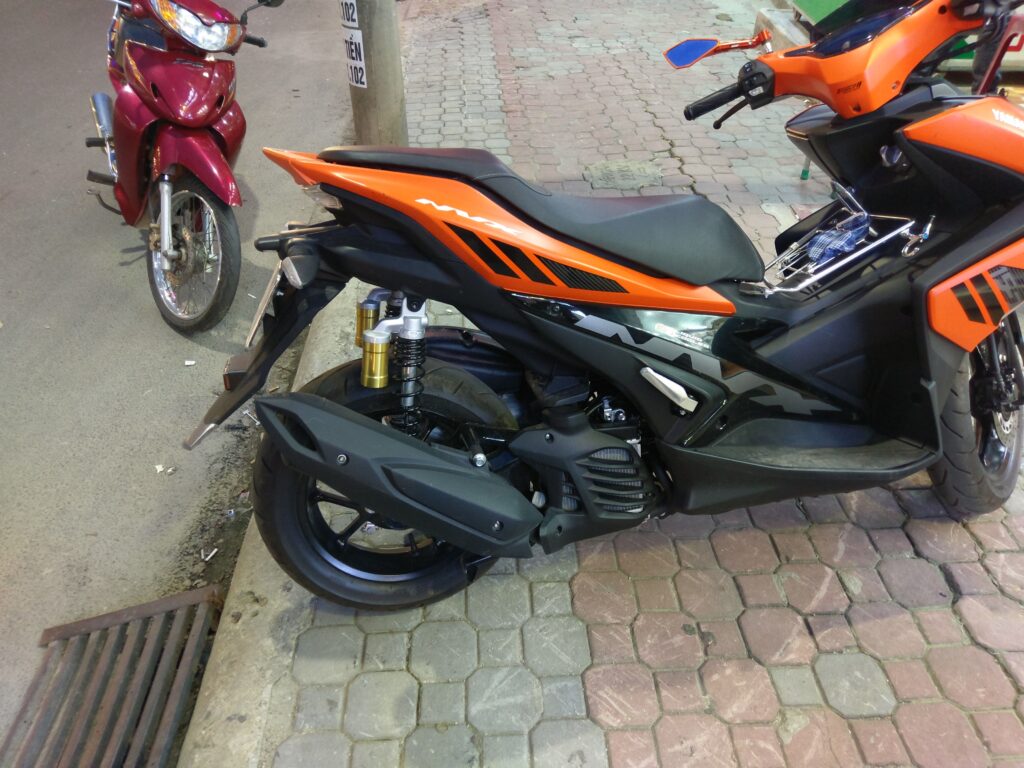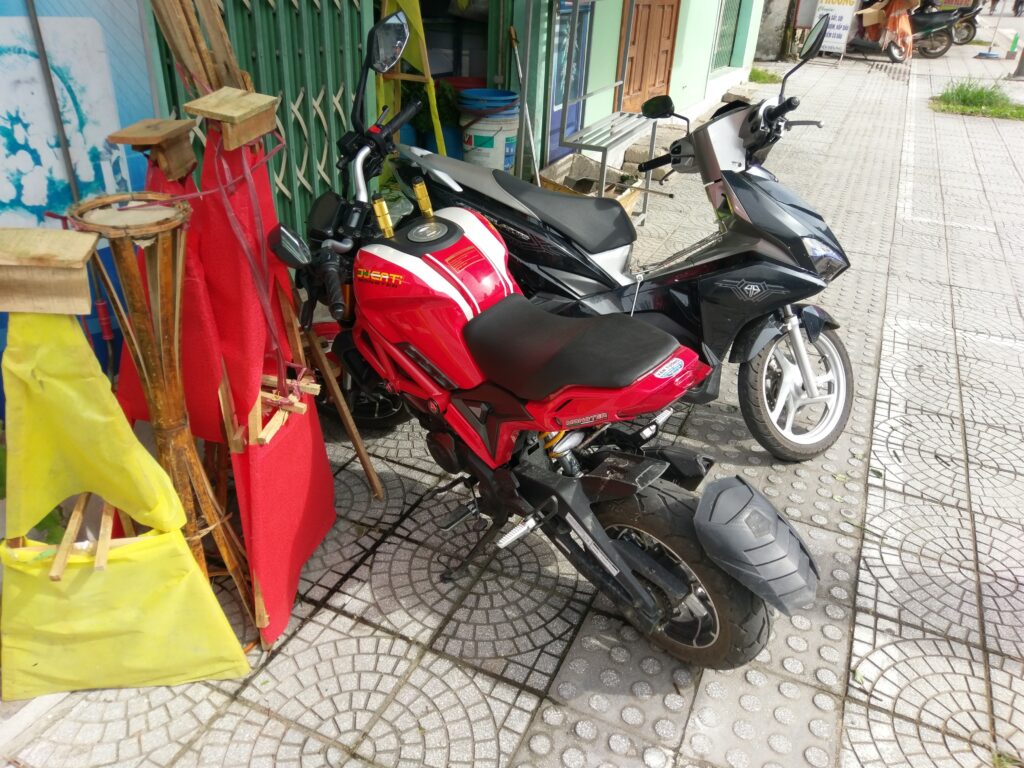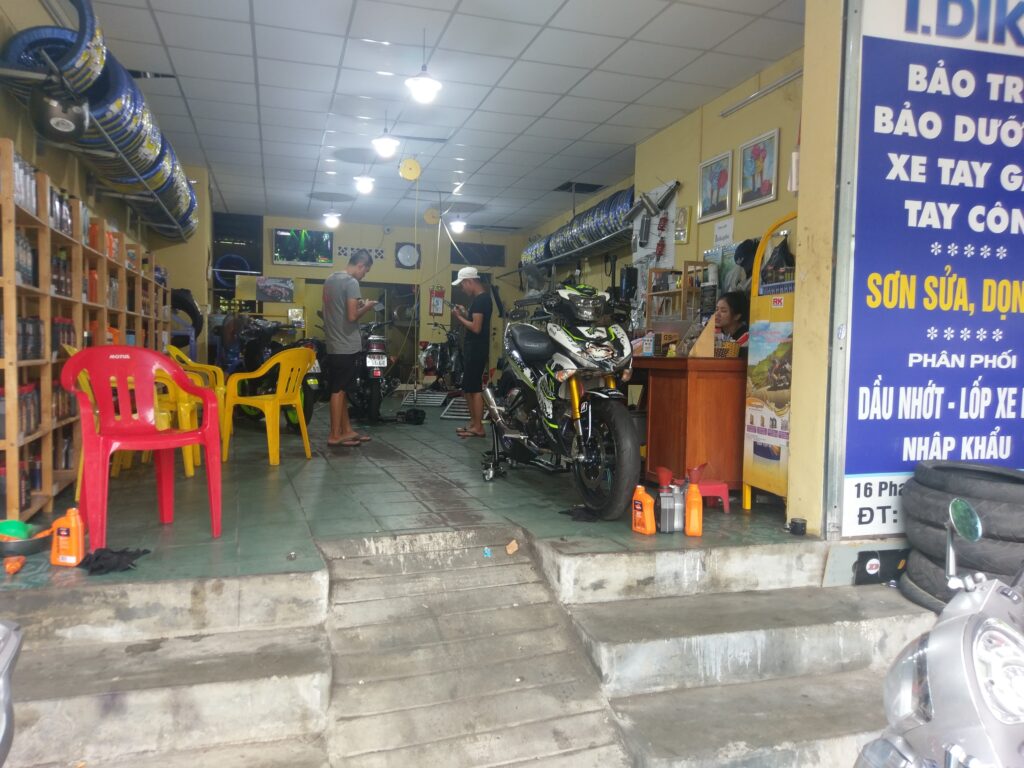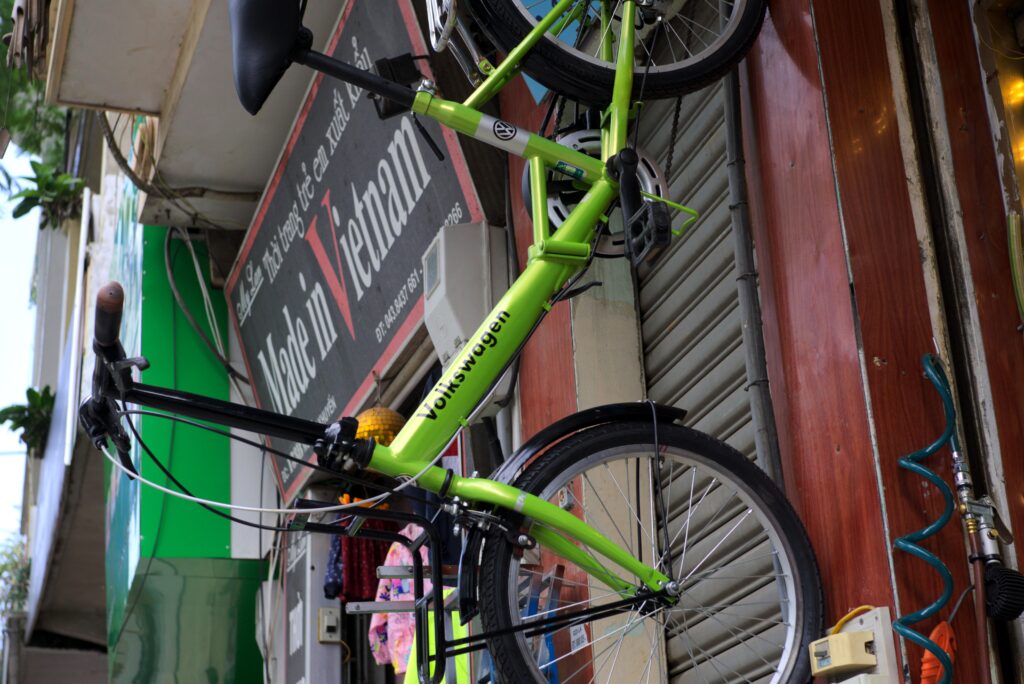 I never really spoke to any of the owners of the various vehicles I spotted or rode in. I do get the sense most of the vehicles were well maintained in the city. One thing to watch for though is tire wear on the various busses or cars you might take a longer ride in. It seems to be a "replace when they blow" sort of mindset.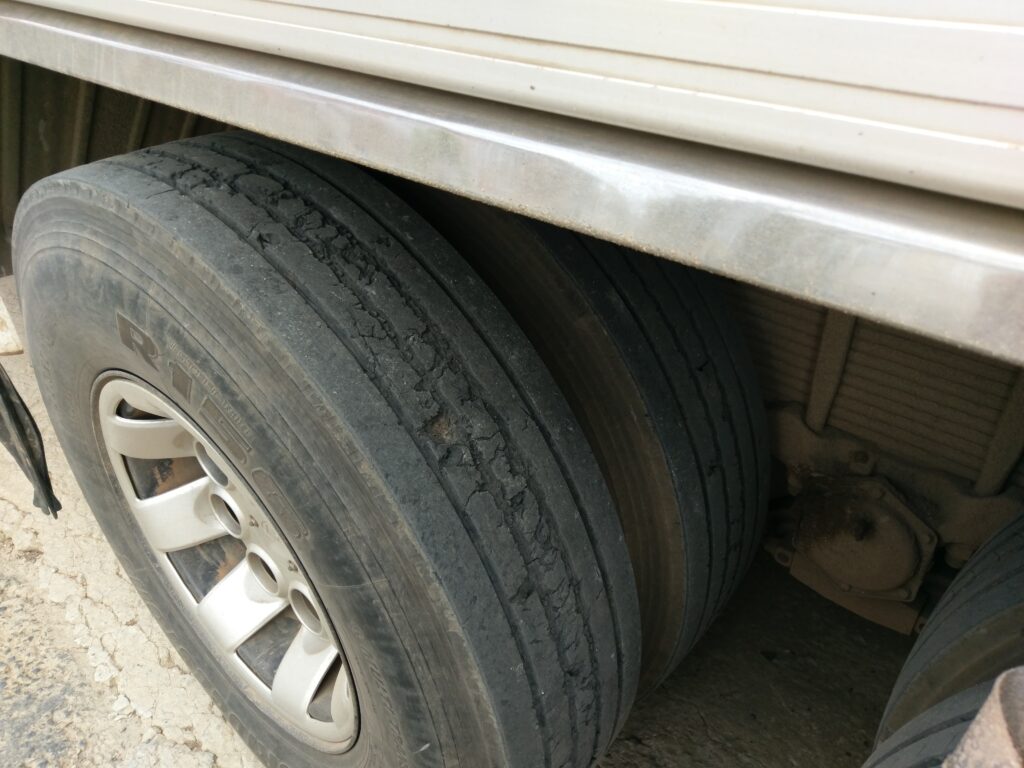 Other than that I think we've about covered it. Oh, a guy rode past us on a bike in Da Nang and shouted "Hey! Marijuana?" which was unexpected. I think I'll wrap this one up as it's taken about 3 days and 177 pictures to get this far. Got any questions? Somehow actually read this whole thing? Let me know in the comments!